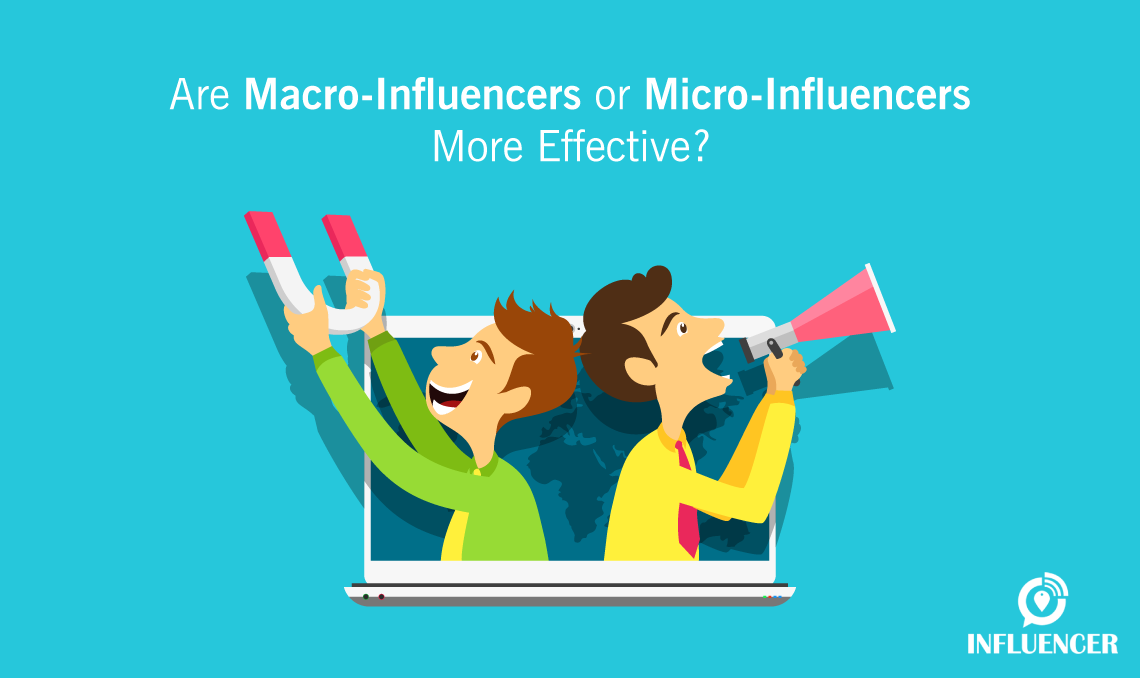 Micro-Influencers vs. macro-Influencers: which ones are more effective?
Author: Rhea Jain
|
Updated Date : February 21, 2022
In 2017, influencer marketing on Instagram grew to a $1 billion business and this number is projected to double by 2019. A casual scroll-through on Instagram, the most important channel for influencer marketing, will throw up a large number of posts with popular hashtags like #ad or #sponsored under them. Brands have quickly begun to realize the huge role influencers can play in increasing their sales and brand value. A successful influencer marketing campaign can make people more aware of your brand, bring in new customers and ultimately, increase sales volume. But how do you pick the right influencer for your brand? When it comes to selecting influencers, marketers are faced with two possible choices: micro-influencers or macro-influencers.
Given the huge difference between micro and macro-influencers, most marketers are naturally faced with the dilemma over which one is best for their brand. On the face of it, macro-influencers might seem more effective because of their huge reach. But things are not always that straightforward.
Large followings vs. a niche audience
The biggest difference between micro and macro-influencers is the size of their following. Macro-influencers have hundreds of thousands of followers, often exceeding a million. Their followers are often spread out all over the country (sometimes the globe) and have very diverse interests. Kylie Jenner with 99.9 million followers would be considered one of the biggest macro-influencers in the world. Debashree Banerjee with 144,000 followers is one of the biggest macro-influencers in India. It's important to note, however, that the distinction between micro and macro-influencers does not take into account engagement rates and actual impact.
Micro-influencers usually have a niche audience. These followers are generally concentrated in one specific region and have a single common interest binding them together. A thrifty fashion blogger with 1500 followers would be considered a micro-influencer. They might have a smaller number of followers, but they can still be very useful for brands. Like the saying goes, 'small drops make up the ocean'. Using this philosophy, we roped in 100 Twitter influencers for our influencer marketing campaign for Casagrand. To increase awareness of their new project in Tambaram, each influencer tweeted with the hashtag #CasagrandTambaram. The collective result of all their efforts was that #CasagrandTambaram was actually trending nation-wide on the day of its launch.
Instant results vs. gradual returns
Macro-influencers can create a big impact in a very short period of time. The biggest advantage of using macro-influencers is that due to their large following, they're able to reach many different people instantly. When it comes to things like launching a new brand or advertising a new service, time is of the essence. In this case, it will make more sense to use macro-influencers to get your message out immediately. When Gehna, a unique jewellery boutique in Chennai which offers personalized handcrafted jewellery opened, we roped in Chandana Munipalle to spread the world. Chandana has a popular blog, The Girl at First Avenue and is one of the biggest fashion bloggers in South India. Our influencer marketing campaign for Gehna was one of the most successful campaigns Gehna has ever had. It reached 46,000 people, with 3700 post engagements and brought in almost 1000 visitors to their website.
Micro-influencers, on the other hand, don't have the means to create a huge impact immediately. But this doesn't mean they're ineffective. Micro-influencers might have a smaller following, but it's made up almost completely of people who share the same interests as they do. If a travel blogger with a niche audience recommends a budget-friendly resort, his followers are more likely to actually try it out for themselves. Surveys have shown that followers think of micro-influencers as 'peers', meaning they actually trust their suggestions. If time isn't a priority for you and you're willing to be patient, then marketing through micro-influencers can develop a loyal consumer base for your brand.
Reach Vs. engagement
The biggest factor that sets macro-influencers apart is that they have a huge following. Aakriti Rana Gill, one of the most popular fashion influencers in India has 482,000 followers on Instagram. Their immense following is what makes them so attractive to large brands who want to reach as many people as possible. One survey conducted by Mediakix found that the total number of likes among 288 macro-influencers were 8,834, 668 while the number of comments were 384,465. For our campaign with Craftsvilla, we tied up with India's biggest fashion bloggers like Aakriti Rana Gill, Debashree Banerjee, Gia Kashyap and more. One of the Instagram posts by Kritika Khurana for  Craftsvilla got almost 12,000 likes, while a blog post by Anjana Vidhyadharan got more than 3,200 visits. On Twitter, the average number of impressions was 42,000, with some influencers getting even 1,30,000 impressions!
Micro-influencers cannot compete with macro-influencers in terms of reach and impressions. However, one area where they have a surprising advantage is engagement. The same survey by Mediakix found that micro-influencers have an engagement rate of 2.75% while macro-influencers have an engagement rate of 2.65%. This again goes back to the point about micro-influencers being perceived as peers. Unlike larger-than-life macro-influencers, micro-influencers appear more approachable to their followers. One of the most popular marketing campaigns relying heavily on micro-influencers was run by Colourpop. This budget makeup brand did use a few macro-influencers as well, but it was mostly micro-influencers raving about their brand on Instagram which made them the successful brand they are today.
Professionalism vs. affordability
When you work with macro-influencers, you're working with true professionals who know how to leverage their popularity to market your brand. They know how to create brand-centric content that readers will also love. Axis Bank reached out to a younger audience by launching The Thought Factory, a resource for start-ups set in Bangalore's Diamond District. Through The Thought Factory, start-ups had an invaluable opportunity to receive mentorship, exposure and funding. Influencer tied up with 18 tech-bloggers in Bangalore for Axis Bank to popularize this venture. These popular bloggers attended an event by The Thought Factory and blogged about it on their websites. Daze Info by Amit Kumar Mishra had 1,81,000 unique views while the total views for all the blogs averaged around 1000+. Since each blogger was a thought leader in the field of tech, they knew best how to write about the event and popularize the venture.
But this professionalism and expertise don't come cheap. Large brands with enough resources can afford to use macro-influencers. However, for niche brands and start-ups, macro-influencers might be completely out of the budget. Influencer marketing can help a start-up increase its visibility, but macro-influencers aren't the only option. For these brands, micro-influencers can be far more affordable. A risk with using micro-influencers, however, is you can't be sure if their followers are fake or genuine. But if your budget doesn't allow for macro-influencers, then going through the trouble of finding genuine micro-influencers can be well worth it.
While there's no denying the efficacy of macro-influencers, micro-influencers can be more helpful for small businesses and start-ups. Your final decision on whether to use macro or micro-influencers depends largely upon your marketing goals, your time constraints and your resources.
___noise___ 1000