Influencer Marketing for your Event
Author: Roshni Chhabria
|
Updated Date : February 21, 2022
Any organization would like to ensure that they have a wide reach and are able to engage as many people possible for their next big event. One interesting way to intensify your efforts is to adopt Influencer Marketing as a part of your marketing strategy for the event. Influencer marketing is a concept used by brands to reach out to online influencers like youtubers, instagrammers or bloggers, who have a huge base of followers on social media. These influencers promote the product/services of the brand and help influence several others. So from the brands perspective the focus would be on identifying and collaborating with these individuals with wide networks rather than the target market as a whole. Below are some points to keep in mind while creating an influencer marketing strategy;

Understand the Audience
The most essential step is to identify the audience that would be most relevant to the event. It's important to know who your target segment is, what type of content they are consuming, and what social channels are they engaging with. We also need to understand the geographical location, demographics and other behavior patterns of the target audience.
Pick the right influencers
The next step is to pick the right influencers who can serve as the bridge between the brand and the goals of the campaign. The success of an influencer marketing campaign depends on identifying the right people who can drive more traffic and also influence others therefore driving an increase in the sales as well. To help selecting the right person you cantry using influencer.in, a platform which has more than 5000 influencers listed on the platform. The following are some of the parameters that are taken into considerations;
• Moz Domain Authority– This is a score developed by Moz that predicts how well a website will rank on search engines.
• Reach in Social channels – This will include page likes on Facebook, followers on Twitter, Google+ and YouTube.
• Estimated traffic from similar web – This tool provides user engagement statistics for websites.
Incentives for influencers
Most influencers expect some incentives and hence it is essential to offer incentives to all the influencers who will be working on the event. This necessarily doesn't mean financial compensation, you can also compensate with a simple thank you tweet, free products or an exclusive post featuring the influencers. There are other innovative ways also to incentivize influencers which can be explored by the brand. The bottom line would be to ensurethat you give your influencers an exclusive experience with the brand in order to build a working relationship based on mutual respect and understanding.
Plan well ahead of time
The goal and expected results of your influencer campaign should be decided right in the very beginning. These must also be communicated to the influencers clearly so that everyone is working towards a common pre-defined objective. The objectives may vary from brand to brand. Some of the common objectives are increasing brand awareness, boost sales for your e-commerce website, drive traffic to your websites, increase app installs etc. Also it would be ideal to set realistic expectations and let influencers know what is expected of them in terms of social media engagement like the number of tweets, number of blogs etc.Click here to read about more tips to integrate social media for live events.
Pre-Event Engagement
It is crucial that the influencers start engaging with the audience one week or ten days before the event in order to create awareness about the event. This can be done by coming up with interesting content that can be supported by relevant hashtags. Influencers mostly are comfortable creating their own content and being an authentic source of information for their followers. This type of content from influencers can actually help increase credibility for the brand from the perspective of the potential customers. Below is an example of how you can leverage influencer marketing before your event.
Sunday Soul Sante is Bangalore's popular market place for cool arts, crafts and designs. They partnered with mobile wallet app, MOMOE and also engaged with 30 influencers across Bangalore & some outside the city too. They actively communicated with all the contest participants and influencers which eventually helped #SoulSanteWithMOMOE to be trending on twitter for close to two hours.
At Event Engagement
It is a good strategy to ensure that you have a few influencers who will be attending the event in person. The influencers can indulge in live tweeting and posts pictures/videos from the event on their Facebook or Instagram accounts to keep people aware of the things that are happening live at the event. This will create a positive buzz about the event and also lead to more people engaging with our content across various social media channels. Below are some examples of how influencer marketing was used at events.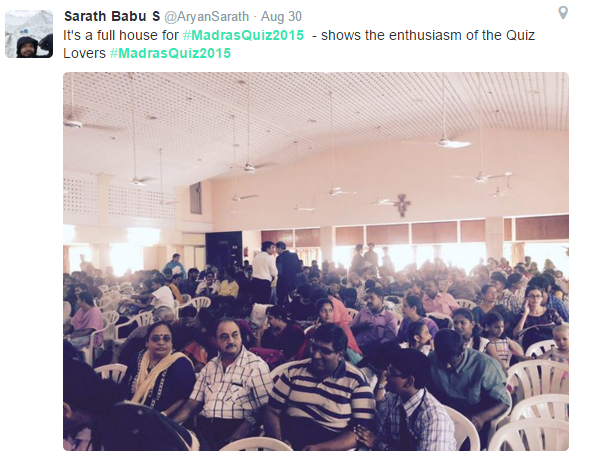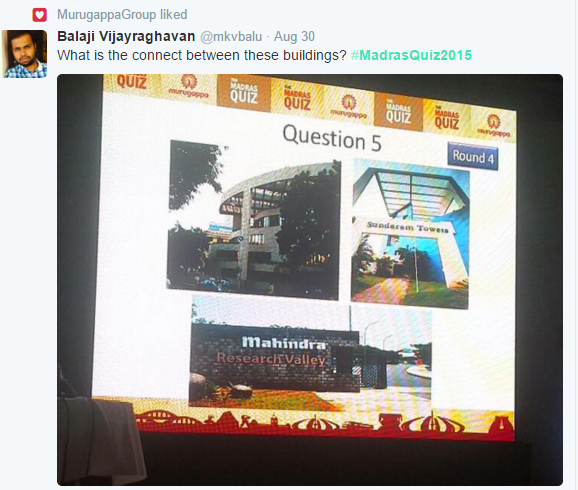 Murugappa Group conducted the Madras Quiz 2015 which got some really good response and created a buzz around the event across their social media channels.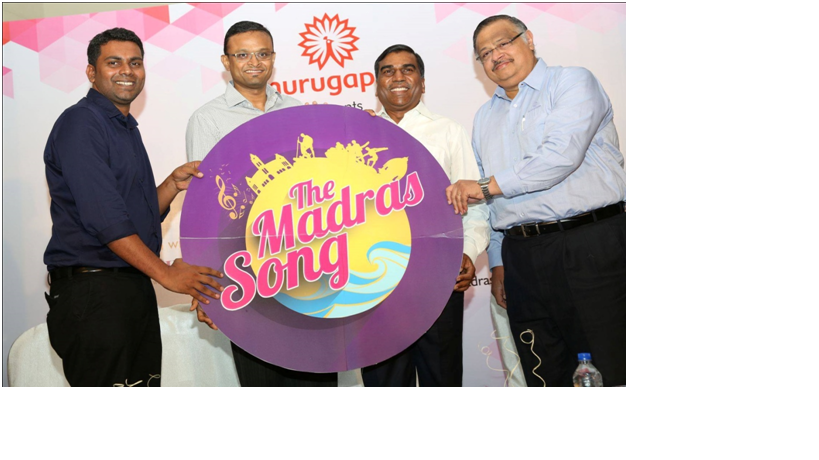 The launch of The Madras Song is also an interesting example of using social media channels to create a buzz while the event is on. We stirred up conversations on platforms like Facebook, Twitter where hashtags like #TheMadrasSongs& #Madras375 were trending. This helped spread the word and prompted people to share the video.
Post Event Engagement
With all the social media interaction and engagement the event would definitely have a larger outreach and must have identified a database of people who now know about the brand and the event both. As a post event engagement activity, influencers can write blog posts or reviews which can help sustain the interest levels and also engagement despite the event being over.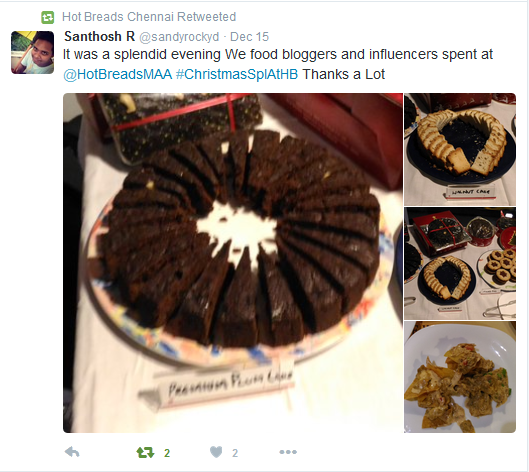 Hot Breads invited 10-15 food influencers to sample and review Hot Bread's Christmas Specialties. The entire team was present and their Master Chef Sundar, who has more than 25 years of experience in baking Christmas delicacies briefed the influencers about the processes & ingredients used. Most influencers were tweeting and blogging about their experience after the event was over.
Follow up Feedback
Be it compliments or criticism it is essential to get feedback about the event. It would be a good idea to reach out to not just the attendees but also influencers for their feedback about the event. Alongside feedback being generated, you will also have more views and impressions that can be potential leads which can be tapped into in the future.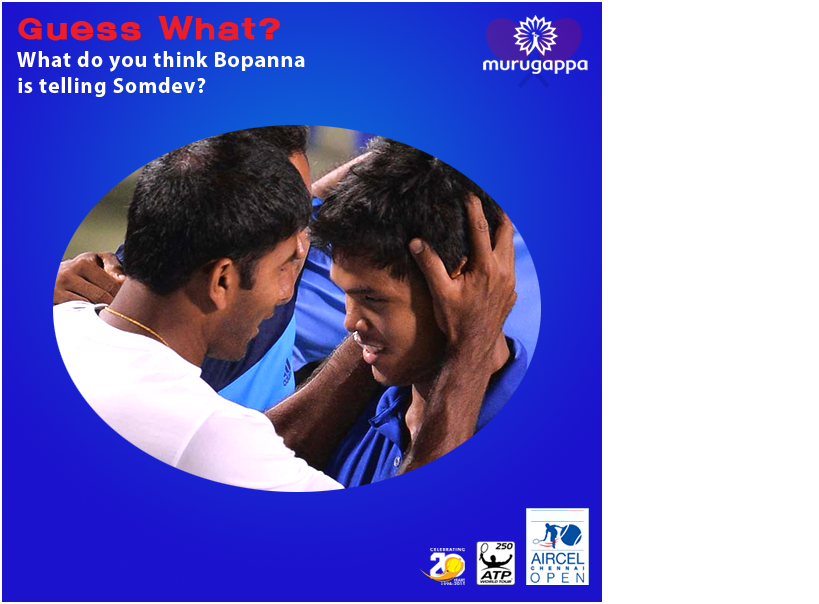 Keep the communication on with the audience even after the event is over. This would help build credibility and will also boost engagements. Our posts for Murugappa Group, during the Aircel Chennai Open 2015 helped us generate engagement even after the event was over.