Advanced Instagram Influencer Marketing Techniques for FMCG brands
Author: Mrinali Fernandez
|
Updated Date : February 21, 2022
Influencer marketing today is one of the most effective digital marketing techniques to help brands connect with their audience. Multiple sectors and industries have witnessed the power of influencer marketing across social media platforms and in particular Instagram. FMCG brands, too, have adopted Instagram influencer marketing to boost sales and create brand awareness. However, in a space bursting at the seams with similar products, FMCG brands will have to up their game to stay relevant. Let's a take a look at some advanced Instagram marketing techniques FMCG brands can leverage to stay ahead of their competition.
Leveraging Instagram Stories and IGTV
Instagram Television or as it is more commonly known – IGTV, is another new feature that can benefit FMCG brands. While Instagram Stories are popular for quick updates and behind-the-scenes videos, IGTV is the more polished sibling offering you a 60-minute window to create and curate quality long-form content, educate audiences and builds long-term relationships. One exciting way to leverage IGTV is to include a link to your website or product catalogue in the video description. FMCG brands can partner with Instagram influencers to showcase and review their products or even demo new ones via long-form videos on IGTV, leaving the link to their e-commerce platform in the description. For instance, a famous makeup influencer could go live on IGTV and demonstrate her skincare routine with a link to buy a particular brand's products from their online store.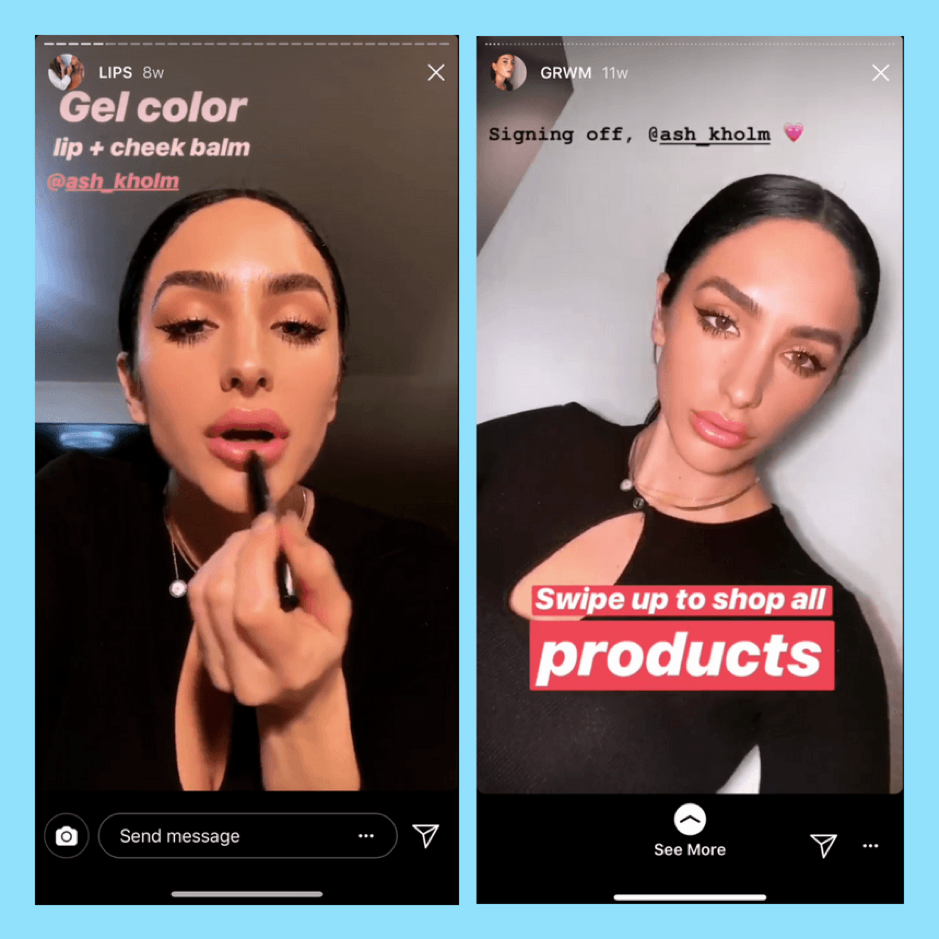 Instagram Stories, too, share a similar process. There are currently 400 million daily active users on Instagram Stories, making it one of the most effective strategies an FMCG brand can leverage. FMCG brands can make use of the "Swipe Up" feature on IG Stories to drive traffic to their website or product pages, where customers can preview products and make a purchase. Influencers can also add shoppable stickers within their Stories to tag products inside their post with links and prices. This, in turn, will drive traffic and sales for the partner FMCG brand.
Boost sales via discount and promo codes
Another effective Instagram influencer marketing technique for FMCG brands is to offer their customers discount codes. FMCG brands can partner with multiple influencers to feature their products or review them and share a discount or promotional code for influencers to give their followers. This strategy is often employed by retail, fashion, beauty and skincare brands in the FMCG industry.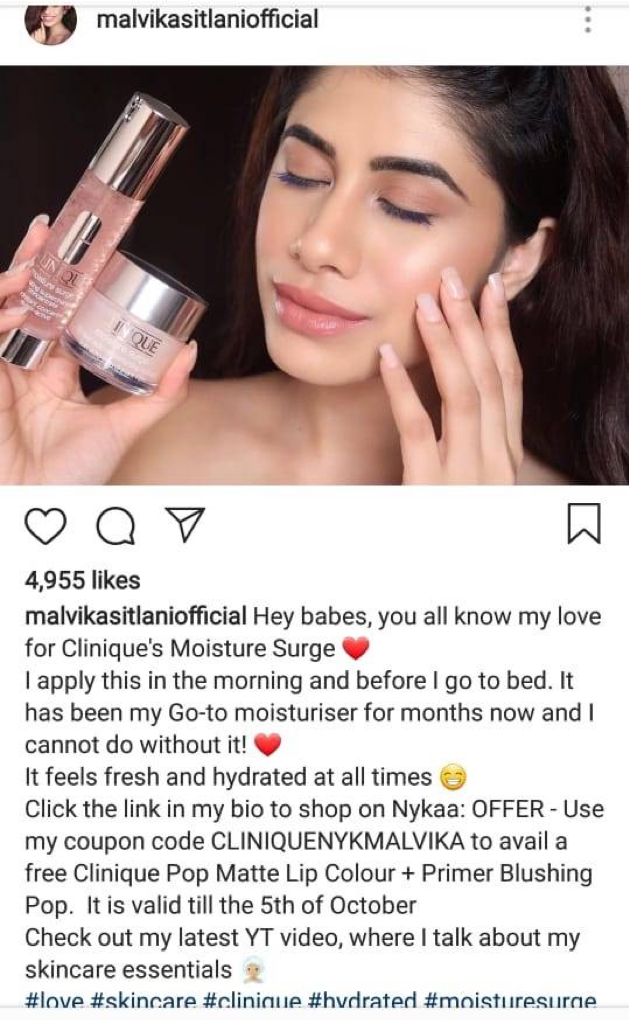 Take for example when Malvika Sitlani partnered with Clinique on their new Moisture Surge line. Malvika's post displayed an affiliate code – "CLINIQUENYKMALVIKA", by which her followers could avail a free Clinique lipstick and blush combo on Nykaa.
A simple, yet effective strategy, discount codes present a win-win situation for both FMCG brand sand influencers. FMCG brands can benefit from increased store visits and purchases, while influencers will feel they are able to give back to their followers. Don't forget to check out our list of top Instagram beauty influencers you need to follow here!
Try coupon codes and giveaways
Another way to raise brand awareness and maximise on engagement with your current target audience is by running a successful giveaway campaign. FMCG brands can partner with influencers to create innovative giveaway campaigns for engagement and lead generation, new product launches, or even just to boost traffic and sales. Take for instance our recent campaign for Fashor. Influencers shared posts of themselves in Fashor's outfits with instructions to follow to participate in the giveaway contest.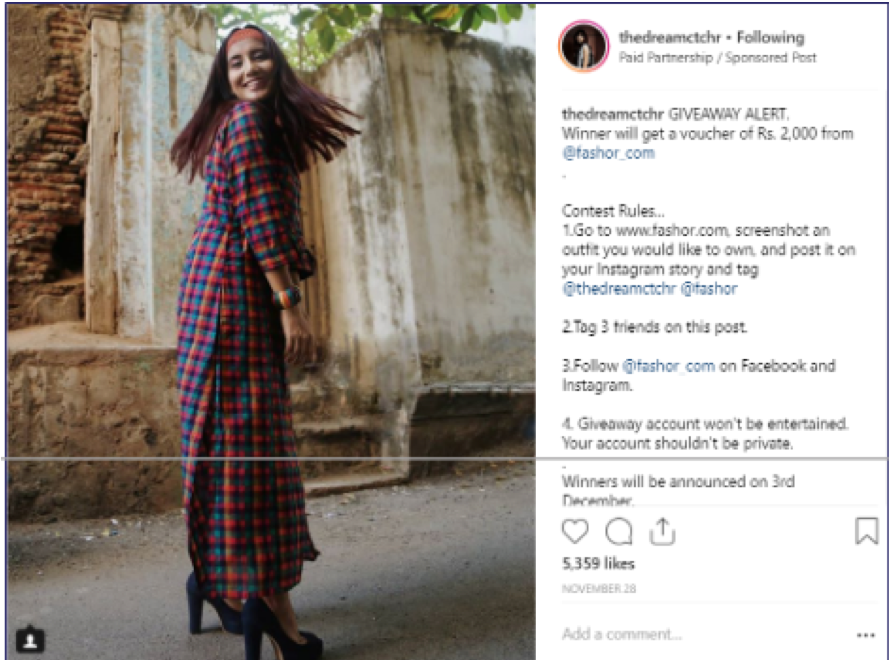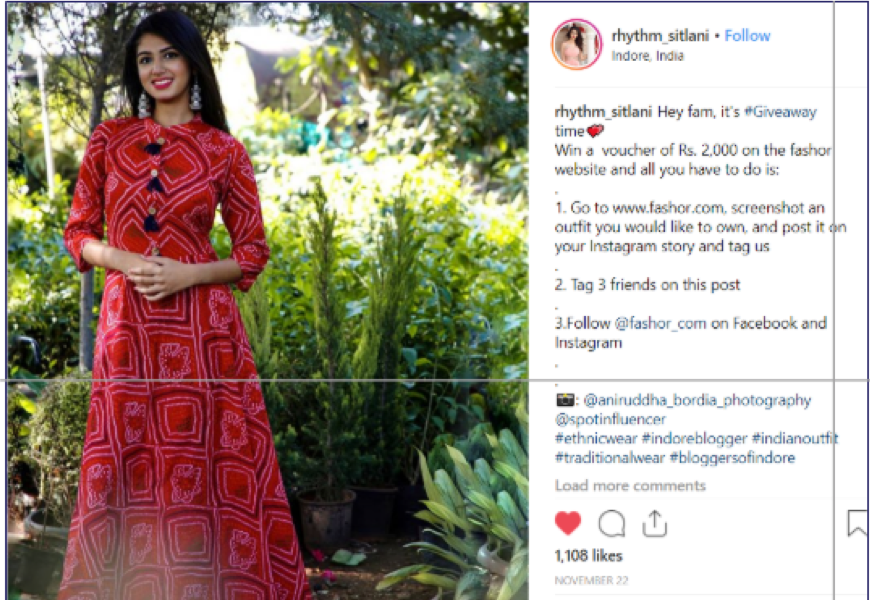 All their followers had to do was choose an outfit from the Fashor website, share the same picture on Instagram story, tag Fashor along with three friends and finally follow Fashor on Facebook and Instagram. The winners would be given a Rs. 2000 gift voucher to shop to their heart's content.
Take advantage of Live Streaming
Instagram's Live Streaming option allows FMCG brands and Influencers to capture their audience's attention with a product launch or exclusive behind-the-scenes footage. The advantage of a live stream is that users can engage immediately with influencers and ask questions regarding various products, thereby maximising engagement and brand awareness.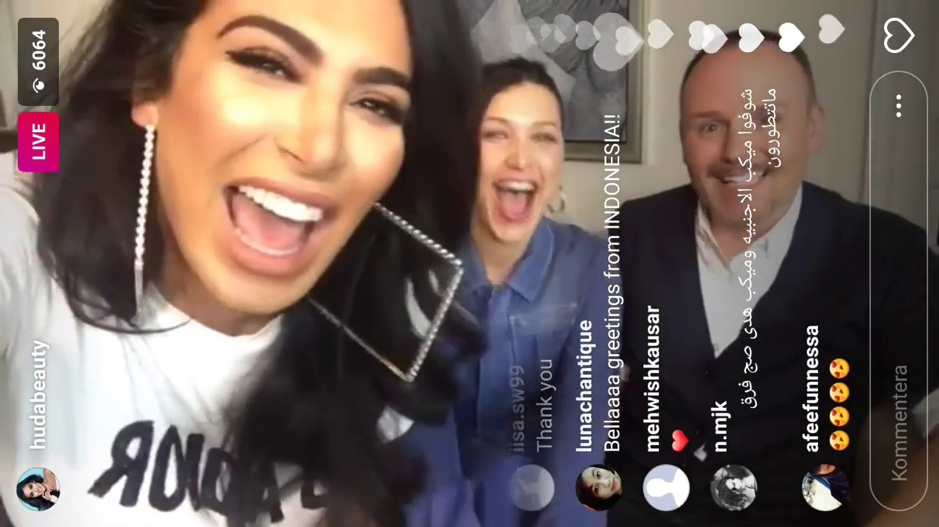 The benefit of Instagram Takeovers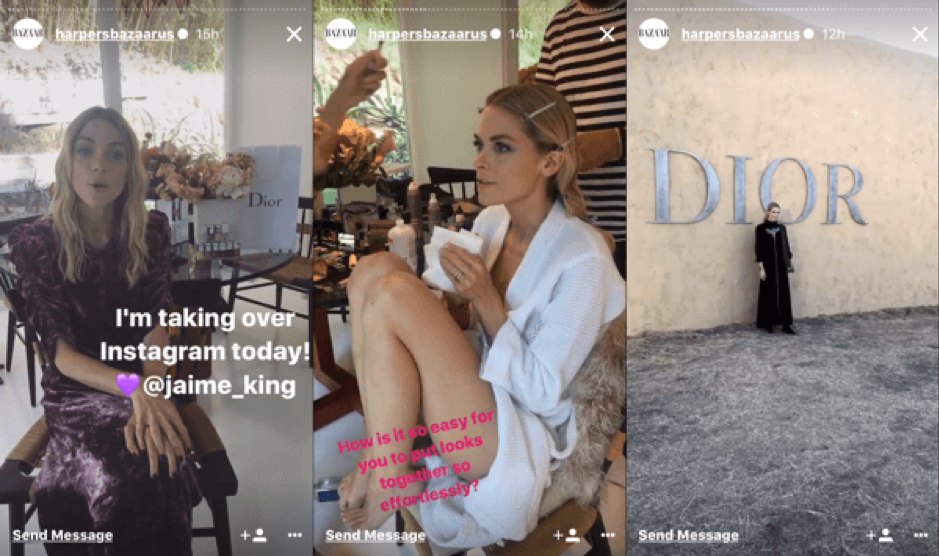 Instagram Takeovers are neither a tool nor a feature, but an effective Instagram influencer marketing technique. FMCG brands can collaborate with a few influencers who will "take over" the brand's Instagram handle for the day. This technique offers a simple way for brands to benefit from new audiences tuning in to listen and watch a well-known influencer's thoughts on the brand; it also simultaneously provides brands engagement with their current audience as well as newer ones.
Instagram influencer marketing is a sure-fire way for FMCG brands to reach a larger audience and boost sales. With frequent collaborations, you can build loyalty and increase your brand's exposure. We hope our advanced Instagram marketing tips have inspired you to explore new avenues of Instagram Influencer marketing. Be sure to reach out to us at Inlfuencer.in to launch your first campaign and don't forget to check out our in-dept article on Influencer Marketing 101: Your definitive guide to promoting your brand.
___noise___ 1000