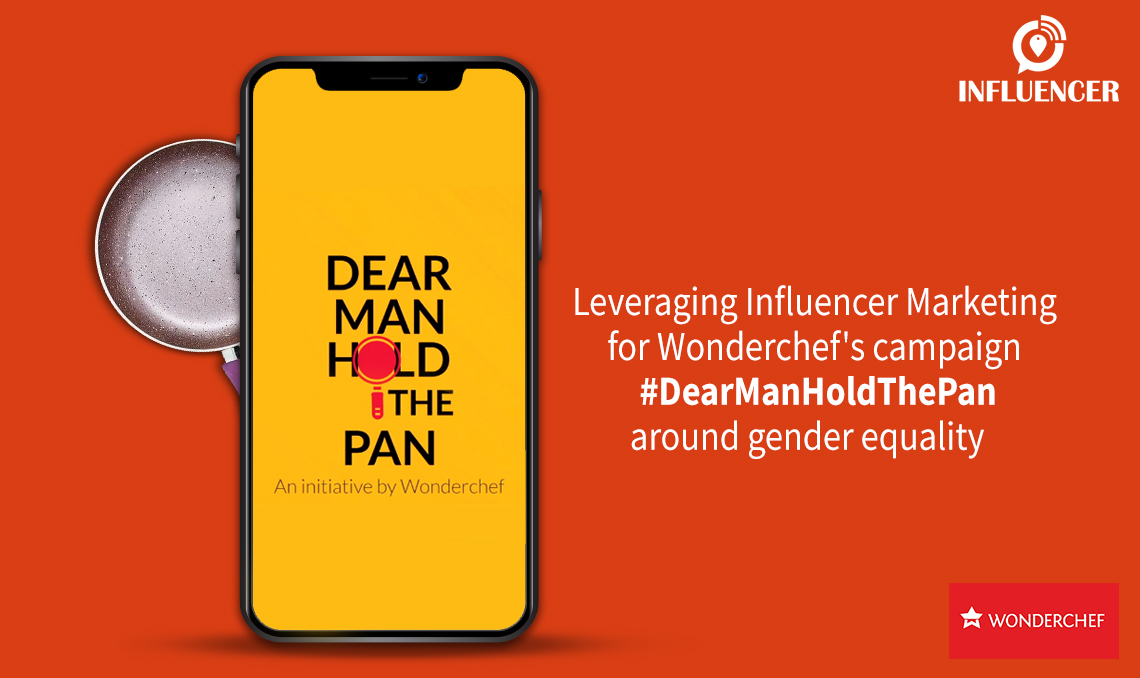 Leveraging Influencer Marketing for Wonderchef's campaign #DearManHoldThePan Around Gender Equality
Author: Natasha Daruwala
|
Updated Date : February 18, 2022
Wonderchef is a leader in cookware and kitchen appliances, marked by their hallmark German quality standards, Italian craftsmanship, and relentless creativity, setting them a league apart in their industry.
With a comprehensive understanding of kitchens across India, they approached us to help them raise awareness on the prevalence of persisting gender roles, and the importance of doing away with them by starting a conversation.
About the campaign – #DearManHoldThePan
Even today, a woman in India spends an average of around 300 minutes in the kitchen, while men spend a tenth of that time, clocking in only an average of 29 minutes in comparison.
This goes to show that the kitchen is still thought to be a woman's domain, as well as her responsibility. This situation is far from the course of gender equality, transforming and sweeping the country in various other places. Wonderchef, a leading, premium cookware and kitchen appliance brand in India, launched their 'Dear Man Hold The Pan' campaign to create awareness and start conversations on this continued discrepancy.
A laid back, entertaining video was published by the company to highlight the importance of the cause behind this campaign. The video marketing campaign was based on a social experiment which consists of interviews with men and women from different parts of the country about their real-life experiences and the roles and responsibilities they play in their kitchen.
Campaign Conceptualization
The aim was to find out what men feel about the state of gender equality in the country and whether their kitchen endeavours reflected this. To have a representative sample, a short and engaging quiz was conducted for men everywhere, with participants of varying ages and backgrounds. The campaign's central message was captured in the phrase – Dear Man Hold the Pan.
https://www.instagram.com/p/B4uacQ7Ag8M/
The Launch
The company shared a viral video project that several influencers supported, which helped ensure that the video reached a wider audience base across different social media platforms. Influencer.in and Wonderchef also collaborated with 25 celebrities and beauty influencers for Instagram influencer marketing. They endorsed the cause and addressed it with the hashtag # IHeldThePan on their social media handles. Well known influencers, like Swapnil Joshi, Jay Bhanushali, Rohit Khandelwal, Aly Goni, and Harshavarshan Rane to name a few, took efforts to share the message of the campaign with their followers.
https://www.instagram.com/p/B4w0KuPJml9/
The Result
The video and Instagram influencer marketing campaign went viral with a combined reach of more than 2 million and 40K+ views – not only giving a smile to everyone who saw it but also fulfilling its incisive aim of awakening audiences to the gender gap that exists today. It was heartwarming to see people in lakhs initiating and actively having conversations around the theme and agreeing with the campaign's overall message. Several men connected to the message and had taken a willingness in the kitchen to lend a helping hand, agreeing that they held equal responsibilities with the household chores. Even today, the campaign continues in exclusive outlets of Wonderchef across India.
Campaign Metrics:
No of Influencers – 25+ influencers
Total Reach – 2 Million Reach
Total Engagement – 5 Lakh+ Engagement