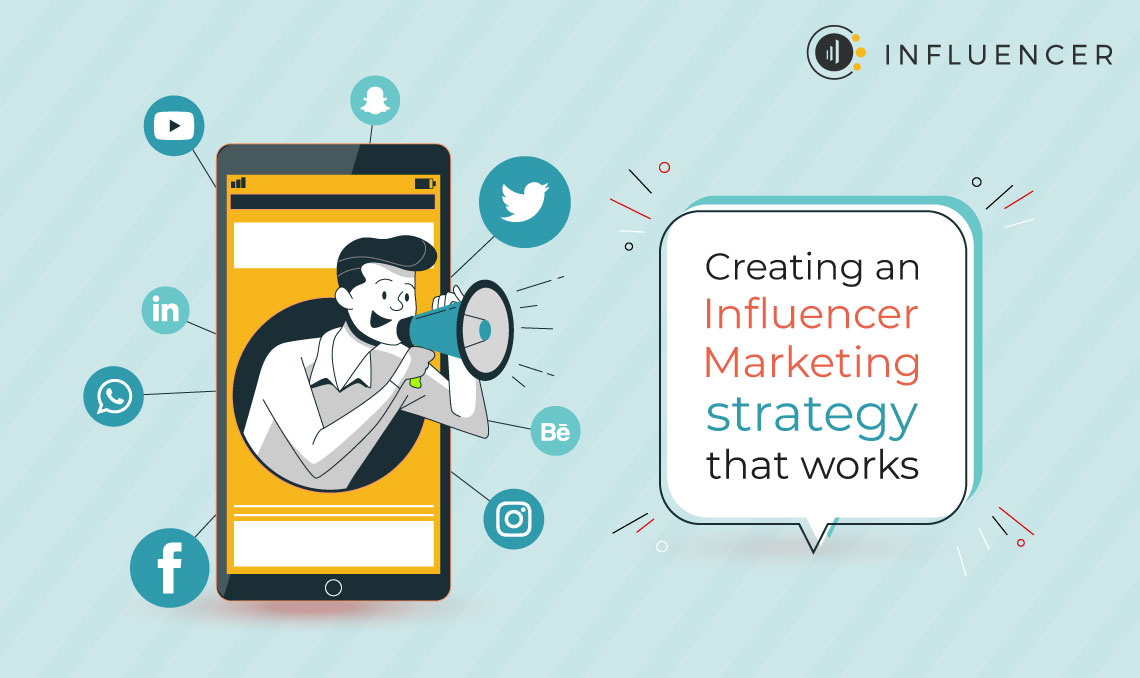 Guide To Create An Influencer Marketing Strategy That Works
Author: Reetika Mukherjee
|
Updated Date : May 15, 2023
After a host of difficulties and challenges, many brands will be relieved to see the year 2020 come to an end. Amid all the marketing ideas, Influencer marketing has become more imperative than ever in the COVID-19 period to ensure you maintain market share and a consistent cash flow. Influencer marketing has been gaining momentum lately and is surely one of the promising business marketing ideas that any brand could adopt. To hit your brand's right target audience and achieve your marketing targets in 2021, you will need a strong, achievable, and effective influencer marketing strategy that will help you meet your brand's goals and objectives.
Influencer marketing is a strategy that involves identifying individuals who have influencing skills, and someone who has a lot of sway in a brand's field or target market. As noted in one of the surveys by Oberlo, 49 percent of customers said they relied on influencers for product recommendations and 42 percent of people who saw influencer ads tried the product or service that the influencers recommended.
Any brand, no matter how big or small can rely on such top influencers as they have a unique ability to communicate with their target audience in their niche environment. Be it a fashion influencer or e-commerce influencer, the brands can easily tap and leverage their influencing skills to create a positive buzz about their brand. 
The following are the main steps that will guide you to develop an effective influencer marketing strategy.
Define Your Target Audience: To be effective in an influencer campaign, you must first understand who you are trying to influence. Being descriptive is beneficial, meaning the more precisely you can describe your target audience, the easier it will be to identify relevant influencers. As a part of the marketing strategies for business, we always lay down our target audience, which is specific and belongs to a niche market. It will help the influencers communicate and introduce the brand to the audience easily.
Set Goals:

When it comes to influencer marketing, there is no such thing as one-size-fits-all. You are reaching out to consumers who are at various stages of the buying process. Have a better understanding of the targets you want to accomplish with your influencer marketing strategy before you start looking for

top influencers

. Some of the goals may include:
                 i) Brand awareness
                ii) Follower growth
               iii) Increased engagement
               iv) Clicks to site
                v) Product sales
                vi) Customer Loyalty
If you don't have any set goals, you won't be able to tell if a campaign is successful or not. Be it social media campaign ideas or any other, you need to have a clear understanding of your goals. The way you perform for your original goal determines how you calculate your engagement rate at the end of the campaign.
Connect with Appropriate Influencers:

The whole point of influencer marketing is to bring huge awareness among the TG about the brand's product or service. Work with an influencer that your target audience admires, likes, and follows. Somebody who is considered to be one of the leaders of your niche market. When looking for

top influencers,

you will most likely have to filter through a lot of information, such as channel audience base USP, relevance, organically grown followers, content quality, and engagement rate. It's not a bad idea to ask the influencer for their numbers to see if they are ideal for your campaign. Try being more diverse in your search by looking into various platforms to select the

perfect influencer for your campaign.

Master the Content Strategy:

An effective content plan can help the brand come out well with the voice of the influencer. Try co-creating content for the campaign as the influencer understands the requirement of the audience and can help you deliver the message more effectively. When influencers interact with their followers, they usually do so to enlighten the audience with effective content and an element of entertainment about any particular topic. For influencer marketing to work, any content shared by the influencer about your brand must be relevant, useful, informative, and entertaining.

Track, Measure and Optimize:

Although entrusting the entire content

strategy to an influencer can seem appealing, two heads are often better than one. Keep an eye on the campaign's results both during the campaign and after it's over. Try to keep making the necessary optimization to the campaign to give it the necessary boost to drive the necessary results or traffic towards the campaign. The essential KPIs to measure the success of a campaign are as follows:
Brand Awareness Metrics: Give the UTM link to your website, product, and social media pages to drive traffic and visibility. Social mentions and effective PR coverage also help to boost the overall brand identity in the market.

Engagement Metrics: Highlighting the brand in the form of hashtags and enhancing engagement rate through likes, comments, and shares that can be checked and accounted for.

Leads And Sales Metrics: Bring in new prospecting customers by introducing the brand to them and building a positive relationship with the audience and remarketing the consumers to generate more profitable leads and attain sales from the entire campaign to make the entire

marketing move commercially successful.
After your campaign is completed, compare your actual ROI to your target. If you have achieved your goal, it is time to rethink your strategy and probably launch a new campaign with a higher goal. It's always wise to broaden your marketing ideas by going through various other popular influencer marketing campaigns. Take a quick look if you didn't achieve your goal and try and figure out what went wrong. Take stock of your current campaign and make changes to see how you can boost your performance.
Acknowledge the influencer's efforts:

Influencer marketing is all about establishing connections with individuals, both consumers and influencers. With a thank you, acknowledge the influencer's efforts. Begin by sending a personalized thank-you gift and appreciate their unique

influencing skills.

These tokens can go a long way toward establishing solid, long-term bonds. It will also pave the way for further collaborations with the

top influencer

in the future.
Influencer marketing is the pinnacle of storytelling and selling. Be mindful of the influencer you are working with, and remain true to both their and your own brand stories. You will get more real content from both players if you do this. Hopefully, the above-mentioned steps will guide you to build a strong and effective influencer marketing strategy for your brand. The guide has surely helped us for our various clients, one of them be Dr. Reddy's, a pharmaceutical brand, for being we achieved a target of 180K+ reach and 466% increase by leveraging the power of influencer marketing in a strategically and effective way.
 So, it's time to give your brand the audience it needs and it's never too late to enter the jungle of influencer marketing as it is one of the promising and effective methods to rise in the market and reach out to the potential audience.