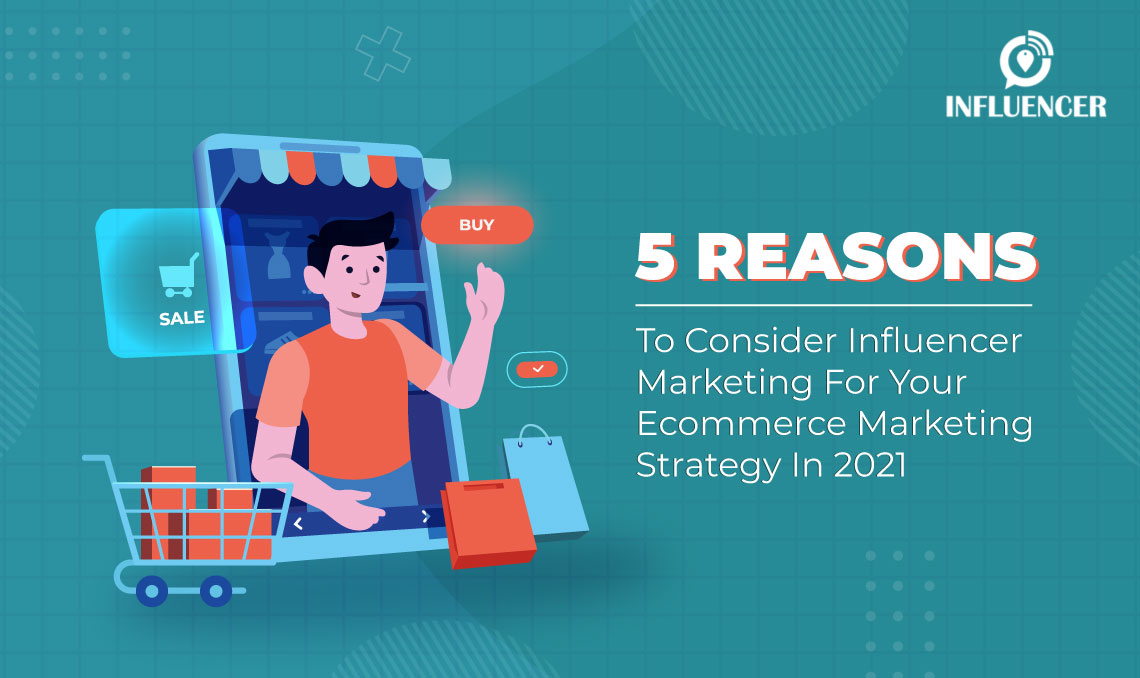 5 Reasons To Consider Influencer Marketing For Ecommerce
Author: Sayantan Rudra
|
Updated Date : May 15, 2023
When the COVID-19 pandemic hit, it was not what we expected. Every industry in the market took a huge hit during this pandemic but it is time for them to bounce back. 2021 is a year full of changes and with the right change in your marketing strategy, a little flexibility, you can make a marketing plan with the assets that are most needed. One of these marketing strategies is Influencer Marketing and we have covered different influencer marketing strategies to try. When you are considering an e-commerce marketing strategy,  here are 5 reasons why you should be considering influencer marketing for it.
But before we dive into influencer marketing for e-commerce, if you are someone who is looking for specific fashion influencers or gaming influencers, we have you covered with our in-depth blogs and research on these topics. Do read these blogs for insights to include in your influencer marketing strategy
    1. Sales, Awareness & Engagement – Killing 3 Birds with 1 Stone
Influencer marketing for e-commerce has taken a new high ever since the lockdown. Content creators are finding new and innovative ways to make their content from home more engaging to users in a way we have never seen before. If you are wondering what are the right types of influencers for every step of the marketing funnel, we have got you covered there too.
There is a 60% increase in online orders since the pandemic and the pandemic has accelerated the shift towards online shopping by 5 years. Retailers like Walmart have seen a 97% increase in e-commerce. Therefore, marketers should be leveraging influencer marketing campaigns in their e-commerce marketing strategy to drive sales as well as awareness & engagement. 
      2. Your audience trusts honest blog reviews
Only 1% of millennials trust advertisements, however, 33% of them love an honest blog review and are more likely to buy a product after reading a review from their favorite e-commerce influencers. Influencer marketing for e-commerce has become very important since more and more people are said to buy a product after they have seen or read a review about it on platforms like Youtube, Facebook, Instagram, or Twitter. So why spend money on advertisements that your audience will not relate to as much as they would to a real-time e-commerce influencer who can give your product the right platform and review. 
  3. A good rate of ROI
According to a study by Tomoson, Influencer Marketing is one of the fastest-growing channels for customer acquisition beating not only organic search but also paid search. Businesses have shown to make $6.50 for every $1 they spent on influencer marketing. Huge brands whose influencer marketing campaigns gained a lot of success have earned revenues of up to $20 per $1 spent. Hence, it is not only the fastest-growing channel for customer acquisition but also the most cost-effective one. A proven ROI record for influencer marketing makes it a must for your e-commerce marketing strategy.
  4. Video Trends Are Growing
We have seen a rapid trend of video content ranging from Tik Toks, IGTV Lives, Facebook Lives, Fleets to Instagram Reels. Influencers show consumers how a product can be used, speak about why the product should be used, and also make relatable content around these products. There is a 50% jump in views since the lockdown and we are here to tell you that this trend is not fading away anytime soon so soak all the benefits you are going to get from videos! And who better to make these impactful videos for you than e-commerce influencer marketers.
  5. CGI Influencers In 2021
Computer Generated Imagery or CGI Influencers as the name suggests are digital avatars that have changed the landscape of digital marketing. Now we know what you must be thinking, how are people going to believe an influencer who does not even exist? While these concerns are legit, studies have shown quite the opposite.
According to these studies out of the people who follow CGI Influencers, 55% have made a purchase or attended an event, 53% have followed a brand and 52% have searched for a brand/product. Lil Miquela, a CGI Influencer on Instagram has herself partnered with brands like Samsung & Calvin Klein and has been ranked "Top 25 Most Influential People On The Internet" in 2018. Their reach and influence now are beyond comparable. 
These are just a few reasons why you should be considering Influencer Marketing as a huge part of your e-commerce marketing strategy. 51% of marketers believe that this strategy has enabled them to acquire solid leads that are better than leads they have acquired in the past. 
If we have to put it in one line, trust the right influencers with your brand and their talents will shine through giving your brand the authentic voice it needs. This will not only build your brand but also build a loyal customer base that will take action!