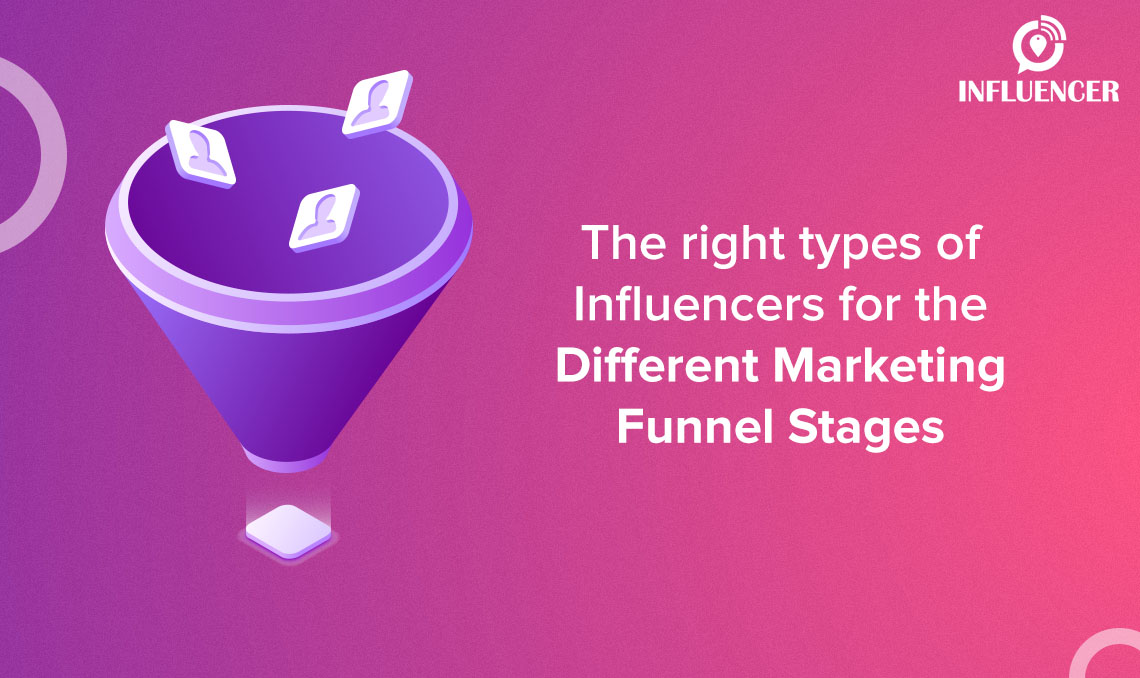 Right Types of Influencers for The Different Marketing Funnel Stages
Author: Ria Jain
|
Updated Date : February 18, 2022
If you often confuse the sales funnel with the marketing funnel, then all you need to know is: 'Marketing Funnel deals with advertising, to give the leads a reason to come buy a brand's product or services. Whereas, the Sales Funnel deals with how to make those leads buy often, thus making them a loyal customer.'
Marketing Funnel Stages: The holy trinity
Before we get into the types of influencers for each stage of the marketing funnel, let's look at the different marketing funnel stages in marketing:
The

'Awareness'

stage- Under this stage of the marketing funnel, brands use various marketing campaigns, brand mentions, direct mails, etc., to draw the audience's attention and feed them enough information in the hopes of turning them into leads. This is done by doing research on the kind of audience, their preferences, and behaviour.
Our one such campaign #ShowThemYouKnowThem Challenge by TataCliq with influencers like Rhea Kapoor & Harsh Varrdhan Kapoor, Masaba Gupta & Neena Gupta is a classic example of how to build awareness among users with the simplest idea, yet create a powerful impact.
The

'Consideration'

stage- This is the

marketing funnel stage

where the leads turn into qualified leads and prospective customers. Brands communicate and address information to help customers make a wise decision in favour of their brand.
One such campaign with Dr. Reddy's with the objective of educating the audience about the importance of building immunity during the pandemic, with India's top nutritionist, Dr. Anjali Mukherjee, which reached 180K+ people.
The

'Conversion'

stage- Once the brands reach this

marketing funnel stage

, they can often call out and say how their brand is better than that of their competitors and why the customers should consider it as a perfect fit for their purchasing requirements. Under this

marketing funnel stage,

the brands should take advantage by pointing out their benefits in terms of their product, quality, features, and service.
A good example can be how we leveraged on the vernacular front for Khatabook to drive 1 Million app installs on the Google Play Store using influencer strategy, and reached 20 Million views with 250 TikTok Influencers.
Types of influencers:
In today's digital world, having the right voice and personality advocating your brand is of utmost importance. Before you make the decision of choosing an influencer, you must have enough knowledge about the different types of influencers that are out there.
The table below lists the different types of influencers. The list should give you a fair idea about the right choice of influencer to fit your requirement.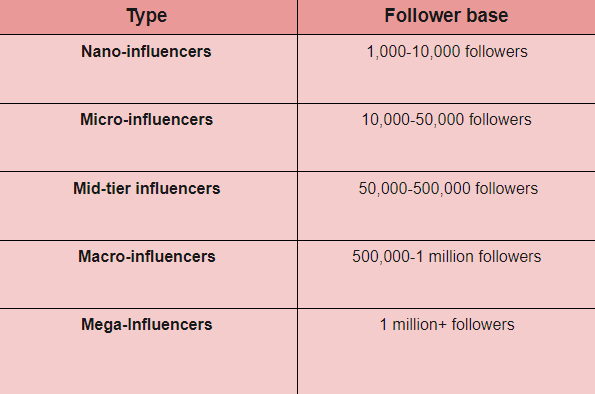 Let us dive into each category of the types of influencers,
Nano-influencers: Nano influencers are the types of influencers who have 1,000- 10,000 followers. The reasons why you can consider nano influencers as the best type of influencers for your brands are easy approachability, low cost, more dedication, and direct communication. But on the other hand, the cons can be low expertise level and reach.
Micro-influencers: Micro-influencers are the types of influencers who have 10,000- 50,000 followers and are considered as experts in their respective niche, like food, fitness and travel bloggers, etc., As the micro-influencers have a limited follower base, marketing becomes more personal, as they connect one to one with their audience, which in turn can give a huge success margin.
Mid-tier influencers: Mid-tier influencers have a follower base of 50,000-500,000 users. Mid-tier influencers are more established than that of the micro-influencers but less established than macro-influencers. These influencers fill the gap between the two, these specialize in what they are passionate about like House of Misu, Shreya Jain, Shivesh Bhatia are a few examples.
Macro-influencers: Macro influencers have a community of 500,000-1 million followers. These are very well known types of influencers and at many a time have another title such as a celebrity, actress, sportsperson, etc. While they are absolute professionals and their reach is vast, they are very pricey. Nikhil Chinapa, Aashna Shroff, Navreet Josan are a few good macro-level influencers.
Mega-Influencers: The last under the types of influencers is a Mega influencer. These influencers have a community of 1 million+ followers. These influencers are basically A-listers. These influencers are basically famous celebrities. They only work with brands they believe in, with professionalism but they come with a huge price tag. A few examples are Komal Pandey, Jannat Zubair, Avneet Kaur are a few examples who fall under the category of mega influencers.
Now that you are aware of the types of influencers, wherever your need be, you can find the type of influencer that you are looking for here.
What is the next question that comes to your mind after learning about the types of influencers and shortlisting the right kind of influencer for every stage of the Marketing Funnel?
THREE INGREDIENTS TO CHOOSE THE RIGHT INFLUENCER
The three main aspects to keep in mind when you want to choose the right influencer are:
Brand fit:

Shortlisting and selecting influencers that are the right fit for the brand, keeping in mind the brand image, and in particular the right fit for the campaign.
Concept centric:

To prepare a detailed concept keeping in mind the brand guidelines and collaborating with influencers that we know will execute the concept as per the stated requirements.
Scale:

An influencer should be shortlisted based on his/her capacity to increase scale and scope of work on any platform.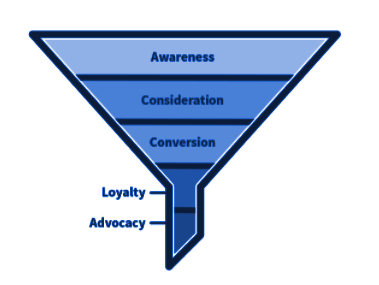 Now that we know the three main aspects to keep in mind to help you choose the right influencer, let's look at the types of influencers a brand should look at based on their position determined by the funnel in digital marketing:
Under

Awareness Stage

, as mentioned, the brand looks at

'maximizing'

visibility, engagement, and traction. Here, the main aim is to get people to know your brand, so choosing the

types of influencers

who are famous, and

can help gain a good follower base would be ideal, especially utilizing influencer marketing on Instagram. Hence to build awareness, the right strategy can be to engage the users in some

fun challenges, giveaways, or do some brand-centric videos.
One such campaign with Wonderchef where men on the internet posted with a plan to create awareness on role swapping, to help them raise awareness on the prevalence of persisting gender roles.
Under the

Consideration Stage

, the brand thinks of concepts that can be relatable and how it can target the customers by leveraging the availability of relatable influencers like travel influencers, lifestyle influencers, mom bloggers, etc which is also relevant to their brand.
Nykaa leveraged influencer marketing to enlighten their audience about each product, where they demonstrate the product, list the pros and cons, the price, the varieties, etc. to educate the customers before launch and purchase.
Under

the Conversion Stage

, aiming at a direct approach works best for the brands. The

types of influencers

shortlisted are very brand-centric, which means a restaurant would select a food blogger, a travel agency would go for a travel influencer, etc.
One such influencer campaign with Gamezy to increase app installs by tapping into the Millenials of the nation, by collaborating with influencers and content creators they follow to showcase their USP's that set them apart from the rest.