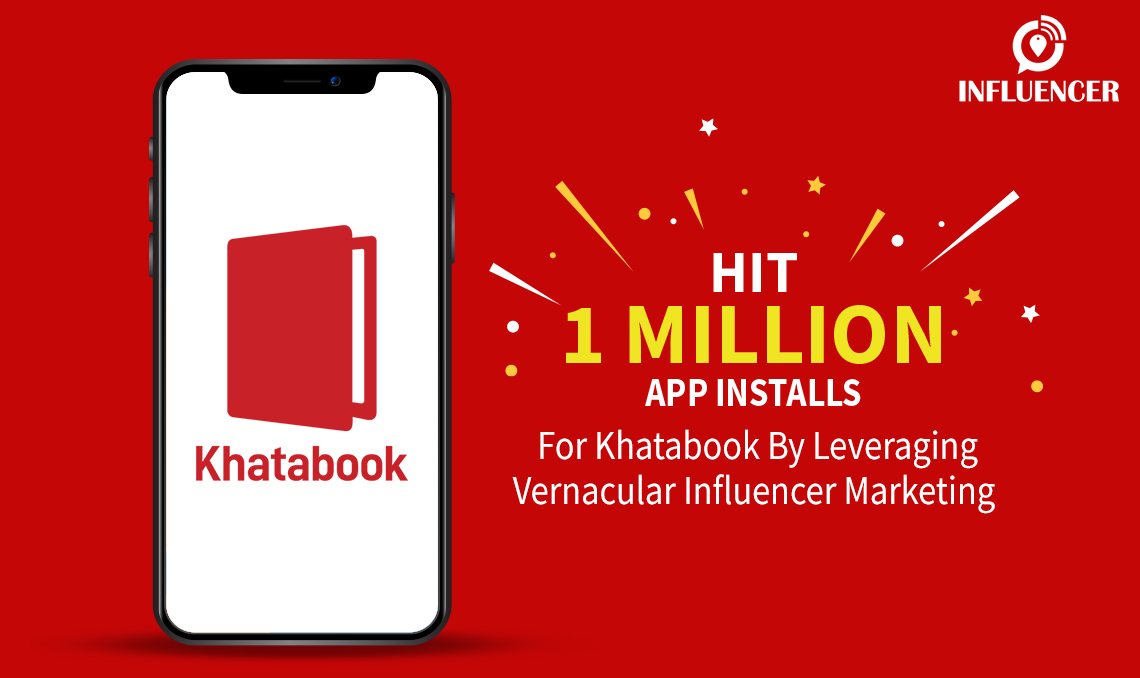 Leveraged Vernacular Influencer Marketing to Achieve 1 Million+ App Installs for Khatabook
Author: Abhijith Menon
|
Updated Date : February 18, 2022
Founded in 2016, KhataBook is a popular online app that aims to help the small and medium-sized business (SMB) sector manage all types of transactions using their digitized ledger service.
Available for Android devices in 10+ languages, KhataBook approached us with the objective of reaching 1 million downloads on the Google Play Store. And we saw this as a great opportunity to leverage online social media platforms with their vernacular offering.
KhataBook reached their goal of 1 million downloads. How did they do it?
With a clear understanding of their goal in mind and a very short deadline to meet them, we tailored our complete digital marketing solutions to help KhataBook achieve 1 million downloads in record time.
We also identified a way to not only increase the volume of installs but also increase the retention of those users by keeping them further engaged on our app.

Innovation in tapping into newer markets
Their competitors focused only on Hindi as a language of communication, but we saw the need for a vernacular approach and helped devise a strategy to reach out to the untapped audiences of the southern parts of India. We started ads in the top regional languages of the south, like Telugu, followed by Tamil.
Leveraging TikTok – the wins and challenges
Tapped into a new audience – TikTok
We were successful in reaching out to a new audience using their interests and other targeting options which worked out well for the brand. We identified the influencers who had the right kind of audience while keeping in the interest of the brand which helped in promoting it significantly. We played with different types of creative content and bids to increase relevance and optimization based on the results. We soon got whitelisted for beta features which helped us to scale up significantly while targeting the right set of people. This helped us to increase the performance of the brand.
The challenge we had with TikTok
We started TikTok ads with animation videos. It worked well for us initially, but after observing an increase in the cost per install and low click-through-rate, we knew we had a problem on our hands. Moreover, the spend also dipped with all the accounts. As creative performance dipped in a time frame of 10-12 days, causing a dip in the installs, we started using a well-known TikTok influencer in our TikTok ads.
How we overcame it
We deep-dived and researched the content that worked for us to overcome the issues at hand. From those insights, we were able to narrow down on video concepts and themes we required to achieve the brand's goals. TikTok is known to be a platform where users post content that is relatable, unpolished and highly authentic. Therefore, we chose to work with established and popular creators on TikTok who understand the platform and type of content consumed by users on the platform.
The influencer marketing strategy for KhataBook was centered around a robust performance strategy that was executed to increase customer acquisition. We collaborated with 250 influencers across the country who created videos in 15 different languages. The influencers created videos which showcased how easily the users of the app can account for their business during a hectic and busy season. The content was also created around trending topics and festive events like Diwali, the rise in the price of onions, and New Year 2020.
TikTok Vernacular Strategy
When we started our TikTok ads using vernacular influencer videos, it changed the dynamics completely. With the help of these videos, we started targeting regional users, which helped us reach the right set of audiences for KhataBook.
Results
After we started using vernacular content, we saw a 60% incremental growth in install volume and a 20% reduction in cost per install. So far, we have uploaded more than 250 influencer videos in TikTok ads which gave us exponential visibility across the channel and more creative assets to pick from.
At the end of it, KhataBook saw a download of more than 1M which was delivered as promised!