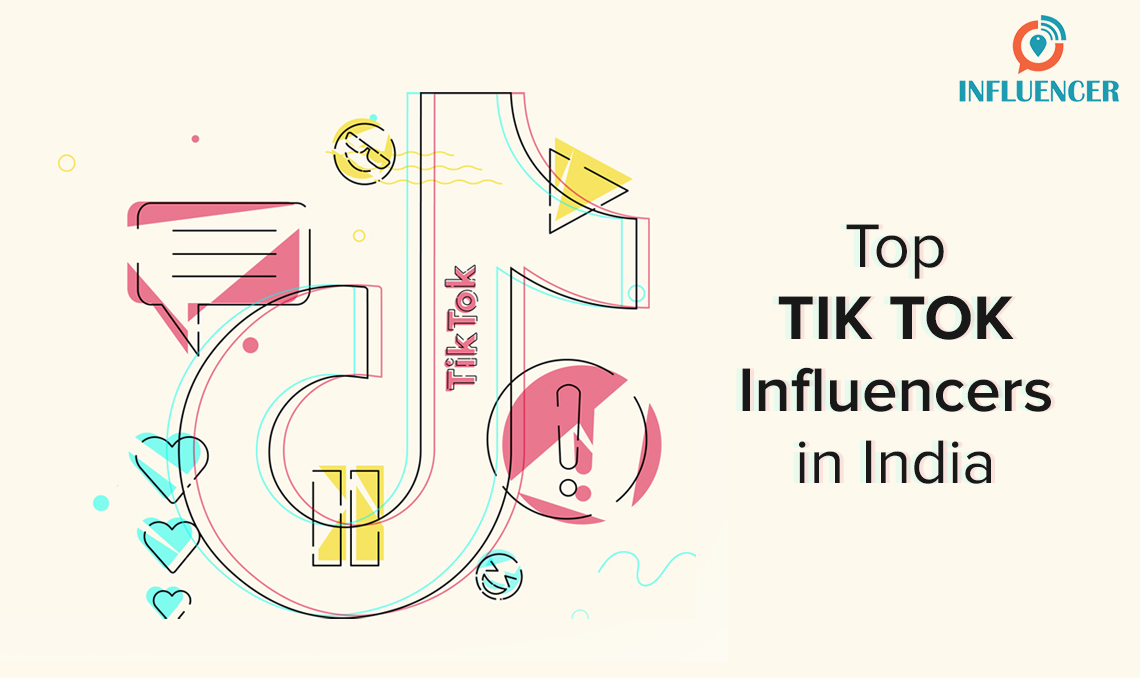 Top TikTok Influencers in India in 2021
Author: Rithika Kankaria
|
Updated Date : February 18, 2022
Top TikTok influencers in India
Founded in 2012 and launched in 2016, TikTok was a highly engaging video platform with over 800 million active users worldwide. The most striking aspect of this platform was that it allows the user to upload 15 seconds long videos with innovative dance moves, lip-syncing to several popular musics.
In India, this trend was first picked up by some of the popular celebrities like Tiger Shroff, Disha Patani, Jacqueline Fernandez, and Shahid Kapoor. Since then many youngsters have joined the club. Till they were banned in Jun 2021, there are more than 180 million monthly active users. Based on our 2020 survey on influencer marketing in India, we know that many of the content creators on tiktok are moving to Instagram and YouTube and less to tik tok alternatives in India like Roposo, Sharechat and Trell.
That being said, here are the top TikTok influencers in India who were entertaining their audience with a great sense of humor and amazing acting skills, till the ban happened:
Riyaz Aly
Based out of Mumbai, originally from Bhutan, Riyaz Aly is a 16 years old Indian actor, fashion blogger, and a crowned verified muser on TikTok with over 38.8 million growing followers. He is the most famous and fastest TikTok celebrity in India to have reached 10 Million and 20 Million followers. He is recognized and far-famed for his perfect lip-sync, dancing, and humor videos. Riyaz made his first debut in "Yaari hai" sung by Tony Kakkar starring Siddharth Nigam and Twinkle.
From Shilpa Shetty, Avneet Kaur to Deepika Padukone, he has collaborated with some of the finest personalities in the Bollywood industry.

Faisal Shaikh
Faisal Shaikh, a social media influencer, a model, an actor, and one of the most popular TikTok star famously known as Mr. Faisu has over 28.2 Million followers on TikTok. He is not just a TikTok sensation, but is also hugely popular on Instagram too with 12.1 Million followers. He is well known for his hairstyle, comedy mimics and lip-syncs videos. He has appeared in various music videos including " Viah Nahi Karauna", "Fruity lagdi hai", "Kaali Meri Gadi", and "Nazar Na Lag Jaya".
Mr.Faisu was titled as the most popular social media star at MTV IWMBuzz Digital Awards, 2019. He has collaborated with many Bollywood and Tv stars like Alia Bhatt, Sana Khan, and TikTok influencers like Awez Darbar, Riyaz Aly, Jannat Zunbair Rahmani, and Avneet Kaur.

Arishfa Khan
Started her career as a young actor in a number of Tv shows and various Tv commercials, Arishfa Khan is now a renowned Television actress (making her first appearance in an Indian soap opera "Ek Veer Ki Ardaas – Veera"), a model, and a widely known TikTok influencer with 26.5 million growning followers sharing comedy, beauty and lip-sync content. She is an active Instagram user and a YouTuber as well with 1.13 million subscribers uploading Beauty tips and makeup hacks.
Her past work as a child actor has contributed to the impressive audience which helped her become a Social media personality she is today.


Jannat Zubair
With over 25.9 Million followers on Tiktok. Jannat Zubair Rahmani, a crowned user is widely known for her lip-sync videos and creative styles. She is an Indian film and Television actress gaining recognition through Colors Tv's Phulwa in 2011 and has played the role of a student in the Bollywood film Hichki in 2018. She was awarded Best Child actor Award (Female) – Indian Telly Awards 2011 and Best Debut of the Year ( Female) – Golden Awards 2018.
She keeps her audience posted through 'Jannat Zubair Rahmani Official' an app launched by her in 2018. She is also known for her high profile fashion statement and runs a Makeup and Beauty channel on YouTube named 'Complete Styling with Jannat Zubair' with over 1.47 million subscribers.

Nisha Guragain
Nisha Guragain is a model, an influencer, and a rising TikTok star with 25.5 million plus followers and is widely known on Instagram as well with 1.6 million followers. She is another popular TikTok influencer famous for her lip-sync videos and great acting skills. After uploading a TikTok video on the "Mujhe Yaad Hai Aata" song, she received more than 2.5 million likes on TikTok gaining popularity and mass attention.

Awez Darbar
Well known TikTok influencer, Awez Darbar is a talented dancer, a choreographer by profession, and the Founder and Director of the company Ace Production. His great sense of humor and amazing acting skills have helped him gain huge popularity on Tiktok with 25.0 Million plus followers and 5.5 Million followers on Instagram. He was featured in the music video "Naah" featuring Hardy Sandhu and Nora Fatehi. Currently, He collaborates with other popular TikTok influencers to produce conceptual content and bring out quirky and funny videos for his YouTube channel.


Sameeksha Sud
A professional model and a Tv actress, Sameeksha Sud is popularly known for creating amusing video clips, dance videos, and lip-syncs on TikTok. She has over 22.8 million followers on TikTok and has earned the badge for being an ace TikTok comedian. Her TikTok fan base has, in turn, resulted in the beginning of her career as an actor where she played the role of Dari Pari in Baal Veer, a Bollywood Tv serial. Having made it in the TikTok world, she is now a notable Instagram influencer building her social media presence with 2 million followers on Instagram.


Avneet Kaur
A known actress in the Indian Television industry and one of the top 3 finalists of the reality show Dance India Dance Lil Masters 2010, Avneet Kaur rose to fame with not only reality shows but has also become one of India's famous TikTok star with 21.4 Million growing followers. Apart from being a TikTok star, she is a social media influencer, dancer, YouTuber, and an active user on Instagram currently playing a lead role in one of the famous daily soap Aladdin-Naam Toh Suna Hoga.
She has been apart of a number of dancing reality shows like Dance Ke Superstars and Jhalak Dikhla Jaa and made her first Bollywood debut with Rani Mukherjee in the film Mardaani.

Garima Chaurasia
Garima Chaurasia, widely known as "Bahut Hard Girl", gained instant popularity on TikTok after posting a dance video on Bahut Hard, a rap song from the movie Gully Boy featuring her friend Rugees Vini on the platform. She is a model and a social media influencer, widely known by her username "gima_ashi" on Instagram having a strong base with 3.5 million followers and is far-famed for her lip-sync, dance videos, and humorous clips on TikTok with 20.3 million plus followers. She has featured in a number of music videos and numerous TV commercials for known brands like Panchamrit, Glamisha, etc. With her online presence, she seems to be on her road to being one of the most popular social media influencers.

Oye Indori
Robin Jinal, popularly known and recognized as "Oye Indori' is a YouTuber and a crowned muser TikTok star with 17.9 million plus TikTok followers and 590+ subscribers on YouTube. He is a humorist and is famous for his prank and amusing videos that outstand other ordinary TikTokers on the platform. His extraordinary acting skills and expressions attract viewers and these videos are uploaded on TikTok as well as YouTube. He is active on other social media platforms like Instagram with 420k followers.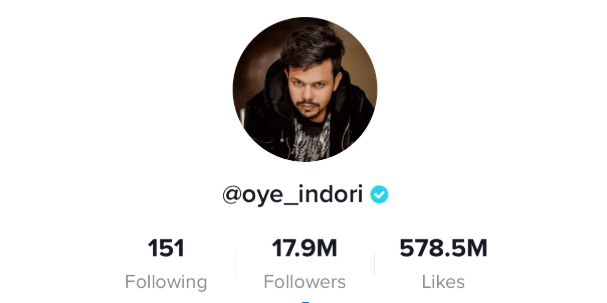 TikTok is a great platform for brands looking for localized content strategies for their influencer marketing campaigns. Collaborating with leading TikTok influencers who are well-versed in local languages would be a great option for brands to customize content for regional audiences.
Get in touch with influencer.in if you are looking to collaborate with leading influencers in India and execute a successful
influencer marketing campaign. You can also check out our other blogs on top YouTube influencers
and Instagram fitness influencers in India.