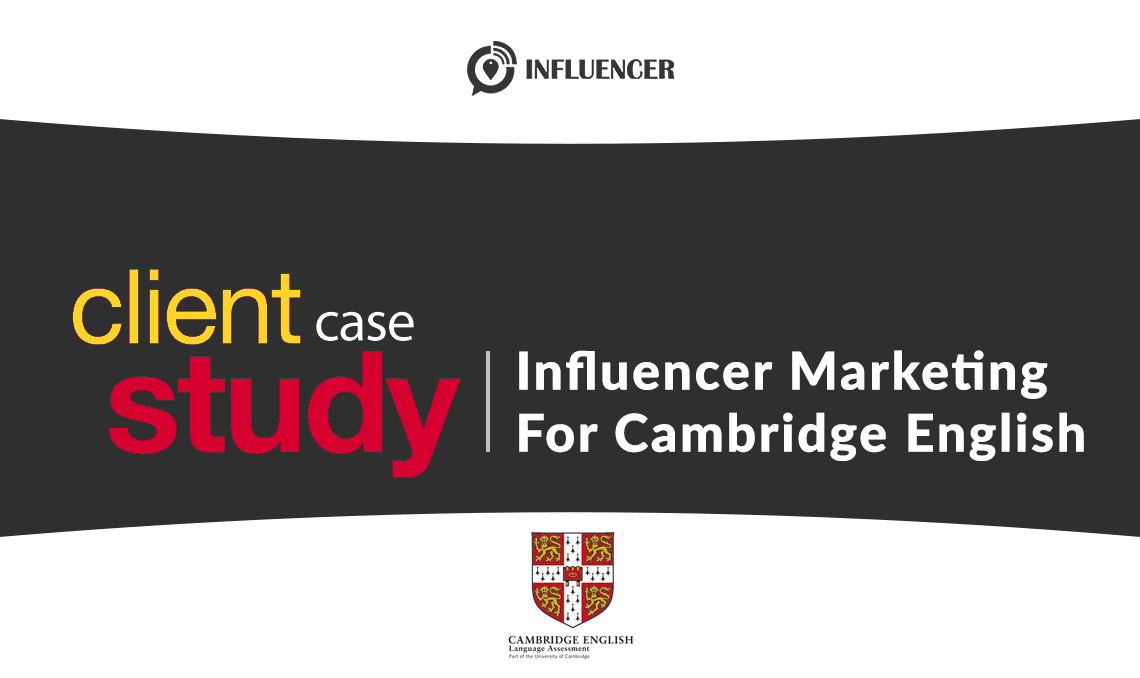 Case Study – Cambridge English
Author: Aishwarya Mukundrajan
|
Updated Date : February 21, 2022
Cambridge English Language Assessment centers are a part of the prestigious University of Cambridge and have been providing English Language qualifications worldwide. Cambridge English language assessment exams are well known and recognized by schools, universities and organizations all over the world. Accepted by over 20,000 universities, employers and organizations around the world, these tests can help improve employment opportunities and acceptance into top schools. They offer a wide range of English language exams for all levels and categories. From Business English to General English, the categories they offer are wide and up to date.
The Influencer campaign, we executed for Cambridge English was for their 'Young Learners program'. Young Learners test is a series of fun, activity based English language tests designed for kids in primary and lower secondary education. It is divided into three, Starters, Movers and Flyers. At the end of these tests, one can see a definite improvement in their child's English.
English is India's de facto national language. Knowing and speaking perfect English can open a lot of doors, literally and figuratively. Such is the importance of English. And the parents surely realize that their children learning the English language, the right way is of utmost importance. The young learners program is designed to address that need. But, the awareness about the program was limited to a select few, who had come across the program in their schools. The aim of the Influencer campaign was to increase the awareness about the tests and also to generate leads for their centers. We divided the campaign into two parts, Influencer outreach and Community outreach.
The concept is sensitive much, as parents are concerned about their children's education and are on the constant look out for new tests and skills that would equip their kids for their future. The current generation of parents is a good mix of digital natives and immigrants, who are constantly on the look out for new information online and are tech-savvy. Reaching out to them digitally, makes a lot of sense and is quite effective as well.
So, for the first leg of the campaign, which we kick started in April, right in time for the summer holidays, we reached out to various parenting and child development bloggers across the country. As they are the perfect thought leaders in their sphere and are the right ones to spread awareness about Cambridge English's Young learners program. Here is a list of Top parenting bloggers in India. Parents are constantly on the look out to find productive things to keep their kids engaged during the summer vacation, and we found that these parenting influencers are reaching out to a large number of parents with quality content and resources. We have worked with some of the best parenting infleuncers in the past, here is how you can engage with them.
Social media plays a huge role as parents find it easy to share content and insights easily with each other. Around 10 best influencers were chosen who wrote blogs and relevant social media posts informing their followers about the tests. Here are some screenshots of the blogs and posts.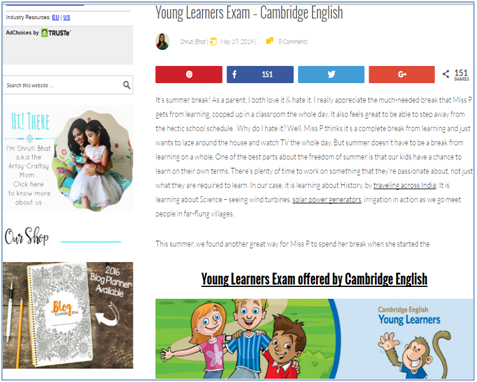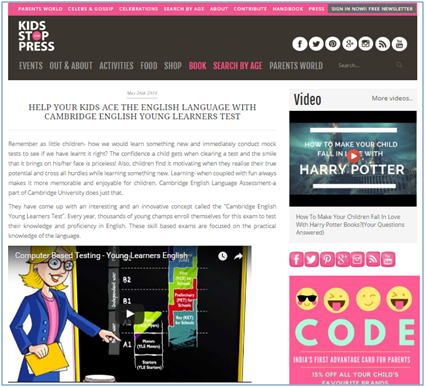 The second leg of the campaign was to reach out to parenting communities.Parenting communities are platforms that offer end to end parenting advice, tips, opinions, experiences and curated first hand information on schools, education, values, health, and a lot more representative content for parents. Gone are the days, when parents used to make a military reconnaissance of their locality for their children's school, take tips from their older family members for their child's health. Now, everything is digital and it is easy to find trusted communities that offer all the information in one place. We found that a huge percentage of parents are doing complete ground work for their child's education and well being, and they trust these parenting communities that offer them the best of content across all spheres.
We reached out to some of the best communities in India to talk about Young learners English program to their audience. As these communities reach out to a niche audience of parents across the country, we found this platform to be the best suited for brand engagement. Sice the agenda for the campaign was for branding and generating signups for the program, we tied up with these communities for running display advertisements in their network. This helped us custom target the audience, and reach out to the right audience. Here are a couple of snippets from our community outreach: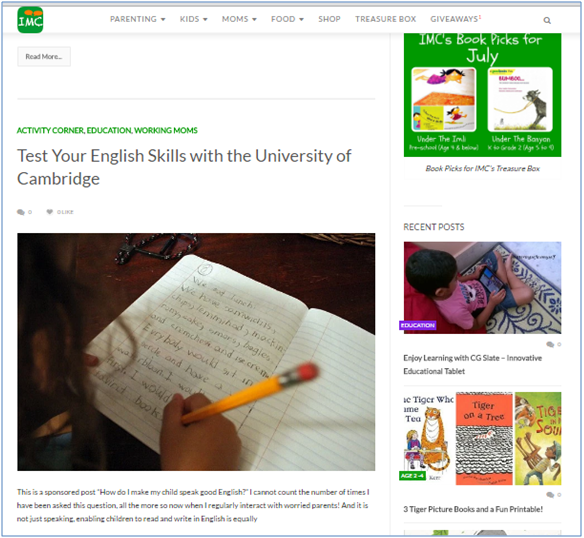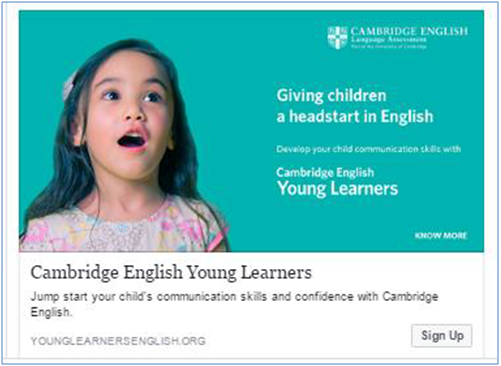 This Influencer Marketing Campaign contributed to 35% of the total sign ups received (leads generated) by the Cambridge English assessment center for their Young learners program. This has proved to be one of the best campaigns executed for them in terms of numbers and reach.
Influencer.in is here to assist you in finding the right influencer for your brand and help you engage with potential clients!