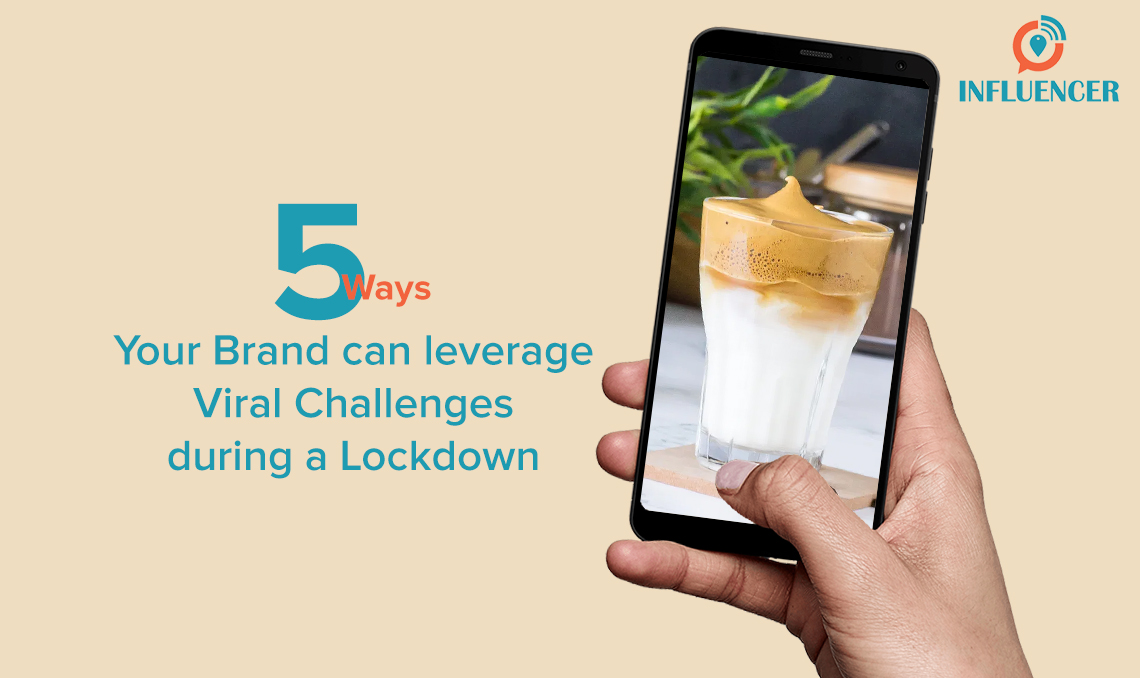 5 Ways Your Brand Can Leverage Viral Challenges During A Lockdown
Author: Soumi Das
|
Updated Date : February 21, 2022
As people turn to social networking apps and websites to fight boredom as they remain in lockdown, a number of viral Internet trends are taking over the Web. People are busy sharing their different talents like dancing, painting, singing, cooking, and so much more. While many of them take on these viral challenges to keep themselves busy, we saw an 87% increase in social media consumption in the very first week of the lockdown. This is because if they aren't participating in the Web viral challenges, they are busy spending most of their time watching these videos, scrolling through social media, and sharing them with friends. All this has amounted to an average of 4 hours of social media usage per day for a user.  
Brands and Viral Challenges
This increased consumption of social media has led to an increase in the amount of content flowing on channels by various brands. A lot of this has further sparked various innovative viral challenges that are brand-centric to help increase engagement. Starting with the #SafeHands challenge to Bingo and the Dalgona coffee challenge, such social media challenges have seen the most traction amid the pandemic to fight the lockdown blues. Every time a Web viral challenge has come up, most brands have tried to make the most of it by weaving related content that was catchy. 
Keeping your brand alive on social media is of the utmost importance during this period. While it makes sense to hash out relatable content that is in line with the viral challenges, it is important that brands remain in line with their essence as well. This can be missed out on in an attempt to put out content quickly to be the first among others in participating in viral Internet challenges.  
Here are 5 simple ways a brand can leverage viral challenges for effective marketing during COVID-19.
Staying relevant 
It's very important to analyse who the brand's target audience is before participating in viral trends and challenges. A brand should not attempt it only for the sake of relevancy. Brands should also be mindful in their communication. They must stay true to their voice while capitalizing on viral challenges, ensuring they don't stray too far from their brand image. For example, if a brand's communication is usually serious, certain viral challenges might not suit them.
It's also important to stay mindful about pushing your service or product during these times. The main aim should not be to generate large revenue but to keep your audiences engaged to increase brand awareness as much as possible. 
Being on time
On top of everything, time is always of the essence. Every brand in the digital space is creating content and trying to stay on top of the game. During these times, when most brands want to participate and leverage various viral Internet trends, they should be able to reach their target audience at the right time. These challenges go viral only for a few hours or days and if your brand misses the moment, it loses its charm and misses the mark. Along with this, you miss the opportunity to engage your followers with something new. This is extremely important because viral challenges can become one of the quickest and most effective low-cost methods to talk to your audience and increase visibility. 
Post strategically
While being a part of viral challenges is great for a brand, the content needs to be unique, structure in such a way that it engages audiences. For example, for the recently popular Bingo challenge, brands took over to share various adaptations of the concept while trying to align the communication with their image. While a few brands performed well, a few of them did not see great engagement. A few brands leverages only Stories for their Instagram marketing campaign, while others shared it on their main feed as well to document the activity and keep the conversation flowing in the comment section. One needs to check what works best for their brand and audience and go ahead with that. 
Work with multiple platforms
TikTok is the perfect platform for virality. With its trademark dance challenges, educational videos, cooking tutorials, fitness inspiration, and so much more, it was launched to a whole new level at the start of the pandemic. TikTok is now a go-to platform and has become a household name, and brands can leverage the platform for quick and fun engagement with audiences. For many brands, the best way to do this is through influencer marketing on TikTok. Instagram, on the other hand, saw different types of challenges take off, like the bucket list challenge, 'this or that', and Bingo. And again, these were featured heavily on Instagram Stories, which shows that choosing a platform within a platform must also be a strategy sometimes.
It can be useful to toy with different platforms to see what fits your brand image and the type of content best. Doing so can help garner more brand awareness, and will work to engage new and existing audiences as well. But at the same time, a brand should be careful not to forcefully try to fit in such a trend in a platform. In such a case, the brand should innovate the content in such a way that it gives the challenge a fresh feel and not seem like a force fit for the audience. 
Be creative
Last, but not least, one of the most important factors is to have a creative approach as much as possible. Brands tend to follow along with a trend or challenge when it goes viral, only to leverage the high points of the moment. But a brand who works to innovate with the idea to make it their own garners more visibility. It isn't always necessary to stick to the same communication or approach but it is always recommended to make it more inventive than others and present it to the audience. That's when a brand can stand out in the space and create a buzz. 
With these 5 tips, a brand can lay the foundation for audience engagement. There are also multiple other ways to be creative, whether it's by partnering with influencers on different platforms, having guest appearances, or simply engaging with audiences one-on-one with a live session. While leveraging the different viral Internet trends that come and go, it's also important to remember that the results may not show up in large numbers. But during these difficult times, building meaningful engagement and relationships can become long-lasting.
___noise___ 1000