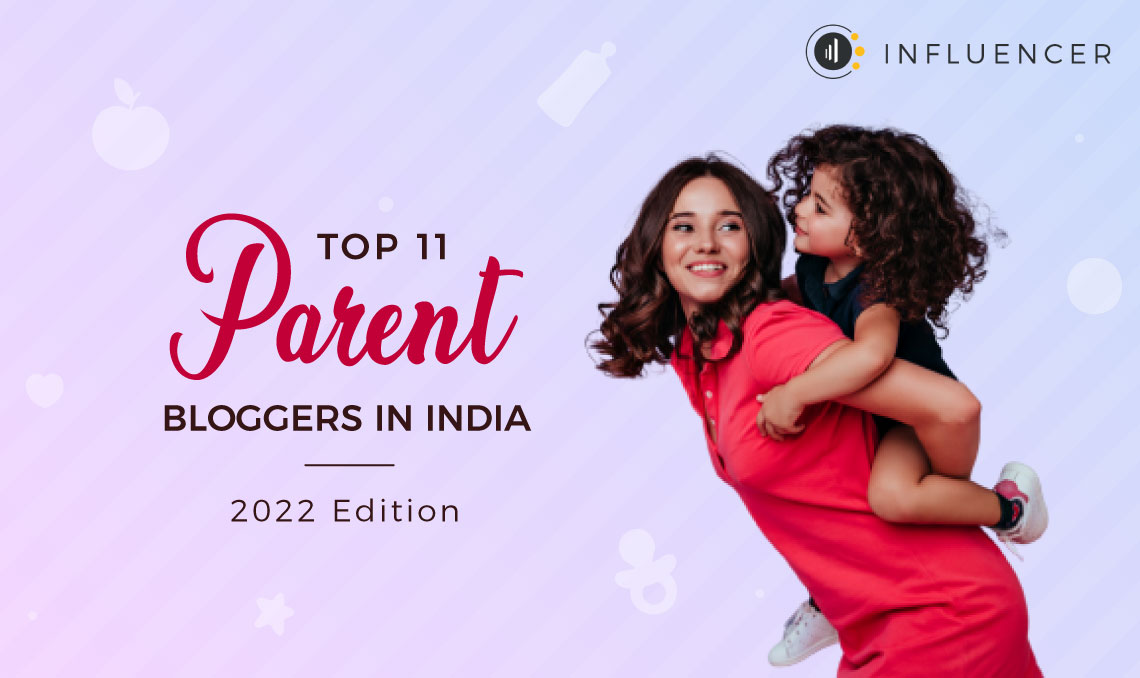 Top 11 Parent Bloggers in India – 2022 Edition
Author: Sayantan Rudra
|
Updated Date : April 18, 2022
Children are crucial for determining the future of this world and hence, parenting is the crux for building this future.
Our future heroes need their parents' guidance to be powerful and happier during their later ages. So if you are first-time parents looking for advice, tips or any questions related to parenting, your search ends here.
We shall now introduce you to India's top parent bloggers who can cater to all your queries and strive to safeguard the next generation.
This list of parenting influencers and platforms will give you insights on how to nurture your child in a safe and happy environment through some best practices regarding the same.
Although the compiled list is in no particular order, we have taken the following parameters into consideration to choose some of the best parenting blogs in India:
Activity estimated reach and engagement on the parenting blog in India

Quality of the blog including image quality

Social media following

Expertise & frequency in blogging

Buzz Sumo ranking
Our List of Top 11 Parent Bloggers in India in 2022
MomJunction is one of the fastest-growing parenting blogs in India. This blog was made solely with the aim to create a world of healthier moms and kids.
It is a go-to website for all first-time parents that promise to guide you throughout your magical transition from a newly-wed couple to becoming a responsible parent.
MomJunction also has multiple educational topics for specific areas for example Getting Pregnant, Pregnancy, Baby, Toddler, Kid, Preteen and Early Teen, thereby making it one of the best Indian pregnancy blogs.
Launched in 1999, India Parenting is one of the best parent bloggers in this niche and is also the first functional website in India.
It started off as a content and information website and has now scaled to become the destination platform for most parents.
India Parenting has about 1.5 million people visiting them on a monthly basis.
Thanks to their ability to write some of the best parenting blogs in India, they have managed to carve out a special place for themselves amongst other parenting influencers in this field.
Their site functions as a storehouse for some of the best tips for parenting. Besides information, the site also fosters community interaction through its wide range of discussion boards. This way, first-time parents can learn from the experiences of those who have been there a while ago.
Baby Center is one of the most reliable parent bloggers in India that is known for giving trustworthy advice to mums and dads.
Baby Center is a reliable platform where parents seek expert advice to nurture their children. The writers on this blog focus on health, pregnancy and parenting experts who know what they are doing and have been in situations like the ones that come up on the website before.
Baby Center globally is also committed to exercising gentle parenting and improving maternal health and have worked closely with NGOs and governments to help make motherhood safer and better for all women.
Budding Star, being a portal where mothers come out and share their experiences, provides some of the best tips for parenting.
This website aims at providing a platform for all moms to write about their parenting experiences and guide newer parents through this challenging phase.
The Indian pregnancy blogs that they offer are helpful for all people who are either expecting or are working on improving their relationships.
Considering the changing scenarios, gone are the days when a harsh scolding would bring your child on track. Newer generations demand a more considerate approach and that's where the experiences of all these mothers in the field of gentle parenting come in handy for the newer ones.
Parentune is one of the top parent bloggers in India as they provide a network of experienced parents to teach new Indian parents to do what is right for their child based on personal experiences.
This parenting platform believes that each parent needs support in the form of relevant and specific information for their child. So, it helps them connect with a like-minded network of fellow parents and thus have full access to empathetic experts.
Their goal is to be the website every parent goes to when they need advice over their child's growth and welfare. They want to help parents get the right information to all the questions that they have and find all the answers that they are looking for.
Regarded as one of the most insightful parent bloggers in the country, Obsessive Mom started when Tulika became a mother to her two twins in the year 2006. Also, it is the reason she continues to blog even today.
She writes her blogs by sharing her concerns, joys and instances from her life which help her become a better parent.
She tries her best to keep her children as positive and happy as possible. She wants to share her experiences and moments with her children not only to preserve their memories but to also guide other parents on each changing shade of a child.
Confused Parent is one of India's fastest-growing parent bloggers communities with over 3 lakh young and expecting parents as part of this platform.
Ekta Chawla founded Confused Parent in the year 2016 to help Indian parents in their journey and to guide them on how to provide the best for their children.
It is a parenting website where you can share your own stories, instances and talk about your journey as well as questions to others.
Confused Parent could be your go-to destination for some of the best tips for parenting learnt through real-time experiences.
Parentedge is one of India's most comprehensive parent bloggers who provide a portal where experts from their site provide help and advice on how to bring up your kid in a safe manner.
It is a publication that Prayag Consulting started and are providing educational blogs, magazines and much more to its audience.
Firstcry Parenting is a place where you can talk freely on your journey of parenthood and learn about how to bring up your child and what not to do in troubled situations.
It is something which is difficult in the digital age and hence to help you with all your problems. Firstcry Parenting comes up with new-age tools and support for Indian parents to help them learn about every stage of a newborn baby and how to provide some essential postnatal care.
Tinystep is a Bangalore-based healthcare and parenting network founded by Suhail Abidi in 2015.
This network provides information, advice and a network of parents and doctors who are always ready to help you with your parenting responsibilities.
Tinystep has some of the best Indian pregnancy blogs that cover every stage of parenthood right from what to eat during pregnancy, the procedure of delivery, how to breastfeed a newborn, recipes to some of your child's favourite dishes and even tips for postnatal health care.
These extensive guides to help parents ease through every stage of parenthood is what makes Tinystep one of the best parent bloggers in India.
The Champa Tree is a parenting community started by Vaishali in 2014 when she became a mother.
Be it some parenting humour or relatable blogs, Champa Tree is a safe space where all mothers and fathers can find answers to specific questions they think are too "silly" to ask out loud.
What makes it one of the best parent bloggers in this niche is the extensive genres of parenting that they cover. Be it suggesting names for your child, parenting tips to raise children or pregnancy tips. Also, you can find healthcare tips for both children and parents, recipes for your child's favourite delicacies and also honest product reviews on some cool toys for your kids.
Signing off
Being a parent is arguably the most responsible mantle you will ever pick in your life. This is what the experienced would also agree with. Why? It is not just a tiny toddler that you are raising, it is the future of this world.
Thus, understanding some best practices for parenting in these changing times can go a long way in easing through this phase.
Parent bloggers and influencers have taken several thoughtful measures to reach out and help you raise your child better. So, now you can connect with any experienced mother or father at any of these platforms. Also, you can learn about every basic thing that your mind enquires about to raise a child.
Having said that, influencer marketing is another aspect that has taken the world by storm and there is no industry that hasn't seen the impact of influencer marketing in it. From e-commerce influencers to fashion influencers, every sector is getting on the influencer bandwagon. If you are lost about the influencer marketing approach, we have a guide that will let you decide on the right type of influencer for your product or service.
You might also find it interesting to see our detailed Influencer Marketing 101 and our 2020 survey report on influencer marketing in India to understand how these parenting influencers can make an impact on the present world.