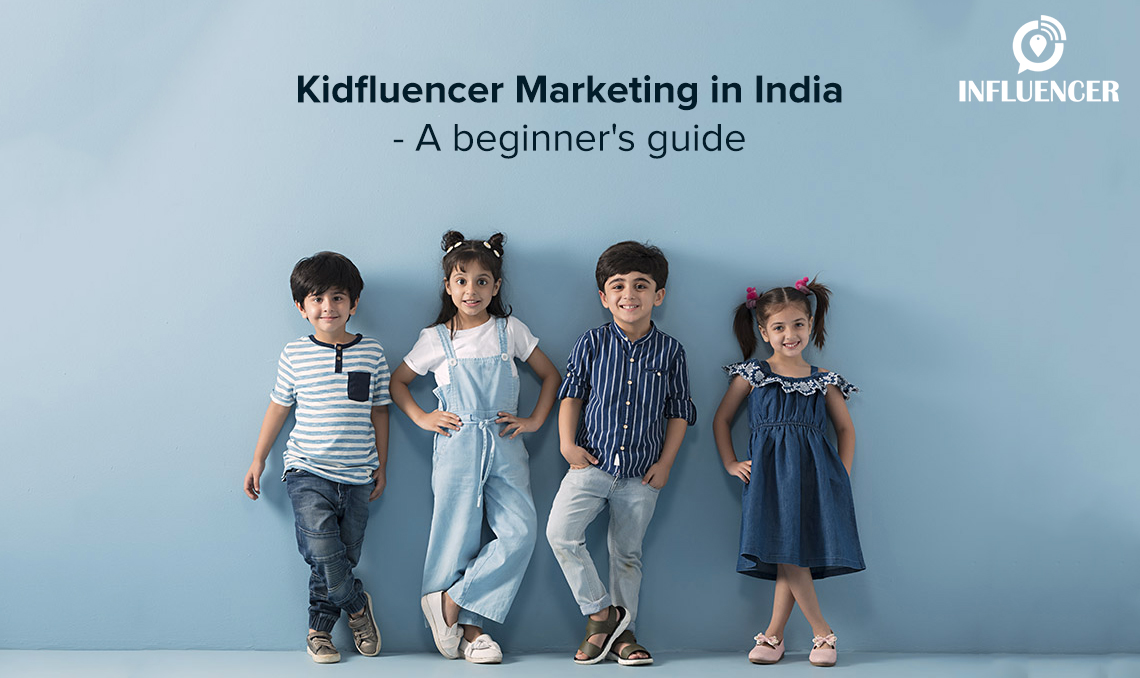 Kidfluencer Marketing in India – A Beginner's Guide
Author: Abhijith Menon
|
Updated Date : February 21, 2022
Who is a Kidfluencer?
Kidfluencers, also known as kid influencers, are similar to influencers – they make their living online by influencing people through their lifestyle. Kidfluencers are child influencers typically below the age of 16 who have built, or are building, their social media presence. Their accounts are generally monitored by their parents to ensure their online safety, but at the same time, all the content within their page is driven by the kids.
From being fashion advisors to reviewing toys and video games, kid influencers can develop a virtual connection with their followers and thereby help in marketing the products to children who share similar interests. Therefore, a kidfluencer not only plants the idea of buying a product to a child but also influences their parents into buying them. Today, kidfluencers are the magic potion to many interesting marketing strategies. 
Children these days are extremely tech-savvy and constitute a major chunk of the online audience. With kids spending more time online, a kid tech ecosystem would soon emerge that would enable brands to advertise to them. With easy access to smartphones, tablets and other devices, reaching the kids through child influencers would not only enable brands to target the right audience but would also enable them to understand what their audiences are looking for and work on their marketing strategies accordingly.
How brands reach out to Kidfluencers
A kid influencer can operate by posting pictures on their Instagram account or video content to their YouTube channel, or just about any other platform. Most of the content generated within their pages would be around topics that they would have shown an inclination towards from a very early age – therefore, most of their content is organic and authentic from the very beginning.   
Depending on the quality of the content that is produced, the followers of these kid influencers would also gradually start increasing, paving the way for brands to approach your child for paid partnerships. These partnerships can be very lucrative with instant fame.
So, are you looking to make your child the next internet sensation? Here are a few guidelines to keep in mind while prepping your child to become the next kidfluencer:
Find your child's niche
It is important to select the theme for your child's page and ensure that the content within the page is always around the theme. If your child is a fashionista, ensure that the content within the page is around fashion; if your child loves toys and videogames, ensure that the content is around reviewing a new video game or exploring a new toy. Discover your child's niche and explore content around that.
Focus on the content
Once you have figured out the category your child influencer's content is going to be revolving around, the next step is to work on the content – this is where you are going to be spending most of your time. Start with investing in some good equipment, like a camera. When your pictures stand out, your child's profile would also stand out from the clutter. Always ensure that you deliver the best content that you can, after all, your child is your brand.
Choose your platforms
As much as you would like your child to be relevant on all platforms, this may not be the best thing to do. To begin with, start with one or two platforms and grow your audience within those platforms before exploring other platforms. See what works for you and plan your content accordingly.
Post consistently 
Once the followers start trickling in, they are going to want to see more content from your child's profile. You could work on a schedule by posting content every week on a fixed day, at a fixed time. By doing this, your followers would also know when exactly to expect content from your page. At the same time, you do not want to spam your followers with too much content that would lead to them to unfollowing your child's account. Therefore, planning a schedule works best to avoid such scenarios.
Network and collaborate
One of the easiest and quickest ways to grow your follower count is by collaborating with other kid influencers. Considering that your child is still new to this space, it would be good to collaborate with other prominent kidfluencers which would also increase the visibility of your child's profile.
Engage with your audience
Respond to their comments, follow people back, and repost content that they have tagged you in. This might be easy in the beginning but may tend to get a little challenging as your follower count grows. Remember, the key is to create that virtual bond with your audience.
Future of the Kidfluencer Industry
The growth of the kid influencer industry is relatively higher in other countries, however, this concept is a relatively new space within India. Parents are still sceptical about exposing their children to the online world at such a young age. However, parents need to understand that social media, if used in the right way, could be a great platform for them to showcase their child's talent and also help their child explore their personalities.
If you're looking to join the influencer community or are looking for more tips and tricks, be sure to check out more of our blogs and guides on influencer.in!