7 Important Ways to Get Your First 1000 YouTube Subscribers
Author: Rhea Jain
|
Updated Date : February 21, 2022
If you haven't created a YouTube channel yet, then you could be missing out on one of the most powerful platforms to grow as an influencer. The YouTube Brandcast 2018 revealed that there are 225 million Indians actively using the platform every month. Worldwide, YouTube sees around 1 billion unique monthly visitors. With such a huge base, YouTube can be one of the best ways to gain visibility and become more popular as an influencer or blogger. But simply creating a channel isn't all it takes to become one of the top YouTubers in India. Many first-time YouTubers find it challenging to get their foot in the door and grow their subscriber list. One of the most important milestones for any new YouTuber is getting their first 1000 subscribers. Here are seven simple ways to help you reach this target.
1. Create a video content strategy
Before you start trying to get more subscribers, you need to give people a reason to subscribe to your channel in the first place. Your channel shouldn't be just a haphazard collection of videos on random topics but should have a clear focus. Figure out exactly what direction you want your channel to take and stick to this. In general, videos that are equal parts informative and entertaining perform the best on YouTube. In India, 90% of videos viewed are in regional languages, so you should also consider using multilingual content in your video strategy.
Writing a script before you shoot any video can help improve the clarity of your content because you can tweak anything that sounds off-topic. If you have an existing blog, you can even convert your blog posts into videos. When viewers have a clear idea of what your channel is offering, they will have a greater reason to subscribe.
2. Increase the frequency of your uploads
Subscribers like predictability and regularity when it comes to how often you upload your videos. Make it clear right from the outset what your schedule for new videos are. You should also specify which days you upload new videos as this can help viewers anticipate it. Weekly videos usually work best, but depending on your subject, you can even upload a new video every two weeks. Try not to go any lower than two a month, however, as viewers might not be compelled to subscribe if they see that you don't post videos regularly. You should also resist the temptation to upload new videos that veer away from your set schedule as viewers might not like unpredictability in your strategy.
3. Place keywords strategically
Keywords are one of the most effective ways to gain organic views and acquire new subscribers. You don't have to be an SEO-whiz to find high search volume keywords. One of the most basic ways to do keyword research is by just entering the topic of your channel into the YouTube search bar and seeing what videos pop up. These suggestions are generally what viewers are searching for the most and therefore, are important keywords you should use. You can also use Keywords Planner, vidIQ, Keywordtool.io and other keyword research tools as a more in-depth way to find related keywords.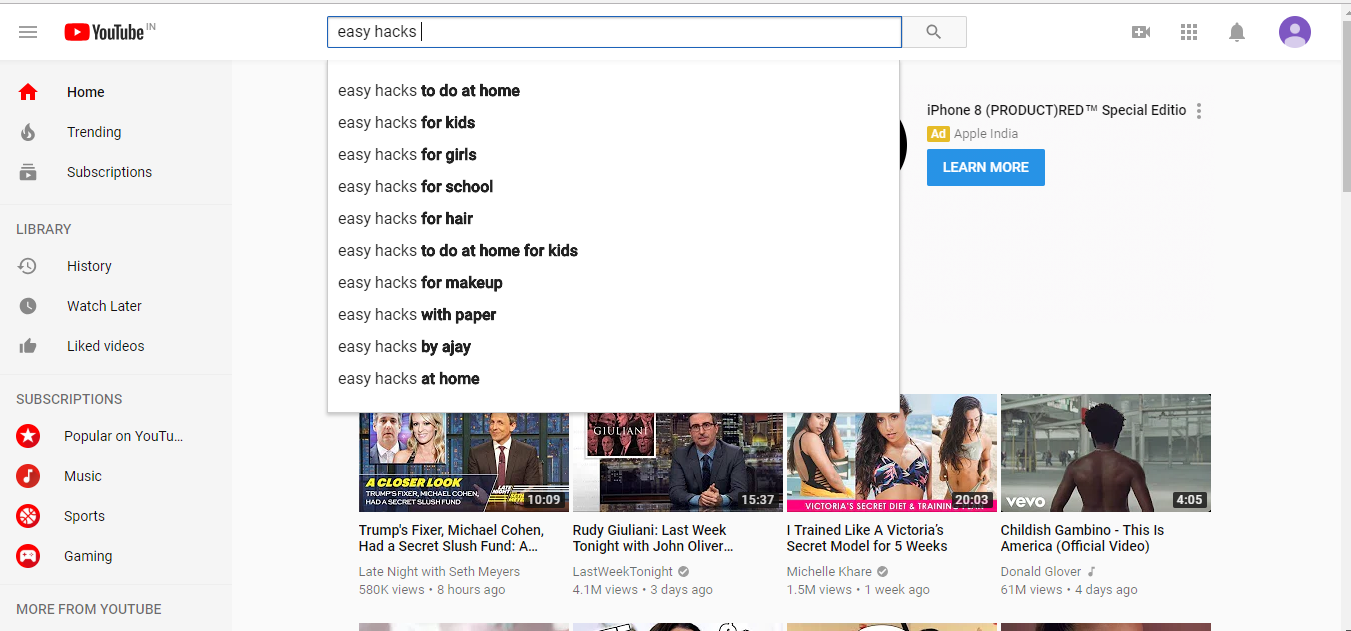 Once you have your main keywords, you can use this in your title, video tags and description. Try not to stuff them with too many keywords because it will actually have a negative impact on your channel. But apart from simply inserting keywords into your title, you should also use all your creativity to make it sound unique and interesting. When viewers see your video title, they need to be intrigued enough to actually click on it and watch the video.
4. Use customised thumbnails
If you don't add a specific thumbnail to your video, YouTube automatically selects a frame from your video to use. Without a customised image, your video thumbnail might look boring and uninformative, not giving viewers any reason to click on it. An interesting thumbnail is one of the most important factors to improve your Click-Through Rate (CTR). Your thumbnail should include a frame from your video that you feel is the most relevant and should also give viewers a little information about what they can expect from it. There are a number of free picture editing tools online like Pixlr you can use to make your own thumbnail easily.
5. Make it easy for viewers to subscribe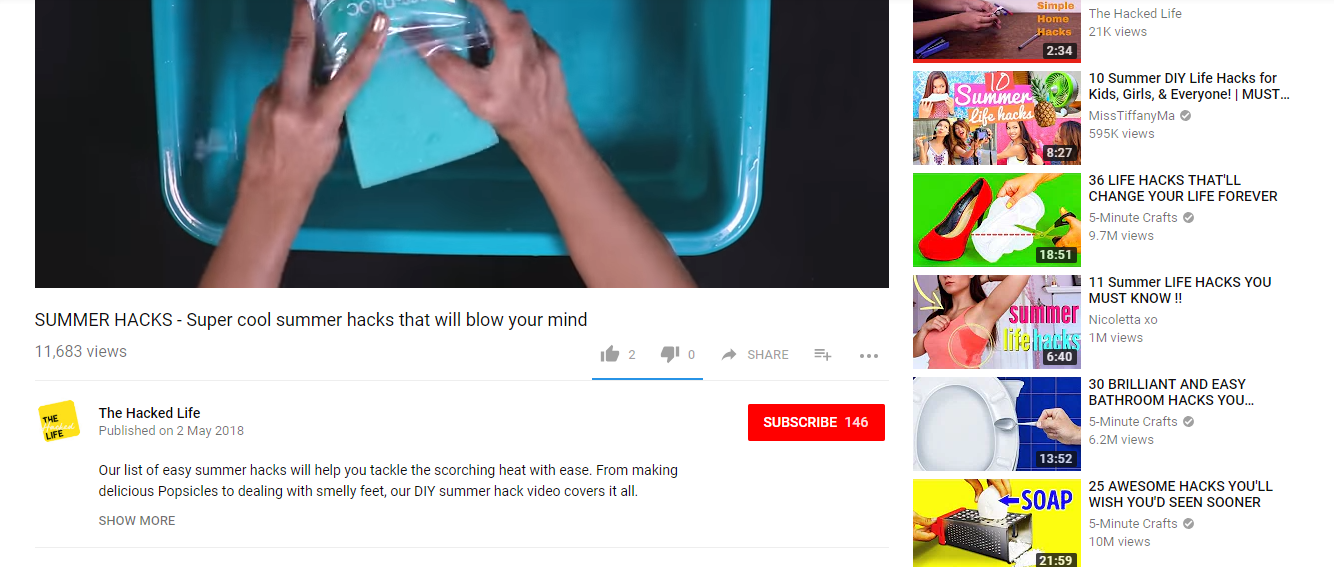 Even if a viewer loves your content and wants to see more of it, they will not subscribe to your channel if it takes too much effort. This is why you should make your subscribe button as visible as possible so viewers can find it easily. One of the best ways to do this is by adding an annotation to the middle of your video with a subscribe link embedded in it so viewers can subscribe while still watching. You should also add a subscribe button at the end of the video as well as in your profile description and video description.
6. Use your other platforms to help people find you
If you already have a blog or are active on other social media platforms, leverage these to get new followers. Youtube has a button linking to your channel that you can place on your blog. Adding this button to your official website can help visitors subscribe to your channel for more content. You can also include a link to your channel on your Instagram, Twitter and Facebook bio so your followers can subscribe. Posting an update on these platforms about your new channel and requesting people to subscribe can be the easiest way to get followers. For a more personal touch, you can also send direct messages or emails to your contacts telling them what your video is about and asking them to subscribe.
7. Reach out to YouTube influencers
The first thing to remember when creating your channel is that other YouTubers are your greatest resource, not your competition. Collaborations between YouTubers are one of the best ways to make your channel more visible and gain more followers. Building your network as a blogger is an important way to meet other YouTubers who might be able to help you. Try to find YouTubers who create content similar to your genre and reach out to them asking if they want to collaborate on a video with you. Smaller YouTubers will be the most effective to begin with because very popular ones will not see any benefits in collaborating with a new channel. When you partner with another YouTuber for a video, their subscribers will learn more about your channel and are likely to subscribe.

With these tips, you will soon be on your way to becoming a YouTube sensation! If you are trying to grow as an influencer, you can also read our blog on How to Get Your First 1000 Followers on Instagram.
___noise___ 1000