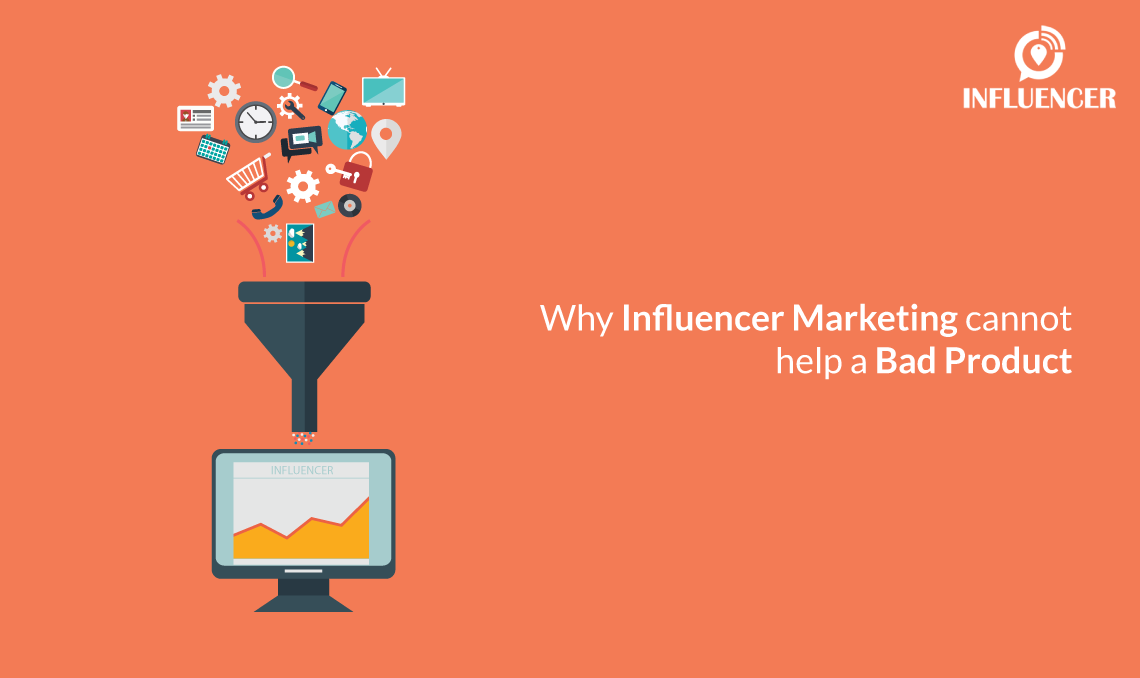 Why Influencer Marketing cannot help a bad product
Author: Radhika Chhabria
|
Updated Date : February 21, 2022
As Social media channels continue to grow, content creators remain a part of the growth cycle. They help to create engaging content which connects with their audience. The way people consume content is always evolving. The progress in social media has given rise to a new form of advertising- Influencer Marketing. Influencer marketing is one biggest content marketing trend of 2016 and will continue onto 2017. It is a strategy, which involves collaborating with Influential bloggers & social media influencers who help in building brand awareness and affinity through the Influencer network and their followers. Today, many brands are turning to Influencers for their creativity, time, creating content & access to their audience that we have worked hard to build.
How does Influencer Marketing help lift the face of the brand?
Influencer marketing helps drive the brand's communication in a subtle manner. This often builds a connection with the audience and helps in brand resonance. Influencers are often successful in holding their audience's attention. With the rise of Ad blocker, more brands are moving their budgets towards other forms of marketing including Influencer marketing. This content distribution channel does not have chances of getting blocked and helps to reach the right audience. In the long run, it also helps build brand loyalty, trust and generate business inquiries.
If a product is going through a rough patch, influencer marketing can turn its fortunes, but there is never a guarantee that the product in question will go from bad to great in a flash. Here are some reasons why influencer marketing cannot help save a bad product.
Influencer marketing is a gradual process
The truth is that influencer marketing is not a quick solution. Influencer marketing can either make or break your brand. This is because the brand is handing over their credibility, image to someone who will be communicating with the brand's target audience directly. They have the power to either make it look good or bad through their brand narratives, and this will have a direct impact on the brand. The degree or severity of the impact will be based on the clout of influencers that the brand will be engaging with.
Influencer marketers are choosy about the brands they represent
There a lot of challenges and variables involved in an Influencer marketing campaign. Choosing the right Influencer is the key. Important aspects like knowing how involved the Influencer's community will be brand's product is equally important. Influencers are people who have built a trustworthy following because they have knowledge in a specific niche and share it with their followers in an interesting way.
Influencers also think like consumers
If you have a great product and take it to an Influencer or the thought leaders in the industry they can help build the brand by giving it their voice. However, on the contrary, an Influencer cannot help save a bad product. A genuine Influencer who has put effort into building his/her following over a period of time will not flash a joy filled post about the bad product only because they are paid to create content around the brand. Influencers who are opinion shapers in the society have spent time & effort to build their trust. For them, their followers is their currency.
Creating a good rapport with Influencers takes time and effort
True influencers will value their trust over monetary/commercial gifts. Influencers have built an engaged audience that follow them and takes their words seriously. In other words, Influencers recommendations and suggestions can affect their follower's decisions around that brand in the real world.
Influencers can't fool the consumers
Next, even if an Influencer risks their credibility and posts a good review on a bad product, their audience will be quick to see through it. Also, someone who is ready to offer a fake review may not have an engaged or genuine following.
Like any other marketing effort Influencer marketing also involves strategy, planning, direction & flawless execution. There are no short cuts to build engagement for the brand.
The competition is massive
A lot of brands are roping in influencers in their marketing campaigns. This strong digital marketing tool is growing and here to stay! As Social media channels continue to grow, Influencers will remain relevant in the face of programmatic advertising as people need human involvement to trust a brand. A person who you look up recommending a brand to you is always going to influence you more than an Ad that follows you online, no matter how insistent your retargeting is. Human connection is the key to a great Influencer marketing campaign. Brands need to reassess the way they are approaching Influencer Marketing and make the most meaningful human connection with their audience.
If you have any further questions about Influencer Marketing for your brand, please leave them in the comment section or please reach out to us at enquiry@influencer.in and we will be happy to answer them!