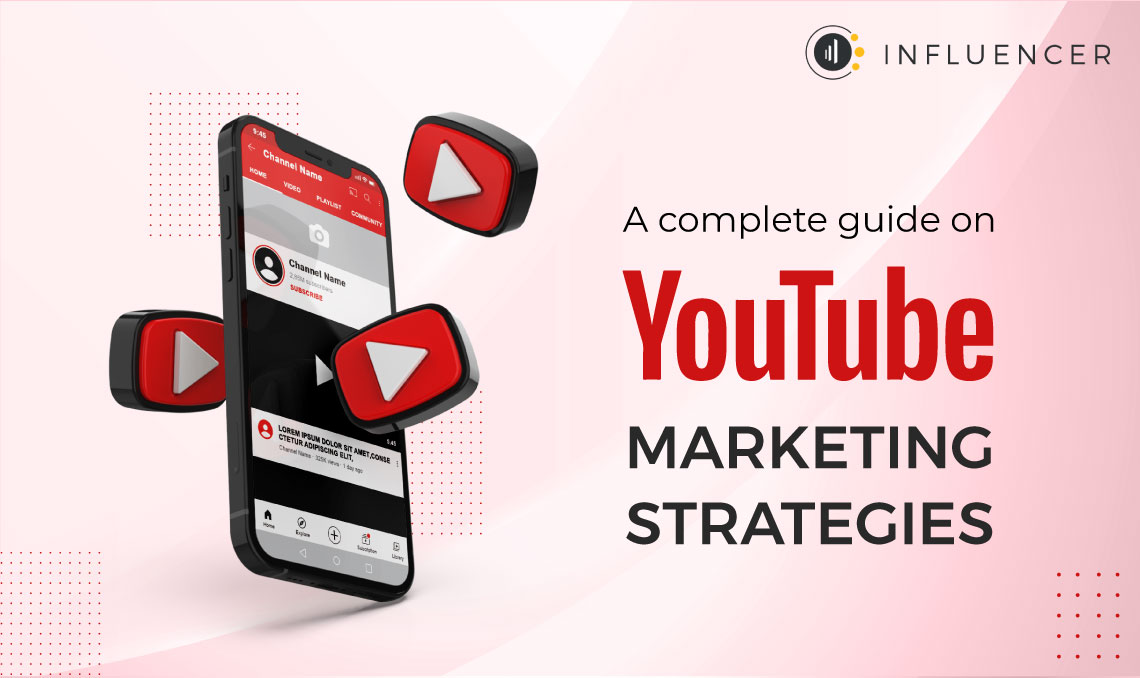 YouTube Marketing Strategies You Should Try In 2022
Author: Saqiba Khan
|
Updated Date : May 15, 2023
The platform isn't just a famous entertaining channel but a powerful marketing tool, and companies can develop YouTube channels for advertising.
To help you understand how popular YouTube is, here are some interesting facts:
1. It is the second most visited website, behind Google and ahead of Facebook.
2. YouTube has more than 2 billion monthly users
3. Approximately 16% of India's population regularly uses YouTube.

What is YouTube marketing?
YouTube marketing is the practice of promoting a brand, product, or service on YouTube. It can involve a mix of tactics, including (but not limited to):
●     Creating organic promotional videos
●     Working with influencers
●     Advertising on the platform

The process to create a YouTube marketing strategy for your business
1. Create a channel on YouTube.
First things first, you have to set up a YouTube channel. Since YouTube is part of Google, you'll need to create a Google account first to sign up for a YouTube channel. You can use an existing account or create one especially for managing your business.
2. Research your target audience.
Before creating videos, The crux of your YouTube marketing strategy is that you need to analyze your YouTube demographics. Explore the location, age, and viewing preferences of your target audience to meet users' needs. Based on your target audience, create various types of YouTube videos you need on your channel. Explore this guide for YouTube analytics, in case you have an account already. It will give you more insights into your audience's preferences and also help out for influencer strategies.

3. Research your competition
By analyzing your business rivals, you have a chance to determine the opportunities your channel has. identify your 3-5 most successful competitors. To do it, you can leverage keyword tools to see which brands have the highest ranking based on keywords related to your industry. Pay attention to their metrics, titles, descriptions, and comments under videos to find some helpful information and inspiration. Second, a SWOT analysis will help you analyze your competitor's strengths and weaknesses in detail.
4. Youtube video optimization
Youtube video optimization is an important touchpoint in the process, YouTube has its algorithm for ranking videos. Using SEO tools for better YouTube Marketing and optimization may also help. Create recognized thumbnails (snapshots of your movies), optimize your titles and descriptions, and employ keywords if you want to rank high. It will help you get precedence over other channels and videos, as well as increase the number of views on your videos. Include the essential keywords in your title to make it more powerful. To compose a summary of your video, use the most significant keywords from your description. Add CTAs to encourage visitors to do the required action.

5. Upload content to your channel
This is it, you're ready to go. You can upload your finished video or various YouTube stories directly into YouTube Studio and either publish it right away or schedule it for later. For scheduling, a few things to keep in mind:
●     How often are you going to post? Pick a schedule — daily, weekly, biweekly, monthly, etc — and stick to it.
●    Think about the best day to post on for your audience. When are they most likely to watch your content?

6. Provide all the relevant information on your channel
On your channel, include all of the relevant information. You must optimise your channel to make the search easier. You should take a few measures to make it easier for users to locate you. To begin, fill up your profile. Fill up the channel description, submit your logo, and utilise channel art if applicable. You may also include links to other channels or information that subscribers might find useful. Second, make sure your channel includes connections to your website and social media accounts. Additionally, make a trailer for your YouTube channel that introduces your brand.

7. Try YouTube advertising
To promote youtube channels more, try Youtube Ads, most YouTube ads are videos but you can also place banner ads, either in videos or on the website. You can also make your video ads either skippable after 5 seconds, or unskippable. As a Google company, YouTube ads operate through the Google Ads platform which is one of the important ways to get your first 1000 subscribers.
Besides the campaign strategy, before you try out paid ads, make sure you have:
●     A rock-solid understanding of who your audience is.
●     Optimized your YouTube channel's visual branding and description.
●     Upload at least 5-10 videos so your new visitors can get a sense of what you're all about.
8. How to increase reach on YouTube?
Boosting your YouTube reach and video rankings is about more than just pumping out video after video. You'll get better results when you focus on quality over quantity. Some awesome YouTube SEO tools can streamline your path to a growing and engaged YouTube following. Following are some Youtube Seo Tools listed for you:
●      Keyword Tool (Keywordtool.io)
●      TubeBuddy
●      Youtube Analytics
●      Google Keyword Planner

9. Consider YouTube influencer marketing.
It's always a good idea to contact top YouTube influencers in India who work in the same niche and are ready to promote your company and products. Ask them for help. 49% of customers trust the recommendations of influencers. You can find influencers to your precise niche like top Indian fashion YouTube influencers or gaming influencers.

10. Measure your success
Once you upload your first video, it's necessary to track the progress. YouTube Analytics will simplify your work or else, you can use a few SEO tools for better YouTube Marketing and performance tracking. Open it to see the changes in the number of subscribers, audience demographics, traffic sources, and device reports. The information you receive will help your channel move forward.


Conclusion:
With 2.1 billion active users, YouTube is not merely a home for funny videos anymore. YouTube is a serious marketing platform that provides your brand with the opportunity to promote content in a truly visual and engaging way.

1. Create content that shares an interesting story and provides your viewers with valuable information.
2. Market that content across different platforms, including social, email, and your company blog or website.
3. Optimize your content better. YouTube may seem overwhelming at first, but the platform makes it very easy to share and digest content.


Be sure to follow this guide to make the most out of your YouTube marketing strategy.