7 SEO tools for better YouTube marketing
Author: Rhea Jain
|
Updated Date : February 21, 2022
YouTube as a channel has grown tremendously over the last few years, thanks to the video boom in the digital world. According to statistics, almost a whopping 225 million Indians actively use YouTube every month just through their mobile phone. This number is set to increase to 500 million by the year 2020. With these mind-boggling numbers, it is a no-brainer that YouTube should be part of any digital marketing strategy. Whether you are creating original content or converting existing blog posts into videos, making YouTube videos might sound easy, but involves finding the right topic and promoting it to the right target audience. The following SEO tools will always fetch you a high number of views for your YouTube videos.
1. YouTube Search Filters – Filter it in, filter it out
As part of the tools embedded in YouTube, YouTube Search Filters is a valuable tool. This built-in tool helps you 'search' for videos that are similar to your domain. The search throws up a list of videos that are performing well. The video details put up on these high-performing videos such as the file name, the descriptions, the keywords they have used and the thumbnails. After you have studied enough of them, you will see a pattern that tells you why these videos are performing so well. Then without reinventing the wheel, you can use this information for your own video. An important tip here is to study more of the recent video uploads out there (for your keyword) and why they are ranking so high. This will help you plug your video into the current viewing trends for optimal performance.
2. YouTube Auto Suggest – The keyword genie at your command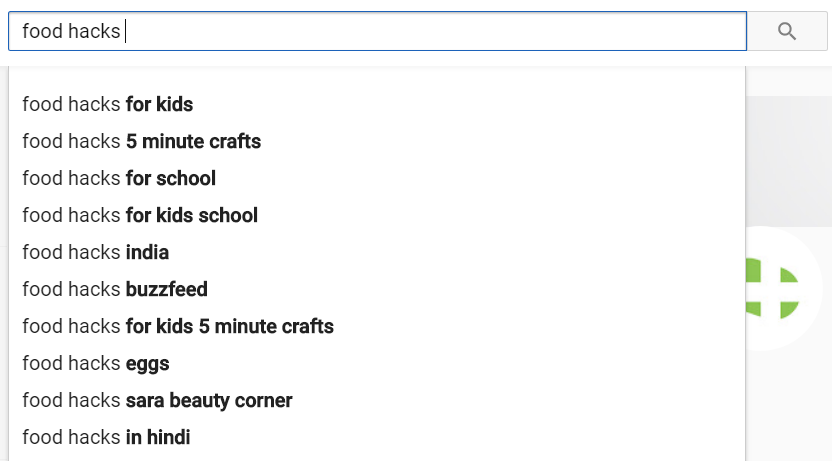 Knowing what people are searching for is the only way to rank your videos on YouTube. The medium itself gives auto-suggestions, which acts as a great keyword research tool. As you enter your short tail keyword in the YouTube Auto Suggest, it throws up a list of suggested long tail keywords that you can use to take your rankings up by several notches. This can help you in creating high-performing video content that converts.
3. Keywordool.io
If you want a deeper analysis of your keywords and volume of the keyword, you may also want to check out keywordtool.io. It helps you with a string of keywords based on the primary keyword you enter. This tool will show a list of keywords used for various search engines like Google, Bing, YouTube etc. Make sure you go for the keywords that work for YouTube Search. YouTube 'AutoSuggest' and keywordtool.io together, can give you great insights into the best keywords you can use for improving your YouTube SEO ranking.
4. Cyfe – Track it down, track it right!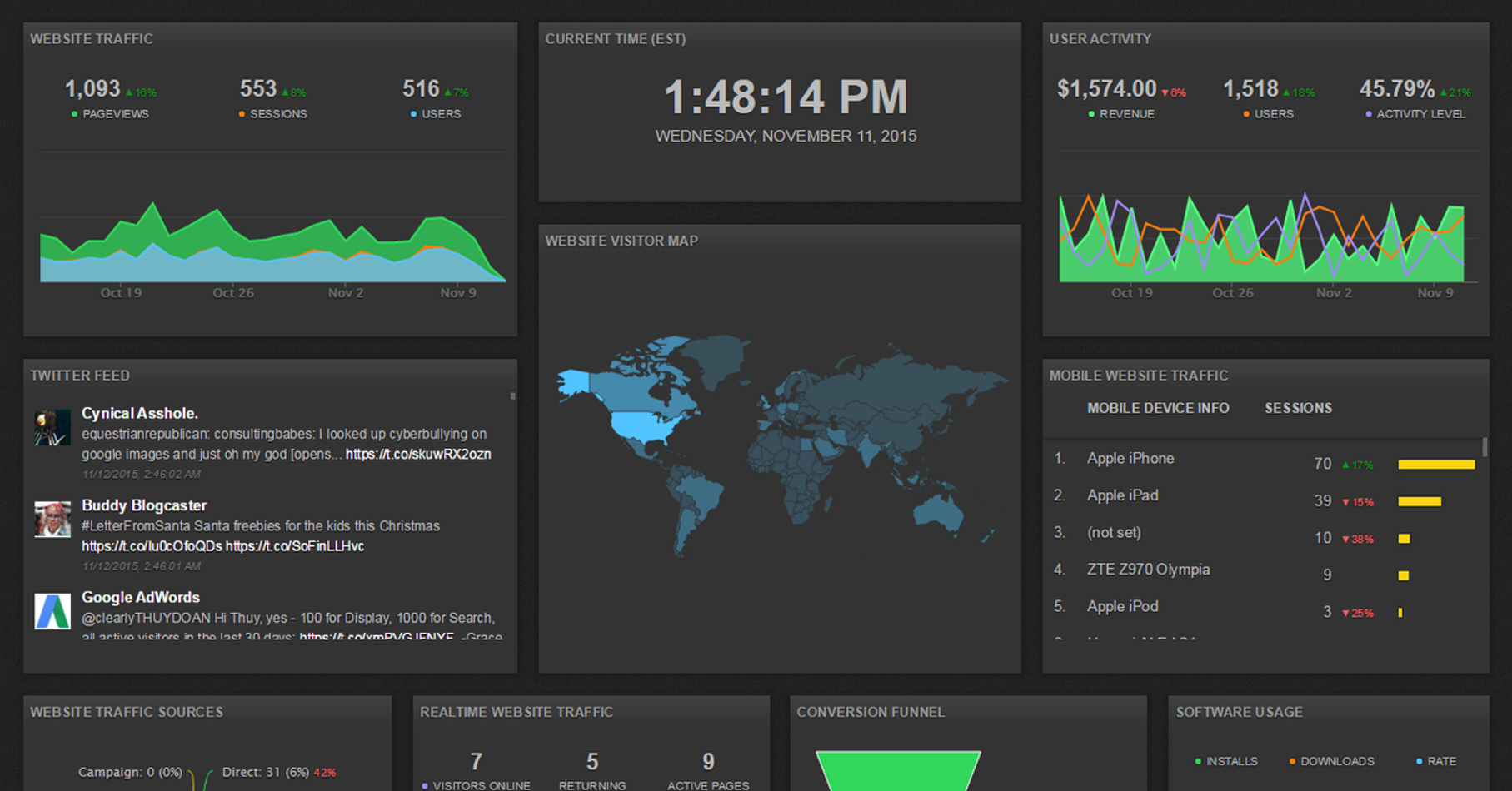 How would you know whether your YouTube SEO strategy is working well or not? Simple. You need to have a great tool for tracking it and analysing it. Cyfe is one such track-cum-analyse SEO tool for YouTube videos. Don't think twice before adding this tool to your kit of YouTube marketing tools. Cyfe allows you to monitor your YouTube performance with ease while helping you keep track of key individual performance metrics like views, ranking, traffic sources, engagement statistics and audience retention.
5. Vidiq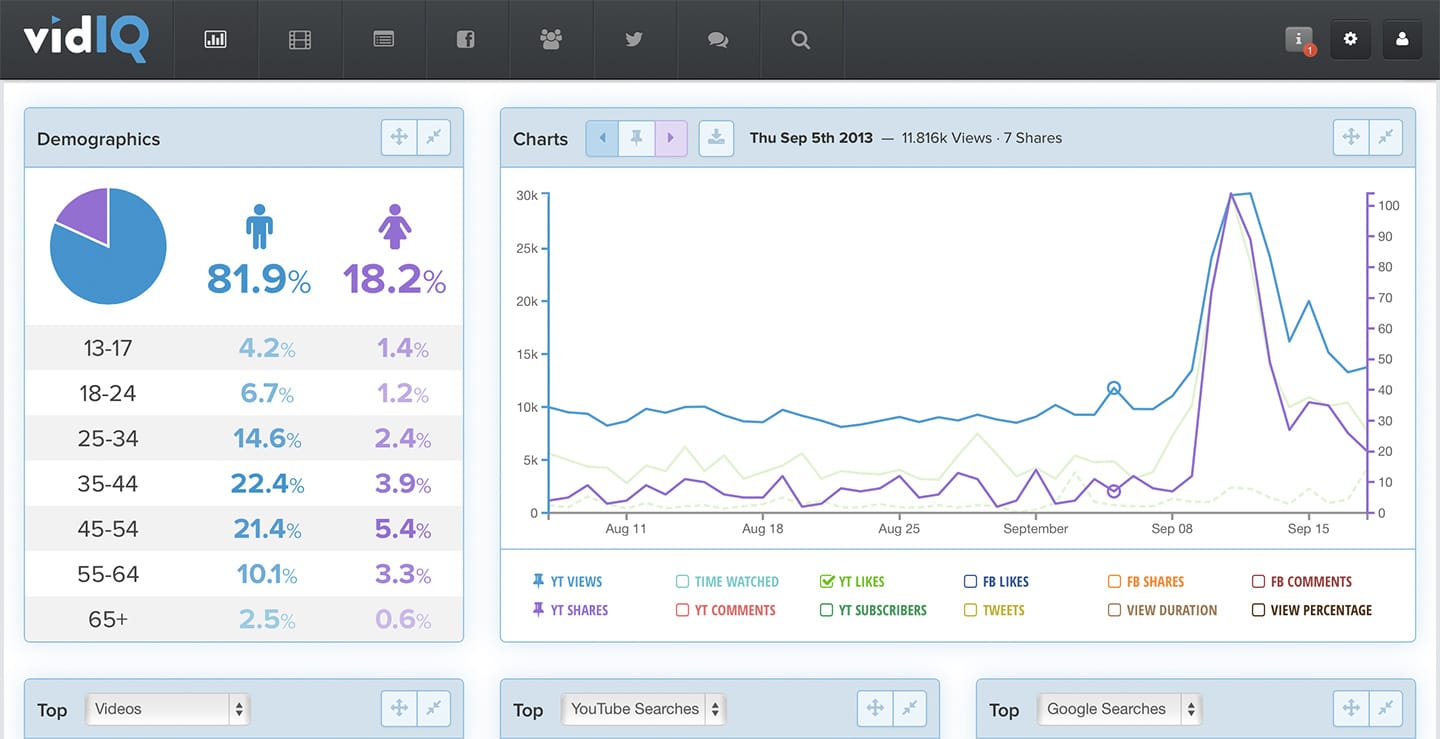 Vidiq is one of the top tools to improve your SEO and increase your rankings. Vidiq is an efficient tool and its key feature is to help you raise your library of effective tags by ten times in under 10 minutes. Tags done right improve your SEO rankings by enabling easy discovery of your videos. If you add a description to your tags, your videos will show up in the 'related videos' bar on YouTube! After all, there is no point in having your videos up if they aren't going to be discovered, is there? Vidiq also has another unique benefit. It helps you in finding out the difficulty in ranking for your keyword. This helps you in deciding if a particular keyword is good to go ahead with or not.
6. DrumUp – Distribute your videos far and wide
Taking ahead things from Vidiq's repertoire of tools is DrumUp, which enables you to plan and schedule the distribution of your YouTube video content across your other social media channels. We all know that with great content comes the responsibility of effective content distribution. DrumUp does just that. DrumUp is a for effective and seamless content distribution of your YouTube videos. It works with your Facebook, Instagram and LinkedIn in targeting all your audiences across these channels to help market your YouTube videos easily, effectively and efficiently. This can help you gain your first 1000 followers on YouTube if you are new to channel but are active on other platforms. Also, it also lets you authenticate your social media channels and gives you a glimpse into how your social media posts with YouTube videos will look like before you hit the 'Live' button.
7. Birdsong Analytics – Beat your competitors at their own game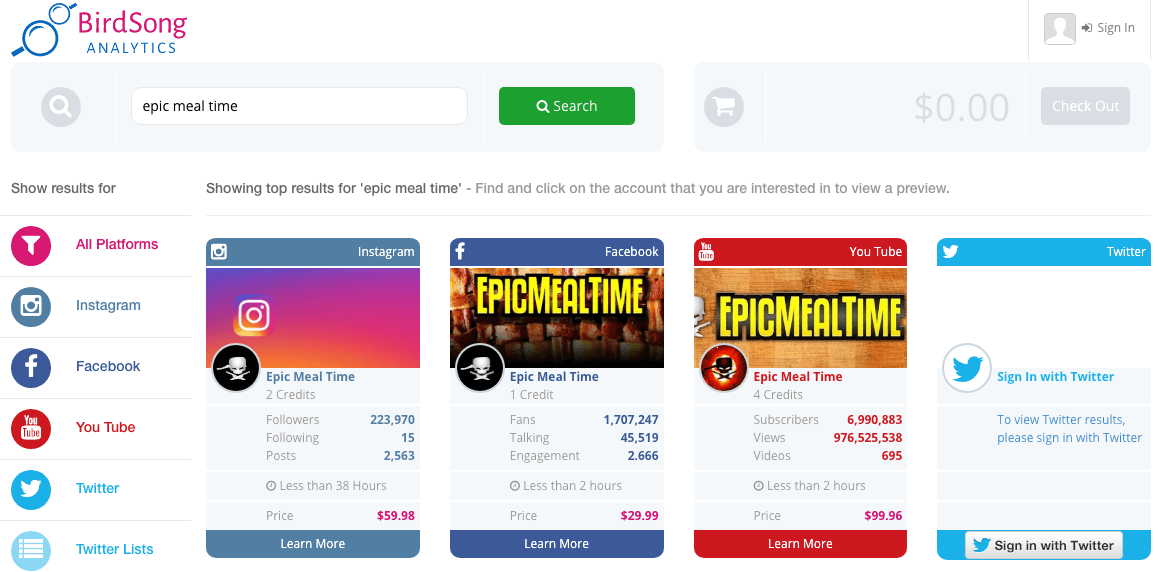 Who can escape competitors? No one. But you can definitely gain an edge over them in your YouTube SEO strategy with this proven tool. This tool enables you to dissect and analyse your competitors' YouTube performance. Whether you are playing defense or attack, a deep study on your competitor-movements helps. This tool helps you analyse your competitor videos, their search words, their strategies and tactics, what works best for them and what does not. You can get a clear picture of your competitor's best upload day, best upload time, most used keywords in the titles and even how their video length affects their view count and audience engagement. This information is ammunition for you if you are looking at bettering and improving your YouTube SEO strategy.
YouTube's SEO marketing tools can look like a laundry list if you plan to cover all of them in one post. The ones we have covered here, are the current best of them all and help you in the different aspects of creating an effective high-performing SEO strategy for your YouTube marketing.