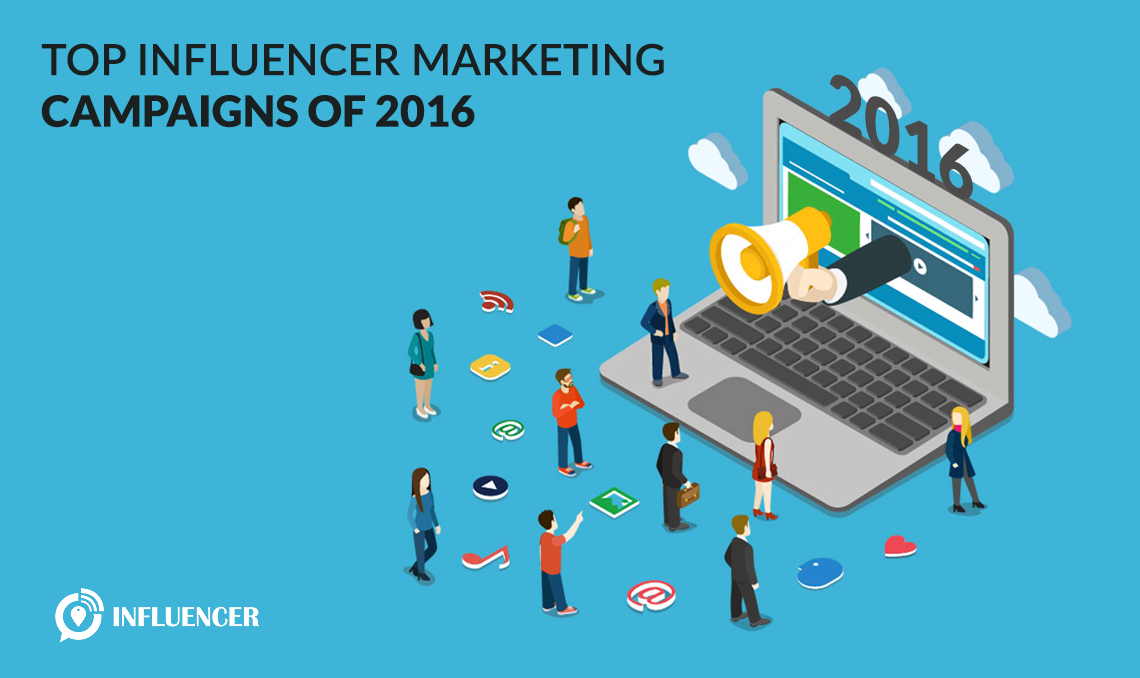 Top Influencer Marketing Campaigns of 2016
Author: Srilakshmi Indranesan
|
Updated Date : February 21, 2022
Another year came to an end, and 2016 has been nothing but productive in terms of influencer marketing. In 2015, influencer marketing began to emerge as an interesting marketing strategy in India. Gradually, many brands realised the positive impact of involving influencers in their marketing strategies.
In 2016, we saw many brands considering influencer marketing as a primary marketing strategy. In fact, according to a study on influencer marketing by Tomoson, "51% of marketers believe they acquire better customers through influencer marketing."
With the influencer network growing day by day, brands are beginning to collaborate with the top influencers in India to create brand awareness. This collaboration is not restricted only to blog posts, but it also includes social media collaboration with the influencers. In fact, according to one of our surveys on Influencer Marketing Trends, the channels or platforms that are highly used by the influencers are Facebook, Twitter & Instagram. Read our blog on "Why Should You Amplify the Reach of Your Blog via Social Media?" to more on the same.
Another interesting fact is that most of the famous influencers/bloggers, who take part in these trending influencer marketing campaigns, fall within the age group of 20-40, and some of them have even taken up blogging as a full-time career option.
If you want more insights on how to leverage influencer marketing and digital marketing for your brand, please do read our book on digital marketing insights, which can be purchased on Amazon.
We also have a list of top influencer marketing campaigns that ran in 2017 if you are looking for a more updated list. Without further ado, here's the list of some of the top influencer marketing campaigns of 2016.
#ChaloMPwithHolidayIQ – HolidayIQ
HolidayIQ curates all holiday reviews at one place and is one of India's largest travel community. In partnership with Madhya Pradesh Tourism, this November, HolidayIQ took ten travel bloggers/influencers on an all-expense paid trip to Madhya Pradesh (MP) – fondly known as the 'Heart of India.' This trip was a part of their influencer marketing initiative – #ChaloMPwithHolidayIQ.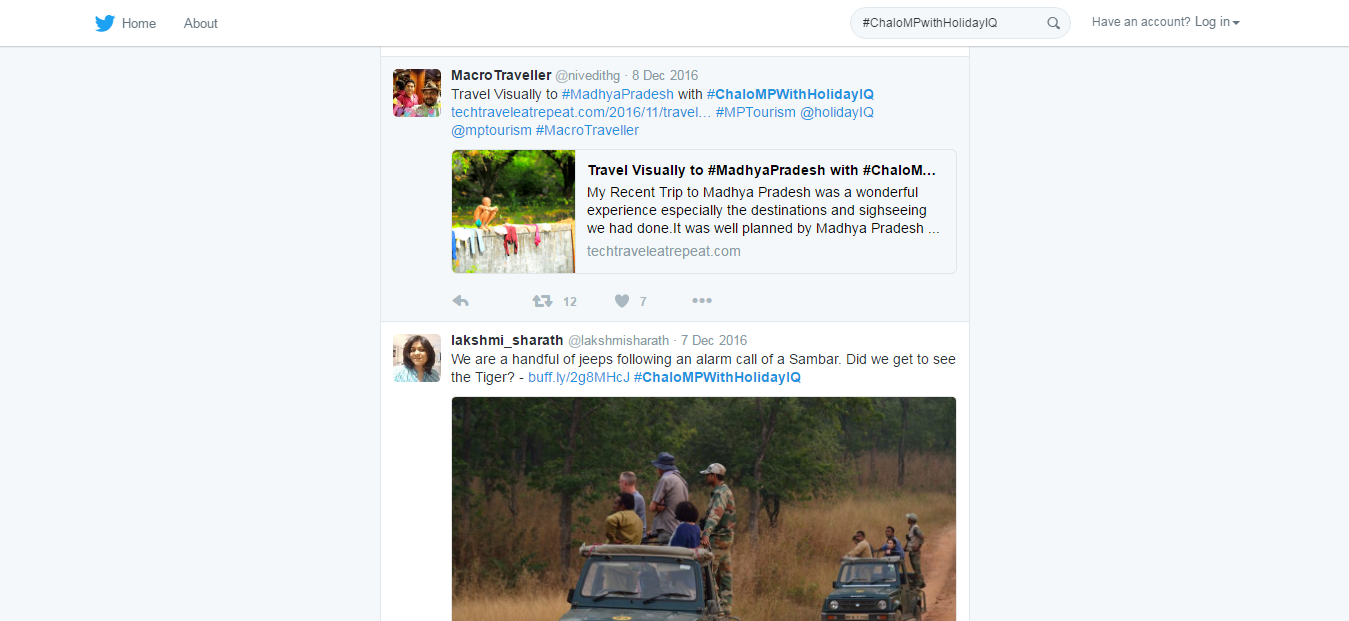 Lakshmi Sharath, Nivedith Ganapathy, Hrish Thota, and Ruby Singh were the travel aficionados who travelled around MP with HolidayIQ. The travel influencers helped the brand to generate more images, reviews, and vlogs about the lesser known places in MP.
#KhulKeKheloHoli – Parachute Advansed
Holi is all about colours, fun, and food. However, one of the most important aspects of Holi and every other festival is about being together with family and close ones. Parachute Advansed came up with this heart-touching video that is on the point about festivals and family time.
The video was uploaded on YouTube and was shared across fervently by users and influencers in all social media platforms, especially in Facebook and Twitter.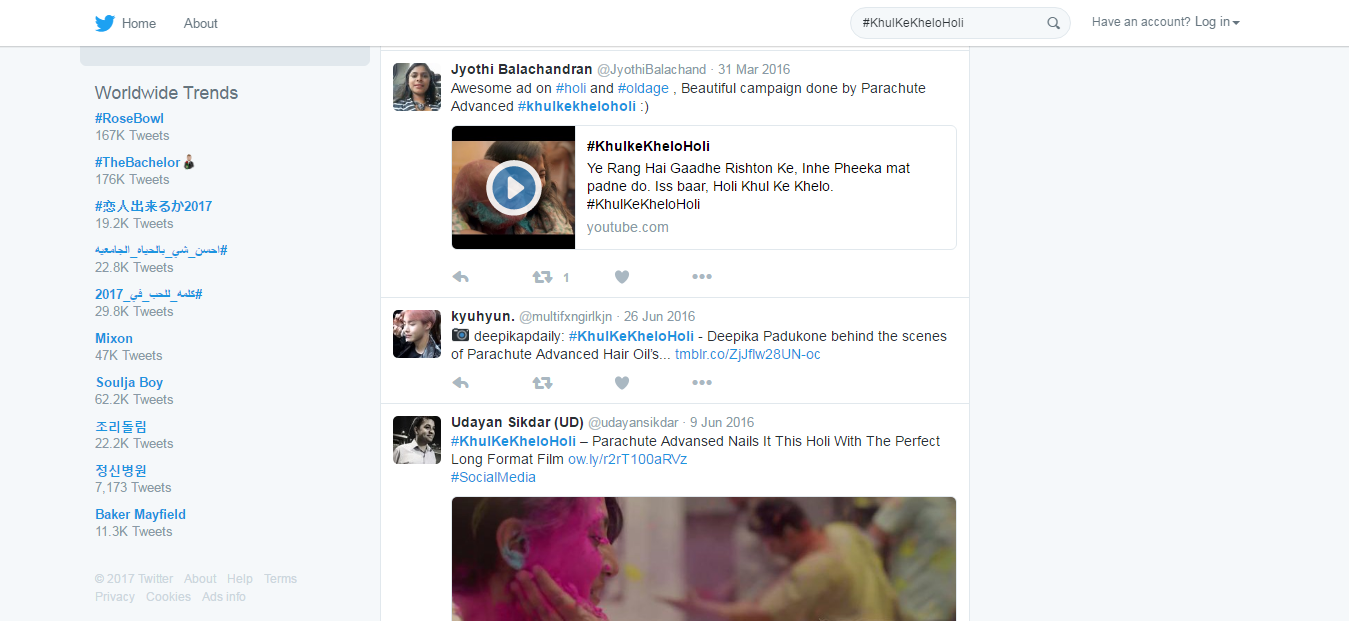 Furthermore, the brand also invited social media users to make and share Dubsmash videos on Holi. People who made creative videos were rewarded with exciting prizes. Finally, bloggers were asked to blog about stories of their childhood Holi Festival celebrations, which were welcomed well both by influencers and other users. The video and even the whole campaign were quite successful.
#AxisThoughtFactory – Axis Bank
The third largest private sector bank in India, Axis Bank, collaborated with various technology bloggers in Bangalore to promote and create awareness about their latest initiative, The Thought Factory. The first-of-its-kind digital lab, The Thought Factory, will be working closely with pioneering, brilliant, and diverse start-ups.
Amit, Sreejesh, Shabarish, Santosh, and Amarendra were some of the popular technology bloggers who attended this event. The influencers wrote blogs about their experience at the launch event and shared the same across various social media platforms.

The hashtag used for the Thought Factory Launch event – #AxisThoughtFactory was trending nationwide on August 27 – the day of the launch. To know more about this event, read our blog on "Case Study: Influencer Marketing for Axis Bank."
#HexaExperience – Tata Motors
When the Tata Motors planned to launch its Hexa range of cars, they chose influencer marketing to create awareness about the new launch. 60 travel and lifestyle influencers from various cities in India were invited to be a part of the #HexaExperience campaign. On October 22nd and 23rd, these 60 bloggers were invited to Hyderabad. The event included a brief presentation about the product line, an overnight stay, dinner and cocktail, and an off-roading experience.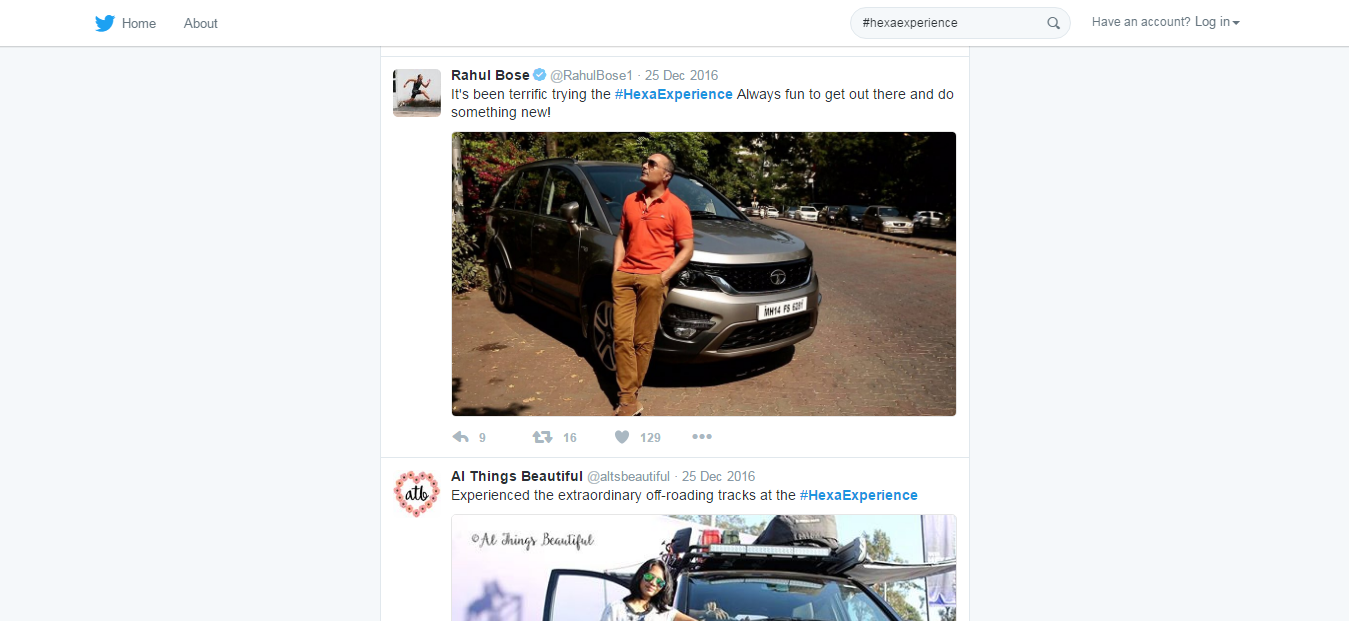 The influencers shared their experience through blogs, vlogs, tweets, Instagram, Snapchat, etc. Owing to the event's success in Hyderabad, within two months, in December, the same event was held in Bangalore. Even celebrities like Rahul Bose and Rannvijay Singha were part of the #HexaExperience campaign.
#LatestSeLatest – Craftsvilla
Craftsvilla is one of the Indian online marketplaces that sell unique Indian products. From handmade, ethnic products to organic, natural products, their products retain the traditional roots of India. In the months of July and August, Craftsvilla teamed up with some fashion and beauty influencers in India to create brand awareness via blogs and social media channels.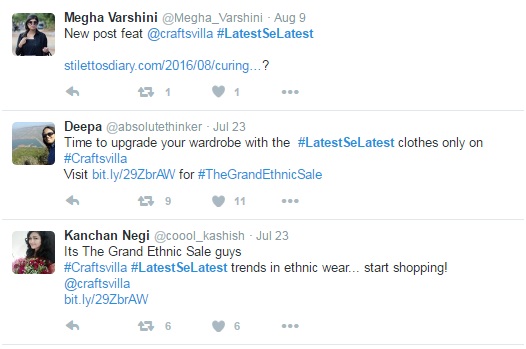 Gia Kashyap, Anshita Juneja, Debashree Banerjee, etc. were some of the famous fashion influencers who collaborated with Craftsvilla to share their thoughts about the brand's latest collection on their blogs, Twitter, and Instagram.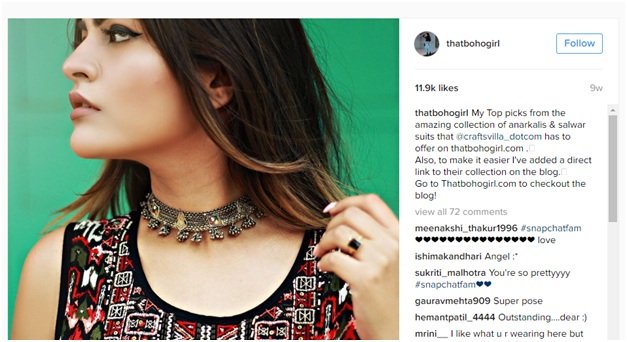 To know more about this campaign, read our blog on "Case Study: Influencer Marketing for Craftsvilla."
#DirtyLittleSecret – BBlunt
The leading salon chain, BBlunt, also has a range of hair care and styling products. One of such products is the 'Back to Life' dry shampoo. This is a unique product that is quite useful for young students or working women as this can be used anywhere, anytime.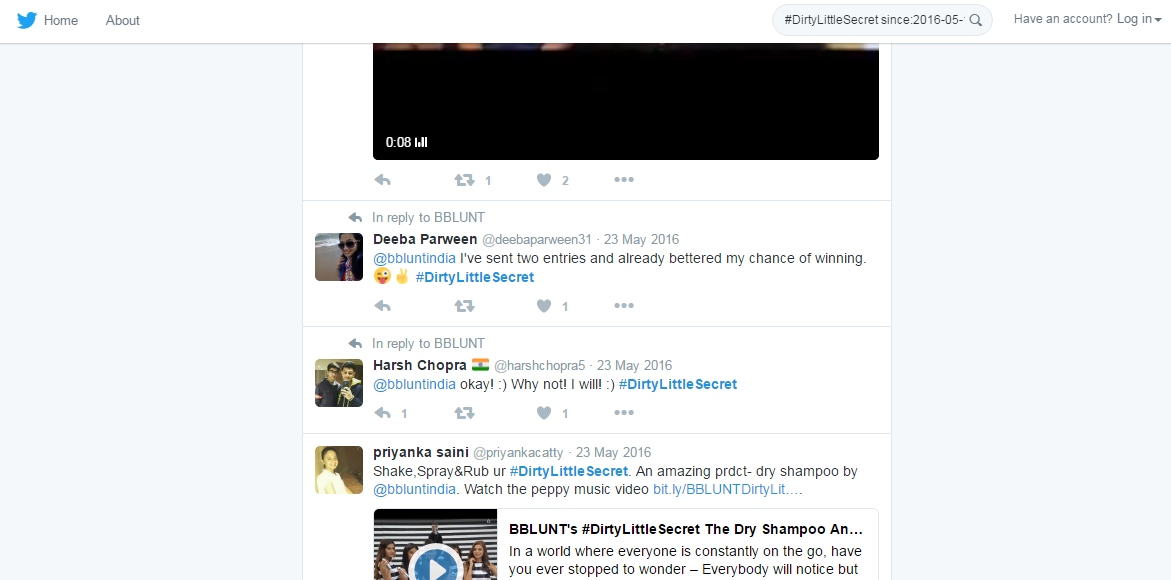 To make some noise about this product and to improve their brand awareness among the public, BBlunt took the help of influencers to make a successful digital marketing campaign. With an attractive hashtag, BBlunt took influencer marketing to an all-new level when they roped in the India's popular fashion, beauty, and lifestyle (FBL) bloggers to feature in a video alongside Adhuna Bhabani, BBlunt's founder.
The video is equipped with puns, racy lyrics, and catchy music. All these make the video an amusing watch.
Dubsmashing to BBlunt's ad jingle became the new viral trend. Furthermore, many YouTubers, social media influencers, and bloggers were also roped into this campaign to share their tips, dubsmashes, etc.
#RightfullyHers – Bajaj
One campaign that completely swept the netizens off their feet this Mothers' Day was the #RightfullyHers campaign by Bajaj. This campaign made users to demonstrate their love to their mothers on social media. What's more, it was in the most simple yet in a profound way.
The brand came up with a short 2-minute video. It's a conventional story of a busy son and a caring mother. However, the most unexpected part of the story is its end when the mum receives a Facebook notification that her son has changed his name from "Varun Satyam Seth" to "Varun Maya Seth."
The video fetched a million of likes, shares, and views on both YouTube and social media platforms. The video, by itself, was impactful, but to add more impact, the brand also roped in some celebrities and influencers who changed their display names on social media.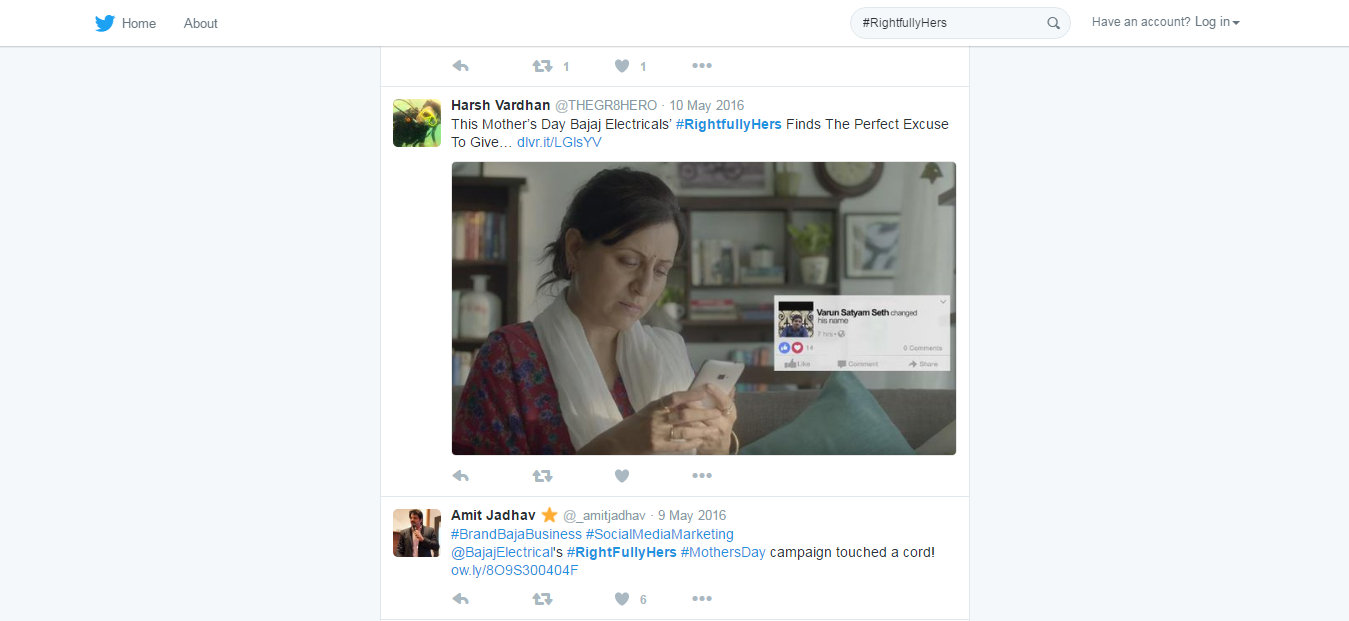 What are some of the other influencer marketing campaigns of 2016 that you loved? Let us know by dropping a comment below.
___noise___ 1000