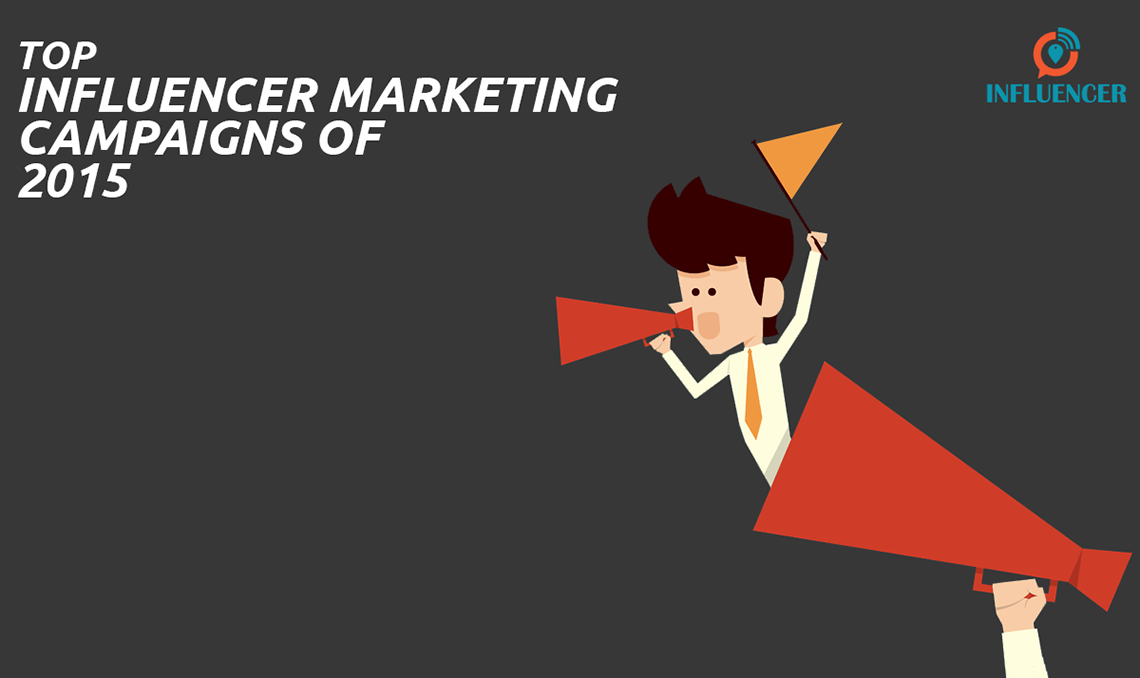 Top Influencer Marketing Campaigns in India in 2015
Author: Krithika Ramani
|
Updated Date : February 21, 2022
Influencer marketing is not an unexplored component of digital anymore, as 65% of marketers had implemented influencer campaigns in 2015 and are increasing their budgets this year. With the growing distaste towards direct marketing advertisements, brands are moving towards content marketing and roping in trusted voices that can influence customers. With the influencer ecosystem growing, brands are starting to leverage the top influencers in India to ride on their reach. Let's take a look at some of the best influencer marketing campaigns of 2015 and what worked for them:
1.What's on your plate? – From Citi Bank
Concept: Citi Bank wanted to promote its Dining Privilege offers to Indian consumers and took the influencer marketing route to achieve its objectives. They roped in Maria Goretti and Kunal Vijaykar, two of the top food influencers in the country and collaborated with Zomato to be their marketing channel partner.
Execution: Citibank Cards offers exclusive privileges at over 2000 restaurants and wanted to target mobile consumers & make them associate 'Dining' with Citi Bank. The campaign was around What's on your plate? – A digital led food marathon that reached out to consumers asking for their favourite dishes in two cities, Delhi and Mumbai. A teaser video was shot on Fame Food, where the influencers fight over Mumbai & Delhi food. The two then ask viewers to tweet their suggestions on Facebook or Twitter using #LuvToDine and #WhatsOnYourPlate.
Promo Link: https://goo.gl/e9lZTh
What worked: Citi Bank moved away from the traditional bank marketing strategy and roped in credible influencers who are among the top food lovers in the country. Food being a relevant and high-interest category, the contest also witnessed a lot of celebrities engaging with the brand. With the right set of influencers, the big idea and an engaging contest format, this campaign drove enormous engagement and reach for Citi Bank's hot product.
2. #GetSetBolt Campaign from Tata Motors
Concept: In order to create a buzz amongst its target audience for the launch of Tata Bolt, the brand organized a digital reality show involving four popular Twitter influencers.
Execution: Tata Bolt is the brand's new hatchback car that was launched recently. With the new age millennials being the target audience, Tata leveraged on the Twitter craze in India. A unique digital campaign called 'Get Set Bolt' was executed involving four Twitter influencers – Apoorv Sood (@Trendulkar), Rahul Nanda (@RahulNanda86), Abhishek Asthana (@GabbbarSingh) and Ashwin Mushran (@AshwinMushran)
The game show was about the influencers being enclosed in glass cubicles. In order to get out and also win a brand new Bolt, they had to get the symbolic Bolt key which requires them to create the maximum digital buzz amongst their followers. In order to encourage participation, the top supporters of each influencer also had prizes to win.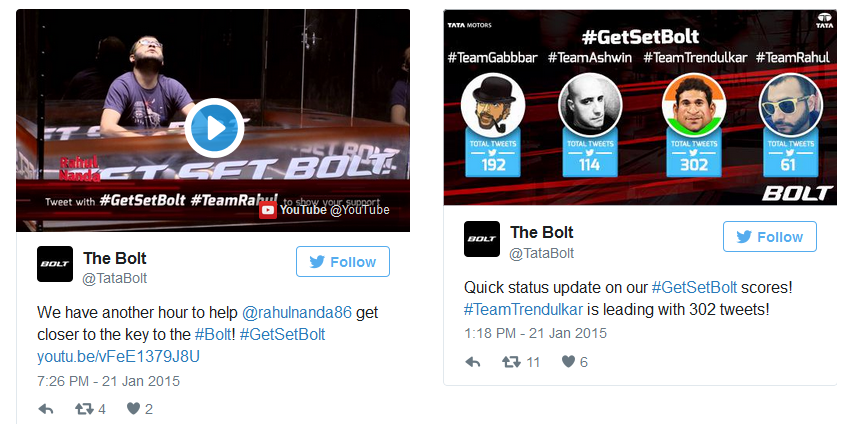 What worked: The gamification format, user generated content and Twiteratti who were involved made the launch strategy a success. Constant text and video updates about the game show were released across social media platforms to keep up the momentum and invite more support. The campaign not only leveraged on the four influencers, but also witnessed great participation from their followers – thereby increasing their reach and driving the point across.
3.#SCInsiders Campaign by Standard Chartered
Concept: Standard Chartered is the founding partner of The Economist India Summit, which explores the day's most pressing issues. High-level discussions and debates are organised where the country's key opinion leaders participate & discuss ideas. With an aim to bring the Summit talks to the common man, SC roped in four influencers from different fields to attend the event & share their takeaways.
Execution: The special team of influencers, called the #SCInsiders comprised of Raj Kaushal, Nandita Iyer, Ankur Tewari and Siddharth Singh. Coming from varied set of backgrounds, they live tweeted the entire session and engaged followers with their unique perspectives. There were Twitter discussions on the topics covered & a video with key takeaways at the end of the session.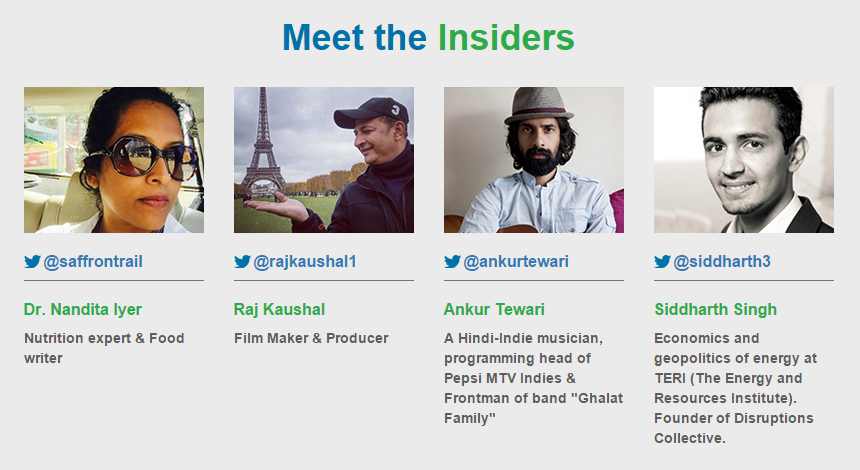 Video Link: https://goo.gl/eGjCYW
What worked: By inviting a movie director, a food writer, a musician and an energy researcher to be a part of their event – Standard Chartered was able to reach out to a wide range of audience. The topics discussed during the summit were broken down into tweets that were easily consumable by a common man. There was also a 3-minute video that summed up the event and an exclusive microsite to help the audience follow the discussion. Thus a panel discussion of national importance was made fun and engaging through effective content dissemination, which reached close to 2.8 million users.
4.TVC for Micromax LED TVs
Concept: In order to highlight the superior components and improve sales for their LED TVs, Micromax came out with a TVC series involving three domain experts aka influencers.
Execution: Being a less-known player in the TV market, Micromax wanted to build credibility around its products and roped in three experts who are able to excel in their profession due to the remarkable performance of Micromax LED TVs. By featuring Harsha Bhogle from Sports, Amit Trivedi from Music and Anurag Kashyap from the movie industry, the TVCs were an interesting documentation of how Micromax LED Tvs helped them excel in what they do.
Apart from being aired on popular TV channels, the commercials were widely promoted on social media channels and display networks. The experts themselves shared it on their social networks to improve reach and engagement.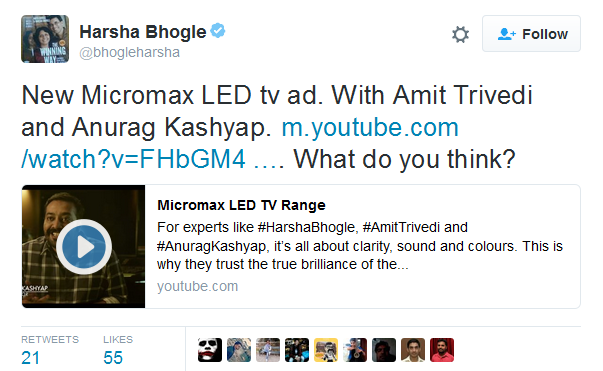 What worked: The amount of detailing that had gone into choosing the right influencers, explains how this commercial series is a class apart from any other advertisement featuring famous celebrities. Well, who wouldn't trust a brand when Anurag Kashyab talks about its impressive picture quality, Amit about its sound components and Harsha Bhogle about its clarity and detailing? Targeted at the next gen TV lovers who are looking for a sharper, smarter cinematic experience, Micromax LED TVs are sure to flash in their minds while making a purchase.
5.'The Prime Time' Campaign by Ola
Concept: When Ola revamped its business-class offerings in Bangalore last September, they collaborated with celebrities from various walks of life to drive around select customers. This influencer marketing campaign was executed to create some buzz around the launch and boost Ola Prime bookings.
Execution: During the launch of Prime cars that offer free in-cab WiFi, superior cars & best rated drivers for 'Ola Select' customers, some of them were in for a ride of their lives. Celebrities like Narain Karthikeyan, Abish Mathew and Milind Soman surprised customers who had booked the services by driving them around in an Ola Prime car.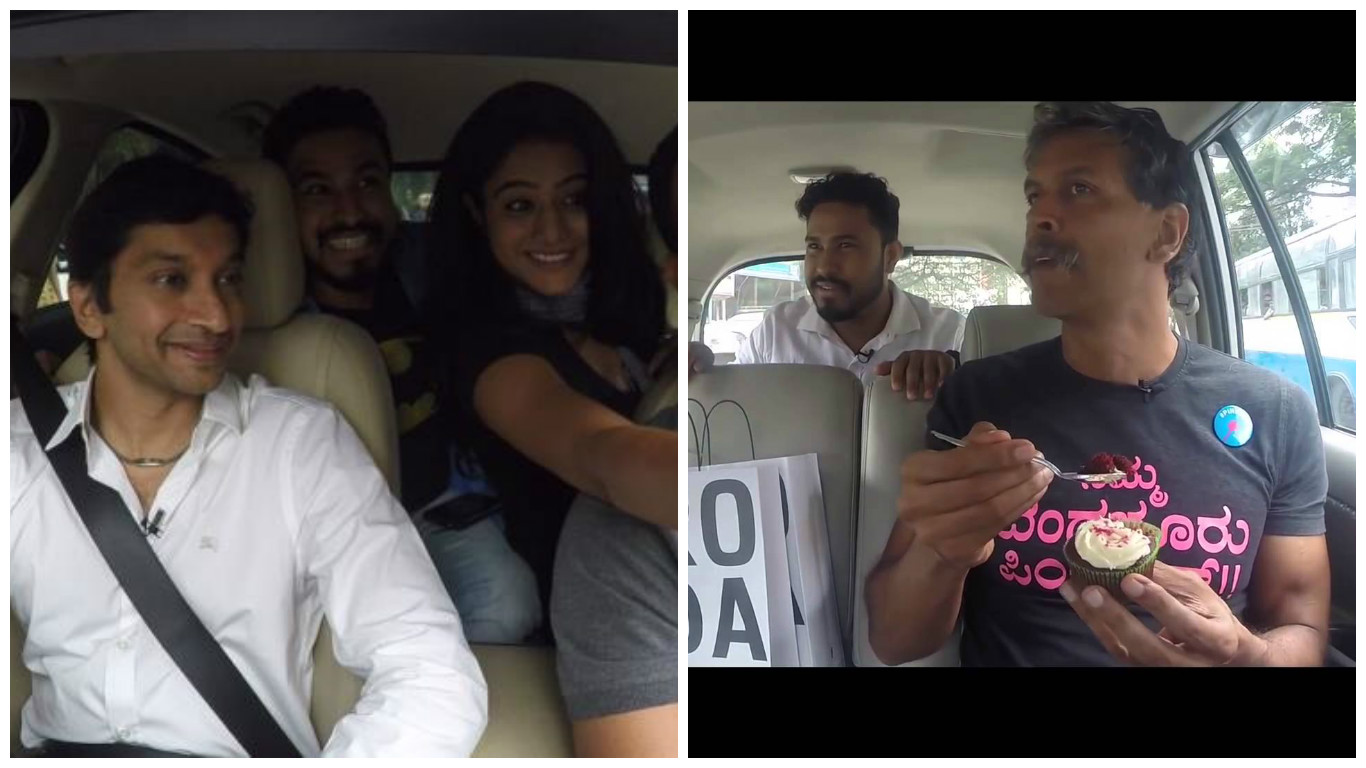 What worked: Being an online-offline integrated influencer campaign, it created a unique travel experience for customers and extended buzz on social media. Ola had tweeted about the launch & the opportunity to meet these celebs that led to a spike in the number of bookings. The campaign was trending on various social networks, thanks to the fun videos and conversational excerpts shared by Ola, the influencers and the customers.
6. '#CrazyForReading' Campaign by Amazon India
Concept: In order to encourage e-reading and improve the Kindle Paperwhite sales, Amazon India carried out a campaign called #CrazyForReading. A minute-long brand films were made featuring two of India's bestselling authors – Amish Tripathi and Ashwin Sanghi who talk about how Kindle helps them fulfill their crazy love for reading.
Execution: The first video features Ashwin Sanghi, an author of the new era of retelling Indian history or mythology in a contemporary context. He talks about his love for reading since childhood and how his reading habits have evolved over the years, thanks to Kindle. And Amish Tripathi, the bestselling writer of the Shiva Triology talks about his everyday reading habits and celebrates Kindle Paperwhite, a gift from his wife. Both the authors carried out a demo of its exclusive features and spoke about how Kindle has enriched their reading experience. These brand films were promoted on social networking sites by Amazon and the authors themselves.

What worked: Both these digital savvy authors have huge fan-following on social media and perfectly fit into the brand films targeted at the old & new age readers. It also had a compelling story telling approach, which would make any avid reader sit through it. And the campaign did not end here. Amazon Kindle India also invited its fans to share their #CrazyForReading stories & the craziest ones were to win an Amazon Kindle.
7. #ChaltaHaiKoChaltaKaro Campaign by Vistaprint
Concept: In order to outshine the unorganized Indian print service segment, Vistaprint came out with an influencer campaign called #ChaltaHaiKoChaltaKaro. It is a series of films featuring young & successful Indians entrepreneurs who broke the usual 'chalta hai' norm & how Vistaprint helped them do it.
Execution: These ad films showcase the entrepreneurial journey of Arunabh Kumar, Founder of The Viral Fever; Anuj Goyal from Brijwasi Sweets; Ankita Tandon, Founder of Coupon Dunia, etc. They talk about the importance of having the right marketing material in place, in order to grow your business and achieve the desired branding goals. The videos also explain how Vistaprint, a global player who delivers quality products & services helped them market their brands successfully.
What worked: Positive testimonials or stories from successful clients build a lot of credibility and increase brand value. Instead of roping in celebrities, Vistaprint featured real time heroes who benefited through them, as it would create a larger impact amongst their target audience.
8. #WhatDrivesYou Campaign by Ford
Concept: This pre-launch campaign is a good example of using influencers for a dynamic product positioning. Targeted at the modern, young Indians whose aspirational values are high, the brand roped in Farhan Aktar to drive around the all new Figo Aspire & interview real life achievers about their success journey.
Execution: The campaign was aimed at understanding what drives young India towards success and showcased the inspirational journeys of Phanindra Sama, Co-founder & CEO, RedBus.in, Rajat Tuli and Rahul Anand, Co-founders of happilyunmarried.com, etc. Apart from the massive offline promotions, Ford created an exclusive microsite & promoted the campaign on all of its social media properties. This influencer marketing initiative garnered great engagement & reach, as the brand also invited its audience to share their goals, dreams & aspirations that drive them every day.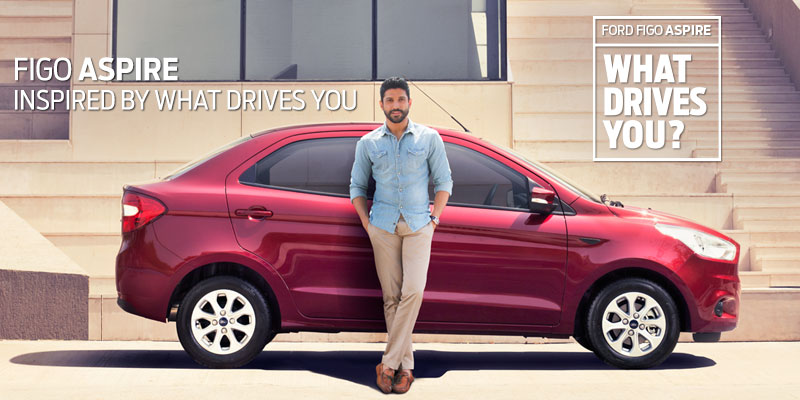 What worked: By drawing inspiration upon real time success stories and instilling confidence in aspiring young Indian minds, Ford has successfully managed to position its game-changing compact sedan. Interviews of these real life achievers helped in establishing a strong positive sentiment towards the product and build a closer, stronger connect to the brand.
Have we missed out on any important influencer marketing campaign that was executed last year? Do you have more insights to add to our existing list of campaigns? Write to us in the 'Comments' section. If you are planning to start your own influencer marketing campaign, read our top 5 tips.