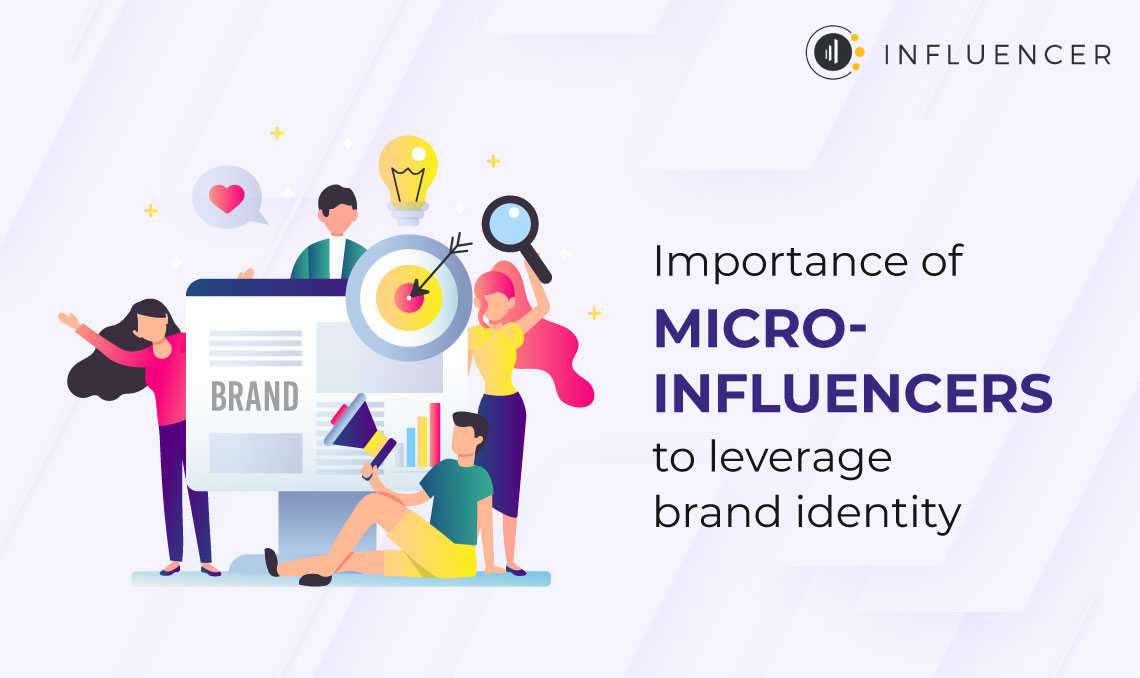 Importance of micro-influencers to leverage brand identity
Author: Arunima Sharma
|
Updated Date : April 27, 2022
Over the past few years, we have witnessed the digital landscape in India grow enormously. Influencers have changed the entire course of how marketing is perceived today. And why not? What could be better than amalgamating powerful word-of-mouth marketing techniques with influencers' story-telling ability?
According to a survey conducted on 800 brands and marketers in India, 75% of them consider influencer marketing an indispensable tool. 63% of these brands are already working with up to 50 influencers.
Though, Brands have realised not every influencer can yield the same campaign success. Unlike traditional marketing and advertising, a celebrity or mega-influencers may not be enough. In influencing marketing services, big is not always better.
Not every brand can rely on macro-influencers with their massive following. Millions of followers might not guarantee the branding your product needs. For a successful campaign, brands nowadays utilise micro-influencers to leverage brand identity.
WHO ARE MICRO-INFLUENCERS?
A micro-influencer is a person with a social media presence more significant than an average person's but smaller than a celebrity's. Usually, that means more than 1,000 followers and under 100,000 followers. You can even understand the difference micro-influencers vs macro-influencers and which ones are more effective
MICRO-INFLUENCERS MARKETING: SMALL BUT POWERFUL
Micro-influencers aren't typically celebrities, and many could be concerned about their small followings. But they are known to have a higher engagement rate than mega-influencers. Micro-influencers make genuine efforts to engage with their smaller followings through DMs and comments.
Compared to celebrities, they have a better understanding of their followers' demographics and likes. These micro-influencers also help the brands connect at the local and regional levels. The recent AnyTag report states that these micro-influencers now hold top brand deals in India as they have adapted to the top influencer marketing trends in 2022.
PepsiCo recently launched Lay's Wafer Style, its thinnest chips. Though it took big celebrities like Alia Bhatt in their campaign for its campaign, at the same time, 3000 micro-influencers were added to the bandwagon to create more buzz.
MICRO-INFLUENCERS: AUTHENTICITY
Mega-influencers with hundreds of thousands of followers are seen as celebrities. But a micro-influencer is seen as a peer, a friend and hence are far more relatable. A micro-influencer looks like just another person they know to the average social media user.
Nowadays, before every purchase, customers look for user-generated or one-on-one recommendations. And among the glam and buzz of social media, customers can easily connect to micro-influencers.
They are experts in their niche, and thus a review from them holds weight. Their audiences are more likely to relate to the influencer and develop trust with someone who shares similar interests.
Micro-influencer marketing can be one of the best strategies for new brands and others trying to break into a new vertical. The collaboration will help reach potential clients and solidify your legitimacy in that community.
IT'S ALL ABOUT MONEY
The Influencer marketing industry is growing at a vast pace. According to GroupM INCA's India Influencer Marketing Report, the market is expected to grow at a compound annual growth rate of 25% till 2025 to reach a size of Rs 2,200 crore.
So it is clear that influencer marketing is here to stay.
Compared to mega and macro-influencers, collaboration with micro-influencers is far less expensive. The deals with brands typically involve a small payment, barter deal or sometimes an affiliate code for product purchase.
So with such an important marketing tool, a brand can expand its reach by working with several influencers to cover different market segments. By engaging influencers of different ages and genres, brands can reach audiences they might have missed working with a few celebrities or macro-influencers. Apart from monetary terms, you may also check the breakthrough trends in Influencer marketing that will sky-rocket your brand.
These influencers are eagerly looking to expand and grow their base. So, they are constantly looking for collaborations and sometimes over-serve the brands to build healthy long term relations. These factors eventually create a strong relationship between the brand and the influencers.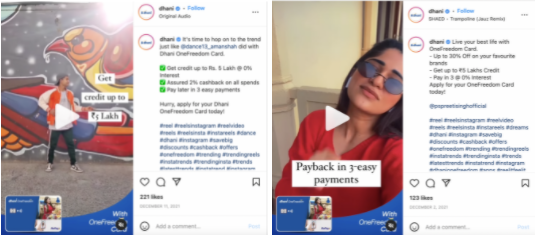 Dhani using micro-influencers from different genres to promote OneFreedom Card
ENGAGEMENT RATE:
Micro-influencers may have fewer numbers of users watching the sponsored content. But in the last few years, brands have realised that it is a blessing. The engagement and conversion rate of sponsor content uploaded by micro-influencers is much higher than that of mega-influencers. Due to the trust in the individual, users are more likely to click the 'purchase button.'
CONCLUSION
:
For a brand that wants to utilize highly successful micro-influencers marketing, all it needs is to find the right set of micro-influencers who engage positively with their followers. This partnership could help the branch reach the right audience and customers.