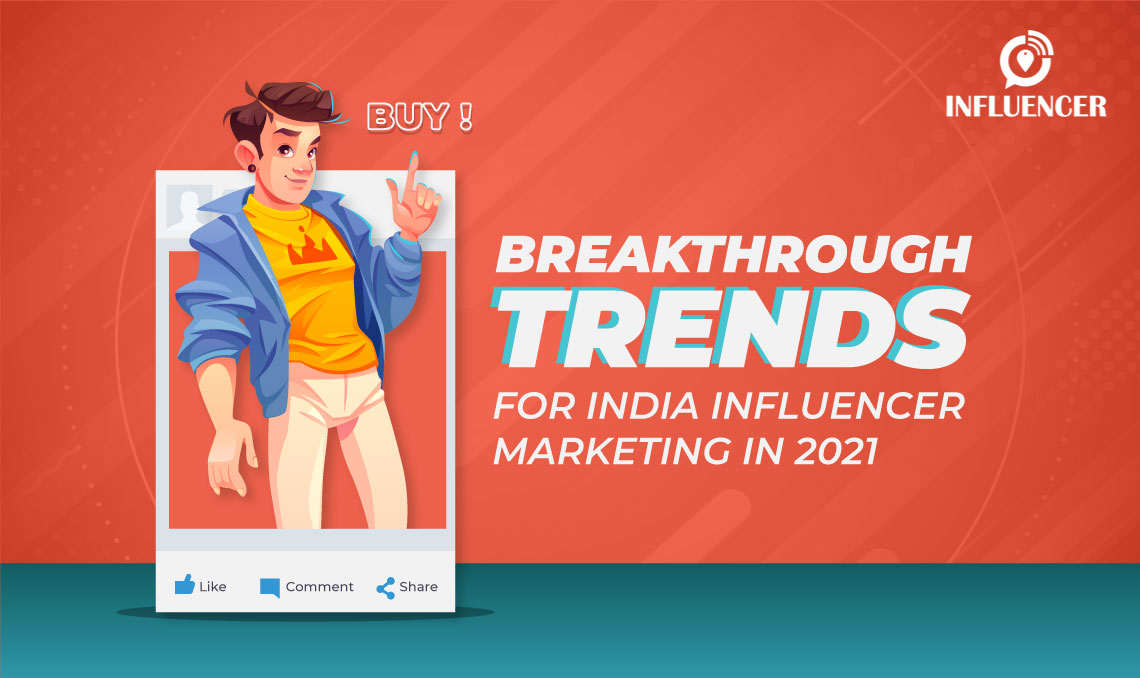 5 Major Breakthrough Indian Influencer Marketing Trends for 2021
Author: Shashwat
|
Updated Date : February 18, 2022
Indian Influencer marketing has absolutely taken off in the last couple of years, but it's been continuously changing itself with time, and brands that don't keep up with these novelties will definitely have a tough time. Influencer marketing trends have taken every aspect of the digital marketing world by storm. Irrespective of what your brand may be, you have influencers for it. Current Indian influencer marketing trends include fashion and beauty influencers, Instagram influencers, and social media influencers. If you are looking at ways to grow your influencer marketing efforts, Influencer.in has you covered and is a great influencer platform in India.
The oldest Indian influencer marketing trend that creatives utilized was casting popular figures in their ads. This would increase the reach and build a stronger connection between the brand and a potential user, by leveraging the popularity of the superstar. You could say, in a sense, that this was the birth of modern influencer marketing.
A few decades into the future and Indian influencer marketing has turned upside down. Superstars are no longer massively influential when it comes to turning potential buyers into users. Because in 2021, everyone knows SRK probably never drove an i10. But a guy explaining the difference between the gear shift capabilities of two cars in the same price range most definitely did. And this credibility increases his influence over all his viewers.
Anyone who has attended a day's worth of lessons on advertising knows that the best ad is one that doesn't feel like an ad. And that's the crux of successful digital influencer marketing. A plain automobile comparison video, an unboxing session for a smartphone, trying out a new sauce in a cooking video, and lots more.
And it's a universal truth: the closer an Indian influencer is to their audience, the more influence they have over them. So, let's dive into how influencer marketing trends in India will play a role in your marketing strategy.
What are the Indian influencer marketing trends for 2021?
Micro and Nano Influencers
Indian strategists have observed the dropping influence of Macro Influencers due to their lower engagement rates, and that has triggered a fast-paced move towards micro and nano influencers.
Joe Sinkwitz, CEO of Intellifluence, says that he believes there are going to be multiple influencer marketing trends unfolding in 2021. According to him, larger companies have recognised that micro-influencers have a superior efficacy compared to a single celebrity influencer. 
Having real high engagements at a personal level, and an audience that trusts them makes micro-influencers the primary showrunners of influencer marketing. This is a critical point to note if you are looking to adopt influencer marketing trends in India.
Short Videos Rule for Indian influencer marketing
TikTok may or may not have left India for good, but it sure managed to set up a supremely panoramic format for creators of all scales and sizes and also created a great wave of influencer marketing trends in India: The Short (self-shot) Video. The massive fall in the production cost of a 15-second video has attracted loads of brilliant creators to the format. And with Instagram Reels capitalizing on this golden opportunity at the perfect time, the short video has now reached the world, and the world is loving it.
Agencies across the country have seen immense success with influencer-created short-form video reviews, short tutorials (makeup, DIY projects, recipes, etc.), workouts, fashion, and more.
Another effective activity this leads to is user-generated content. A branded Reel format initiated by an influencer could reach far more users if it carries the potential to become a trend, given that Reels (or TikTok) are literally the easiest way to shoot complex and decently edited videos. So, for your next marketing strategy, consider looking at someone whose Reels and short video content has performed well, since it is a booming influencer marketing trend in India.
Creators not Influencers
As we've seen over the last few decades, the term influencer has undergone an insurgent semantic change, and to such an extent that its devotees don't even want to associate themselves with the nomenclature. Most of them prefer being referred to as content creators, and that's a good thing for brands!
Naturally, influencers who self-identify as creators tend to apply more effort to ensure value and quality into whatever goes out through their accounts. Creators are more than celebrities. They are actors, writers, photographers, and performers, and brands know this.
This style of content creation may soon take creative ad agencies out of the picture when it comes to influencer marketing, as the influencers are ready to write, shoot, and edit their own professional and engaging content at a fraction of the agency price.
Taking (or not taking) a Stand
Taking a stand on socio-political causes as a brand has always been an integral part of marketing in the past, but in today's age, with content reaching billions of people in minutes, and the internet always being divided on literally everything, online reputation management has become a tough task.
Now once you bring influencers into this, you add one more individual and distinct personality to your originally intended messaging. And if you haven't managed to pick an influencer whose other content does not match the tone and ideologies of your brand, your strategy might just end up being counterproductive. In the current scenario, brands have been trying their level best to make sure they stay far away from socio-political events, but as an individual, an influencer might not be doing the same. Being associated with an incompatible influencer could lead to a disaster any day! This is why brands are putting far more effort into picking and choosing the perfect influencer. Having an opinion is great for an influencer but his/her opinion must be in synergy with your brands. Another great tip to think about while looking into Indian influencer marketing trends.
Entertainment Platform or E-Commerce Platform?
The rising number of influencers as well as sponsored clickable ads on almost all social media platforms might just lead to a radical alteration of the very purpose of social media soon. Given that most content created by influencers is still entertaining at a base level, it will continue to keep the social media platforms going, and at a secondary level, slowly turn social media platforms into direct e-commerce platforms, where users end up seeing more ads than social content and still continue to like it.
Influencer Marketing has been around since prehistoric times, from spreading religions to selling pants, and it will stay for as long as people can be influenced. It will just change shapes and forms and styles. Brands don't have an option but to keep up with them. 2021 has just begun. More influencer marketing trends in India are definitely yet to appear!