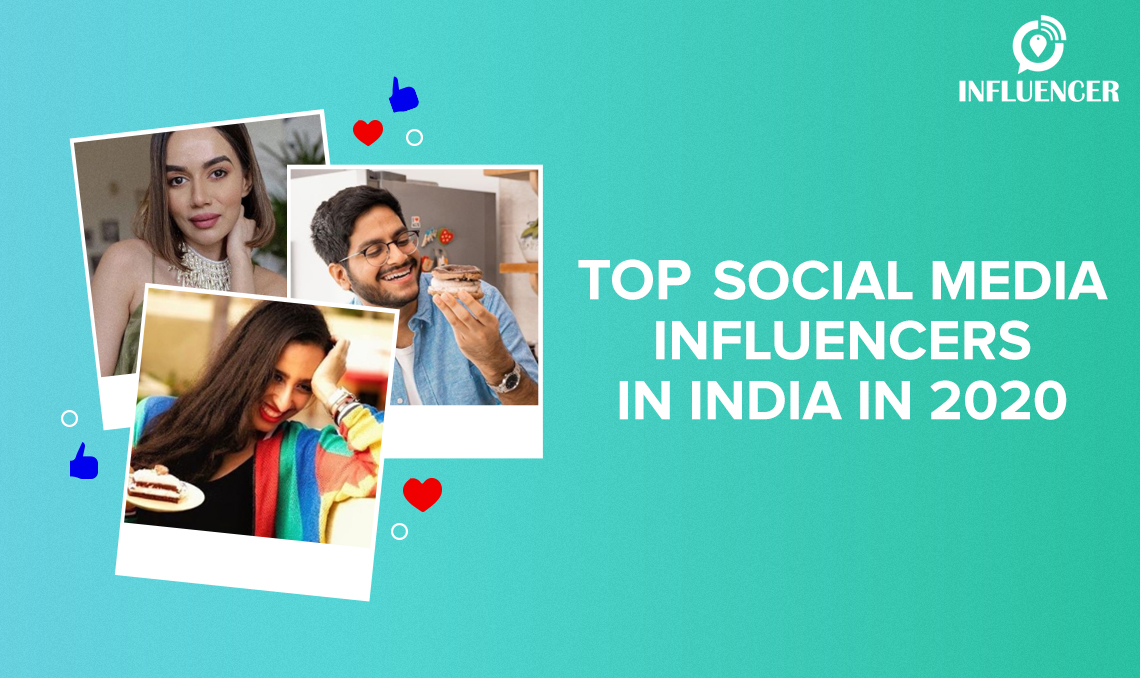 Top Social Media Influencers in India in 2021
Author: Sayantan Rudra
|
Updated Date : February 21, 2022
Social media has been successful in bringing people closer than ever before. Be it a regional trend, expert advice, motivational blogs or entertainment videos, social media has never failed us. This scenario has forced brands to turn towards social media platforms like Facebook, Instagram, Youtube, Twitter, etc to reach their customers and enhance transactions. They partner with influencers on these platforms and promote their business, products/services hence, reaching a wider audience. 
Social media Influencers are individuals who share knowledge, know-how, and other kinds of engaging content with their followers sharing a common interest.
Here is the list of Top 10 Social Media Influencers that you can turn to for promoting your brand!
A foodie, Karan Dua is a food influencer on Instagram and has been featured in popular magazines and newspapers like Forbes India, Business World Magazine, Lonely Planet India, The Hindu, and Economic Times. He has a fan following of 518k on Instagram and 1.3 M on YouTube. He shares street food, restaurant and hotel reviews with his audience through his social media.
A Delhite, Shivesh is a food blogger and a self-taught baker. His Instagram handle with 343k followers is filled with mouthwatering baked food and has a dedicated youtube channel with 272k subscribers for the same. He is the author of the Book called "Bake with Shivesh" and shares all his recipes with his audience via his website.
Another Food Blogger with 10k+ recipes shared by her with the audience. She also provides online cooking classes whose registering link can be found on her website along with the full recipes. She has won the hearts of more than 300k people and is continuing to do so by sharing her recipes with the rest of the world.
Suyash is an entertainer with over 322k followers on Instagram. He also owns an Instagram page dedicated to photography and his clicks.
Dolly is an entertainer and makes funny videos on Instagram and youtube. She has a fan following of 919k on Instagram and 311k on YouTube.
A Celebrity Fitness expert, Namrata loves and shares content around pilates and other kinds of fitness workouts with her followers. She is an Indian Pilates instructor who started her career at the age of 16 and became one of the 'Youngest Trained Stott Pilates Instructors' in the world. She is the co-founder of The Pilates and Altitude Training Studio in India and has authored the book called "The Lazy Girl's Guide to Being Fit".
Diipa is a fashion influencer and has 1.1 M followers on Instagram. She shares content on beauty and fashion advice. She has also started her youtube Channel and has 15k subscribers there.
Komal is a well-known fashion blogger in India and has a following of almost a million on Instagram and 900k+ on YouTube. She shares content around beauty and fashion tips with her audience.
A lawyer by profession, Karan was nominated as the leading Fashion influencer for the year 2019-2020 and creates content around Menswear, Grooming, and Luxury items for men. With 250k+ subscribers, he is taking Instagram by storm with his stylish outfits and dashing looks for men. 
Aakriti is primarily a travel influencer but her content also involves lifestyle videos and updates. Her lively posts and selection of colors on Instagram has won the hearts of her audience and has got her a following of 668k on Instagram and 146k on YouTube.