Top influencer marketing campaigns of 2018
Author: Pooja Manoj
|
Updated Date : February 21, 2022
2018 definitely has been the year of Influencer marketing. Every brand, from small-scale start-ups to well-established companies, have grown their business through this powerful platform with a positive brand image and higher reach. Research shows that 80% of the consumers trust the information provided by influencers through various social media channels and 60% of the consumers make their purchase decisions after considering the inputs given to them by top influencers. As we come to the close of 2018, let's take a look at a few top influencer campaigns of the year.
Brand: Loco
Influencer: Filter copy
Filter copy is one of the fastest growing YouTube channels with its content catering to theneeds of youngsters in India. They have about 3.7 subscribers and most of their videos portray common problems faced in an Indian household with a fun and humorous twist. Recently, Loco – one of the top gaming platforms dealing with live interactive quiz formats – had collaborated with Filter copy in their video for Father's day titled "Things Father's do". The video starred some of the prominent actors of Indian Television such as Rajat Kapoor, Rohan Shah and Madhu Gudi. There was a scene in the video where the father played the Loco app. The simple and subtle plot did not make it look like a product endorsement. Also, the video was able to connect with the audience at an emotional and sentimental level with over 4.4 views, making it a win-win for both the brand and the channel.
Brand: Hard rock café
Influencer: Mridula Dwivedi
On the occasion of World Hamburger day, Hard rock café collaborated with a leading travel blogger Mridula Dwivedi, who has a huge fan base in India. Mridula was a special invitee to witness the World Burger Tour at their Cyber hub outlet in Gurgaon. In her blog- Travel Tales from India and Abroad– Mridula published a detailed blog post on her first ever visit a hard rock café. She went on to describe the amazing food, beautiful ambience and how she and her daughter had an amazing time at the café. Since the content was original, honest and retable, she won the hearts of thousands of her followers.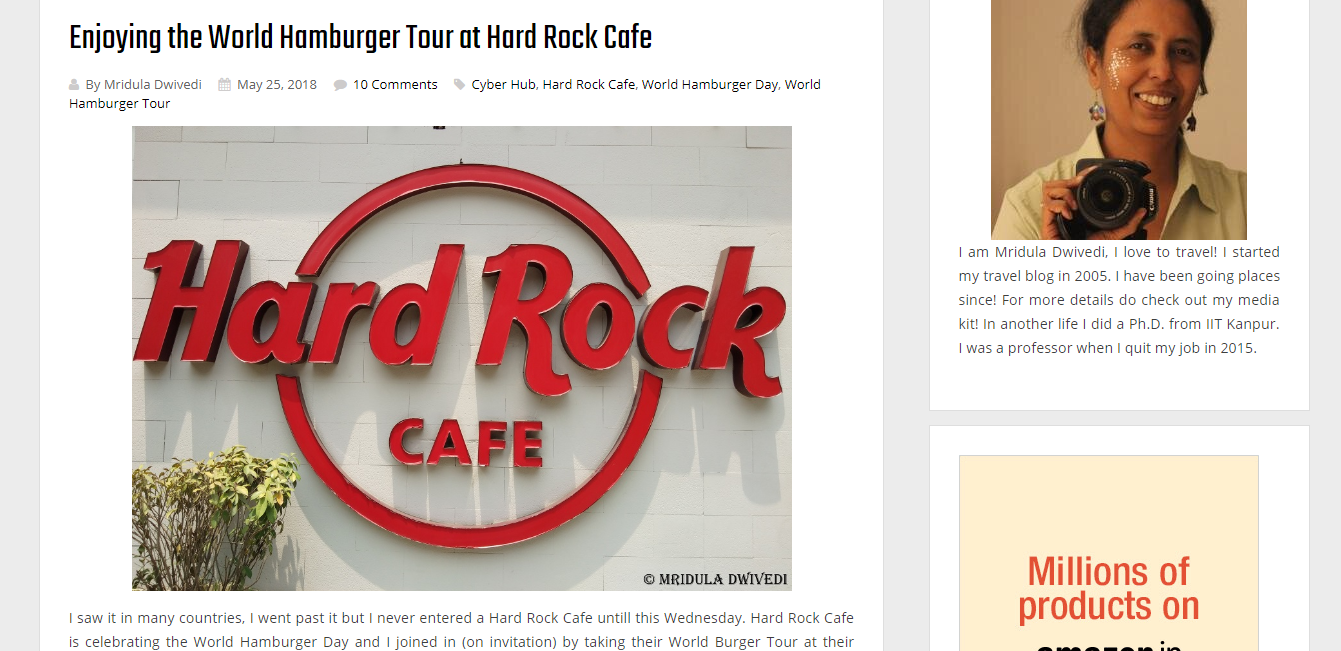 Brand: KFC India
Influencer: Top food bloggers in India
KFC tried their hand at influencer marketing for the launch of their new burger called Double down a burger. In order to create a buzz, the brand collaborated with a few of the leading food bloggers in India such as the @delhifoodguide, @thehugrydungree, and @mumbaifoodie. As part of the teaser campaign, the bloggers uploaded a plain post called 'The secret burger' asking their fans to take a guess on the name of the burger. After the reveal, the bloggers were invited to taste and review the taste of the new double down burger.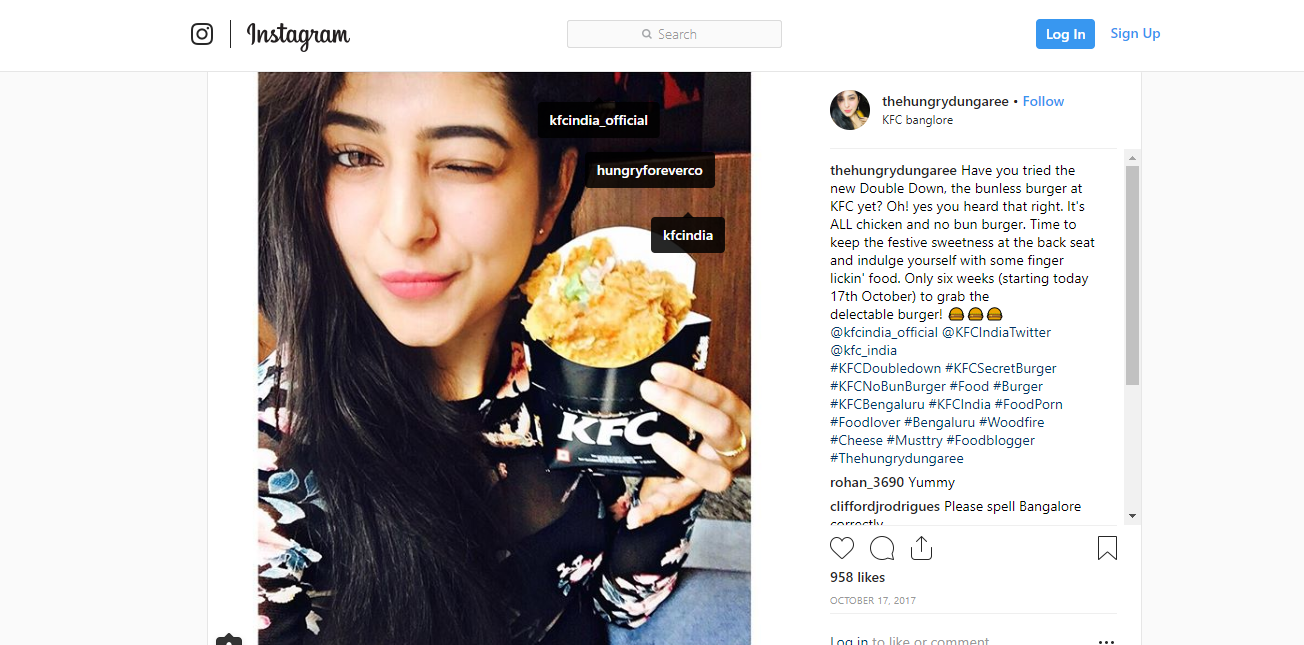 Brand: Kent Atta Maker
Influencer: Hebbars Kitchen
Hebbars Kitchen is one of the leading YouTube and Facebook channels featuring amazing recipes for cooking enthusiasts. Their 2-minute short and simple recipe videos make them unique with a fan base of 1.6 M subscribers. Since this is a great platform to promote cooking equipment, Kent collaborated with Hebbar's Kitchen and produced a short video on how to make bread using the Kent bread and atta maker. The responses were indeed overwhelming with over 16K views.
Brand: Himalaya
Influencers: Leading fashion, beauty and lifestyle bloggers
Himalaya partnered with leading fashion, beauty and lifestyle bloggers of India to promote their refreshing facial wipes that come in two variants- Moisturising Aloe Vera and Purifying Neem. The select 152 influencers tried out the various facial wipes and created engaging content in the different social media platforms using the hashtag #WipesOnTheGo. Some of the well-known bloggers who were part of this campaign were Esha Hindocha, Avani Hiranandani and Nidhi Agarwal. The bloggers incorporated a wide range of content forms like static posts, grid posts, videos and blog posts. The #WipesOnTheGo campaign was indeed very successful as it generated about 10 lakh impressions, 1.7 lakh engagement and clicks. Also, this was one of the most popular campaigns in the beauty and wellness community.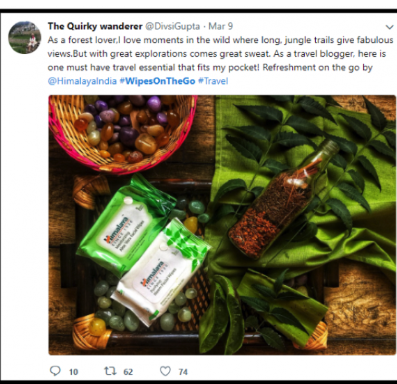 Brand: PayTM
Influencers: 50 Travel and lifestyle influencers
PayTM launched a new feature enabling users to book railway tickets at the click of a button using their app and website. Using various lifestyle and travel bloggers, PayTM wanted to promote the idea that ticket bookings can be done very quickly in no time using your IRCTC account credentials. About 50 lifestyle and travel bloggers used a wide range of social media channels in order to promote this new ticketing feature. For instance, one of the influencers, Ritwika Gupta's (Spotlight XOXO) post witnessed a massive reach of 23,000 users and an active engagement of 6325.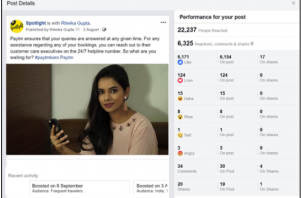 Brand: Craftsvilla
Influencers: 20 Women Influencers
Since it is one of the premium fashion brands in India, Craftsvilla wanted to instil the idea among its customers that fashion is beyond all labels and it is important not to judge people based on shape, size, colour, ethnicity and profession. In order to promote this concept, Craftsvilla decided to collaborate with 20 leading woman influencers in India. The content created by a few influencers such as Sonam, Nitibha Kaul and Mansi Zaveri witnessed an overwhelming reach and engagement. For instance, the plus-sized influencer Sonam spoke about how she pursued her dreams and ambitions overlooking all the societal judgements imposed upon her.
Brand: Hike
Influencers: Leading influencers in India
Recently, Hike launched a new discovery platform on their app aimed to help various influencers to expand their reach by connecting with 100 million hike messenger users. For this, Hike partnered with influencers with more than 3000 followers on Instagram. This campaign was indeed successful as it created a win-win situation for both the partners. The influencers were able to increase their visibility and at the same time, this was a great way for Hike to grow their business.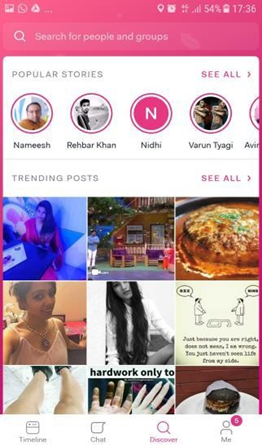 These interesting campaigns tell us that influencer marketing is a fool-proof technique of branding which will help brands increase their visibility and reach in no time. Two things that have to be kept in mind for rolling out effective influencer marketing campaigns is the type of the influencer that you choose and creation of brand-centric content using various social media platforms. Whether you own a start-up business or are a well-established brand looking to witness a huge growth in the sales traffic and visibility, influencer marketing must be one of the most important digital marketing strategies.