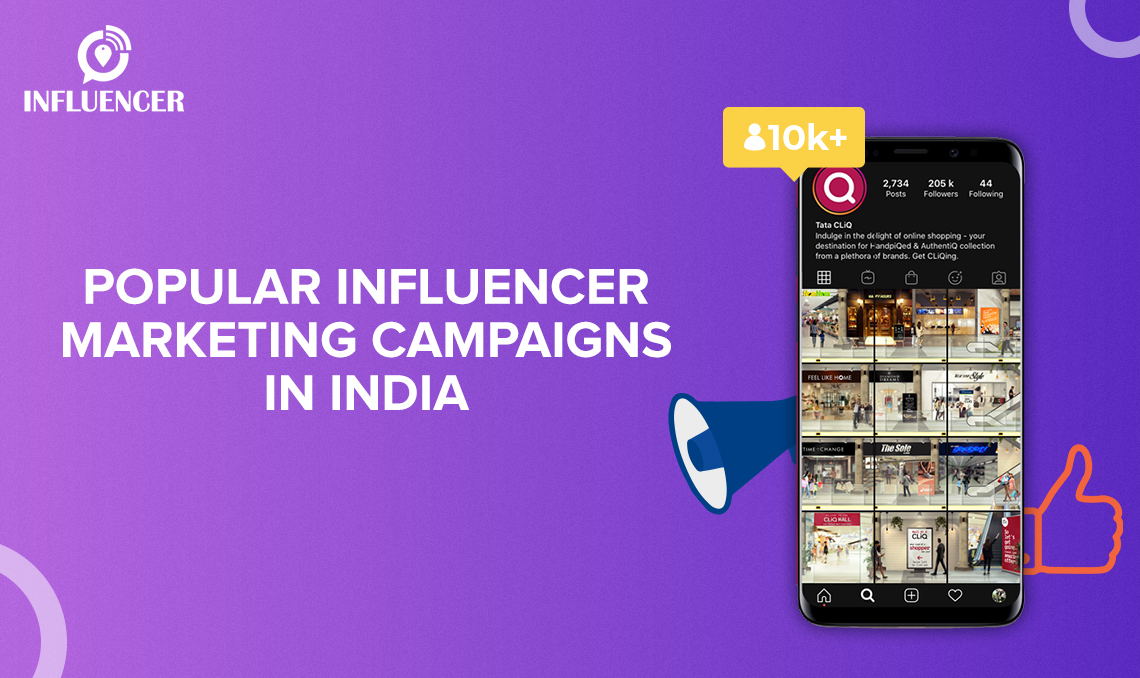 Popular Influencer Marketing Campaigns in India
Author: Sayantan Rudra
|
Updated Date : August 17, 2022
Influencer marketing is a term that has risen from the realization of brands about the power of peer influence and customer recommendation over other forms of marketing. Especially in a time, where consumers have started using social media in huge numbers and have been public about their views about brands and products, brands have realized that people are largely influenced by second-hand information from opinion leaders and this has led to a lot of brands identifying top influencers in their respective fields to try and reach out to consumers better.
Once brands have identified Influencers in their particular domain, it is important that they find a means with which they can connect to them and make them speak about the particular product. The engagement plans have to be well thought out and shouldn't look too commercial. Here are a few popular influencer marketing campaigns in India, that companies have used to engage and leverage the power and reach of influencers.
Pepsi – Salaam Namaste Karo Swag Se
To spread awareness about social distancing and contactless greeting, Pepsi launched a digital campaign showcasing its popular beverage. The video campaign focuses on the new normal of greeting people by saying 'Salaam and Namaste' from a distance. The campaign was particularly made for TikTok and Instagram. 
It started with Pepsi and its Brand Ambassador and Bollywood Superstar, Salman Khan launching the digital campaign video 'Salaam Namaste Karo Swag Se' inspiring the viewers to follow social distancing during these trying times of COVID-19. The campaign was further amplified by collaborating with more than 29 celebrities and influencers to send out the message of social distancing by copying Salman Khan's moves from the former video and asking their followers to do the same and spread the message of social distancing in a similar way. The campaign then took a form of a TikTok challenge that reached over 84 million people.
Allen Solly – #ShootForSolly
To promote the brand's entire chino range, Allen Solly came up with the #ShootforSolly campaign. The brand handpicked 22 people across 7 cities in India consisting of 11 eminent personalities and 11 budding photographers. The models were asked to pick up a pair of Allen Solly chinos and shirts and then coordinate with the selected photographer for a photoshoot to be planned completely by the model and photographer.
Allen Solly not only managed to make the 22 influencers talk about the campaign but also created a buzz about the chinos and how they suited different styles and body types. The hashtag #ShootForSolly had a total reach of about 74k with a unique engagement of 1.16k on Facebook alone.
Baggit – #PlayTheLifeGame
With this influencer campaign, Baggit wanted to increase engagement and build awareness for their new SS collection launch. They collaborated with bloggers showcasing their products with a Q&A with them along with simultaneous interaction and content sharing. They had influencers to share their stories, retweeting brand's tweets, and bloggers' posts. With more than 185 users participating in this campaign, the brand was able to get a unique reach of more than 2.8 million on Twitter.
Tata Cliq – #MallAtACLiQ
TataCliq did this campaign with the sole objective of increasing positive engagement on their Instagram handle. With this campaign, TataCliq brought the mall to the people's fingertips and called it The Virtual Mall. They created a 4 storey mall interior on Tata CLiQ's Instagram timeline with each floor having multiple shops and each shop having something unique to offer to the user in terms of real shopping experience. Along with this, they brought in 4 influencers by showing them as hosts who used to guide the user at their virtual mall and help them decide on their choices of shoes, clothing, watches, and jewelry via a lookbook video. This activity, therefore, helped TataCliq to deliver a more personalized experience to its Instagram audience. Not just this, the top floor was completely dedicated to a cinema theatre, Foop Court, and a pub which included a complete ASMR experience in terms of cinema lobby ambiance, energetic EDM soundtrack at your favorite pub and the ever hustle and bustle of a food court. The #MallAtACLiQ was widely liked by their audience and got the brand a reach of more than 20 million and an engagement of over 2.4 million.
Swiggy leveraged TikTok to engage and motivate their delivery partners in various languages. The objective of this campaign was to position Swiggy as a compelling choice for existing and potential delivery partners, to implore them to go beyond their regular work ways by bringing out their creative side, and provide them an opportunity to pursue their talent as a secondary source of income. The video-sharing platform TikTok, with its popularity among the tier 2 and tier 3 cities of India and being a platform popular for the young generation to popularize their talents was the best option to get the delivery partners to showcase their talent to the world through this campaign. This campaign by Swiggy got a reach of 57 Lakh and an engagement of 5.6 Lakh.
Axis Bank – #AxisThoughtFactory
Axis Bank wanted to launch its first-of-its-kind digital labs called the 'Thought Factory' in Diamond District, Bangalore that will be working with diverse start-ups. By teaming up with influencer.in, Axis Bank collaborated with 18 Bangalore-based technology bloggers to launch their innovation lab on various social media channels. This launch was attended, live-tweeted, and covered by the bloggers in their blogs with an average blog post view of 1000+. One of the blogs also attained 1.81k unique views that really helped the brand. 
Khatabook wanted to do a campaign that would get them a million app installs so teamed up with influencer.in and leveraged vernacular Influencer Marketing on the popular video-sharing platform, TikTok. By keeping the brand guidelines and requirements in the mind, a list of 250 influencers were selected and different kinds of creative content and bids were experimented with to get the target results. The campaign completed with a reach of 15 Lakh and app installs of 1M+.
A campaign around gender equality was launched by Wonderchef to eradicate the thought of the kitchen being a woman's domain and responsibility in India. This campaign was to create awareness and start conversations on this continued discrepancy. A video campaign was published by the brand to highlight the importance of the campaign which was based on a social experiment that includes interviews with men and women from various parts of the country about their real-life experiences and roles they play in their kitchen. The campaign's central message was captured in the phrase – Dear Man Hold the Pan. 
With 29 influencers participating in the campaign, a total reach of 2 M and total engagement of more than 5 Lakh was recorded for the campaign.
All these campaigns focused on the essential aspects of Influencer Marketing. They targeted the right influencers and built a campaign that would naturally make influencers directly or indirectly endorse their product. These campaigns are excellent examples of Influencer Marketing done right.