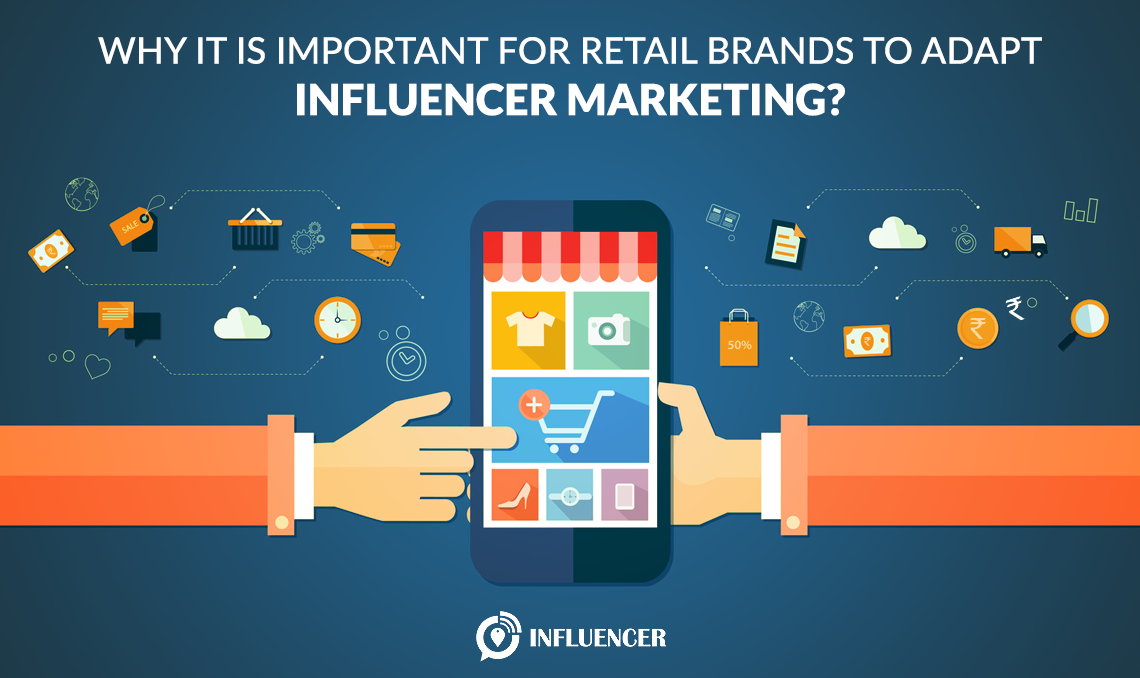 Why it is Important for Retail Brands to Adapt Influencer Marketing?
Author: Sayantan Rudra
|
Updated Date : February 21, 2022
In the past, every marketing channel, like T.V, Print, Radio, etc., has helped retail brands understand and cater to the needs and demands of their customers. Therefore, when it comes to understanding and influencing consumer behaviour, retail brands always have the upper hand.
However, the situation is not the same now. With consumer behaviour shifting from offline to online, it has indeed become challenging for retail brands to reach out to their customers and most importantly, understand their customers' behaviour.
With more and more people opting to shop from online stores, like Amazon, customer loyalty for retail brands seem to have faded a bit. Most retail brands collaborate with top online players like Amazon, Flipkart, etc. to make sure their brand reaches their target audience. However, even to succeed in that, they need to understand their customers and influence them. Most retail brands are now considering multi-channel marketing to increase their sales.
One such marketing strategy that is now being adopted by retail brands across the globe is influencer marketing.
As we all know, influencer marketing is a strategy where brands collaborate with content creators and bloggers, who have a good amount of followers online. These content creators are known as influencers. These influencers create brand awareness, write product reviews, and share their experiences about a product, etc. through blogs and social media channels.
Why Influencer Marketing Works?
With more and more consumers becoming web-savvy and making purchase decisions based on online reviews, influencer marketing is a great way to understand and influence Gen-Y consumers. These users look for eloquent content and pertinent information, which would help them in making a purchase decisions. This is why consumers take opinions from influencers, i.e. bloggers or vloggers.
According to Nielsen 2015 consumer study, "Conversions increase by 90 per cent when someone trusted suggests a product."
When it comes to retail brands, influencer marketing works like a piece of cake. For example, one of our clients Gehna, who are the pioneers in hand-made jewellery in India, collaborated with top fashion-blogger Chandana who reviewed the jewellery and came up with custom-made looks to carry it off. These scrapbook looks were well received by potential online customers as they got an insight into what to wear to complement the jewellery.
How can influencer marketing affect your retail sales?
Consumers would talk to peers and acquaintances before making a purchase online. Influencer marketing offers a way for retail brands to be a part of this conversation.
Here are five reasons for why influencer marketing is the need of the hour for retail brands.
Influencers will help the retail brand reach the right set of audience
Unlike traditional TVCs, where everyone in the family happens to watch an advertisement that was intended for a 20-year-old guy, influencer marketing can be gender, age, and preference specific. For example, if you own a fashion brand that sells outfits and accessories, you can collaborate with fashion bloggers who post about the latest trends, fashion, etc. Her followers are the ones who are interested in the same and will probably listen to her recommendations before shopping. Her followers will be the perfect target audience for your business. Influencers can be categorised not only by niche but also by demographics, platforms (Instagram, Snapchat, Twitter, Blogs, etc.), location, etc. If you choose the right set of influencers, you can be assured of reaching the right set of audience.
Influencers' reviews of retail products are considered trustworthy by their followers
These days, most people do not trust advertisements. They would like to know personal experiences of common people and take a purchase decision. This is where influencers come into the picture. Influencers are common citizens, just that they have a significant social media presence. One cannot have so many followers without creating interesting and trustworthy content. Therefore, most people do swear by the reviews of their favourite influencers.
This is a good thing for retailers because if your product can satisfy the expectations of influencers, you can be assured that your sales will increase, as when influencers vouch for your product, their followers would definitely be willing to try the product out.
The interactive medium of influencer marketing assures better brand image
Unlike TVCs and print media, influencer marketing is an active medium of marketing. In the case of advertisements, you will know that people saw your ad, but you would never know what they felt about the ad or the product. However, in the case of influencer marketing, you can keep track of the likes, comments, and shares that an influencer's post about your product gets.
Brands will get to know audience's pulse through influencer marketing. For example, our client Craftsvilla, who are well-known for selling unique ethnic products online, collaborated with 22 fashion and lifestyle bloggers to review their products and post about it in their profiles. The top influencers involved in this campaign include Debashree Banerjee, Gia Kashyap and Anshita Juneja to name a few. This campaign has caused immense increase in sales, coupled with a higher brand awareness and a better brand image. Few of the posts received a whopping response of 12,000 likes, proving that influencer marketing is the next generation of marketing.
Check out the top influencer marketing campaigns of 2016 to get a better idea of how influencer marketing works.
Influencer marketing has an enhanced reach for most retail brands
Compared to advertisements that are shot with celebrities as brand ambassadors, influencer marketing has a far more reach for retail brands. When it comes to retail shops, especially the ones that are targeting the average population, influencer marketing works the best.
For example, when there was a sale named #LatestSeLatest in Craftsvilla, a leading online marketplace for fashion products, the company used influencer marketing to make the sale a grand success.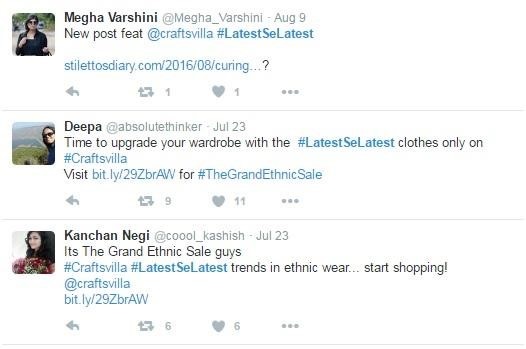 Check out our detailed blog "Case Study: Influencer Marketing for Craftsvilla" to know more.
Have you tried influencer marketing for your business? If not, now is the right time to try. Contact us to know more about influencer marketing trends.