7 Tips For Creating Video Content That Converts
Author: Mrinali Fernandez
|
Updated Date : February 21, 2022
Video has long been a part of our lives. People have been glued to their TV screens since the middle of the 20th century. But now, the quintessential "video" format has taken on a new avatar – by going digital. Today, videos on the web have the same dramatic impact TVs had when they made their debut in 1927. Video is currently at the helm of every social and digital media campaign. According to Cisco, by 2020, 82% of all online content consumed will be video. It has proven to be one of the better mediums for driving engagement.
But with so many brands pulling out all the stops to invest in video content creation, how do you stand out? Contrary to popular belief, you don't need to spend big bucks on quality video content creation. Here are some tips for creating video content that converts.
Aim for original and short videos
Originality is always in demand because people like viewing things that are fresh. Set a reasonable goal and create something unique within your niche. Figure out what the competition is doing and then try to do things differently so you can stand out. You can keep the subject matter the same and play around with perspective, tone, style and angles. In fact, you don't always have to think out-of-the-box. You could easily turn your blog posts into videos.
The length of your video is also is a crucial factor. Sticking to a maximum of two to three minutes per video will boost your engagement and, as a result, conversions. Two minutes is usually the "sweet spot". This isn't to say that if you have a high-quality 10-minute video, you cut it down to 2 minutes. Some content requires the long-form format, and that's alright. You could create shorter videos for social media marketing to reach a wider audience. The objective here is to figure out what works best for you and your audience and stick to it.
Focus on regional content
Regional content has taken content marketing by storm. It provides a much wider reach by tapping into the tier 2 and tier 3 audience of the nation. Additionally, it makes the content more relatable since viewers are always happier to consume content in a language they are comfortable in. According to YouTube brandcast 2018, 90% of videos consumed in India are not in English with 60% of the videos being viewed from cities outside the top six cities of India. Such staggering insights only prove that influencer marketing and regional content work hand-in-hand.
Leveraging the reach of regional content and the engagement of videos, Cholamandalam Finance – one of the top financial services companies in India – released a video on the life lessons one can learn from an ant. The video was released in both Hindi and English. The Hindi video instantly went viral with 80,000 shares and 2.2 million views.
Give importance to audio quality
It's essential your audience hears what you have to say and this won't happen if you have low-quality audio with background noises. Invest in a good microphone and recording system and take the time to edit out any sound that would distract your viewers. There are several free apps and tools available that can help you with this.
Additionally, while making a video for Facebook, first test it without audio. Facebook's autoplay option does not work well if audiences need to hear the audio. This is where subtitles and engaging visuals come in. Make sure the first few seconds of your video have spectacular visuals to hook the viewer.
Focus on Facebook for higher engagement
Facebook's 2016 algorithm update is a big push forward for video content. Videos are featured more prominently on our newsfeeds as they get the most engagement when compared to text and images. As per the update of Facebook shutting down ad targeting, user-generated posts are given more priority in people's newsfeeds than branded content. This has further pushed brands to invest in influencer marketing.
The other reason why Facebook is critical to driving engagement is that you can share your video content with the relevant audience. With the right metrics in place via Facebook Insights, you can target your desired audience and be sure your video content is being viewed by the right people, which will possibly lead to conversions.
Another study suggested that people spend 3x more time watching Facebook Live videos than other non-live videos. Facebook's new algorithm also ranks live videos higher as they tend to keep audiences more engaged.
So don't be afraid to delve into live videos. Just remember to keep your live session between 10 – 20 minutes.
Optimise for search
According to a recent study, 74 percent of millennials active on social media followed brands on YouTube, highlighting the importance of digital videos for marketers and businesses. When creating your video content, the same rules of other forms of content marketing apply. Make sure you optimise your videos for better ranking on YouTube with a comprehensive SEO strategy. Use the right meta descriptions, titles and alt texts that you would for a blog or long-form content. Make sure you include a social share button. And finally, incorporate a call to action. This can be done by including links or suggesting they comment at the end of your video. Additionally, make sure your video titles are short, crisp and to-the-point to make them click-worthy. Following these steps can help you increase your YouTube views, let alone amplify your video content creation reach.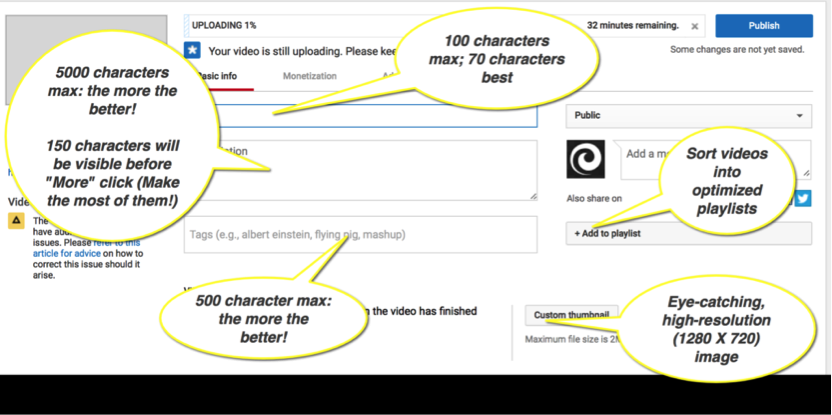 Use videos on your landing page
The easiest way to generate conversions from your website is to have an attention-grabbing landing page. This can be done by using videos on your landing pages. Viewers can experience your brand's message with very little effort. A video on your landing page is proven to increase the amount of time people spend on your page. This provides your brand with the opportunity to get your message across.
Keeping the reach and engagement of videos in mind, Casagrand – one of India's leading real estate developers – added a video to their landing page. The video was a virtual walkthrough which helped viewers understand the layout of the project. This, in turn, led to higher conversions due to better clarity on the development.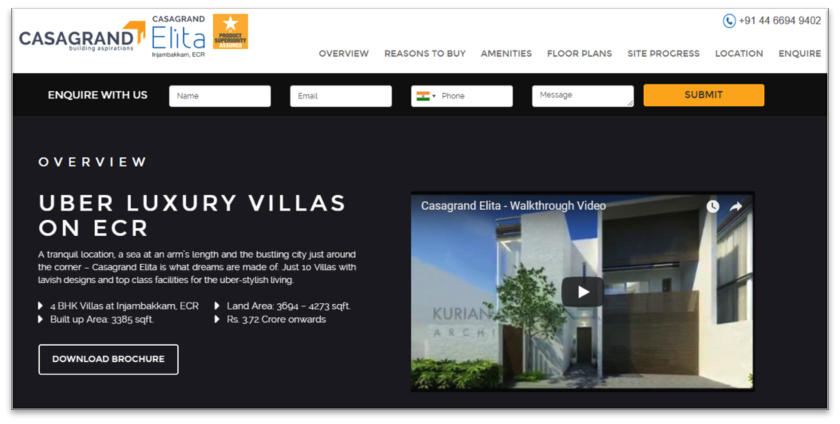 Partner with Influencers
Influencer marketing is the best way to make your brand stand out. A good way to amplify your video content creation is by building a base of influencers help share your content. And don't limit yourself to just celebrities – that's a common misconception. You could use industry leaders, content creators or even your own customers. All of them come under "micro influencers" – those with between 10,000 and 50,000 followers. In fact, micro influencers are said to have the most impact. By partnering with influencers, you also extend your reach to their audience base, which could open up new avenues for you. This is especially important for startups, as a good influencer marketing strategy can help increase startup visibility.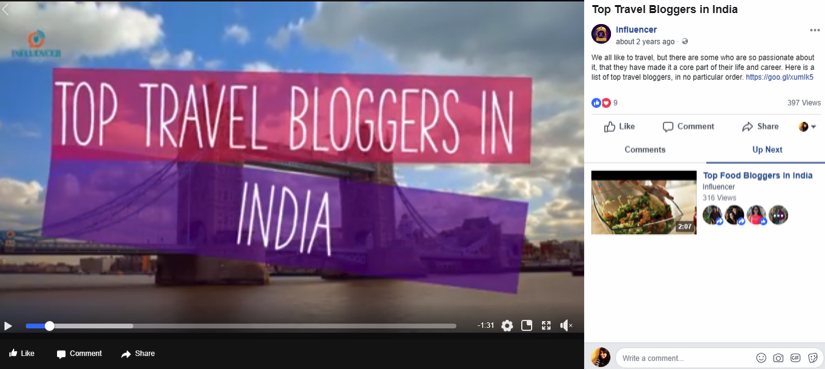 The video above was created by Influencer.in to showcase the top travel bloggers in India. It helps potential clients get a better picture of the USP of each blogger to gain clarity on the type of audience they can reach.
Video content creation is without a doubt the biggest and most impactful marketing trend at the moment, and it's definitely still growing. With higher engagement and click-through rates, it's absolutely vital video content creation is a part of your marketing mix.