Why influencers should pay attention to voice search
Author: Sayantan Rudra
|
Updated Date : February 21, 2022
Voice search is surfacing as one of the biggest trends in the digital landscape due to the increase in the usage of smartphones in India, coupled with the substantially low data plans offered by mobile operators. It is undeniably growing at a rapid pace and soon the traditional search techniques are going to be put to rest. Influencer marketing in 2018 is crossing leaps and bounds and the potential for voice is growing with it. Voice search is excessively popular for its amazing pros. It's fast, convenient, hassle-free and can be accessed anywhere on the go. Around 55% of teens and 41% of adults use voice search more than once a day. If so many people are accessing voice search then it's only smart to tap into this goldmine of opportunity. With 20% of mobile queries coming from voice searches and the ratio of voice search growing faster than any other type of search, it's becoming more important than ever before to ensure that you're using the right keywords to capture voice searches. Let's look at what voice search is and how you can gain benefits from it.
What do you mean by voice search?
Voice search is a speech recognition system which allows the user to perform searches by giving voice commands. It's a two-way conversation where the Intelligent Personal Assistant(IPA) aims to answer the user's queries like finding a restaurant nearby, checking flight tickets or making a purchase online, all in real time. There are a number of voice search assistants across different platforms like Cortana by Microsoft, Alexa by Google, Siri by Apple and Bixby by Samsung. A recent survey by Mindfield reveals that about 60% of respondents have started using personal assistants through voice search.
How is voice search growing?
According to the Mary Meeker's Internet Trend report in 2016, voice searches have increased 35 times between 2008 and 2016. Predictions have been made by Comscore that, more than 50% of searches will be performed through voice command by the year 2020. These statistics go on to tell us that, voice search is going to be the new revolution. The smart and logical next step for influencers, brands and marketers should be to shift focus onto improving your SEO strategy for voice search.
Increased level of accuracy
Wondering why there is an explosive rise in the usage of voice searches? A major motivating factor is its increased sophistication, convenience and most importantly its level of accuracy. In the year 2013, voice search had an accuracy rate of about 80% but over the years the rate has drastically improved and is currently standing at a rate of 90%. This encourages more and more people to search using voice commands.
Mobile Internet penetration in rural areas
Since the advent of Reliance Jio network service in India, there has been a sudden explosion in the usage of mobile phones. Internet was provided for free for the first few months since its launch and even after that their data plans were cheaper in comparison to other service providers. This encouraged people from tier 2 and tier 3 cities to use mobile phones and access the Internet. As English is not their native language, they prefer to perform voice search through their vernacular language and this eventually led to the increase in the number of voice search performed.
Engage with the next billion Internet users
The number of Internet users in India is estimated to increase to a whopping 635.8 million by 2021. This only proves that voice search is here to stay and will be an effective tool to engage with India's next billion Internet users. The introduction of voice-based software like Google's Neighbourly App will only spark this growth further by providing users with utilitarian search results of the services in their neighbourhood.
How to improve your chances of appearing in voice search?
We've seen how voice search is going to take over the traditional search methods with time. If you wish to be in the front line of the game, then you will have to tailor their SEO strategies that comply with the voice search format. To help you with that, here are a few effective tips and approaches to improve your SEO game for voice search. and brands to optimise their content with the right keywords and specific formats.
Focus on long-tail keywords
The most important and powerful step towards building a great SEO strategy for voice searches is by using long-tail keywords. In case, you aren't familiar with long-tail keywords, they are long phrases with several words that are used in a dialogue based sentence structure. They are distinct from 'head' keywords which represent broad categories. For example, 'restaurants nearby' are head keywords while 'What are the restaurants near me?' are long-tail keywords that we use while we are conversing. You can use tools like Google Keyword Planner, SEMrush for keyword research that will improve your SEO.
Use natural speech patterns in your content
As voice searches have a conversational tone, include questions that start with why, where, how and when. Humans are inquisitive by nature and mostly perform searches to answer queries like 'What are the different e-wallets in India?' or 'How can I get my first 1000 subscribers on Youtube?'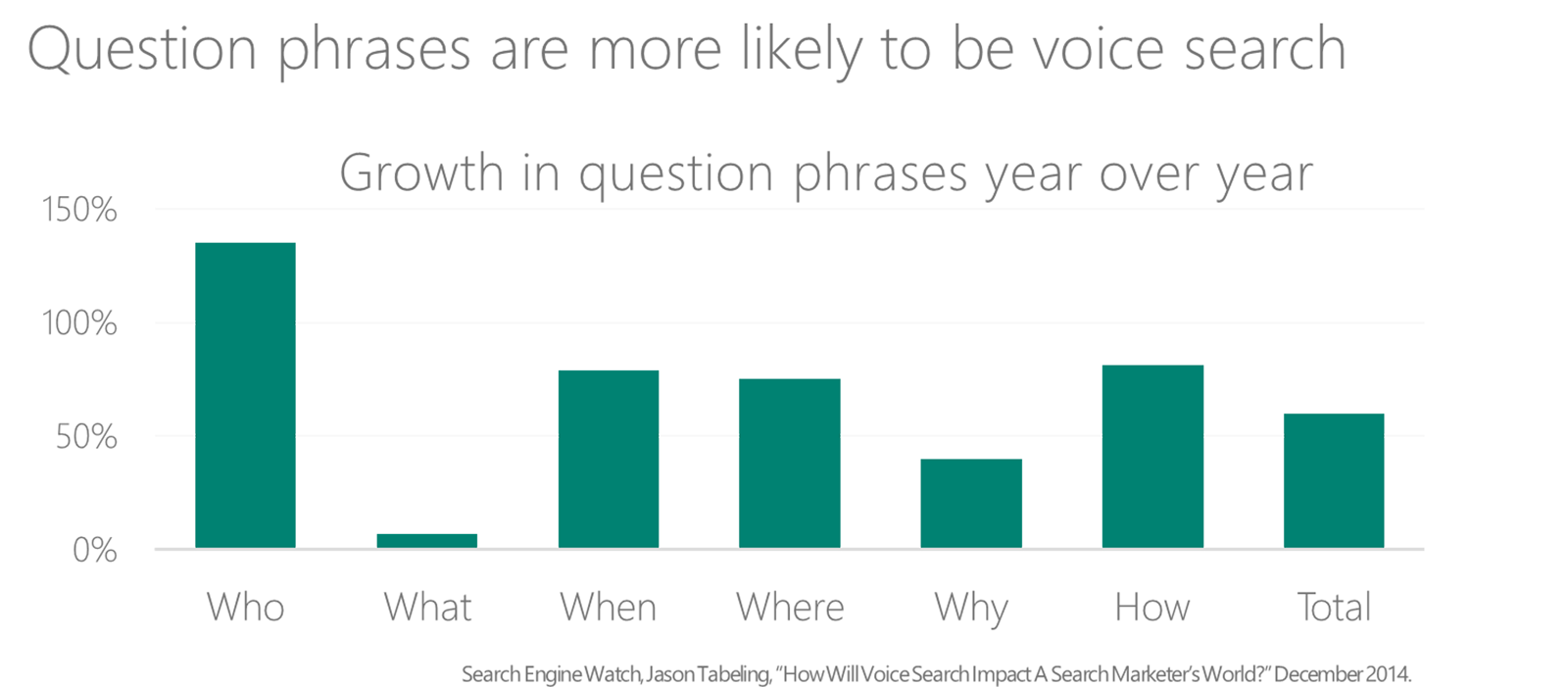 Source: Neil Patel
Emphasise more on mobile
Now that 80% of the action is performed through phone, it's imperative to optimise content for mobile users. Make sure the content is easy to read on the phone screen and doesn't take too long to load. Accelerated Mobile Pages (AMP) has been introduced to improve the efficiency of mobile search. AMP pages do not take more than 2 seconds to load. Implementing AMP pages will benefit both the readers and the site owners. Avoid big, impenetrable paragraphs that make it hard for the user to scan.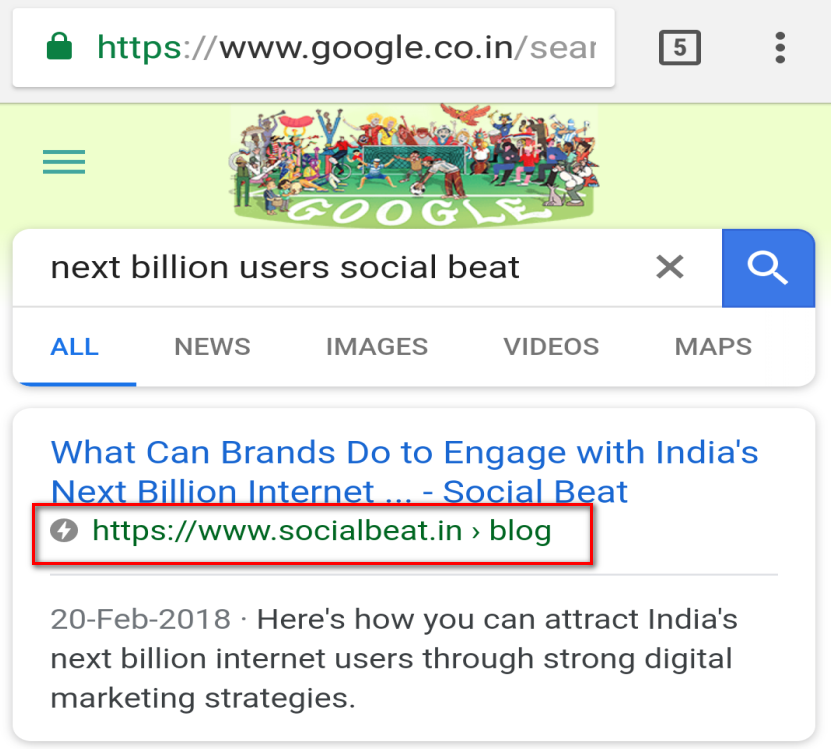 As you can see from the above image, it's clear from the flash symbol that the Social Beat page is AMP enabled. This is will improve the page's mobile SEO rankings.
Get More Visibility Through a Featured Snippet
Google assistant is currently showing something called #0 positioned results also known as featured snippets. The assistant will display the source of the snippet too. This way, when you optimise your content for the featured snippet you also optimise it for voice search. Focus on answering the question within the first 40-50 words in order to satisfy the reader's intent.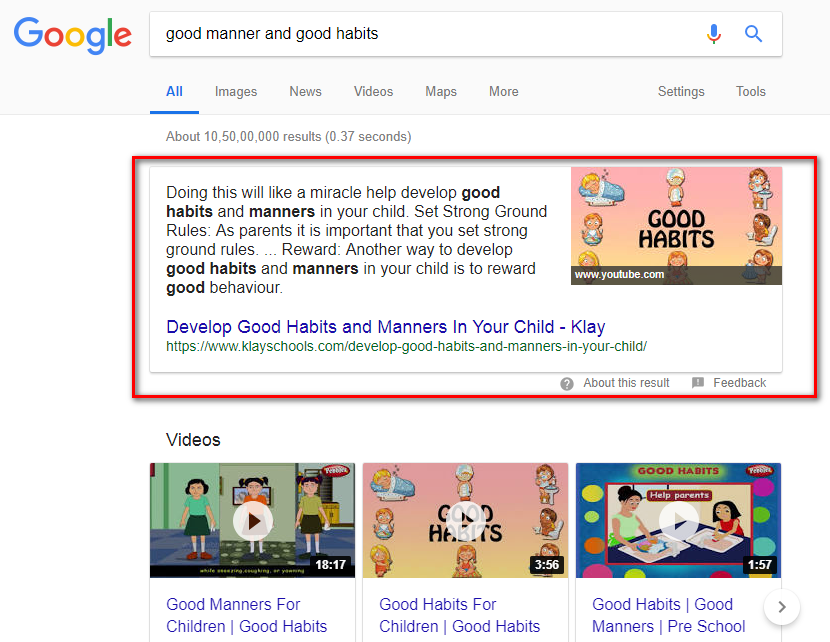 As you can see above, the highlighted section is the snippet. Klay School's blog has been listed on the top because their content is precise and nailed to the point within the first 40 words or so.
Consider FAQs and knowledge-based content
While developing content, make a note to add an FAQ section. As most of the voice searches are query based, these FAQs will tend to the user's questions and place you at a prime position in the search rankings.
It would be too early to tell that voice search will overcast the need of a keyboard but however, it is important to keep in pace at which the voice search is moving forward. Influencers should certainly take notice of the potential in voice search and alter your content accordingly. Voice searches and voice assist are definitely here to stay and the above tips can help you make the best use of voice search.