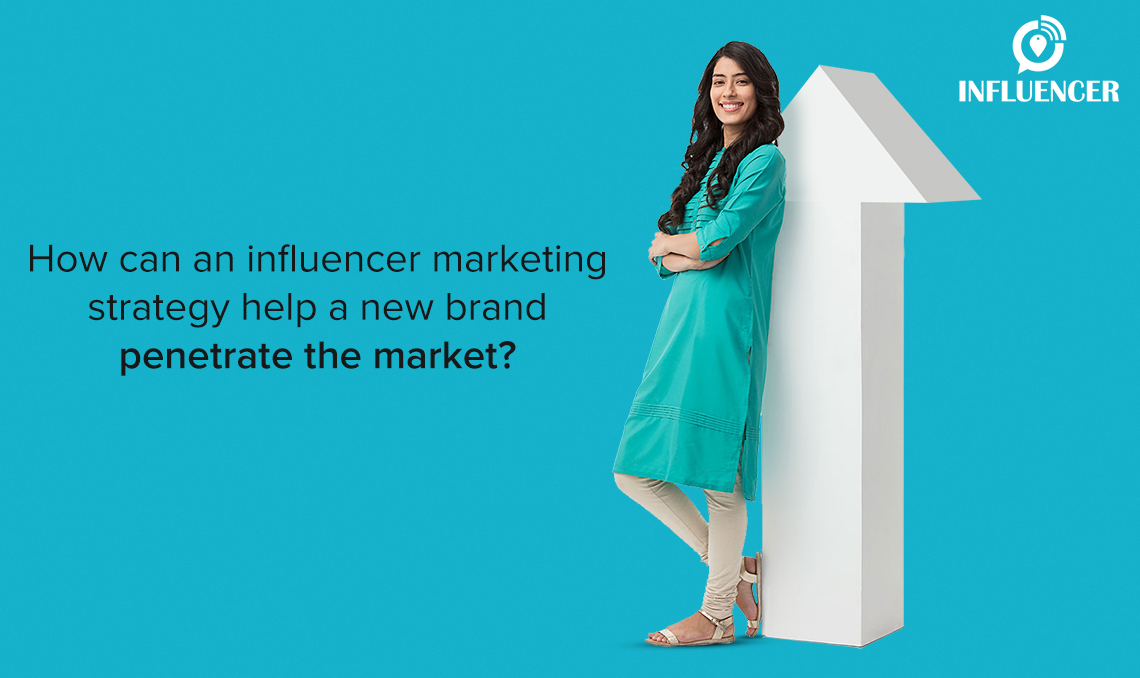 How can an influencer marketing strategy help a new brand penetrate the market?
Author: Ishita Parekh
|
Updated Date : February 18, 2022
As a new brand, it is highly essential to follow a full-funnel marketing approach. This can be kickstarted with a deep dive into your branding activities to reach the right audience and let them know that you are now in the market. This will create an impression good enough that would make your target audience want to purchase from you, and most importantly, position your brand the way you want to, helping you build a brand image that you envisioned.  
But for a new brand in the market which is all set to make their mark – where do they begin from?  Let "Influencer Marketing strategy" be the first thing to pop into your head! After all, what better way to give your audience social proof of your product and gain their trust in just minutes? 
Why choose Influencer Marketing? 
With many brands having embraced the inclusion of an influencer marketing strategy in their brand's campaigns, it has been an interesting year so far. Here's a look at a few numbers that will convince you to get on the bandwagon if you haven't already – 
> In the next year, over 60% of marketers plan to increase their budget for influencer marketing
> Content promotion with the help of influencers is quite popular, which is evidenced in the fact that over 65% of marketers engage with influencers for this reason
> 80% of marketers say having an influencer marketing strategy is effective, and 89% say it works just as well (if not better) than other marketing channels
> 71% of marketers say the quality of customers and traffic from influencer marketing is better than other sources
> The average engagement rate with influencers is at 5.7%
Close to 91% of marketers believe that Influencer Marketing is a highly effective form of marketing, and here's why – 
Helps build an audience
As a new brand just starting out, building the right kind of audience through branding that needs to be converted later into the funnel can be quite challenging. With influencer marketing, you have a quality solution to this problem. Since influencers already have a set base of followers that grows with each passing day, this turns into your chance of building a high intent audience for your brand that could go a long way. Here, the key is to choose the right influencer that matches the profile of your business and has the right target audience that you want to penetrate into. 
Helps gain trust 
A fair chunk of any audience, 49% to be precise, depends on the influencers they follow for purchase recommendations. Another 60%, while not directly influenced, is still lenient towards a recommendation by an influencer while buying in store. With the user mentality highly revolving around "If this influencer is choosing to promote this brand, it must be good", this is your in, to gain your target audience's trust.
Good ROI for lesser investment 
Marketers have reported an 8X ROI, for Influencer Marketing activities based around branding. Not only is it one of the faster mediums to reach the accurate target audience, but it is an assured way of creating an impact in the user's mind and helps with easy and quick brand recall. 
Brand image
With a reputation of their own, the audience will think highly of your brand when vouched by the influencer they trust and follow, which indirectly lets you position yourself in the user's mind at a pedestal. 
Let the influencers do the bragging 
A product – when vouched for by an influencer and when vouched by the brand itself – creates a drift in the way the user perceives it, While the band may sound preachy, if not plain informational, the influencer will have the power to make the audience perceive it as genuine and trustworthy, by giving the audience a social proof of their contentment with the brand. 
Brand recall 
With the clutter in marketing increasing every single day, breaking through it just gets more challenging. Brands have to constantly think of new and innovative ways to hold the consumer's attention. This is where an Influencer Marketing strategy comes into play. While the consumer may not remember an ad they saw in their feed while scrolling, they will definitely remember a fun challenge that an influencer took up that revolved around your product. 
Reach nooks and corners of your TG 
Influencers have a fan base that only keeps growing, and this involves people from all spectrums who relate to the content creator. This proves as a great opportunity to understand where a large chunk of your audience comes from, and possibly break into new markets that you supposed were not ideal. 
Influencer marketing has grown and evolved by huge bounds. The change of metrics taken into consideration from reach and impressions to now sales and purchases is in itself an indicator of the effectiveness of an Influencer Marketing strategy over the years. While most marketers are jumping on the bandwagon, an Influencer Marketing strategy can go wrong in multiple ways, if not done with precision and full consideration. Here are a few steps to kick off your Influencer Campaign – 
*Clear your Objectives – Identify if you need Influencer Activity simply for branding or if you are expecting sales out of it. 
*Shortlist Influencers – Based on your objective, shortlist Influencers based on their presence over various platforms, their followers and engagement rates. 
*Choose the right Influencer – Choose an influencer who resonates the most with your brand and it's image, and most importantly who has the right target audience that your brand needs. 
*Ideate Together – It is highly important that the influencer understands the exact needs of your brand from the campaign in order to deliver results that you expect. Ideating together not only helps come up with innovative campaigns, but also helps build relationships with these influencers for the future. 
With a plethora of platforms like Facebook, Instagram, YouTube and TikTok to explore, if done the right way, an Influencer Marketing strategy can give your brand the push it needs while launching.
___noise___ 1000