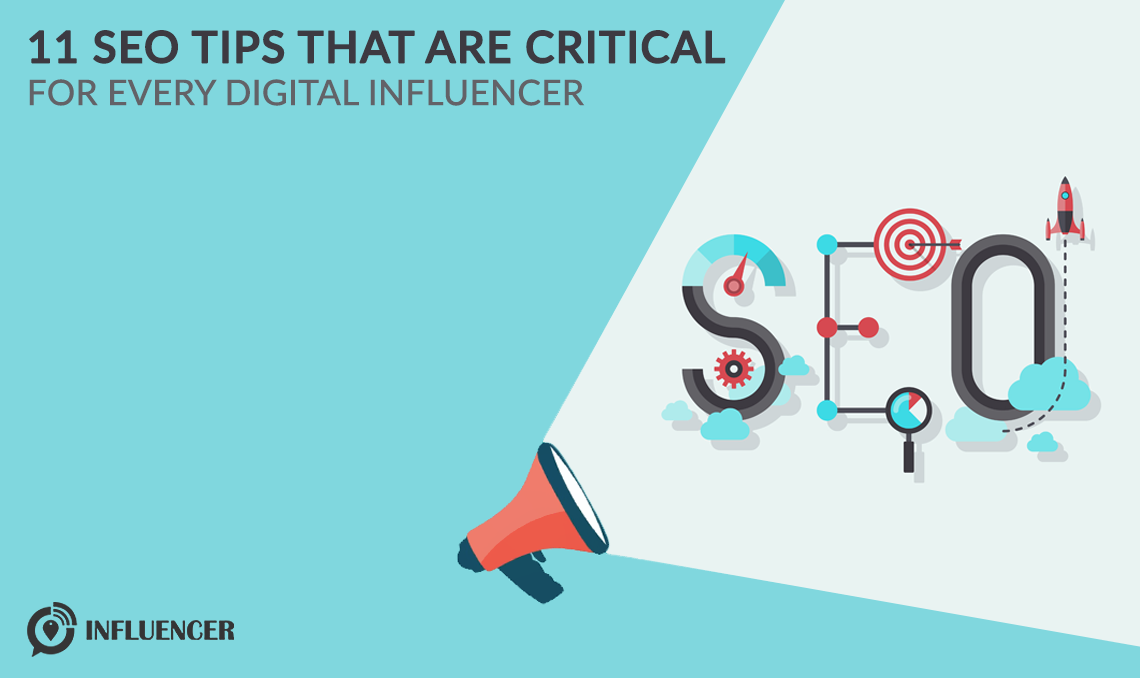 11 SEO tips that are critical for every digital influencer
Author: Srilakshmi Indranesan
|
Updated Date : February 21, 2022
Change is inevitable in almost every field, and SEO is no exception to this. Despite the fact that the way SEO is done has changed greatly, in the recent times, there are certain fundamental tips and tricks that are crucial for every digital influencer out there. Previously, the prime focus of SEO was only on singular keywords. However, now, the focus is on user intent, long tail searches, and personalisation. Moreover, a lot of the searches are now through mobile devices.
Here are the 11 basic SEO tips that every digital influencer & blogger should know:
1. Users First; SEO Second
Gone are those days when bloggers write on their site only from an SEO standpoint. If you are still ranking focused and not ROI focused, then it is high time that you change your approach. You should focus on what users would find relevant and see how to create a content plan keeping in mind relevant long-tail keywords. If you are not sure what long tail keywords mean, see our basic guide towards SEO.
2. Concentrate on right keywords usage even in images
This is the most important tip that you must be following to boost your SEO. With an extensive section for images in Google, your users will obviously be searching for a lot of images on Google using keywords.
Therefore, whenever you add an image, use the right keywords as your image names. Also, you should be definitely giving a relevant ALT Text and Caption. One thing you should remember here is that your image names should be relevant to the image as well as should have one or two keywords; it shouldn't be a keyword stuffed name.
3. Invest time on content creation
Content creation is the most crucial as well as the most complicated part of digital marketing. With so much content available all over the world, this should be an easy task. On the contrary, it is quite the opposite as creating or curating good quality content takes time and needs a lot of creativity.
Whether you are a B2B or B2C business influencer, you need to be closely controlled and highly creative with your content. Also, longer your content, better it is for your SEO. Therefore, you must aim at creating and promoting high-quality, long content that is worth sharing. It is also true that better the content the more back links it's likely to receive from other websites.
4. Utilize social media effectively to amplify your content
Despite the fact that social media signal is a weak ranking factor for Google, social signals are fairly crucial as it is proven that social shares do have an impact on search rankings, and you definitely must be focused on improving yours. In case you are wondering how to get more social signals, then you must follow these basic tips:
Always create share-worthy content.
Add visible and aesthetic share buttons to your post.
Host social media contests, giveaways, and the likes to increase social media engagement.
Try to link back to famous social media influencers' blogs/website; they will share your post across a wider range of audience.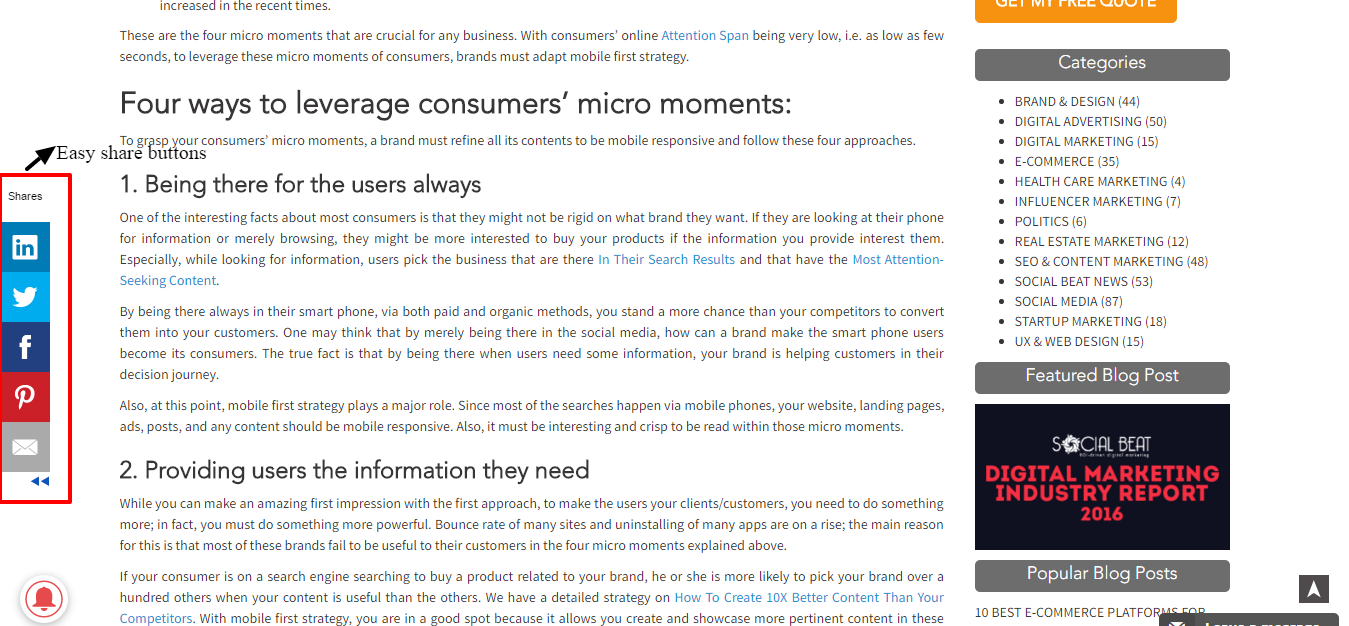 Amplifying your content in the right way, especially via social media, is a critical aspect in getting success out of the SEO effort.
5. Concentrate on improving your page speed
A few years back, people were willing to wait for a multiple seconds before a site loads completely. However, nowadays, people would not wait for more than 3-5 seconds for a site to load. To improve your SEO, you must first remove any element that slows down your web page loading speed. Wondering how to do that? Read this article on how to improve your website speed on a WordPress blog.
Page speed is crucial not only for your users but for improving your SEO too. According to an interesting infographic, "40% of people abandon a website that takes more than 3 seconds to load."
6. Give internal links wherever possible
Internal links are nothing but links that go from one web page of a domain to another web page of the same domain. This particular type of links is highly useful because they allow users to easily navigate within your website.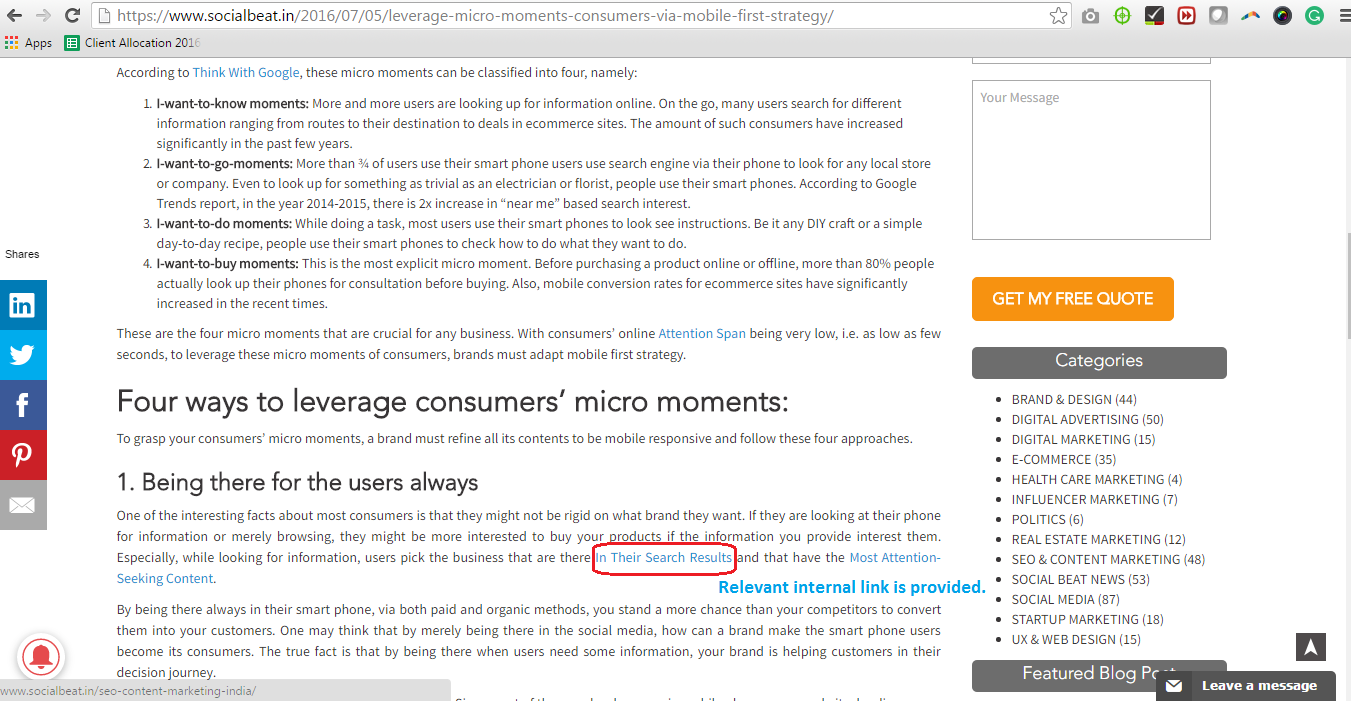 From the viewpoint of SEO, they help to establish a clear information hierarchy of your website. Also, they help to spread link juice, i.e. ranking power around other websites.
7. Give external links to relevant web pages
External links are links that point to an external domain. A common misconception is that external linking is bad as it takes people off your website. However, it is a complete myth. If you are looking for inbound traffic from other websites, you must also give hyperlinks to other relevant websites. Also, from the viewpoint of SEO, it is strongly believed that external links are one of the most vital sources of ranking power. Do make sure to add the rel=nofollow tag to such external links.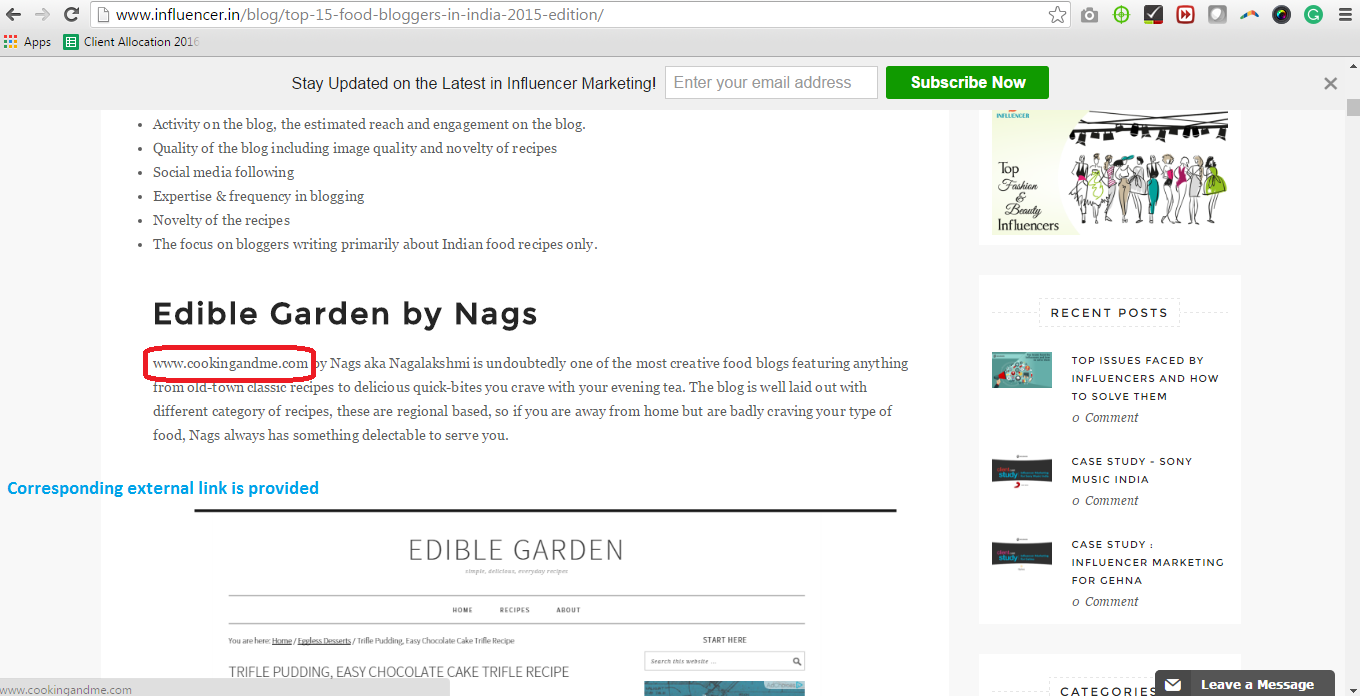 8. Have a Mobile SEO strategy
Mobile usage has become more popular than ever. These days, most websites have a solid mobile marketing strategy. If you are not concentrating on marketing and advertising trends with a mobile-first strategy, you might be losing on all the mobile-only traffic that you might be receiving.
According to comScore, "Mobile platforms, smartphones and tablets, combine to account for 60 percent of total digital media time spent, up from 50 percent a year ago."
9. Have simple analytics enabled
SEO is an elaborate process. It is not a one-time thing, where you define your goals and do tasks. Once you define your goals and start doing your task, you must actually track what worked and what hasn't. This is where web analytics come to your rescue.
There are many private web analytics software that can help to track your web activities, and Google Analytics is the best among them. Even before your website goes live, it is advisable to have your web analytics in place.
10. Always use readable URLs
Most digital influencers take extreme care when it comes to choosing website names. However, the same attention is not given, while creating web page URLs inside their website. For example, a website URL like this might not be readable or understandable by both users as well as search engines.

Such URLs must be avoided. An example of a good and readable URL is as follows.

Despite many changes in technology, search spider programs need proper guidance to read and understand your URL. It is highly advisable to include only 2-4 words to your website URL.
Also, some of the important tips for URL optimization are (in case you are not using WordPress):
Always use hyphens in
Don't use capital letters in URLs as the URLs are case sensitive.
Always add mobile URLs to sitemaps.
Add target keywords in your URLs.
11. Keep the meta descriptions as unique as possible
Some digital influencers think that meta descriptions are not important anymore for SEO. However, in reality, meta descriptions play a big role in search results by improving click-through rates. The ultimate goal of a meta description is to convince the user to go to your site.

While your meta descriptions need to be unique and well-written, it doesn't require creative skills. Simple yet effective descriptions would work. If you are hard pressed for time you could automate the meta tags using a WordPress plugin called Yoast.
There are of course many tools to help get these SEO elements implemented. Do let us know if you have used any of these techniques to amplify your blog and eventually your reach online.