How influencer marketing and regional content work hand-in-hand
Author: Ayesha
|
Updated Date : February 21, 2022
There is no doubt that influencer marketing is one of the hottest trends in the digital space and the top influencer campaigns of 2017 add weight to this fact. However, with so much content available online, marketers are constantly on the lookout for new ways to make their brand stand out in the crowd and reach the target group they are aiming for. One such trend which will benefit both influencers and the brands they are promoting is regional language content. Let's find out how.
It helps in attaining a wider reach
Did you know? The number of active internet users in India is a whopping 450 million today. This number is bound to increase to 635.8 million in the next three years. Though English is the predominant language used by Internet users in the nation, the number of users who prefer consuming vernacular content has skyrocketed over the past few years. 42 percent of the online community find Tamil content very engaging followed by a close 39 percent who prefer Hindi to English content.
This is mainly because of the increase in the number of individuals who have gained access to the Internet in tier 2 and tier 3 cities. By tapping the rural population of India, influencers can reach out to a whole new range of unexplored territory, waiting to be targeted!
It helps in building trust
The main reason why influencer marketing works is because of the bond of trust influencers create with viewers. The fact that your peer is giving you a review and not a well-paid celebrity influences your decision to convert. Now, imagine strengthening that bond with something as comforting and relatable as your mother-tongue. The impact of your post is guaranteed to be much more, coupled with the benefit of a wider reach.
It is still an untapped aspect of content marketing
In the fast-paced world of the Internet, where everyone is talking about everything, leveraging a trend which is still relatively new is like striking gold. Not only will tapping regional language content help companies widen their clientele and elevate their brand, but it will also help influencers in attaining premium followers.
It works best with videos
Video posts are the biggest trend of 2018 and will continue to rein the online territory for a while. Not only are they visually appealing and gripping, but they also have a high rate of engagement which is crucial for lead generation and conversion. Leveraging the reach of regional language content through videos will give brands that extra edge of more relatable content with the guarantee of widening their clientele. It also helps top Youtube influencers create engaging posts that help in increasing their follower database. Additionally, through videos, brands can reach target groups that speak and understand a regional language but don't necessarily know how to read it.
Keeping the combined power of regional language content and videos in mind, the Murugappa group created a series of funny yet impactful videos titled "Good Netizen Good Citizen". The campaign talks about the various etiquettes one needs to follow while posting on social media platforms. Apart from merely leveraging regional content in the form of videos, the Murugappa Group also reached out to Only Kollywood – one of the top cine portals for Tamil cinema – to amplify the content. As an end result, the videos went viral on social media with a reach of more than 6 million people.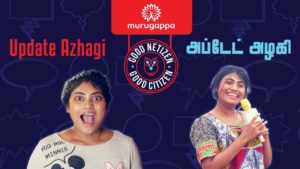 It works hand in hand with voice search
Just like regional language content, voice search is one of the upcoming digital marketing trends growing at a steady pace. As per a recent survey by Google, as high as 28 percent of all searches made online are voice searches with a 400 percent spike in Hindi voice searches. These statistics are a testament to the fact that using vernacular content, which will most likely be looked up in voice searches, will help drastically increase your brand visibility.
It can be used in any form of content
Though videos are a huge trend in the digital marketing space, and regional content just pushes their reach and visibility even further, that doesn't necessarily mean that you need to stick to videos alone. Regional content can be consumed in the form of blogs, podcasts, advertisements and social media posts, making it a versatile mode of content consumption. Featured below is one of the leading parenting blogger, Confused Parent, tapping vernacular content for their blogs.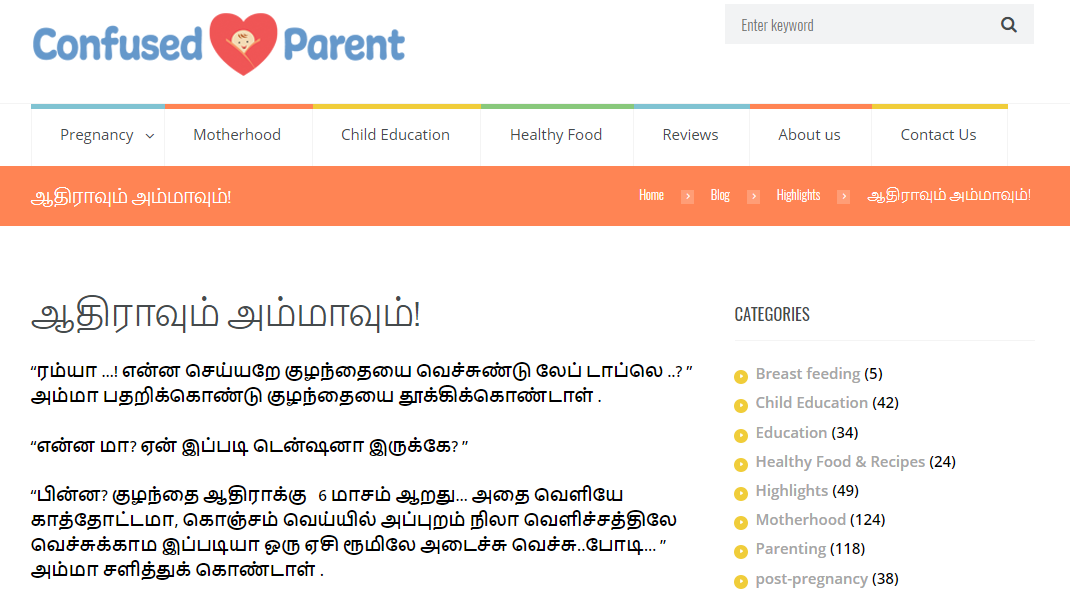 Now that you have a better understanding of how influencer marketing and regional content complement each other as the perfect digital marketing strategy, it is time you implement these techniques and increase the visibility of your brand. You can also check out our detailed blogs on the common content marketing mistakes that will hurt your brand and the difference between micro-influencers and macro-influencers for more insights.