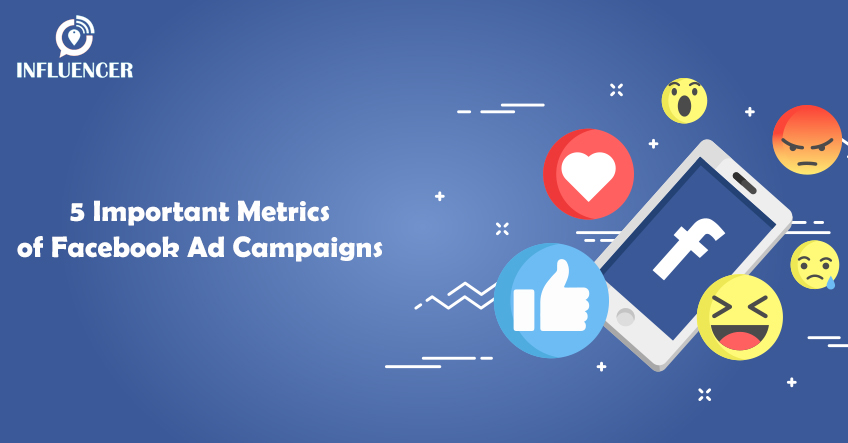 5 Important Metrics of Facebook Ad Campaigns every influencer needs to know
Author: Ayesha
|
Updated Date : February 21, 2022
Being an influencer and building your network as a blogger, in today's day and age, is not an easy job. From constantly uploading quality content on leading social media platforms to engaging with your audience and growing your followers list, it is a round-the-clock job which demands a lot of attention and time. One of the fool-proof ways of reaching out to the billions of internet users out there and maintaining your reputation as a top-notch influencer is to track the performance of your campaigns and posts. Whether your preferred medium is the innovative platform of Instagram, the fast-paced world of Facebook or the evolving dais of Snapchat, tracking your online behavior is the key to becoming a prominent influencer. Since Facebook is the go-to platform when it comes to influencer marketing, let's check out the five important metrics of Facebook ad campaigns that play a huge role in your online performance.
The best aspect of Facebook ad campaigns is that you have obviously bought or engaged with a product online yourself, so you will understand what a potential customer or follower wants to see. Creating a Facebook page that leads to your website is the easy part. But, what next? The Facebook algorithm keeps changing and currently nothing on Facebook is organic. Running Facebook ad campaigns is the only way you can see some action. Even after running ads, there are a certain important metrics you need to keep track of to observe the progress and get return on investment for your services.
Conversion rate
When a potential client visits your website and performs an action you intended them to complete, then that act is recorded as a conversion. For example, if you are hosting a seminar, and want your followers to attend it by registering for it online, then the action of filling out the online form on your website is recorded as a conversion. A conversion can be anything based on your services as an influencer, from buying your product online to applying for an online course.
Your conversion rate would be the number of conversions divided by the number of clicks received on your link for a particular duration. For example, if you have received 10 conversions out of 100 clicks on your link, then your conversion rate would be (10 ÷ 100) × 100 = 10%.
The higher your conversion rate, the better your reach on Facebook which, in turn, will lead to an increase in your number of followers.
Cost Per Click
If generating traffic to your website is the main objective of your Facebook ad, then Cost Per Click is the best metric to measure. CPC is calculated by dividing the amount you are spending on the Facebook ad by the number of clicks you have received through the ad. For example, if you have spent 500 on a Facebook ad and have received 100 clicks, then your CPC is 500 ÷ 100 = 5 Rs. Your motive is to get as many clicks as possible for the least amount of money spent. Hence, the lower the CPC, the higher amount of traffic is being directed to your website. This is only possible by getting your targeting right.
Frequency
Have you ever got annoyed with repetitive ads on your feed? Yes, we have all been there. The frequency in which you display your ads is a very important factor to keep in mind while running Facebook ad campaigns. This metric is especially useful in case you are spending a lot of money on Facebook. This number basically tells you the total number of times an ad has been served to an average user. If you are noticing a decrease in your conversion rate and an increase in your CPC, it is probably time to reduce the frequency of your ads – which is one of the most common mistakes that influencers/bloggers make.
However, there are a few other alternatives you can consider to get back on track. You can try redesigning the ad to maintain the interest of your followers. You can also consider spacing out your ads and focus on quality instead of quantity. Another way is to choose 'Daily Unique Reach,' to ensure that your ads are being shown only once per day to unique users.
Post Engagement
A post engagement refers to the degree up to which your post has kept the users engaged. It comprises of the number of comments, likes and shares your post has received. It also comprises of the number of event responses received for an upcoming event. A good engagement is what makes the post go viral.
A good way to get good post engagement is by connecting with your audience. You need to post something which they can relate to through humour or common interests like fashion or food. It's all about thinking like the consumer and showcasing what they are most likely to be searching for.
Click Through Rate
The Click Through Rate (CTR) shows how well your ad has been received by indicating the percentage of people who have clicked on your ad. It is calculated as the number of clicks you have received divided by the number of times your ad has been seen (also known as impressions) for a particular duration of time. For example, if you have received 50 clicks for 1000 impressions, the CTR is (50 ÷ 1000) × 100 = 5%.
A high CTR is an indication that the quality of your ad is good as it is intriguing enough to make a user click on it. You can maintain a high CTR by using appealing visuals and interesting content to get the attention of a potential customer.
Facebook ad campaigns are one of the most powerful lead generation tools out there and it is important to make sure you monitor your ads and these metrics mentioned will help you understand the performance of your ad a little better. Whether you are a macro-influencer or a micro-influencer, it is time you leverage the power of Facebook ad campaigns to promote brand-centric content that your readers will also love. You can also check out our detailed blogs on the top influencer campaigns of 2017 and how they can be improved in 2018 and how influencer marketing can help a startup increase its visibility for better insights.