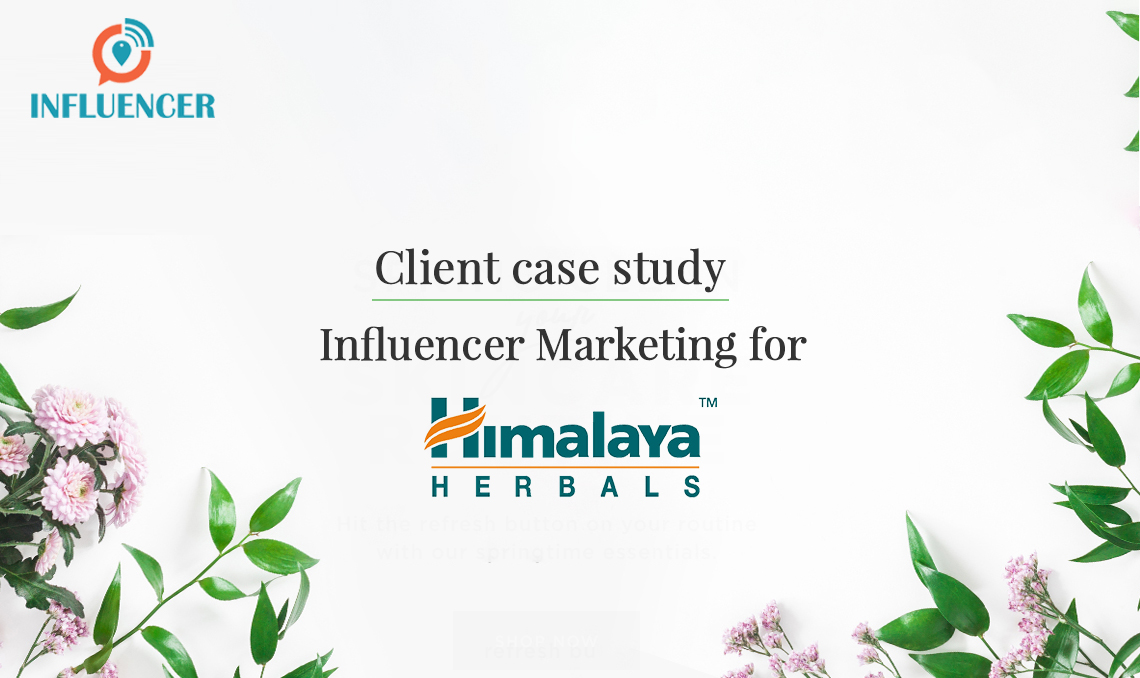 Client Case Study: Influencer Marketing for Himalaya
Author: Mrinali Fernandez
|
Updated Date : February 21, 2022
Himalaya is India's leading wellness company, with a history spanning more than eight decades in herbal research. The company has successfully positioned itself as a brand that harnesses the science of Ayurveda and modern research to create products that are gentle, safe and trustworthy.
Himalaya approached us to launch two separate campaigns for their facial wipes and their Fresh Start face washes. These rejuvenating facial wipes from Himalaya are gentle on the skin but strong enough to clear away dirt, grime, makeup and pollution, letting your skin breathe and feel refreshed.
They were looking to engage with social media influencers to create awareness about both sets of products.
Himalaya Facial Wipes Campaign
We at influencer.in reached out to some of the most popular fashion, beauty and lifestyle influencers as well as travel, parenting and YouTube influencers to showcase Himalaya's refreshing facial wipes that come in two variants – Moisturising Aloe Vera and Purifying Neem.
The 152 shortlisted influencers used these facial wipes and with their experiences created engaging content for their audiences via the medium of blogs and social media channels, with the hashtag WipesOnTheGo. Esha Hindocha, Avani Hirannandani, Nidhi Agarwal and many more were some of the well-known influencers who were a part of this campaign.
Together, the influencers explored various forms of content like static posts and stories, grid posts on Instagram, video and blog posts.
Working in tandem with our influencers, we were able to generate over 300 Instagram posts, more than 50 Facebook and Twitter posts on each platform.
Esha Hindocha's Instagram post got 421 likes, while her blog had 497 page views. On Twitter, our influencer Divsi Gupta a.k.a Quirky Wanderer's tweet received 74 likes, 10 comments and 62 re-tweets.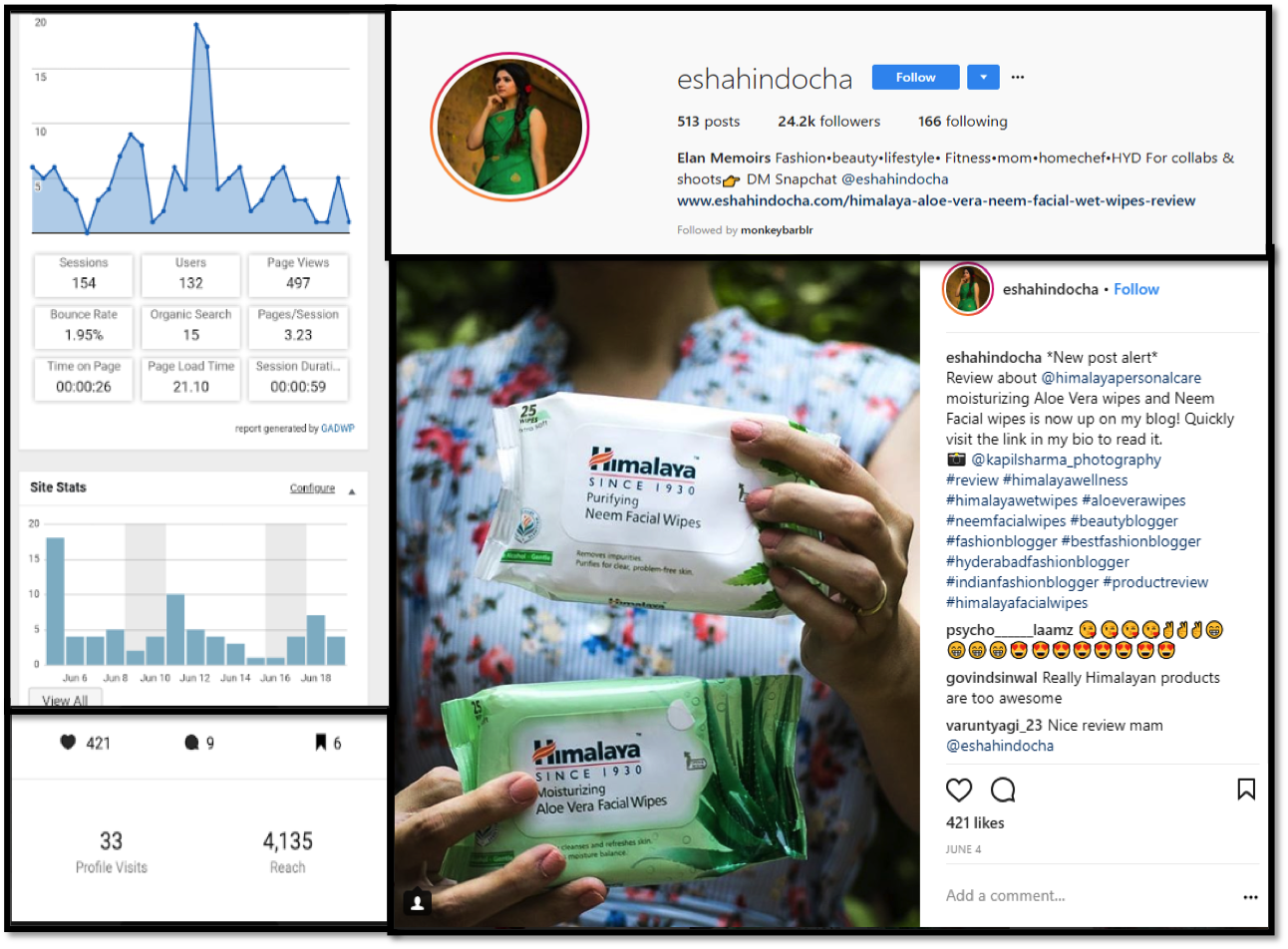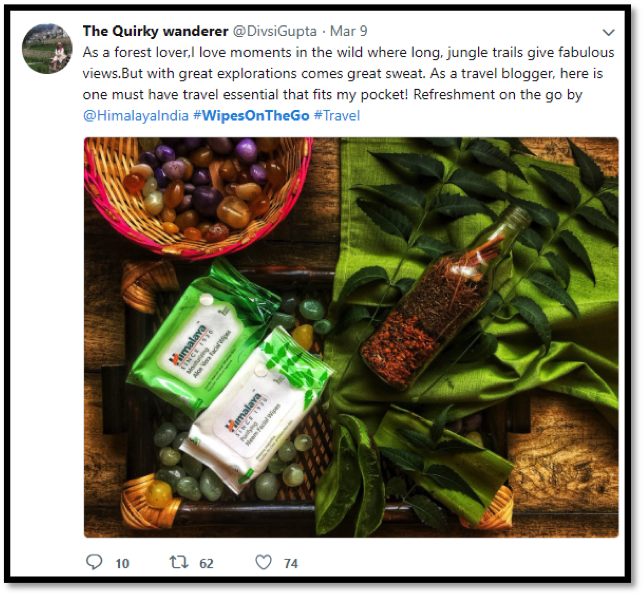 Overall, the #WipesOnTheGo campaign was a successful one. It created a lot of buzz in the beauty and wellness community, particularly for their versatility and how easy they are to use. The campaign ended up reaching a large number of people and achieving Himalaya's goal of creating awareness for their facial wipes. Here are the numbers to prove it.
Total impressions – 10 lakh
Total Engagement & Clicks – 1.7 lakhs
Total unique influencers – 152
Himalaya Fresh Start Campaign
Following the success of the first campaign, Himalaya approached us once again to work on creating awareness for their latest line of face washes with the hashtag StayOilClearStayFresh. We got in touch with the top beauty influencers on Instagram and others from fields of lifestyle, fashion, travel and Youtube influencers as well.
Upon finalisation, these influencers received the Fresh Start face washes and recorded their experience online in formats similar to the first campaign, namely blog posts, videos, grid posts, stories, etc.
The Himalaya Fresh Start face washes come in four variants – Strawberry, Blueberry, Lemon and Peach. While each variant comes with its own set of benefits, they are most advantageous for people suffering from oily skin and acne-related problems. However, normal, dry and combination skin types can also use these gentle face washes that are free from harsh chemicals. Most of our influencers featured all four variants together in their posts and spoke about how good their skin felt after just a single use of the product.
Each post by the influencers got a minimum of thousand likes on Instagram. Pooja Mudhra's post had the highest engagement with 13,712 likes.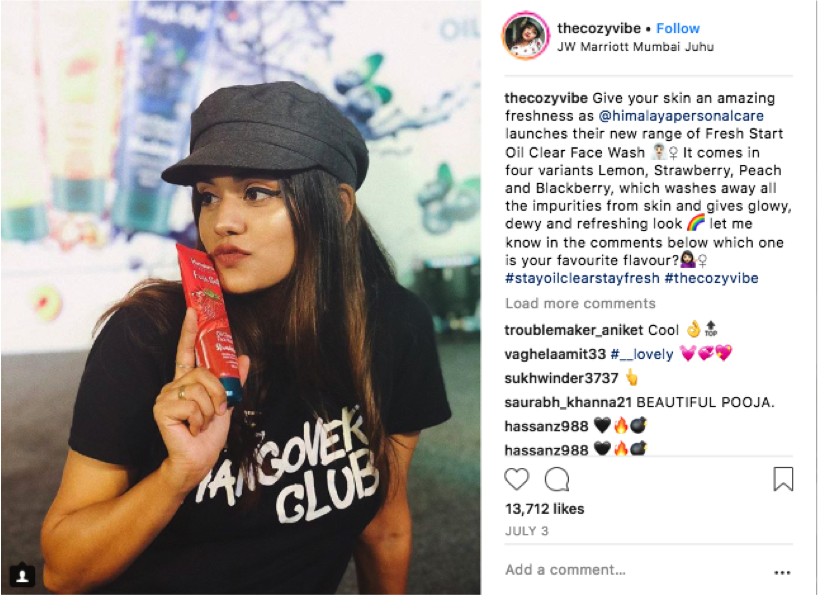 Another influencer, Jhanvi Bhatt took the #StayOilClearStayFresh forward with an Instagram stop-motion video, which received 1,135 views. Ashima Makhija's video post saw a whopping 22, 537 views!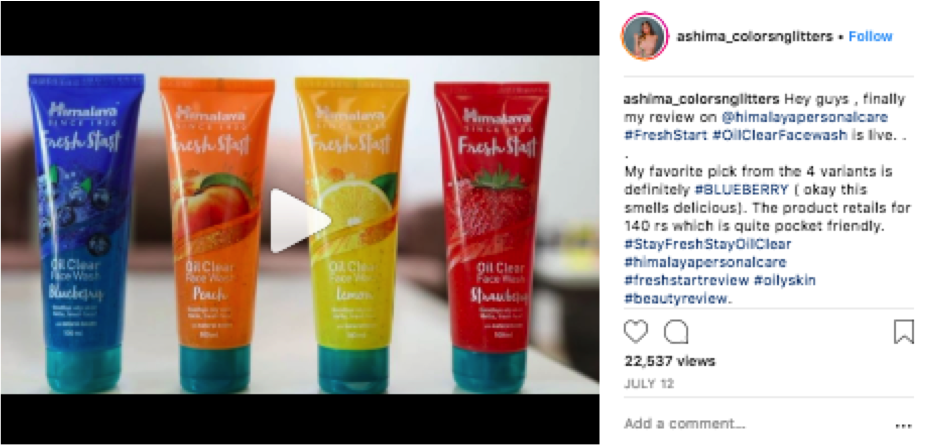 Influencer marketing is one of the latest trends in digital marketing and can help brands creating awareness, boosting sales and brand image. Several brands have leveraged the power of influencer marketing which has resulted in a number of successful influencer marketing campaigns. Head over to Influencer.in to find the right influencers to engage with your audiences and promote your brand. You can also read our blog on why Instagram is the most important channel for Influencer marketing.