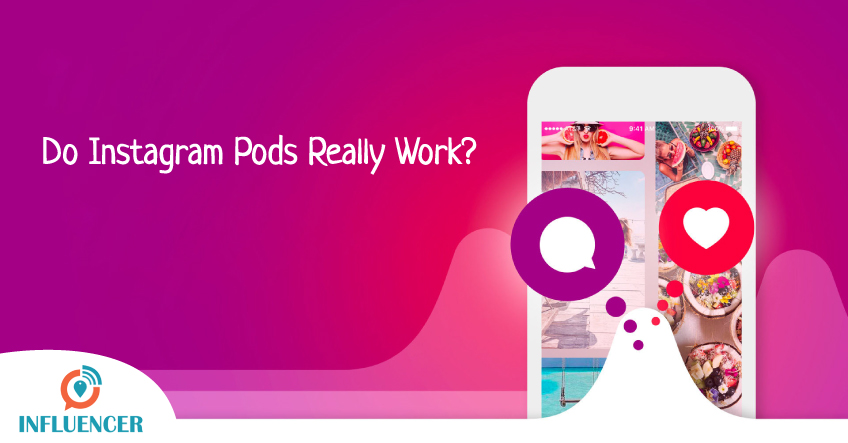 How to Join Instagram Pods and Are They Helpful?
Author: Rhea Jain
|
Updated Date : February 21, 2022
The main goal for brands and influencers on Instagram is to get a large number of followers and likes. As Instagram is becoming one of the most important channels for influencer marketing, it is also getting more competitive. One of the most effective ways to expand your follower base is to have your posts show up on the Explore page. However, getting posts displayed on the Explore page is a Herculean task in itself. With so many other brands and influencers out there, your brand could get lost in the rat race.
Every social media platform has a particular algorithm that helps it identify popular content. Instagram introduced an algorithm which picks popular posts over chronological ones. This means that instead of the latest post, Instagram will show you the one which got more likes and comments. Most Instagrammers have complained that the new system makes it difficult for them to gain new followers. So in order to beat the algorithm, they've decided to use create a special community called Instagram 'pods'.
Joining an Instagram pod can be an effective way to boost your popularity on Instagram and build your network as a blogger. Read on for a brief insight on the benefits and drawbacks of
Instagram Pods and how you can leverage them for your brand.
How to Join Instagram Pods
Instagram Pods are small groups of people that have profiles related to similar interests and areas. Each group typically consists of about 10-15 people. The members of these groups collaborate to support each other and increase the popularity of their content. The members write meaningful comments, follow and like their peers' content to boost their posts in the users' newsfeed. To join these pods, you have to message the admins of the group, explaining your brand. Most pods will have certain requirements and criteria for becoming a member. If you meet their requirements, they will let you join the pod.
How Instagram Pods Work
Each Instagram pod is defined by a set of rules which determine how it will work. The rules on Instagram pods vary from group to group but these are the main ones that most pods have in common:
Follow the account that you plan on engaging with.
Make sure that your comments are longer than 4 words.
Do not make general comments like "Love", etc.
Do not use only emojis in your comments.
Make relevant comments to the posts.
Tag the user in the comments.
Like others' recent posts.
How to Start Your Own Instagram Pod
You can also create your own Instagram pod if you don't know of any ones you can join. With these simple steps, you can get started on forming a pod of your own:
Select 5-8 Instagrammers who are like-minded.
Direct Message (DM) each Instagrammer about the Pod.
Create the group and name it.
Welcome the members of the pod and explain the rules to them.
Get to know your members outside the Pod.
How Instagram Pods Can Benefit Your Brand
The comments you receive from pod members can help boost user engagement on your posts. If users see a good conversation happening in the comments section below your post, they will be more likely to engage, especially if you join in. More comments equal a higher chance of your posts making it to the Explore Page. Getting your group members to react quickly can also help alert Instagram that you have something special there. This could be one of the best practices to become a successful Instagram influencer in India. The obvious added benefit of pods is that you can grow your connections and network. Finding the right connections is a challenge but the minute you do, you'll feel like you're part of a community.
Do Instagram Pods Work?
One of the biggest issues with Instagram pods is that they aren't always effective. The algorithm made by Instagram is largely influenced by the engagement habits of users, which seems to defeat the purpose of Pods. If you interact with content from a certain account regularly, that content will always appear at the top of your feed page. Even if some posts are popular on a certain account, it won't rank on your feed because you rarely interact with that account.
It can also hurt your brand image if people find out that the interaction between you and your pod members is all organized. Widening their reach with fake followers is one of the common mistakes many influencers make. Authenticity is valued by users and this method of cheating the system is anything but authentic. It also requires a lot of work to keep up with your other pod members' posts and comments. That's why it's best to keep your group to a small number.
Does Instagram Allow Pods to be Created?
Instagram's Platform Policy states that users can't "participate in any 'like,' 'share,' 'comment,' or 'follower' exchange programs." This rule includes Instagram pods. If Instagram's algorithm picks up any irregularities in terms of likes, content or popularity, your account could get hit with a Shadowban. A Shadowban is when your hashtags become undiscoverable. This means that your content won't show up in the feeds of anyone who doesn't follow you, making it difficult to gain more followers. You can get hit with a Shadowban if you're found to be using bots, automated services or buying followers. This ban can also extend to a disproportionate amount of likes and comments, which can happen as a result of the usage of Pods.
Conclusion
Joining Instagram engagement pods has its plus and minus points. But the best way to approach an Instagram pod is as an opportunity to form meaningful connections. Instead of keeping the interaction between you and your pod members limited to just notifying each other about posts, try starting genuine conversations. Meet them in person if possible and establish a personal relationship with them. This will not only help you create a mutually beneficial connection but will also help you find new friends you share common interests with.
___noise___ 1000