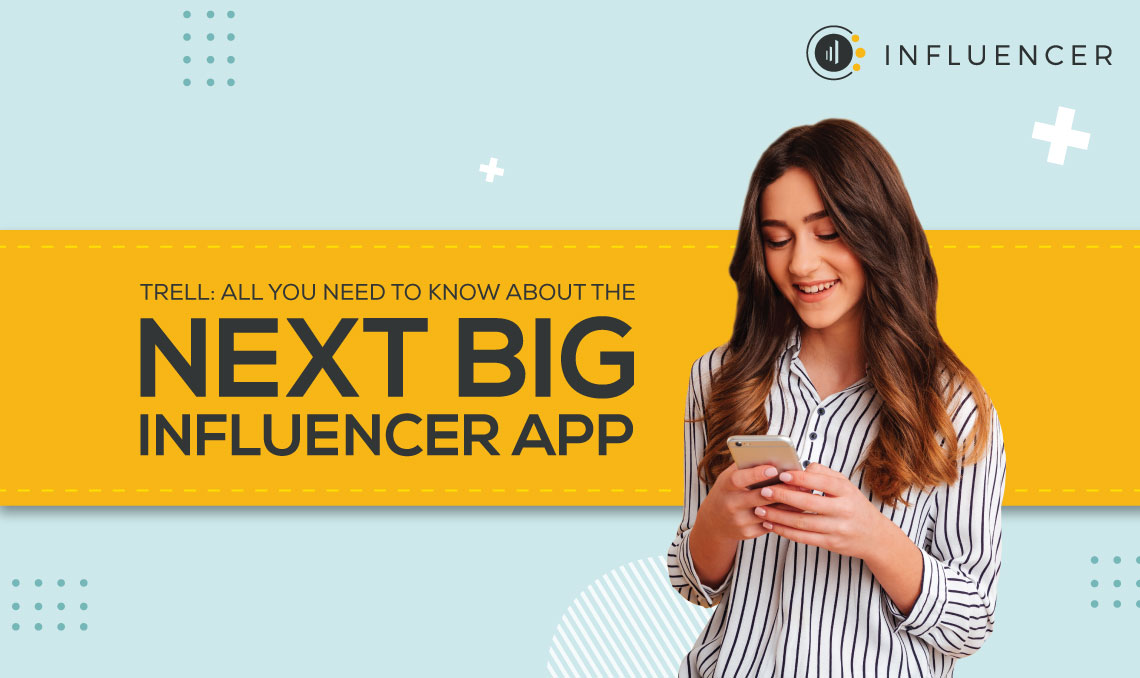 Trell: All you need to know about the next big influencer app
Author: Arshiya Ahamed
|
Updated Date : May 4, 2022
Looking for short video apps to get your brand's word out there? Try Trell, the next big influencer app!
In today's world, it is a given that influencers & vloggers dominate the digital spectrum. Vlogging platforms and social media sites enable these digital gurus to discover new experiences and establish a connection with their target audiences. Therefore it is imperative to understand the budding platforms that aid in this digital content creation.
In this blog, we will take a look at one such digital platform called Trell. Moreover, we will explore its nitigrities, inclusive of its key features, uses, and how it is the next big influencer app that is becoming one of the major TikTok alternatives.
With influencer marketing booming, influencers have expanded their reach and can be found on any social media channel. Indian Instagram influencers have become the talk of the town and we have curated a list of the best that you must follow. If you are looking for influencers in the fashion and beauty niche, those have their own set of experts that you can look at.
All about Trell
Founded in 2017, Trell is renowned for being a lifestyle community commerce app. This app enables users to exchange and share their thoughts, experiences, reviews, and recommendations across several categories. Known for being the Video Pinterest for India, the booming TikTok alternative app allows users to swap relevant information spanning from lifestyle, beauty, cooking, travel, and many such more categories. 
What's interesting is the use of Vernacular languages. Users can develop short 4-5 minute videos in their vernacular languages and share them. This Vlogging platform aids in serving native digital creators the platform for their vernacular needs. In addition to  Hindi, English, Telugu, Malayalam, and Tamil, the pp has been launched in 3 new languages being Kannada, Bengali, and Marathi.
Key features
This easy-to-use app certainly assists influencers & content creators in their digital journeys.  The key features of this influencer app are primarily focused on-  discovery, creation, share, and shop.
Discovery: This feature enables users to look for new content. For example, one can search for their favorite makeup tutorials or even check out local food restaurants or recipes. Owing to the vast categories Trell has to offer users are free to shift from various genres of lifestyle, cooking, food, travel, fitness & health and so much more. 
Create: Available on both iOS and Android platforms, this lifestyle app has surpassed over one million downloads on Google's Play Store. Moreover, statistics show that users have created up to 1.6 million pieces of original content. Primarily most content pieces revolve around lifestyle, fashion and food. Content creation could never be more simple than a click away!
Share: Once a user has created their content, Trell enables them to share the same on their feeds. Furthermore, users can even opt to browse their feeds based on the categories. The following tab feature allows users to do so. In other words, the more accounts one follows the more content he/she is likely to consume. 
Shop: From an e-commerce perspective, this feature is a great opportunity for buying, selling, and generating revenue. This allows users to search for several videos for product buying. Moreover, under this feature, short featured videos about the product are showcased. The influencers and vloggers can now endorse brands of their choice giving the brand an e-commerce edge.
In addition to this, the lifestyle blog also offers the chance of earning rewards, coupons, and goodies from brands like Cleartrip, Foodpanda, Swiggy, McDonald's, Myntra, and Himalaya.
Content creation 
Uploading content on this platform has never been easier! 
At the bottom of the screen, click on the 'plus' icon followed by clicking on 'vlog'

You can now choose from sharing an existing clip or can create a new video altogether with the help of the camera icon

Then you can trim the video, add filters and even add recorded audio

Content creators can then choose their audience by picking the language it was created in.

Last but not the least, provide a catchy title and publish the video!
Engaging the user community 
What's more? This influencer app goes beyond blogging and vlogging. The inclusion of live games, reward points, coupons from renowned brands like OYO, Cleartrip, and Mcdonalds all aid in maintaining high user engagement. Furthermore, these are also based on earning coins in the app from a wide range of activities such as inviting friends, sharing content, and even playing games on the app.
Conclusion
The social media landscape is always evolving. As users and digital content creators, it is important for us to identify key trends and platforms that can aid in achieving better results. Trell, with its simple user interface and ample features, is one such app that will bring about a massive change in the influencer's journey as the next big app. Check it out today!
Are there more apps like Trell in the market? Yes, of course. Roposo is such an app that allows you similar features and is in contention to become the biggest TikTok alternative.
___noise___ 1000