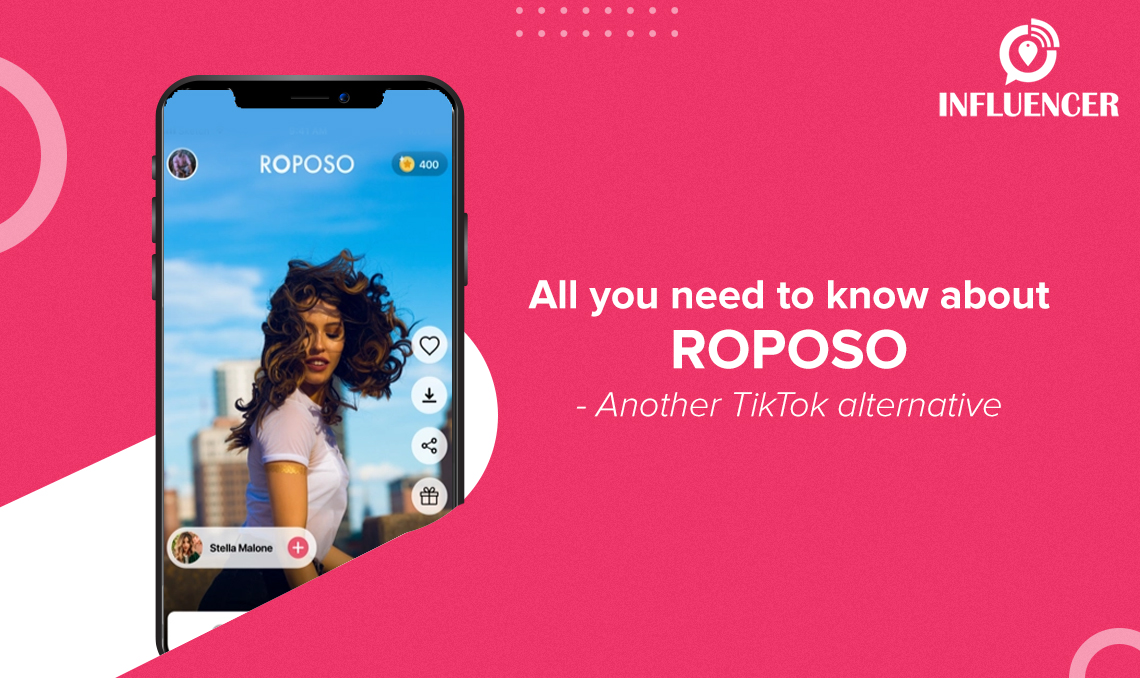 All You Need To Know About Roposo: India's TikTok Alternative
Author: Purvaja Balakrishnan
|
Updated Date : February 18, 2022
Most of us spend our free time scrolling through Social Media, consuming content in the form of videos, memes, photos and so much more. Since the inception of Youtube in 2005, video content has only grown in popularity. It's no secret that as we're grown with social media our attention span has only become smaller. People are no longer interested in watching 5 minute long videos, and would rather spend time consuming short, impactful content. in 2013, Vine was launched. This video sharing platform became an instant hit with its short 7 second videos. However, just 3 years later, Vine failed to keep up with its competitors and Twitter announced they would be shutting down the app in 2016. 
Post Vine, there have been multiple short-form video apps such as Musical.ly, Dubsmash and more, each with its own set of high and lows. TikTok (then called Douyin) was first introduced in China in 2012, and then launched on iOS and Android in 2017 for a few markets outside China.  In 2018, TikTok merged with Musical.ly and was released worldwide. In just 2 years, TikTok became widely popular, amassing over 2 billion downloads and 800 million active users. 
Excluding China, India was TikTok's biggest market accounting for 44% of the app's total downloads in 2019, with a whopping 323 million downloads! However, since the Indian Government banned 59 Chinese apps in, including TikTok, in June 2020, Indian content creators have been on the lookout for alternatives. Over the last few months, Indian TikTok alternatives such as Trell, Chinagri, Mitron and more have been on the rise. Leading the pack of homegrown video apps, is Roposo. 
What is Roposo?
Similar to TikTok, Roposo is a short-form video sharing platform owned by Glance Digital Experience Pvt Ltd. Created by 3 IIT Delhi alumni, Roposo brands itself as 'Truly Swadeshi' and available in 10 Indian languages. The first version of the app came out it 2014 as a fashion networking sight. Roposo later released version 2.0 and rebranded itself as 'Roposo – TV by the people'. Post the Indian Government's ban of TikTok, Roposo saw a huge spike is users, with its user base increasing by 22 million just 2 days after the ban.
Towards the end of 2019, Roposo was acquired by InMobi's Glace Digital.
Languages on Roposo:
The app is currently available in 10 different Indian languages namely English, Hindi, Tamil, Bengali, Marathi, Gujarati, Telegu, Kannada, Malayalam and Punjabi. A user can select their preferred language after downloading the app.
Roposo coins: 
Another cool feature of the Roposo app is it allows it's content creators to earn money (called Roposo coins) on the app basis their in-app activity. Roposo coins will have to be converted into Paytm cash in order to be redeemed. The more active a user is on the app, the more coins they can earn. Read on to find out more:
1) 10,000 Roposo coins amount to Rs. 10. 
2) The user will need a minimum of 5,000 Roposo coins to redeem it in rupees as cash on Paytm. 
3) The coins have a lifetime of 2 months in your Roposo wallet. This means that coins earned in August will expire on September 30th, and only the coins earned the September will be carried forward in October. 
4) The money can be transferred only to a Paytm wallet with a registered Indian phone number linked to it. It will take up to 10 days for the money to reflect in your Paytm wallet after a request for redemption has been made. 
How to earn Roposo coins:
In an interview with The Mobile Indian, Mayank Bhangadia, Founder Roposo app stated that creators have earned up to Rs 1,00,000 on the app. He further added, "Any video creator can make a good video and the machine algorithm checks how good is the video and brings it to more and more number of people. Everything is transparent and it is same for every video creator."
A user can earn Roposo coins by performing in-app actions. Here are some things you can do on the app to earn coins:
1) Enable Roposo notifications
2) Create and post videos via the app
3) Invite friends to join the app
4) Earn 5000 coins by getting featured on the 'Roposo Stars' Channel
5) Earn 1000 coins by getting featured on any other channels
What kind of content is present on Roposo:
Keeping in tune with their 'TV for the People' concept, Roposo has multiple content categories or 'channels' that you can browse and consume content from. 
1) Singing stars
2) Covid-19
3) Haha TV
4) Beats
5) Filmistaan
6) Wow
7) Roposo Stars 
8) Soulful Quotes
9) Bhakti
10) Punjabi Way
11) Daily Wishes
12) Captured 
13) Creative Space
14) Gabru
15) Celebrations
16) Look Good Feel Good
17) Digi
18) Sports TV
19) Rangoli 
20) Hungry TV
21) News
22) Politics
23) Fashion Quotient
Best practices to get more video views on Roposo:
Here are a few tips and tricks to help you make sure your videos get more organic traction as views. These tips are recommended by the Roposo team.
1) Use the in-app camera instead of a secondary video maker/editor to record and post your videos.
2) Use the filters, effects, stickers and music available on the Roposo app itself.
3) Post at least one post everyday. This helps increase your engagement rate and get your profile more visibility.
4) To maximise your followers and views, share links of your Roposo post on your other Social Media handles.
5) Share your Roposo handle on Facebook, Instagram, Youtube and other social media profiles.
Have you tried out the Roposo app? Let us know your thoughts in the comments!