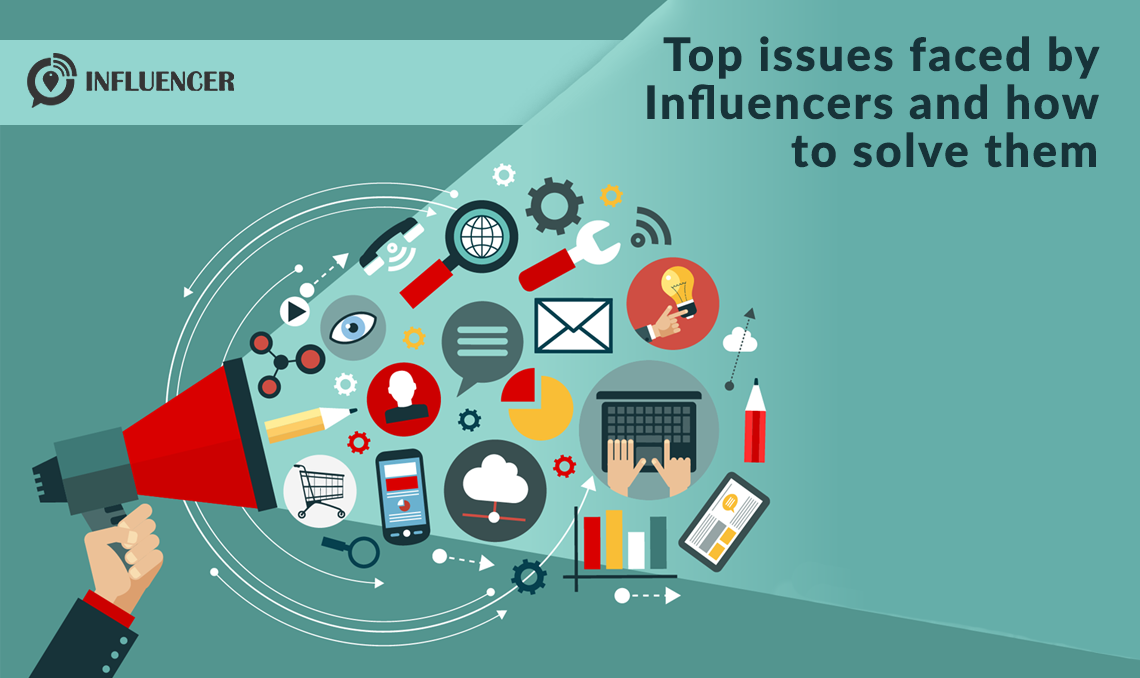 Top issues faced by Influencers and how to solve them
Author: Sayantan Rudra
|
Updated Date : February 21, 2022
Given that influencer marketing is the current buzzword in India, many brands are using this method of marketing to reach their potential audience. So if you are planning to launch a campaign, you have reached the right place. We have put together a list of top issues faced by influencers and how to solve them. These issues were compiled based on our interactions with influencers, the survey we ran amongst influencers earlier this year and learnings from various events such as Social Media Week Bengaluru.
Don't value effort
Although most influencers are working for a fee, it is important to understand that they are putting in a lot of effort to make you brand and products look good. So it is important to acknowledge the effort that they put in. When the influencers see that you are valuing their effort, they are bound to do a good job with the products and it also helps build a good relationship with them. A good way to do this is by paying attention to their work and showing an interest in it. In case they are taking part in a competition or part of some event, make sure you find out more about it and take the effort to congratulate them or wish them luck. This will show the influencers that you are interested in their work. A little bit of appreciation can go a long way.
Brief is not clear
Whether it is a twitter campaign or a product review that you are looking at or influencer marketing for your event, the first thing you need to communicate is a brief. This will not only help influencers understand whether or not they are interested in the campaign but will also help with knowing the expectations of the brand. When the brief from the brand is unclear, the influencers will not know what to focus on and this, in turn, will reduce the effectiveness of a campaign.
The brief needs to be extremely clear and you will need to introduce your brands and what you would like the influencers to do in it. Specify time, social media channel and deadline for all their actions. If you are looking at increasing traffic to the website, then send them the URL you want them to promote and any other material that you think will be relevant to this.
Here are some of the points that you need to keep in mind while creating a brief:
Objective of the campaign
Target audience
What is the call to action should the influencers reach need to take?
How will you measure the ROI?
What kind of content do you want them to share?
What medium are you looking to use?
The best influencer marketing campaigns will always have a good foundation to it. When you do that, the rest of the process will fall into place seamlessly.
Not giving enough freedom to influencers
For any influencer campaign to work, brands need to give the influencers some space and freedom to bring out their creativity. Allow them to speak in their own voice only giving them guidelines on your message. They are representatives of the brand and the more authentic the content is, the more successful the campaign will be. After all, content is key to any successful influencer campaign.
For instance, a boutique jewelery store, Gehna invited bloggers and influencers to visit their store, try the jewellery and then blog their experience. Or for example, Raintree Hotels flew down popular travel bloggers and then share their experience. These campaign receive a wider reach and help in popularizing the brand among consumers. One of the reasons why these campaigns are successful was because the influencers had their space to voice their opinion. The content did not sound like an advertisement and rather sounded like an authentic piece. You can see more examples of FMCG brands like On1y or larger brands like Sony Music and how they are using influencer marketing.
Payment delays
Payment delays are something that almost all influencers complain about. Just like how it can be difficult if we do not receive our salaries on time, influencers certainly want their money on time. As a brand, it is important to make timely payments as delayed payments can lead to influencers not wanting to work with you on future campaign. Also, as you delay payments there are chances of them taking to the internet to talk about your brand. It is always a good idea to give influencers timelines about the payments and stick to it and if there is a delay it is advisable to keep them informed.
Umpteen campaign changes
If you are using influencer marking, planning ahead is something that is key. As a brand, once you know the basic information about the campaign, you need to communicate the same to the influencers. It is also advisable to ask the influencers you will be working with to send the tweet or blog on Instagram picture ahead of posting it. Making too many changes to the campaign does not make the brand look good. It is also something that the influencers are not too fond of.
Not communicating expectations
Once you have set up the plan in place, don't hesitate to communicate what kind of ROI you want to achieve through the campaign. Create a brief on the brand in advance and outline all your expectations of the campaigns and goals. Not all influencer campaigns can straight away get you sales or signs ups. You need to communicate expectations with your influencers ahead of time. Give influencers a decent amount of time to respond, and then produce the content. Briefing influencers in a timely fashion will ensure that you get the best content for your Influencer Marketing campaign.