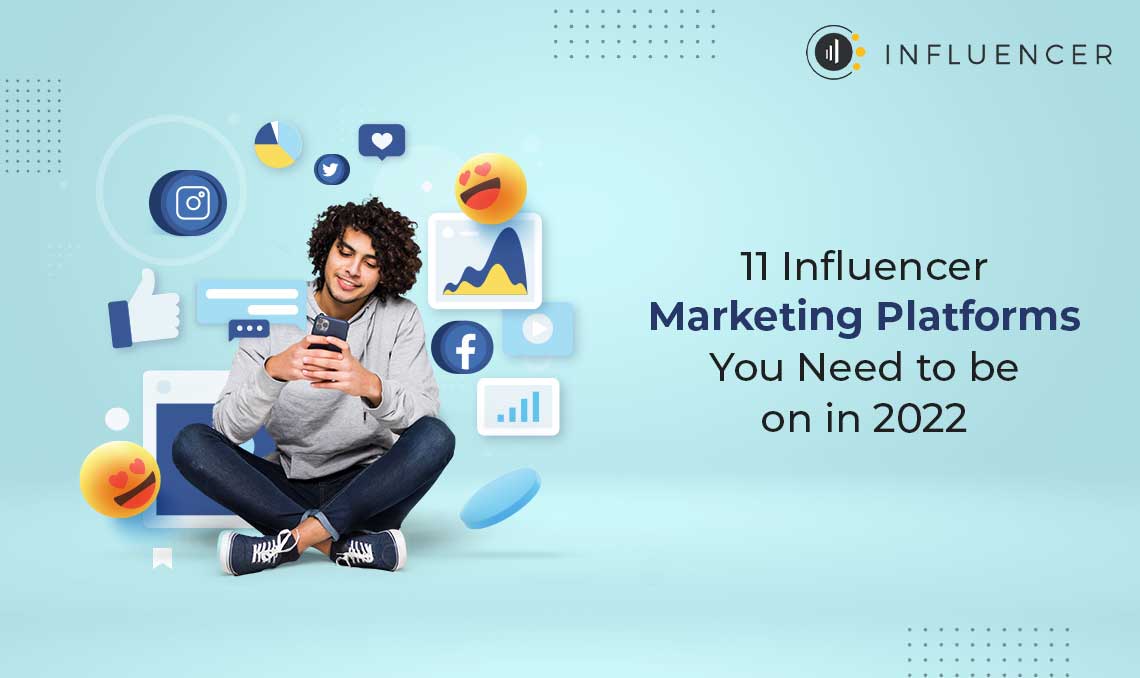 11 Influencer Marketing Platforms You Need To Be On In 2022
Author: kashish daga
|
Updated Date : June 3, 2022
Influencer marketing platforms are hubs for brands to connect and collaborate with influencers and boost their brand-building ventures. It is a form of social media marketing involving agreement or approval and product placement from influencers, people and organizations who have knowledge or social influence in their respective fields.
Influencers use various social media platforms like Instagram, Facebook, YouTube, Snapchat or other online channels to express their reviews on a particular product, and even urge their followers to use it if the product is good.
According to a survey, Instagram is currently the most popular influencer marketing hub with about 180 million users from India. A huge credit for this stat goes to the trending new features on Instagram that help brands personalize with their target audience and increase their brand visibility by leveraging the Indian influencer network.
The influencer marketplace is mostly niched around Fashion/Beauty, Travel/Lifestyle, Celebrity/Entertainment, Sports, Gaming and Food. With such a broad palette of options, it covers almost every form of a business venture and can be leveraged by the majority of brands.
Influencer marketing platforms in India have many benefits to offer not only to a brand but also to influencers. Let's see how!
Take a look at some major benefits that a brand gets by collaborating with influencer marketing platforms:
Increase in the brand awareness and reach

Building trust amongst audiences

Boosting SEO

ROI and sales
Benefits for influencers:
Increased visibility

Opportunities for professional collaborations with brands

Much-required shoutouts for their good services

Build a career based on recurring opportunities
Having understood the importance of influencer marketing in the current business world, many brands have sought to leverage this trend, but often end up pondering upon questions like "How to find influencers on Instagram for collaborations?" or "What influencers will suit my brand campaign?" or "Where can I find influencers to leverage the YouTube influencer marketing trends?"
Understanding very well how pivotal influencers are to the existing business world, we bring to you some of the best influencer marketing platforms in India as well as in the world for you to choose from not only the Indian influencer network but also collaborate with influencers globally.
CREATORIQ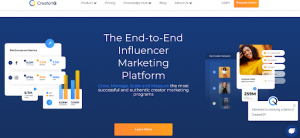 Source: CreatorIQ
In the age of the makers economy, CreatorIQ is amongst the most trusted software solution for businesses looking to develop their influencer marketing maturity. This platform provides an end-to-end solution with a sleek and efficient user experience.
What sets CreatorIQ apart from the other influencer marketing platforms is that it assists in the resolution of some of the industry's long-standing issues, like follower fraud, inflated reach metrics, and inauthentic/mercenary influencers.
Disney, Sephora, and Unilever Dell are among the companies that trust it. Services such as how to scale your campaigns with the industry's most advanced proprietary insights, creators connect by providing an amazing experience for creators who join the network and offer creators pay services which help in easy and automated payments.
INFLUENCER.IN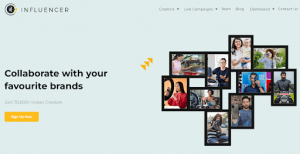 Source: Influencer.in
Influencer.in is one of the leading influencer marketing platforms in India with a kitty of 70,000+ influencers and 200+ brands. It ensures compliance & IP, creative ideation & scripting, the discovery of relevant creators, best-negotiated prices, and real-time performance & ROI.
They have worked with top-notch brands like Nykaa, Tata CLiQ, PUMA, Snapdeal, Kalyan Jewellers, Sunstone Eduversity, and many more. They aim to get quality and organic content from the right influencers with the best engagement. They are both, brand-driven as well as influencer-driven agencies which makes them levy a better relationship with Influencers than any other agency in India.
They are also one of the leading micro-influencer platforms in India with a broad palette of regional and vernacular content creators for niched campaigns.
INFLUENCITY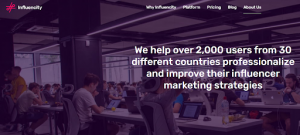 Source: Influencity
Influencity started working on the first influencer search engine with 4M profiles and a system that enables to measure each post-impact and therefore has associated with huge brands such as Samsung, Johnson&Johnson etc. It helps to solve various problems faced in the influencer marketing industry such as automating multiple influencer marketing campaigns, finding facts about every influencer in seconds and discerning if they are the right fit for the campaign, predicting results, identifying prime KPIs and analyzing influencer effectiveness in real-time for quicker, better strategic decisions and change.
WINKL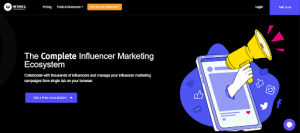 Source: WINKL
Winkl highlighted the issue of influencer marketing platforms being run manually on excel sheets and similar mechanical trackers. Winkl employs technology, as well as tools and resources, to help eliminate the duplicated tasks that come with running an influencer marketing campaign. Campaign manager, influencer insight, and campaign budget calculator are all tools that have greatly aided in the planning and implementation of campaigns.
GRIN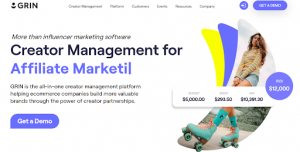 Source: GRIN
Grin is one of the leading influencer marketing platforms catering to global e-commerce brands like L'OREAL. With over 32+ million influencers to choose from, you can decide who best suits your brand campaigns. It helps you leverage reports to analyze your campaign levels, KPIs, and creator's metrics, costs, sales, revenue and ROI. Grin also caters to all your logistics of targeted product launches in their respective niched audiences using e-commerce services like Shopify, Magneto, PayPal and many more.
MAVRCK

Source: MAVRCK
Mavrck is one of the best influencers platforms suited for enterprise consumer companies and brands. It has an efficient system in play that can effectively identify fraudulent influencers and thus, ensures a clean and safe influencer marketplace. Mavrck is linked with trusted brands like Netflix, Disney, Oreo, and P&G Reebok. Its end to end relationship management ensures transparency in every step. This influencer marketing platform has creators from numerous niches and can also cater to the needs of global brands!
ASPIRE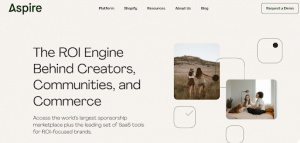 Source: Aspire
Aspire is an influencer marketing hub that acts as a haven for growth-centric brands looking to leverage not just Instagram and YouTube influencer marketing, but also niche-specific micro-influencers globally. Aspire works in three simple steps that are discover, manage and analyze. It efficiently harnesses a vast community of 6+ million influencers by virtue of interests, keywords, aesthetics, and demographics. Aspire can be better understood as an influencer CRM where entire interactions of brands with their customers, influencers, and ambassadors can be managed and stored. The most beneficial attribute of Aspire is that it helps brands in personalizing with their fans by mentioning them on their social media handles.
KLEAR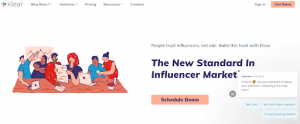 Source: KLEAR
Klear is one of the biggest data search engines for influencers with a database of over 900 million influencer profiles segregated into over 60 thousand niched categories. One of the benefits of this influencer marketing platform is the provision of a 'search influencer' icon to pick your choice in any niche category, language, country or city across the globe. Since it stores so many influencer profiles indexed within its database, it is easy for brands to understand who would be the best people for them to use in campaigns.
IVVI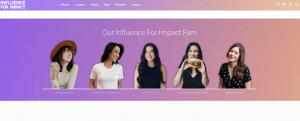 Source: IVVI
IVVI stands for influencer and viral video insights. As the name suggests, IVVI is one influencer marketing platform you should try and collaborate with to bolster your YouTube influencer marketing ventures. The reason is that it is a technically advanced platform that uses YouTube to determine influential creators and trending videos based on the latest schematics and offers you the best creators active online. The biggest benefit that they offer is the creation of "higher impact video strategies with science" which means they provide influencer strategies with the aim of bringing you success on YouTube.
SIDEQIK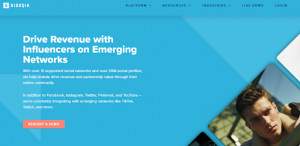 Source: SIDEQIK
Sideqik is essentially a data-centric influencer marketing platform that offers services like content creation, influencer profiles, transparent pricing tabs, and a detailed report on the step-by-step process. An essential feature that they have to offer is a wishlist of sorts, where you can finalize a list of your choicest influencers narrowed down based on demographics, influence, pricing, and of course how they fit your brand campaigns. On successfully reaching out and collaborating with this influencers platform, you are also entitled to some cool offers and vouchers!
QORUZ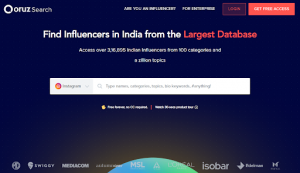 Source: QORUZ
QORUZ is an influencer marketing platform that connects brands & agencies with the right set of influencers. Your campaigns can be optimized and measured through a data-driven approach. They have a database of 8 Million global influencers which includes 3 lakh from the Indian influencer's network.
They follow a 3 pricing model and also customize it based on the requirements. They are:
– Planning model
– Reporting model
– Suite model (planning+reporting)
Each subscription includes a search wizard, influencer profile analytics, campaign reporting, influencer outreach, onboarding, training, and data export.
CONCLUSION
With the advent of the pandemic, digital marketing took a turn for the good and businesses started inclining towards customer-centric approaches. This new marketing model is much more dependent on the influencers to create awareness for their brands, due to which influencer marketing platforms have become the need of the hour.
Having said that, social media influencers are now an important part of this information network. The reason is that, unlike advertisements that are designed to inform, the information that comes from individual influencers is organic and trusted. There are various apps created for brand collaboration such as Intellifluence, Social Book, and Octoly which makes it even easier for the influencers to connect to their target audience.
This well-curated list of global influencer marketing platforms and mico influencer platforms in India will help brands in scaling through not just broad campaigns but also regional, and vernacular campaigns to tap into the large prospects in Tier 2 and Tier 3 audiences.