Leverage YouTube Short Videos For Influencer Marketing
Author: kumar.siddhant@socialbeat.in
|
Updated Date : April 13, 2022
A place for entertainment, learning, reviewing and influencer marketing, YouTube has become one of the go-to platforms thanks to the numerous forms of content it is compatible with and the sea of viewers that are available to us for reaching out. 
With about 3.5 billion daily views in India, YouTube short videos have scaled up as a hot trend that influencers need to leverage at the earliest.
According to Tubular Labs, YouTube shorts exhibits a huge growth opportunity in terms of the consumption rate pitched against the supply.
In other words, people are consuming YouTube short videos faster than creators are even uploading them. 
The following chart represents the relation between the aforementioned stats on the consumption and upload rate for Youtube shorts: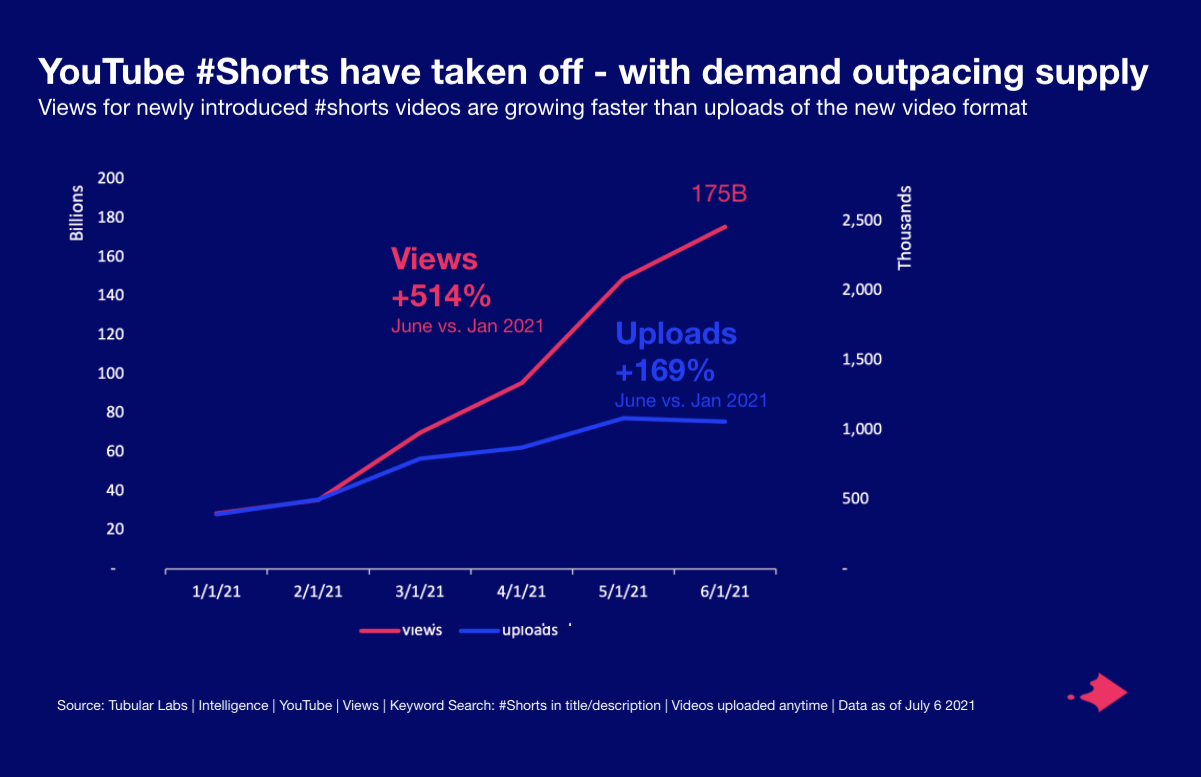 Source: Tubular Labs
So, if you are an influencer looking to increase your YouTube views and subscriber count, or if you are a brand looking to get on top of influencer marketing trends, this article is for you. 
Here is a detailed guide on everything related to YouTube short videos and how you can leverage them for boosting your marketing strategies.
In this article:
Chapter 1: What are YouTube Short Videos?

Chapter 2: Youtube Short Videos and Influencer Marketing

Chapter 3: YouTube Shorts Requirements: Prerequisites to Embodying Ideas

Chapter 4: Getting Started with YouTube Short Videos

Chapter 5: YouTube Shorts Tags: Trending Tags on YouTube

Chapter 6: Making Money Out of Passion: YouTube Shorts Monetization
Chapter 1: What are YouTube Short Videos?
YouTube short videos are the latest short-form vertical content (slightly similar to YouTube stories) that can be created easily with any smartphone having a decent camera. With built-in digital content creation tools, you can add music, texts, animations, transitions and also regulate the speed of your video and its related transitions without having to rely on additional content editing tools.
A unique feature of YouTube shorts is that your reels and short videos can directly improve subscriber count.
On that note, let us find out how YouTube influencers and brands can upscale their outreach by using YouTube short videos.
Chapter 2: YouTube Short Videos and Influencer Marketing
With the advent of digitalization, social media platforms have become a roaring success,  thanks to millions of users who consume content daily. 
With this trend, influencer marketing came into the spotlight and brands began to collaborate with YouTube influencers, along with those on Instagram and other social media platforms, to personalize their products and reach out to their target audiences.
YouTube short videos are one such form of influencer marketing that can help you grow your subscriber count and improve your brand position exponentially!
How do YouTube Short Videos Benefit Influencer Marketing Strategy?
As an influencer trying to grow your Youtube channel and establish authority, you might want to focus on getting more views, likes and shares on your content. 
Well, YouTube short videos, if leveraged properly can help you achieve that!
According to a 28-day experiment, Jamie Logie analyzed the changes brought on by hopping on to the trend of YouTube shorts on his channel.
The following image will show you how he witnessed an exponential growth in his viewership by leveraging YouTube shorts: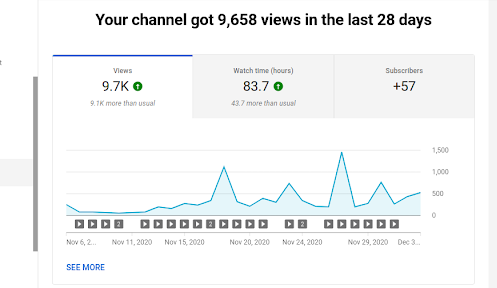 Source: Better Marketing (author provided screenshot)
This is still the tip of the iceberg. This trending short-form video feature has additional benefits that can help you improve your channel authority and increase your traffic but of course, eventually, it still rests on the quality and relevance of your content.
Let us learn about some unique aspects of YouTube shorts that make it such a reliable feature.
1. User Interface:
The page layout of YouTube short videos is designed to provide users with a direct path to accessing every element in the displayed content. Be it the number of likes the video got, comments, captions, related hashtags and also the label of the music used.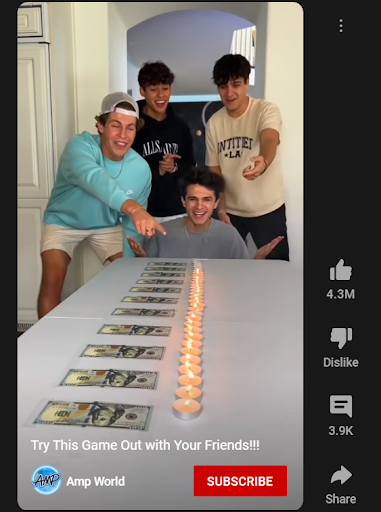 Source: YouTube
All these icons have been meticulously arranged along the edges of your screen allowing uninterrupted visibility for your content while providing ease of access to the aforementioned elements.
2. Drive Traffic:
The reels and short videos display the name of the YouTube influencers, and an option to subscribe to them without having to leave the page they are on.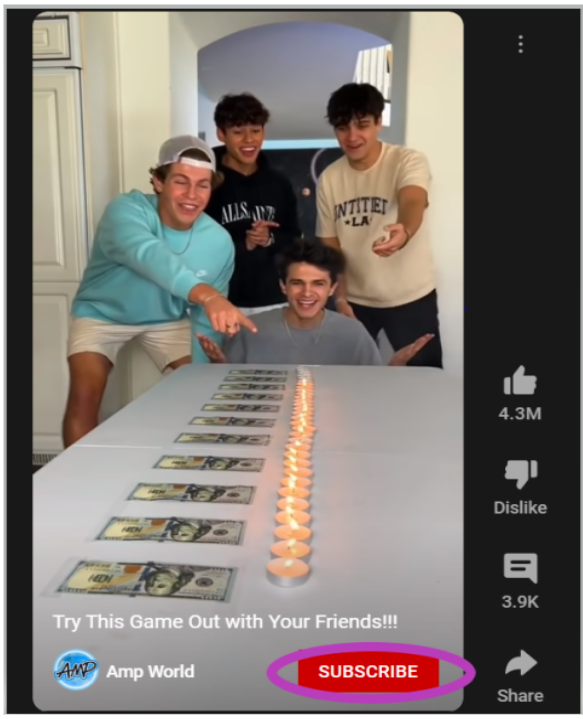 Source: YouTube
YouTube shorts can also be used as a way of exhibiting the tone and type of content that a channel has. Moreover, if your short-form content resonates with the viewers' interests, it could motivate them to subscribe to your channel. This would open them to every other content that you have to offer and thus, drive traffic to your videos.
3. Increase outreach:
When brands collaborate with YouTube influencers, it creates an opportunity for brands to reach out to the influencers' loyal subscribers.
In some cases, these subscribers might even recommend content from these influencer channels to their individual circles and thereby create a ripple of outreach for your products. 
4. Time:
In today's fast-paced world, time is of the essence. The craze for reels and short videos suggests that people are more inclined toward consuming short-form content and thus, leveraging YouTube short videos can align your digital marketing interests perfectly with the latest trends.
According to statistics mentioned in The Economic Times, about 650 million Indians will consume short-form videos by 2025.
5. Tools for better content:
The unique selling point of Youtube Short videos is the wide pallet of easy-to-use tools such as numerous filters, provisions to add captions, texts and animations to your video, and also regulate the speed and transitions. 
These tools can help you create the best version of your content without having to install separate applications or learn about digital creation.
If you understand why you should leverage YouTube short videos, let us now learn about the prerequisites to create suitable short-form content.
Chapter 3: YouTube Shorts Requirements: Prerequisites to embodying Ideas
YouTube short videos have minimal requirements and can be easily prepared with just a smartphone with a good camera. Having said that, there is no specific threshold number of subscribers, viewers or videos required to create this short-form video.
This section will tell you about all the requirements that you need to keep in mind while creating your content.
1. YouTube Shorts Duration:
A YouTube shorts duration is either one continuous video of 60 seconds or numerous 15-second videos clustered together.
This means you only have 15 seconds or 60 seconds to connect with your audience and persuade them to subscribe to your channel. Though it may sound tricky, this improves engagement and acts as a trailer for your channel's content.
2. Device Specifications for YouTube Shorts:
You can create YouTube short videos from any smartphone with a decent camera as it is compatible with both Android and IOS devices. Moreover, you can also upload your short videos directly from a computer as well.
3. YouTube Shorts Aspect Ratio:
Ensuring that you use the right aspect ratio while creating content is crucial as this is directly related to how your video is made visible to viewers.
A common YouTube shorts aspect ratio is 9:16 which creates vertical videos similar to those on Instagram reels or Tik-Tok.
However, it is not necessary that your video be vertical as a square format (aspect ratio 1:1) is also acceptable in this feature. Ensure that you use 1920 X 1080p as the standard resolution for this type of content.
If you are clear about the Youtube shorts requirements and prerequisites, let us now journey through the process of creating your first Youtube short video.
Chapter 4: Getting Started with YouTube Short Videos
Here is a step-by-step guide to help you create your first YouTube Short Video:
Open the YouTube app on your phone and tap on the '

Shorts

' icon.

Source: Uploaded by author
2. Click on the '+' icon at the bottom centre of your screen after which you will see a popup.

3. If you already have a video prepared and are looking to upload it, click on the 'Upload a video' option available in the pop-up.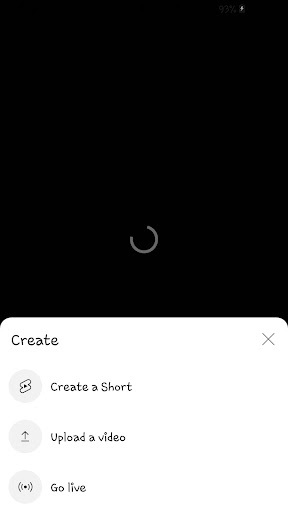 Source: Screenshot uploaded by author
4. If you don't have a video ready, you can simply click on the 'Create a short' icon and allow access to your device's camera and microphone.
5. Once you have provided access to the requested parameters, you will be directed to the shorts creation page which looks like this:

6. As mentioned previously, YouTube shorts duration is defaulted to 15 seconds and can be increased to 60 seconds max by tapping on the number '15' that is displayed just above the 'record' icon.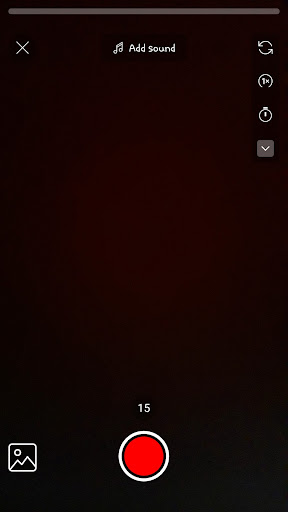 Source: Uploaded by author
7. You can adjust the speed of your video recording by tapping on the speed icon displayed to the right of the recording icon.
8. If you want a hands-free recording, you can also set a timer on the recorder which will start without you having to initiate the recording.
9. Choose an appropriate filter from the numerous options made available to you and once done, you are ready to record your video.

10. Tap on the 'record' icon once and after 15 seconds of recording, tap on it again for the next segment.

11. Once you have recorded your content, you can tap the checkmark on the bottom-right corner of your screen which will then allow you to preview your work and provide options to change filters, add music and texts.
12. The last step towards creating YouTube short videos is to add a title to your content, adjust the sharing settings and tap the "Upload" icon. 
13. Ensure that you provide appropriate hashtags that are related to your content and also "#shorts" so that YouTube can promote it with other shorts.
If you understand how to create YouTube short videos, here is an important element that you need to keep in mind for rendering maximum visibility to your content – YouTube shorts tags.
Chapter 5: YouTube Shorts Tags: Trending Tags on YouTube
Hashtags are a means of connecting your videos to a greater niche. You can use hashtags to connect your videos to the latest trends and provide improved visibility and connectivity to your content.
Thus, hashtag marketing is one essential element of content creation on YouTube that you can't skip.
Having said that, you should also ensure that the YouTube shorts tags that you implement are not only trending but are also closely related to the content of your video. 
Here are some of the top trending YouTube shorts tags as curated by: 
#youtubechannel #youtube #youtubers #youtuber #subscribe #youtubevideos #videos #subscribetomychannel #vlog #vlogger #gaming #likes #youtubecreator #youtubecommunity #explore #youtubelife #youtubegaming #music 
2. Ebuzzpro.com:
#shortsfunny #shortsasmr #shortsart #shortscooking #shortschallange #shortscomplication #shortsclip #shortscraft #shortsfootball #shortscomedy
These hashtags can differ based on the type of YouTube video you make and what niche it is related to.
An important aspect while adding YouTube shorts tags to your content is to regulate how many tags you are implementing and their nature of intent.
Hashtag Rules
Follow the below-mentioned guidelines to prevent penalties or removal of your content:
Never use more than 15 tags on your videos as any number more than 15 might be considered over-tagging which is not a healthy practice.

Avoid using offensive hashtags with the intent of abusing, harassing, or humiliating anyone.

Avoid using sexually loud hashtags as it may provoke Youtube to either remove your video or mark it as age-restricted thereby decreasing your visibility.

Always use hashtags that are related to your content instead of clustering random tags hoping to increase your visibility.
Now that we have covered all the major milestones for your YouTube short videos journey, let us dive into the most exciting part of this campaign- YouTube shorts monetization.
Chapter 6: Making Money Out of Passion: YouTube Shorts Monetization
YouTube has an allocated reserve of $100 million a fraction of which is distributed to those channel owners whose YouTube shorts videos rank first in the list of the top viewed videos.
If you want a chunk of this fund allocation, ensure that you meet the criteria mentioned in the YouTube Shorts Monetization rules 2021:
Eligibility Criteria
In order to monetize your channel content, you need to ensure that you meet the following eligibility criteria:
Upload at least 1

Youtube shorts video

in the last 180 days

Your channel must not have content implementing watermarks from third-party social media platforms or plagiarised content or snippets from movies or existing videos without appropriate editing.

You must reside in any one of the following countries- India, Brazil, Indonesia, Japan, Mexico, Nigeria. South Africa, United Kingdoms, United States of America
2. YouTube Shorts Monetization
Policies
You must ensure that your channel follows the following Youtube Policies in order to receive any amount from the YouTube shorts Funds:
3. Review Criteria
Once you ensure that your channel follows the aforementioned regulations, you can apply for the YouTube Shorts Monetization Fund after which your channel will be put under review. Mentioned below are some parameters that the reviewers will be taking into account:
The main theme of your channel and what niche it falls under

Content in some of your most viewed videos

Some of your newest videos, their content, hashtags, captions, views, likes, etc.

The longest duration of watch time for videos in your channel

Metadata in your channel contents: for instance, title, descriptions, thumbnails, and other healthy practices on Youtube.
4. Enforcing
Youtube Shorts Monetization Rules 2021
Once you have been approved according to the Youtube Shorts Monetization Rules 2021, you need to keep following the policies and rules mentioned earlier. 
If you fail to do so, YouTube will subject you to the following penalties:
Turn off ads from your content

Negate your YouTube Partner Program membership

Suspend or terminate your channel
Parting Words
YouTube Shorts Videos are the crux of most digital marketing campaigns and influencer marketing ventures. The increasing popularity and consumption rate for short-form content has made this a trending feature in the influencer community. Top YouTube influencers, Instagrammers and social media influencers have leveraged Youtube shorts and have also started monetizing their content.
This guide covers every aspect related to YouTube Shorts videos and how you can leverage it not only as an influencer but also as a brand looking for influencers to bolster their awareness and personalize with their target audiences.
Frequently Asked Questions Related to YouTube Short Videos
1. What is an ideal
YouTube shorts size
?
The ideal YouTube shorts size includes an aspect ratio of either 9:16 for (vertical content) or a square format with an aspect ratio of 1:1.  
Tip: Do not add any padding to your content as YouTube takes care of it while you upload your content.
The ideal Youtube shorts size is about 2MB.
2. How can I find
YouTube short videos
?
Open the YouTube application on your phone (Android or IOS) or laptop. Click on the "S" shaped icon labelled Shorts available in the menu panel.
You will find an array of short-form content with an option of adding shorts of your own!
3. What are the requirements for
YouTube Shorts
?
The only requirement for uploading YouTube shorts videos is the availability of a smartphone with a decent camera and an optional tripod stand (you are good even without it).
4. How to upload YouTube shorts from a Computer?
Open the YouTube app and click on the top left menu panel and click on the 'shorts' icon.

You will see a pop-up with options of "creating a video" or "uploading a video". Choose the latter one and then browse your device for a 60-second long video with a 9:16 or 1:1aspect ratio.

Add a suitable title, description and implement trending hashtags that are related to the content of your video.

Adjust the sharing options and then click on upload.
5. What is the time limit for
YouTube shorts videos
?
The time limit for Youtube shorts is 15 seconds if you add a music section from YouTube's library, and you can add numerous such 15-second videos in a section. If you don't use Youtube music, you can create a video for as long as 60 seconds.
6. What is a good
YouTube Shorts Resolution
?
The ideal YouTube shorts resolution is 1980 pixels by 1080 pixels with an aspect ratio of 9:16 or 1:1.
7. Can I earn money through YouTube shorts?
Yes, you can! YouTube has allocated a $100 million fund that is to be distributed to YouTubers on the basis of their engagement with viewers and the number of views their videos get.
A Youtube creator can earn anywhere from $100 to $10,000 through their shorts videos.