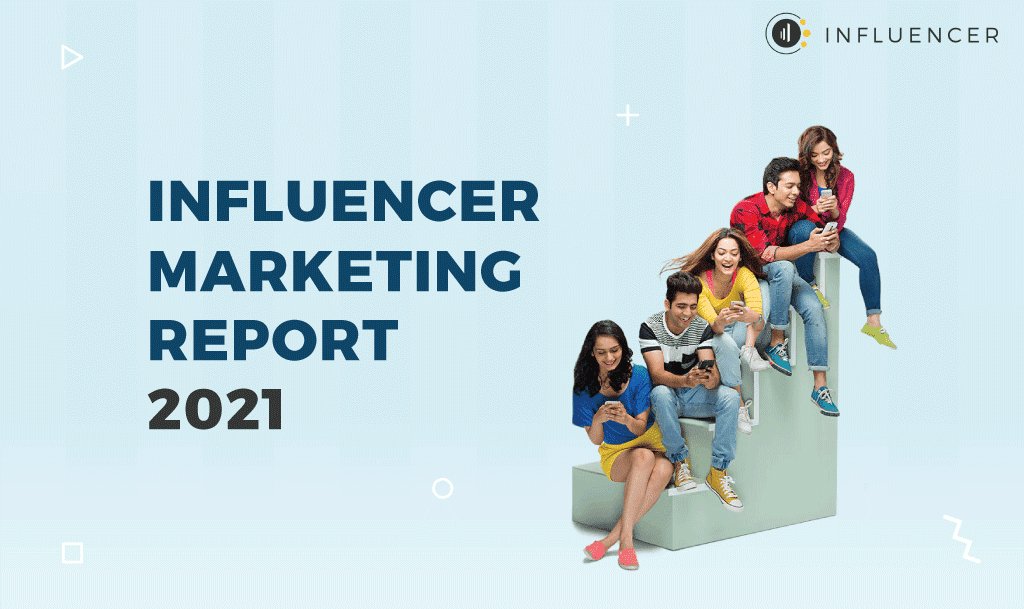 Influencer Marketing Report 2021 for India
Author: Pallavi K Parinita Venkat
|
Updated Date : April 27, 2022
Influencer.in launches Influencer Marketing Report India 2021
Key Insights
The majority of respondents were female and were from the age group of 18-40. The youth of today are taking up Influencer as a full-fledged career as compared to before.

Beauty, Fashion, and Lifestyle categories continue to rule the roost while Travel has taken a backseat the past year due to travel bans and lockdowns.

The TikTok ban has paved the way for the rise of many new apps.  The most popular upcoming app according to the survey is Clubhouse. On the other hand, along with Clubhouse, Trell and Roposo seem to be popular too.

Instagram is the platform with the most engagement and reels has been a clear winner in effectively boosting reach and engagement on the platform.

As per the report, 76% of the respondents agree that video content performs better than static content.

Many of the respondents feel that the new Instagram algorithm has affected influencers' reach and engagement.

Influencers prefer long-term relationships over short-term projects. This is a win-win for both parties as a long-term collaboration with specific influencers establishes brand credibility and trust.

According to the survey, a vast majority of influencers feel that the new ASCI rules are important and would be following the rules as well.
2021 vs 2020
In comparison to last year, almost 54% of the respondents were from non-metros. The choice of becoming an influencer has trickled down to Tier 2 and 3 cities with the majority of the upcoming influencers from there.
There has been significant growth for Roposo and Trell in the past year with a leap in user count. Clubhouse doesn't seem far behind.  Roposo and Trell have a better reach in non-metros as compared to last year.
Fashion and beauty continue to rule the roost but Travel has taken a backseat due to the Pandemic and lockdowns. Travel influencers have broadened their strategy to engage their audiences the past year.
Our report featured on:
Social Beat's Influencer.in launches 'Influencer Marketing Report India 2021'
https://www.adgully.com/social-beat-s-influencer-in-launches-influencer-marketing-report-india-2021-107082.html

Here are the key findings from the survey:
1. The Rise of the next TikTok: Roposo & Trell
The TikTok ban in India left a void in the entertainment industry. App developers understood the potential of such platforms and started inculcating the "titbit videos" features in their apps.
According to studies, users' attention span has reduced over the years to merely 8 seconds.  Therefore, social media platforms need to equip themselves with features that cater to the ever-evolving audience behavior. Malabar Gold leveraged bite-sized videos or "Thumbstoppers" on Facebook to increase store visits.
While existing apps may have already advanced themselves, TikTok's ban in India left more space for similar apps to enter the spotlight as viable alternatives.
According to our survey, there are 3 new apps on the rise that has trickled down to tier 2 and tier 3 cities as well: (Bar graph)
Expanding on trending apps, more than the majority of respondents (56%) feel that Clubhouse is the next big thing. 58% of these respondents were from metro cities and 32% from tiers 2 and 3.
A good number of respondents voted for Roposo (21%) and Trell (18%) as well. For both these apps, nearly half of the votes came from tier 2 and tier 3 cities.
Why is Clubhouse successful?
Clubhouse helps users develop an interpersonal relationship with the influencer. Influencers are now more accessible than ever on this platform. The communication is interactional, thereby increasing the trust factor. The platform allows questions and doubts in a regulated manner and can be leveraged to increase brand awareness.  The app also requires very little effort from users, for instance, users can take their pet for a walk while listening to their favorite influencer.
What's the takeaway? 
While all of these apps are becoming popular by the day, marketers need to focus on a few apps only depending on their strategy.
For instance, if your brand wishes to leverage podcasts as a marketing strategy and the target group is mainly from metropolitan areas, then Clubhouse is a suitable platform.
On the other hand, if video marketing in tier 2 and tier 3 is your brand's approach, then platforms like Trell and Roposo would be ideal.
Brand Bytes: Hear it from our brands!
"The reason to choose a platform always stays the same – because your TG – the customers whom you are putting your biggest bets on, are on that platform, spending reasonable time there & also showing a propensity to do commerce through ads shown on the platform. Collaboration with influencers should fundamentally align your brand positioning & personality to the influencer choice. A brand has its own identity, tonality & imagery. Any influencer engagement has to acutely ensure alignment to these elements to benefit the brand"
-Meera Iyer,
Former Biz Head – Dr. Vaidya's (RPSG Group)
2. Instagram is here to stay/ Influencers most loved platform: Instagram
Instagram surpassing the 1 Billion global user mark at the close of 2020 is a testament to its staying power. From being just another photo-sharing app to being one of the most influential and popular apps out there for the current generation, Instagram has evolved leaps and bounds.
The lockdown and the pandemic have only fuelled brand and influencer collaborations with a shift toward an Instagram-first approach. TATA CLIQ leveraged  influencer marketing for the #MallAtCLIQ campaign and achieved 20+ Million reaches on Instagram
Instagram Influencer marketing is the superfood you need to cut through the noise and reach your audience. 
Here's what our creators have to say:
82%of the respondents felt Insta is the platform with the most engagement.
Out of them, 80%+ Influencers from the Beauty, Food, Fashion, Lifestyle, Parenting, Travel category
With changing algorithms, new format rollouts, and evolving trends the World of Instagram has revolutionized the way content is being consumed.
Video Content is King! 
Over 76% of influencers report video content performing better than static on Instagram
Out of which, Reels has emerged as the clear winner of the most effective tool to increase engagement.
With video content ruling the roost, here are some tips to increase engagement:
Test out different reel formats- 15, 30, and 60 seconds.
Customize trends to your audience! Don't just jump on the bandwagon
Consistency is key- Post at least 1 reel a week
Deep-dive into insights
What's the key takeaway? 
Instagram Influencer marketing is here to stay and brands shouldn't shy away from including shorter forms of content like reels and stories as part of their strategy. Brands in the beauty, fashion, and lifestyle categories can leverage an Instagram first strategy as the platform is found to have the most engagement in those spaces.
3. Transparency & credibility: Key to future collaborations
Influencer marketing has been the go-to path for brands in the past year to reach their target audience. But having said that, 54% of influencers still collaborate with 5 brands or less in a month.
The majority of influencers (88%) prefer a long-term relationship with brands with multiple collaborations instead of a short term one.
The majority of influencers agree that they were necessary(71%)
61% of the influencers have said they will be changing their content to suit the ASCI rules.
Interestingly there is an almost even split between static content and video content for brand collabs.
Brand Byte:
Long-term relationships definitely make sense. Influencers become the defacto brand ambassadors in this case and are able to product a more variety of meaningful content over a period of time. It also keeps reinforcing your message with the influencers followers. As far as content and formats are considered it's better to have variety as it increases the canvas for conveying your message innovatively and also different people have different likings towards content formats, length, etc they prefer so it ensures you are appealing to a broad audience
-Arjun Bhatia
Senior Vice President and CMO at Matrimony.com Limited
What's the key takeaway? 
While short video formats such as reels are more successful, brands need not publish only those. It is imperative to experiment and analyze which formats are the most successful and release their campaigns using a combination of these.
Brands need to reach out to influencers to develop long-lasting relationships. Affiliation programs, discount codes, subscription boxes, etc are some interesting ways to maintain a continuous relationship with influencers.
Most importantly, brands need to forgo hard-selling. Paid content needs to be marked with either of these labels #Ad, #PR, or #Gifted in order not to mislead users. Following such ethical practices will increase brand credibility.
Going forward brands and influencers need to relook at product plugins to ensure seamless integration to achieve the desired results.
Brand Bytes: Hear it from our brands!
"I am a fan of long-term associations with relevant people. A brand needs consistency and so having some common, relatable faces appearing repeatedly helps strengthen the brand claims. Videos have the highest success rate performance-wise as well as from their ability to land messages."
-Meera Iyer,
Former Biz Head – Dr. Vaidya's (RPSG Group)
Conclusion
Consumer behavior is ever-changing, however, influencer marketing is here to stay throughout these behavioral changes as customers still buy products that are recommended to them. Due to the decreased attention span of users, brands need to communicate in an easy-to-understand and concise manner as such a format has proven to be most effective in engaging consumers.
While the algorithm of any social media app is susceptible to change,  it is vital to stay on-trend and keep updating your brand's way of communication. Follow all ethical practices, be consistent in your efforts and conduct basic hygiene checks for all your content. Through such habits, slowly but surely your brand's engagement on your social media pages will pick up. It must be noted that while your format may keep changing, what you bring to the table need not be transient. Your consumers value your brand for its own uniqueness and authenticity, so ensure to keep that a constant.
Making the right connections and developing a lasting relationship with influencers will not help you tap into their audience base and increase your reach, but create a community of people who can vouch for your brand.
The most important takeaway for brands looking to leverage influencer marketing is that: "People do not buy goods and services, they buy relations, stories and magic."
___noise___ 1000