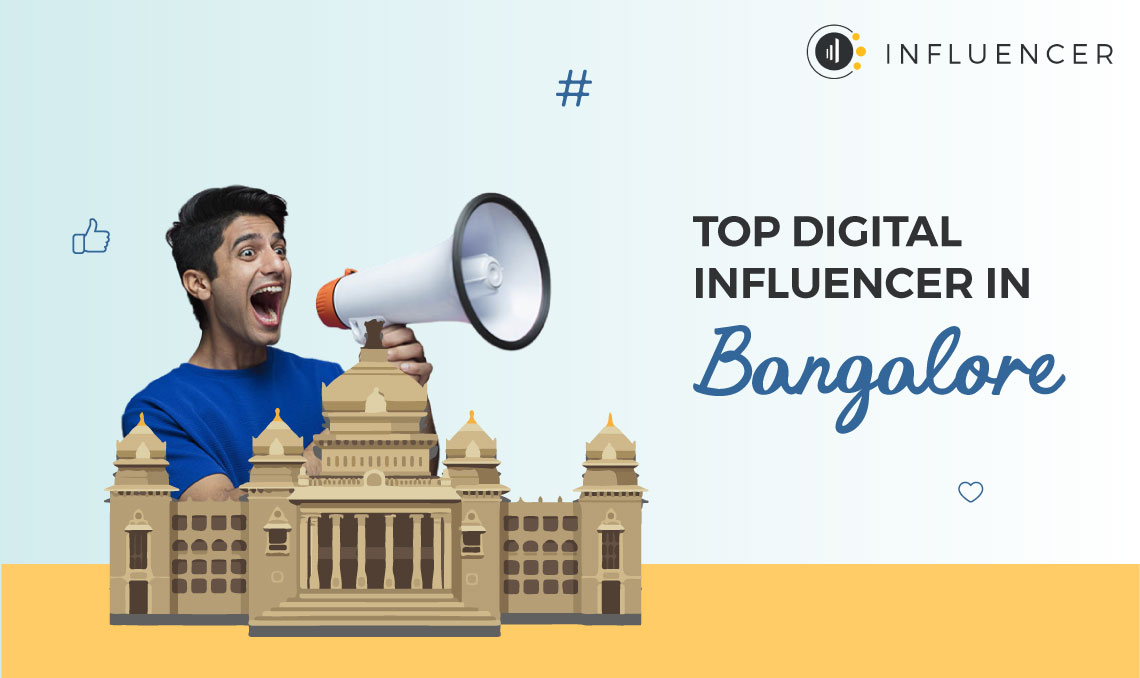 List of 10 digital influencers in Bangalore
Author: Srilakshmi Indranesan
|
Updated Date : May 4, 2022
Influencer marketing has become a worldwide trend in the recent few years. Be it through blogging or social media, marketing with the help of digital influencers has been successful across various businesses. For example, recently, the launch of Axis Bank's new initiative Thought Factory was trending on Twitter – all thanks to just digital influencers.
While some influencers are involved in this field full-time, many others have other day jobs. No matter whether they are full-time or part-time digital influencers, being an influencer is more than just a hobby – it is, in fact, a passion that they pursue seriously. With their growth in India, almost every city has a list of digital influencers of their own, including many Influencers in Bangalore. You can also read Instagram collaborations: Everything You Need to Know
We have curated a list of 10 such digital influencers who are based out in Bangalore. You can follow these Bangalore influencers on various social media platforms to get to know more about the latest trends in the relevant fields.
Here is the List of theTop Bangalore Influencers
1. Sandy and Vyjay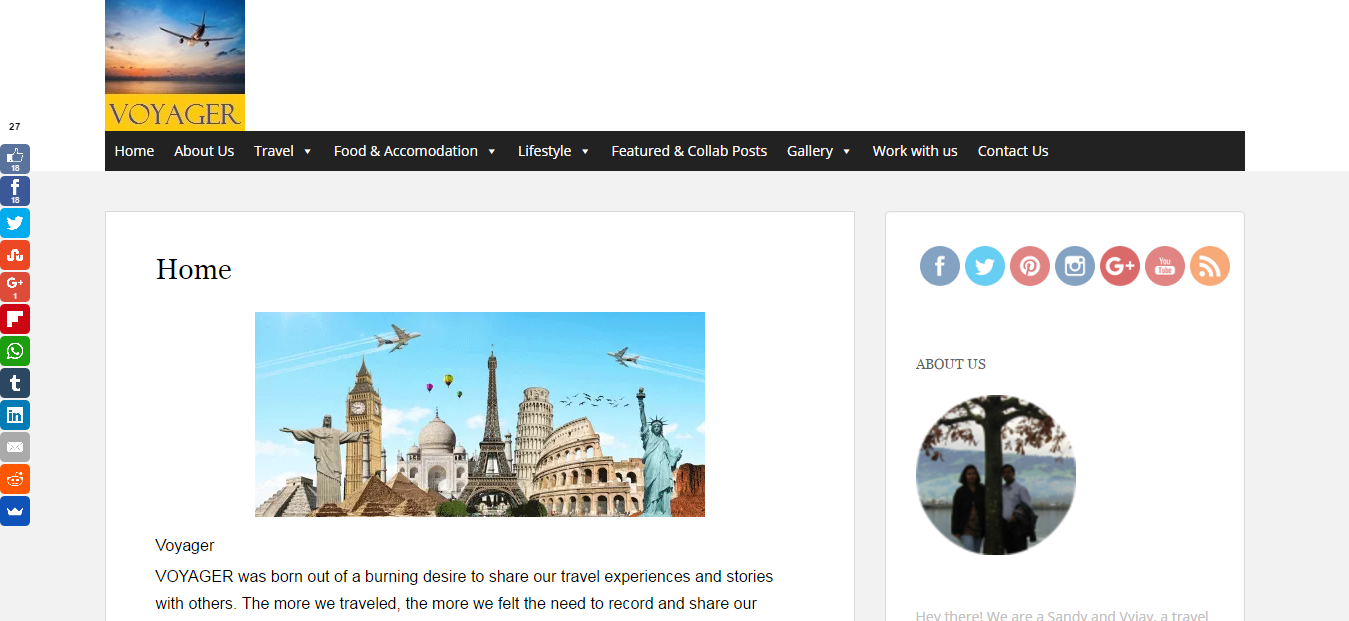 Sandy and Vyjay are popular digital influencers, known as the dynamic duo – a travel and a digital blogger couple. Voyager was born out of a burning desire to share their travel experiences and stories with everyone. Although travel remains to be their primary niche, these Bangalore influencers write blogs and share social media posts about Lifestyle, Art, Fashion, Fiction, Finance, Health & Fitness, Movies, and Technology & Apps. 
Niche: Travel
Blog: Voyager
Instagram: @imvoyager18
YouTube: Travel With Sandy & Vyjay
Facebook: Voyager
Twitter: @IMVoyager
2. Neha Bhatt Bhagat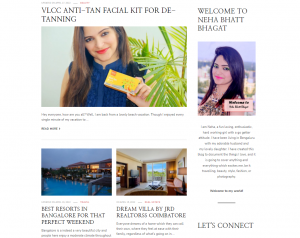 Image Source: Neha Bhatt Bhagat
With a motto to "have the courage to follow her heart and intuition," Neha is a digital blogger in Bangalore. While she was born and brought up in Delhi, she moved to Bangalore post her wedding, and since then she has been blogging about things that she loves – fashion, lifestyle, and beauty. She is a popular Bangalore influencer with over 100K followers on Instagram that entails content on different genres. 
Niche: Fashion, Lifestyle & Travel
Blog: Neha Bhatt Bhagat
Instagram: @nehabhattbhagat
Facebook: The Instyle Journal
Twitter: @nehabhattbhagat
3. Ashwini KN

Image Source: That Elegant Chic
A digital influencer who is an all-rounder – yes, that's what Ashwini is. A beauty blogger, software engineer, dancer, fitness enthusiast, badminton player, TV series lover, and shopaholic – that's Ashwini! From creating her own beauty and fashion trends to sharing recent fashion trends, she is indeed a true fashion and beauty Bangalore blogger that you must follow.
Niche: Beauty and Fashion
Blog: That Elegant Chic
Instagram: @thatelegantchic
Facebook: That Elegant Chic
Twitter: @ashwinikn
4. Alicia Souza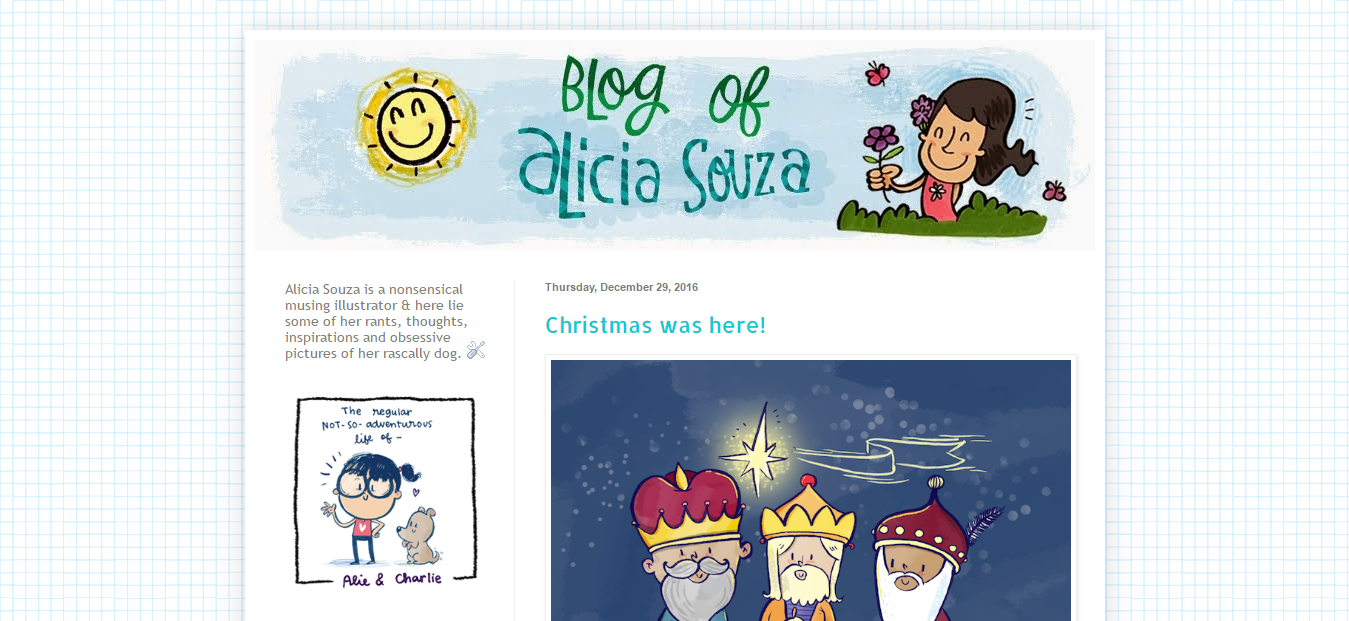 Alicia Souza has been an enthusiastic artist since a kid. However, unlike many of us who stopped drawing after a while, Alicia never gave up drawing. Right now, she is a creative illustrator and a digital blogger with some of the highest Instagram followers in Karnataka with over 400K. How cool is that? She is a digital influencer unlike any other we know. She creates and designs uber-cool illustrations for both personal as well as corporate use. From footwear to mugs, to yearly planners and more, you name them, this Bangalore blogger designs them all.
Niche: Illustration
Blog: Blog Alicia Souza
WebShop: https://aliciasouza.com/
Instagram: @aliciasouza
Facebook: Alicia Souza
Twitter: @the_aliciasouza
5. Rohini James

Image source:RJ Heart & Soul
Rohini James is a Food blogger in Bangalore who started her journey with food writing and then branched out towards health, fitness, travel, and lifestyle niches. Her content revolves around restaurants and lounges to dine at,  tips and routines to follow for healthy lifestyles, workout advice, and more. She is undoubted one of the top Influencers in Bangalore 
Niche: Food & Health
Blog: RJ Heart & Soul
Instagram: @Rjheartnsoul
YouTube: RJ Heart & Soul
Facebook: RJ Heart & Soul
Twitter: @rohini_james
6. Naved Qureshi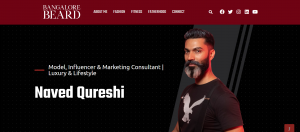 Image Source: Bangalore Beard
Being a father has not stopped this Bangalore influencer to pursue his passion. The three Fs of family, fitness, and fashion, form the foundation of his life as well as his content. This Bangalore blogger discusses his exercise routines online along with current day scenarios like street harassment, fair trade, and others.
Niche: Fitness and Fashion
Blog: Bangalore Beard
Instagram: @navedqureshi
YouTube: Naved Qureshi
Facebook: Naved Qureshi
Twitter: @navedqureshi
7. Simrun Chopra

Image Source: Noursih with Sim
With some of the Highest Instagram followers in Karnataka with over 600K, Simrun Chopa is a popular Influencer in Bangalore. She is a digital influencer unlike any other as she is a mother, a certified nutritionist as well as a Food blogger in Bangalore. She, in fact, suffered a health scare three months post-childbirth which led to her creating content in health programs and nutrition. She also runs successfully runs her health-based Bangalore YouTube channel with over 25K subscribers 
Niche: Food fitness and Nutrition
Blog: Nourish with Sim
Instagram: @simrun.chopra
YouTube: Simun Chopra
Facebook: Simun Chopra
Twitter: @SimrunChopra
8. Navya Ramesh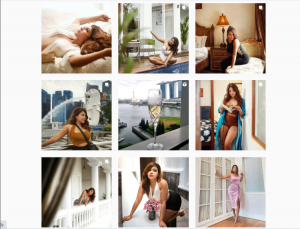 Image source: Instagram
One of the top digital influencers in Bangalore with some of the Highest Instagram followers in Karnataka (over 200K-strong), Navya is a fashion influencer and model who blogs about it. She is also the founder of Cyborg Indians which is an NFT project which aims at inclusion, representation, and reciprocation. This Bangalore blogger has extensive experience in fashion and has worked as a brand marketer for several lifestyles, tech, and fashion brands. 
Niche: Fashion
Website: Cyborg Indians
Instagram: @navyaramesh
9. Saloni Srivastava

Image source: Hustle Post Academy
Known as the popular business coach in Bangalore, this digital influencer recently came into the limelight for the HustlePost Academy, a one-stop destination for people to learn all about side hustles away from their mundane 9-5 jobs. Apart from this academy, Saloni also successfully runs her lifestyle-based Bangalore YouTube channel with over 400K subscribers as well as an e-commerce firm.
Niche: Business & Education
Blog: Hustle Post Academy
Instagram: @salonisrivastavaofficial
YouTube: Saloni Srivastava
Facebook: Saloni Srivastava
10. Harleen Singh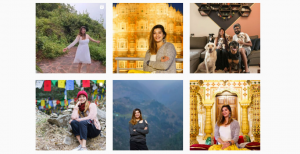 Image source: Instagram
Harleen Singh is an Instagram Bangalore influencer who started solo traveling when she was just 17 years old. She has already visited more than 13 countries and provides aesthetically pleasing travel content. She is all about good travel experiences as opposed to luxury or expensive travel. She is extremely engaging with her followers and is always answering travel queries with good tips and advice.
Niche: Food & Travel
Instagram: @wander_leen
Whether it is fashion, food, travel, or business, Bangalore's digital bloggers are leading the way with their stories,  experiences, and content. We hope you are inspired and you love our list of top digital influencers in Bangalore.
You can also read: Top 10 Instagram Fashion Influencers in India to follow in 2022
Let us know about the other top Bangalore bloggers that you follow in the comments section below.