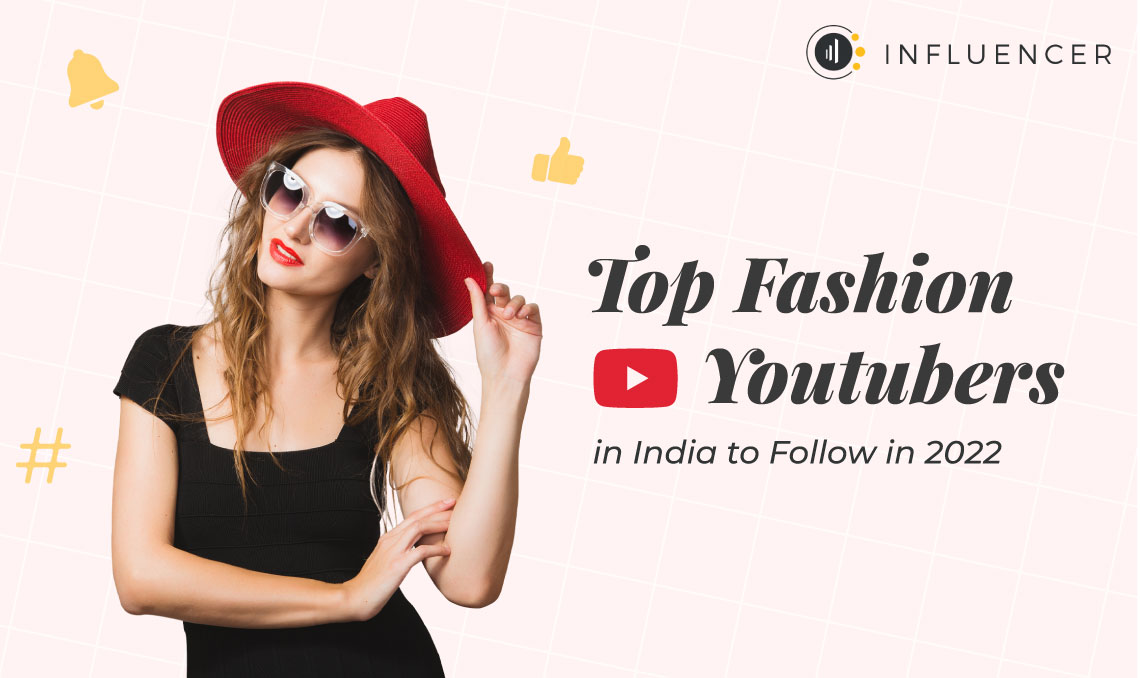 Top Fashion YouTubers in India to Follow in 2022
Author: Sayantan Rudra
|
Updated Date : April 18, 2022
A dupatta to match your favourite kurta at a cousin's wedding, a trending sherwani for Diwali or the outfit you should wear on the first day of office, men and women alike, have always turned to Indian fashion YouTubers for the best advice. Everyone has their preferences when it comes to choosing whom they want to follow in this ever-changing world of fashion. 
And, to help us pick a dress that gets a few heads turning, some reliable fashion influencers have taken charge on numerous platforms including YouTube. These Indian fashion YouTubers and influencers understand the market trends well and pass on their creative ideas and knowledge to their loyal followers.
Having said that, influencer marketing has become a huge success for many brands and the strategy has given birth to a new age of marketeers called influencers. You can find influencers in any domain. They range from e-commerce influencers to beauty influencers. It is important that you understand your product and customers and choose the right type of influencer for your niche. There are many emerging influencer marketing trends and strategies that you will need to account for when thinking of taking the plunge into influencer marketing.
Now, coming back to what you came here for. We have compiled a list of top fashion YouTubers that you should consider following to get that edge in your fashion and style. These fashion YouTubers are well aware of what is trending and have a huge influence on what fashion flourishes and what fashion becomes obsolete.
Considering this, here's a list of the Top Fashion YouTubers in India you must follow to stay trendy and classic:
Sejal, Who is from Delhi, creates fashion and lifestyle videos with some music for her subscribers to groove to. She started her YouTube channel in 2014 and is now one of the best fashion vloggers on YouTube with fun and helpful videos. She is regarded very highly in the world of fashion and style.
Komal is a fashion vlogger and is on her way to becoming one of the top fashion YouTubers in India. Her posts on fashion and style are widely appreciated and are checked out by a lot of people. She was once known for being a fashion stylist at POPxo, an online fashion community for women from where she resigned and started her journey to create one of the most reliable fashion YouTube channels in India.
Ranveer who is also known for his channel Beer Biceps is one of the most famous fashion YouTubers for men. His Hindi channel is a self-help and improvement channel where he talks about videos on fashion, grooming and personal finance. He is also alongside this the Co-Founder of Monk-E which is a digital marketing agency. He talks about communication skills and entrepreneurship as well on his channel.
Megha is one of the best fashion YouTubers when it comes to balancing entertainment and grooming personalities. She uploads all her fashion, lifestyle and vlog videos in Hindi in order to reach a wider audience of the country in an unbiased fashion. She is a very energetic and fun YouTuber who does gupshup and tips her audiences to help improve their fashion and style. She also provides some amazing fashion hacks for ladies thanks to her creative imagination and innovative thinking.
The Formal edit which is owned by Karron Dhingra is a channel that talks about budget-friendly fashion and grooming tips. Topics like men's hair loss, hair care routines and home remedies are very famous on his channel with topics like affordable and fun fashion outfits. Dhingra's helpful tips have made him one of the most loved Indian fashion YouTubers online.
Be Ghent which is a channel started by Rishi Arora is a men's fashion, style and grooming channel. It is a channel that works on giving tips and advice on improving your daily lifestyle. In 2020, Be Ghent also started his new series called "Rishi Talks Money" wherein Rishi talks about and covers all things related to finance. His style quotient and money handling tips have made him one of the top Indian fashion YouTubers in the present generation.
Trisha is one of the best fashion vloggers from Kolkata and posts videos on lifestyle and fashion where she gives grooming tips to her audience. She has one of the top fashion YouTube channels in India where she posts really good lifestyle and fashion videos which are appreciated by her vast audience. The effort she puts in to keep her content fresh has made Trisha one of the leading fashion YouTubers active today.
Kritika Khurana also known as That Boho Girl is a one-stop shop for all your fashion needs and tips. She has completed her graduation in Fashion designing and makes outfit videos, hairstyle tutorials, DIY videos and travel videos on her channel. She has some amazing fashion hacks for ladies and can be really creative in transforming old clothes into new fashion trends. Her versatile and helpful videos have helped her in creating one of the best fashion YouTube channels in India.
Shreya is one of the most famous fashion YouTubers especially if you want to learn some crazy DIY tricks for Makeup and Fashion. She is really innovative and versatile in the type of videos she creates. Her channel is known for tutorials, hacks and DIY videos. She also loves swimming, painting and travelling when she is not busy creating fashion trends with her innovative ideas.
Mayank is amongst the top fashion YouTubers for men and his channel is made solely for one purpose: simplifying men's fashion needs and lifestyle. It was established in 2014 and is a men's premium lifestyle channel. It is where you can learn about luxury, fashion tutorials and topics on best men's outfits and everything else a man would want to know.
Signing Off
Fashion and grooming are a few aspects that almost always add to your personality. However, fashion is a transient and dynamic industry.
The aforementioned fashion Youtubers ensure that all their subscribers stay up to date with these changing trends and continue developing their personalities. 
So, if you want a gradual wholistic improvement in your overall lifestyle, these fashion influencers can be a great help to realize this ambition!