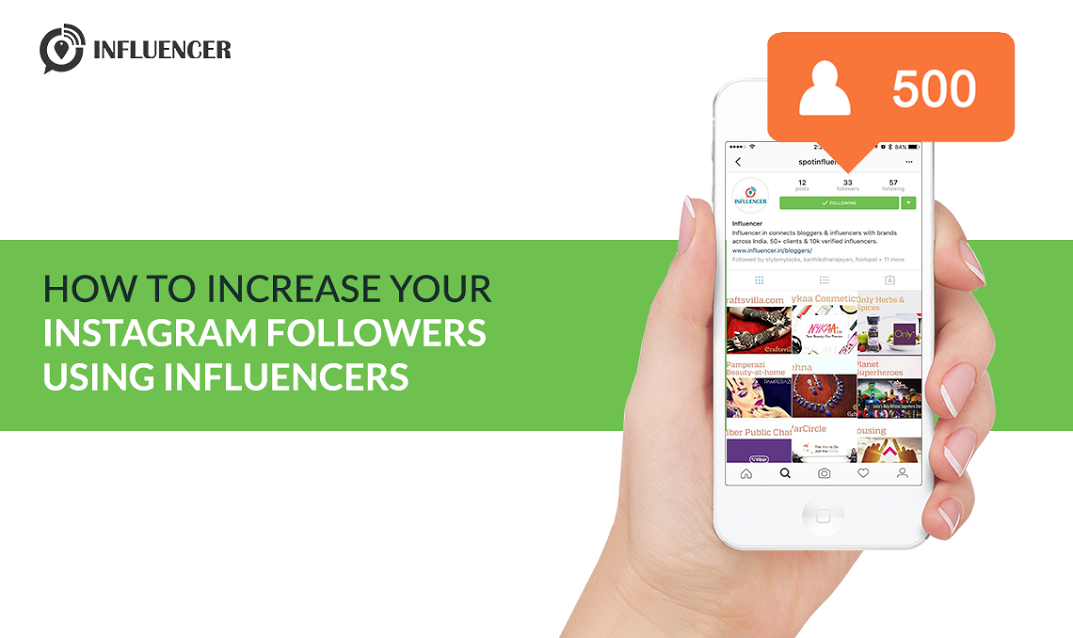 How to Increase Your Instagram Followers Using Influencers
Author: Faizaan
|
Updated Date : February 21, 2022
Social Media today has become more than just a nifty platform to connect with peers across the globe; it's now one of the most used mediums for advertising and business promotion. One such platform; Instagram, is climbing the ranks as a highly popular advertising and promotion tool, given the number of users (400 million) and the ease of usage.
When it comes to promoting a business on social media, the first thing you should try to achieve is gaining a good number of dedicated followers. While there are some ways to do that, using the help of influencers can result in faster and higher number of page likes. Here's a quick guide on how to get the most out of influencers.
Finding Influencers
Instagram is filled with influencers who periodically update their followers on trends regarding their subject matter. If you are launching a new product, say a fashion accessory, you have to dig around looking for influencers who post all things fashion related. Here are some tips to narrow down your search:
Look for influencers who have a strong audience engagement rate
Make sure their topics of discussion match what you are promoting
Check if they have a target audience similar to what you are looking for in age, gender and location
Good influencers don't simply stick to one social media platform; you can enhance your search by looking for them on:
Target searching using Google Alerts
Other platforms like Facebook, YouTube and Twitter
Bloggers who write articles similar to your product
Once you are in contact with influencers it is vital to maintain a healthy relationship with them. You could do this by liking and commenting their content on their Instagram feed and other social media platforms on which they are active.
Using Influencers
Influencer marketing thrives because of its ability to keep the audience constantly interested in latest trends and products. Lying on the crux of it is content marketing, something the advertising world is utilising more often today due to the level of trust it brings to potential consumers.
Treat influencers as potential consumers of your brand; as long as they see something valuable in what you are offering, they will be more than willing to promote it.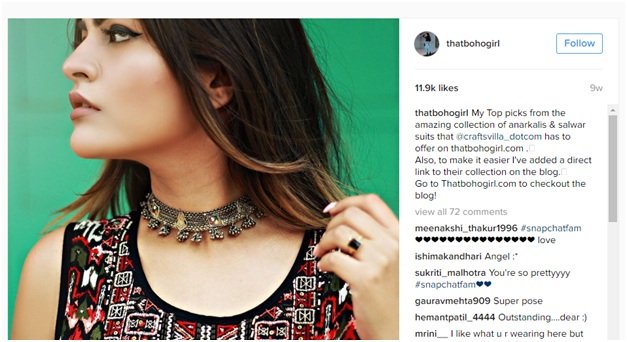 Popular fashion and lifestyle e-marketer Craftsvilla teamed with several fashion, lifestyle and beauty influencers to promote their latest offerings. The campaign was spread across many social media platforms, including Instagram. Seen above is Kritika Khurana's Instagram page, which led to nearly 12,000 likes on her post promoting a Craftsvilla product.
Learn more about the success of the Craftsvilla influencer campaign here.
Listed below are a few ways your brand can work with influencers to boost your Instagram follower count.
Hosting your page
Invite influencers to host your Instagram page periodically. Whenever you are launching a new brand or product and need to create a buzz, let influencers take over and flaunt your latest offerings. Influencers will first generate interest by announcing the upcoming host on their page, and when it finally happens, you'll see a surge of followers buzzing about on your page as they gloat over your product the influencer is flaunting. This is a win-win situation for you and the influencers, creating a cross-link of dedicated followers.
Use branded hashtags
Look at any top influencers Instagram feed, and you'll notice their clever use of hashtags. Hashtags are a great way to build a community of followers, so go about creating your own branded hashtags rather than settling with generic ones. One you've settled on a catchy hashtag for your brand, ask influencers to promote the hashtag on their page, along with showcasing your brand. You're sure to get a good number of clicks and soon enough, a community that is loyal to your brand.
The Blitzkrieg method
If you are keen to generate a high number of followers over a short period, adopt the Blitzkrieg method. Every element of your Instagram post and daily Instagram feeds must highlight your new product. Ask the same from influencers; they can provide subtle hints of your product on their daily posts, promoting an interest from their followers and ultimately increasing your followers.
Use Instagram Stories
Recently launched, Instagram Stories lets you link a series of images to form a picture story of a sort. You can also form a video series, just like YouTube Mix. What's interesting is that one picture or video in the series only stays live for 24 hrs, creating a sense of urgency for your followers. Influencers are soon going to take full advantage of this new feature, giving your brand a chance to be part of their story and stack up a whole bunch of followers.
Start a contest
Contest are still the best way to induce audience engagement on any social media platform. With Instagram, given its direct approach of photo/video and comment, creating a contest to increase your followers is made easier with the help of influencers. You can ask influencers to host a contest with giveaways being your product and increase followers by making audience tag friends.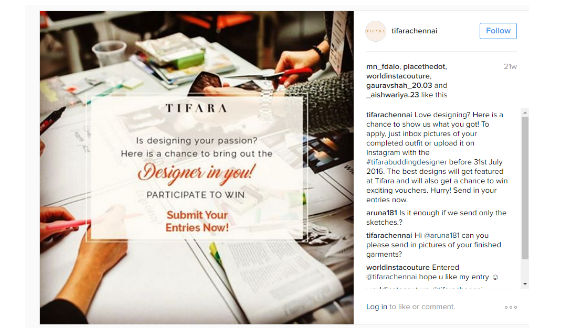 Search for relevant communities
Connecting with communities gives you a bigger chance of increasing a large, more dedicated follower base. Whatever product you are hoping to promote, you are sure to find a group of Instagrammers talking obsessively about in on their community pages. Communities are bound to have influencers within them, so get involved with their talks to prove your authenticity and then start pitching your brand to the influencers.
Share everything
Sharing builds credibility on your Instagram page. Do you have a product that could work better when merged with another product? Find influencers who are promoting that product and share their videos and photos. Doing this will notify the influencers and tingle their interest in your brand. Using your branded hashtag along with generic hashtags on all influencer shared content and also help you increase the number of followers.
Lastly, track everything! Instagram now has powerful analytics so do use those insights to improve your reach.
Just starting out with your business on Instagram? Learn how to use these Instagram tools to boost your online advertising.