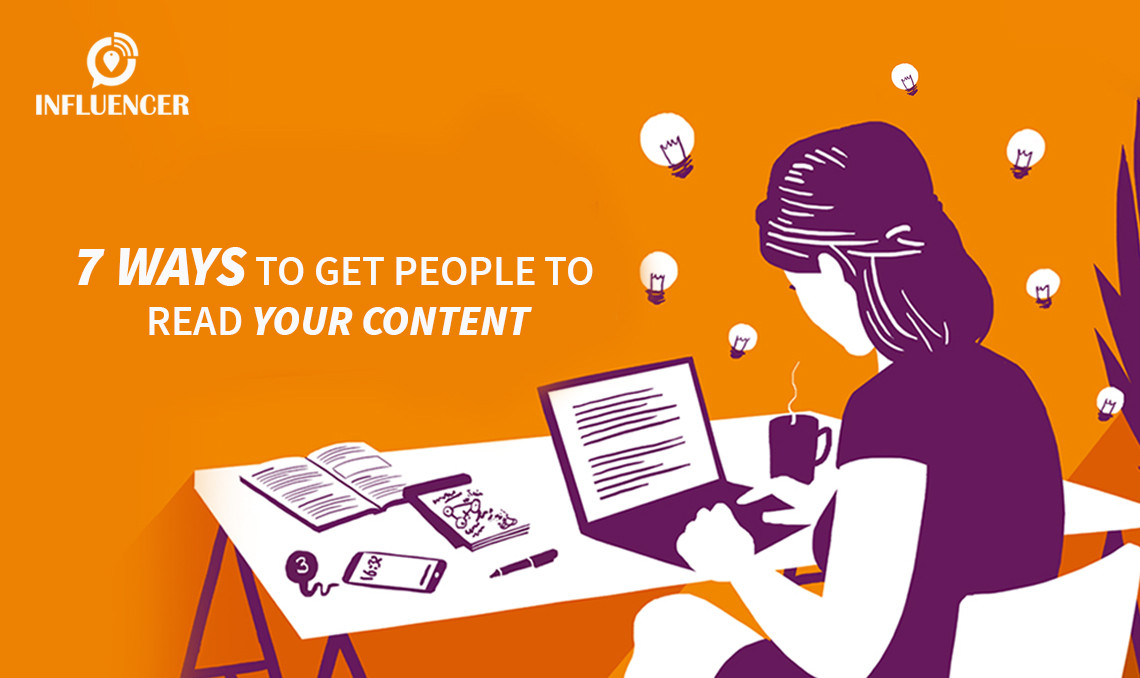 7 ways to get people to read your content
Author: Sayantan Rudra
|
Updated Date : May 15, 2023
Imagine spending long hours carefully scrutinising and perfecting your post to the last detail, but you only wait to find out that there are no comments, no tweets, no sharing or not enough likes on it. As heart-breaking as this may sound, don't let it deter your spirit. The solution to it is easier than you'd expect. 2018 has seen a phenomenal growth in influencer marketing and it's definitely here to stay. In order to be successful in this craft, you must create content that satisfies the audience's needs. With a couple of tips and tricks, you can create that perfect blog post that will attract your audience like moth to a flame. Read on for a few effective ways to get people to read your content.
Identify and understand your audience
Before creating content, you need to understand and target your audience. It will help you build a strong relationship and communicate better with them. Once you get to know more about your audience, you'll have a clear idea of what type of content they enjoy. However, sometimes content creators often focus only on topics that satisfy themselves and is of no relevance to the readers. This is a selfish practice and it may get you some traction in the beginning but you will eventually lose out on your audience. Maintaining relevance is key to content creation. Make sure you know your audience and create content that they can relate to.
Keep it consistent
When it comes to content, quality definitely beats quantity any day but it's also important to maintain consistency. Let's say you post a blog or a video every Monday and Saturday, and you've failed to post anything the next week. Your followers are more likely to lose confidence in your work because you skipped a week. It's also applicable in other cases where you don't post enough. You post something once a month which is not going to have any real value. In order to grab attention, be consistent in your work to build a level of trust and credibility with your audience.
While being consistent, one can't ignore the quality of the content. No matter how many videos or blogs you put up every week if the content is not up to the mark, it's going to lose the vote of confidence your viewers have on you. It will also pull your ratings down and tarnish your reputation. So keep in mind to put out some great content and also regularise it.
The idea is fairly simple. When you create more quality content, you'll drive more traction to your channel or site. You can then prove to google that you're delivering content that people are willing to read. As a result, your search rankings will improve giving you all the more traction.
Enhance the look and feel
According to CopyBlogger, 8 out of 10 individuals read a headline and only a meagre 2 out of 10 individuals read the rest of the piece. This means even a great article can suffer because of a lousy, uninteresting headline. Your headline should inform the reader about your topic, give value to the material and add a certain degree of entertainment and sensationalism. So put in extra time and effort in coming up with appealing and convincing titles for your posts and videos. A user only takes a few seconds to glance at your post, if your post lacks an interesting title the user is bound to scroll past it.
The numbered list strategy
Having a numbered list in your blog will improve the chances of your post getting ranked in the top. For written articles, you can employ a numbered list strategy.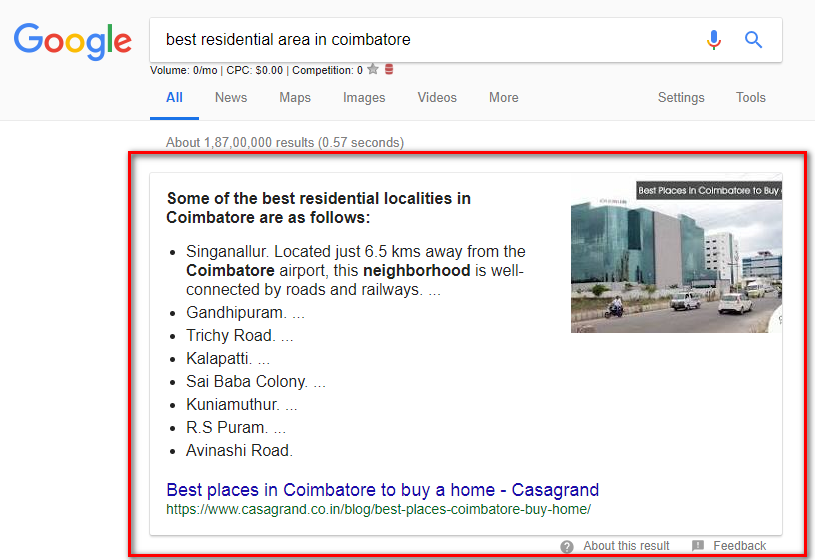 As you can see in the above picture, the Casagrand post with a numbered list has been ranked on the top. This way you have better chances of ranking on the top and eventually attract more users.
Create appealing thumbnails
In case of videos, the thumbnail is the first thing that a user sees so it's imperative to create a thumbnail that's visually pleasing, click compelling and one that represents the actual content in the best way possible.


The above thumbnail is of the channel named 'Jugaad'. As you can see, the thumbnail elucidates the title in a neat fashion and the images around clearly depict what the video is all about.
Give it a structure
Content that is long and bulky does not perform well with the audience especially with written articles. They are more likely to get intimidated and leave. Embrace the line break and avoid cluttering your post with extended, impenetrable paragraphs. Try to maximize the amount of white space so that it's more reader-friendly. Today's readers like to see highlighted text in bold, italics fonts and bulleted points. This makes the content more scannable and easy to read. Use these markers to encourage your readers to stick around till the end.
Add a personal touch to your content
Avoid using your content to directly sell a product to your followers. Instead, you can get your followers interested in a sponsored product by sharing some personal anecdotes and real-life experiences. Try to promote a brand in way that your audience can connect to it through you. This has proven to be more effective than blindly endorsing it. This way you can build a bond of trust through the authenticity of your posts. Keep in mind that your followers primarily follow you for the stories and life events that you share so weave these experiences carefully into the brand promotion. A collaboration with a brand should look a lot less like an advertisement and more like an experience.
It is also important to make clever and careful choices when it comes to picking brands. Choose brands that your audience can resonate with. For instance, if your audience is predominantly female between the age group of 20-40, then it's relevant to endorse a beauty product or new line of clothing. Make the blog about the people and not the product or brand itself.
Harness the power of visual content
In today's world, words aren't enough. Visuals increase the interest and willingness to read the post by 80%. If you wish to trigger a reaction and increase your social media engagement, you must incorporate visuals into your text. It can take your content to the next level and extend the lifespan of your post online. Statistics reveal that the brain conceives visuals 60,000X faster than any other type of content. So why shouldn't you add imagery to your content? In fact, in a study conducted by AdWeek, it was found that tweets with images received 18% more clicks, 89% favourites and a whopping 150% more retweets.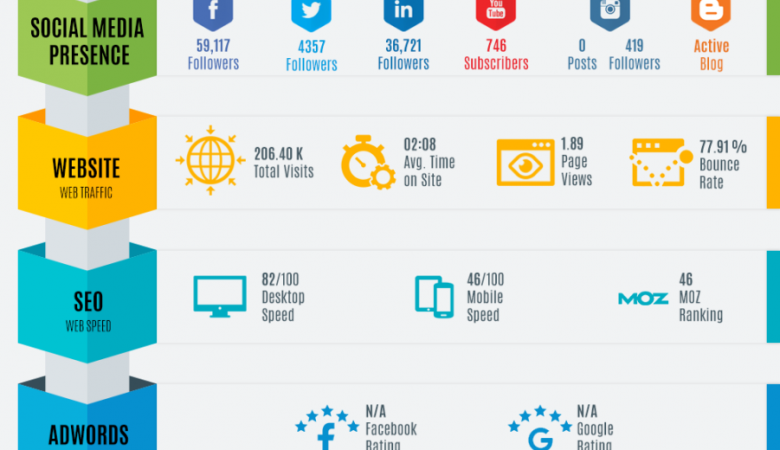 This is an infographic that Social Beat had designed for Godrej properties providing information about its digital performance in a nutshell.
There are different types of visual content, starting with something as basic as images and videos to infographics, GIFs and presentations. Thus, visual content can be utilised to earn maximum conversion and used as an asset in drawing a huge response from your audience.
Optimise for SEO
Let's say that you have a killer content but people are not able to find you on the search engine. Doesn't the whole purpose of it just fall through? To truly draw attention to what you create, your content should be optimised with a great Search Engine Optimisation strategy. By factoring in keywords that the audience largely searches for, you can increase the chances of them finding you. A few ways to ensure that is by:
Creating a relevant meta description
Stuffing the right keywords
Interlinking other blogs and parts of your website
In case of visuals, make sure you use high-quality images that are of appropriate sizes. If the image is too big in size, use a compressor tool to resize the image. This can help improve the page load speed and keep the users happy. Add captions, alt text and title text to your images so that Google understands what image you're sharing.
In addition to this, a good user experience also plays a major role in driving traffic to your content. Captivating design, clear navigation path, engaging content and site speed are some of the important factors that impact SEO and organic traffic. Take site speed for instance. If any page doesn't load within the first five seconds, the user is most likely to leave. This will in turn increase the bounce rate of the page, leaving you at a position of disadvantage. AMP pages are here to save you from this distress. Accelerated Mobile Pages (AMP) framework lets the user access the blogs or articles without having to wait for the site to load.
Promote your content
It's not enough to just publish a blog or video on your site, you need to bring it in front of people to read and consume it. With a great promotion strategy in place, you can really grab the attention of your audience. This can be easily achieved when you share your posts on social media. Content on social media can spread like wildfire. If your followers happen to like your posts, as a result, they will share it with their network of friends and family. You should also bear in mind that people will share your content only if there's a provision for it. So make your content more shareable by employing sticky buttons or a sidebar that links to the social media handles. Email marketing is also one of the most effective ways of promoting your content. It's a more targeted approach as you send out emails to people who you already know are interested in your content.
In today's digital world where the internet is overcrowded with posts and videos and with everyone trying to stand out, you can't bear the risk of getting ignored. These above tips will help you drive traction to your content and reach a higher level of engagement with your audience.