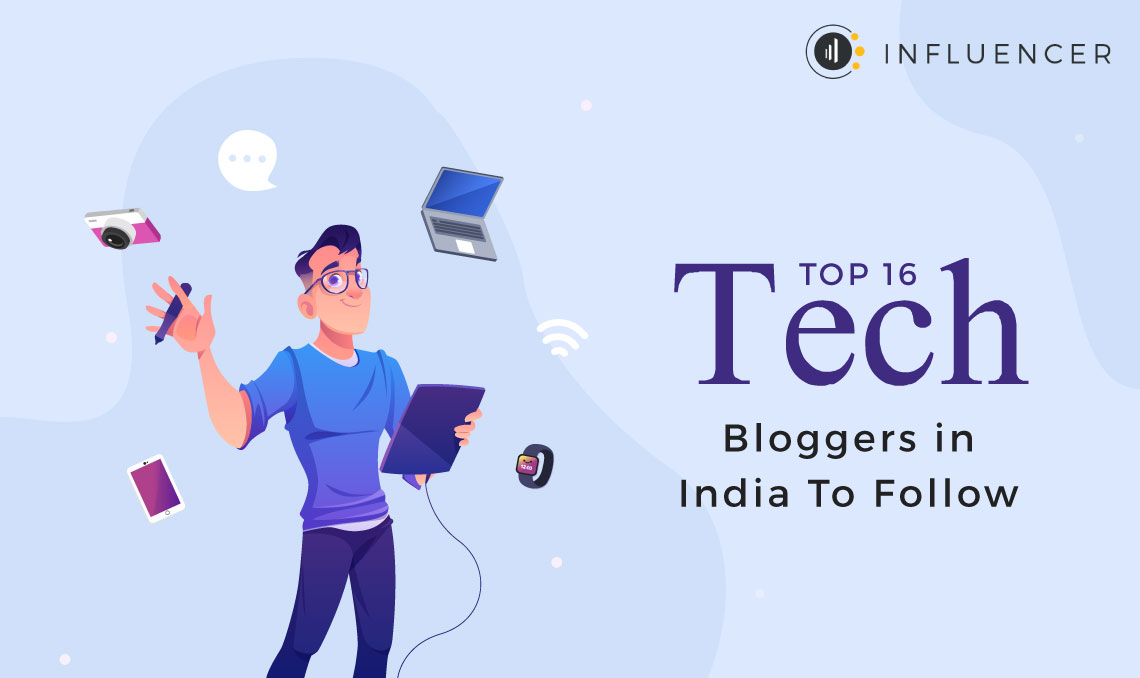 Top 17 Tech Bloggers in India To Follow
Author: Rithika Kankaria
|
Updated Date : March 17, 2023
Do millions of neurons go haywire inside your brain when you chance upon a new breakthrough in technology? Do you scrounge the internet looking for the latest tech trends? Do you want to know about tech gurus who can fetch you all sorts of insights?

If you are thinking  'yes' while reading the above lines, you've come to the right place. We have designed a well-curated list of tech bloggers in India, who you should be following if you aren't already.
The following list of technology bloggers has been handpicked based on their frequency in blogging, quality of content, web ranking, Domain Authority and their expertise in their niche of blogging.
 List of the Best Technology Influencers in India
1) Naman Pal – side_end_developer
A full stack developer and react developer by profession, Naman Pal is one of the finest technology influencers in India. He is extremely passionate about sharing valuable infotainment content and hacks related to technology, gadgets and accessories in very simple, crisp and engaging. He aims to enable his followers to use tech efficiently. 
His Instagram page @side_end_developer__ is known to be one of the top tech blogs in India. If you want to know more about this fintech influencer, you can contact us!
2) Shradha Sharma – YourStory
One of the top female tech bloggers in India, Shradha Sharma is known for her globally recognized website YourStory.com, India's largest media-tech company which was earlier started as YourStory.in in 2008.

YourStory is a leading Internet startup house with the aim of bringing out the untold stories of entrepreneurship in India. Not just entrepreneurs but also investors, innovators, leaders, success stories, and change-makers take her followers through their personal experiences and life-changing journeys.
Shradha's knowledge and ability to forecast trends have made her one of the best technology influencers in the country.
3) Amit Agarwal – Labnol
Starting his journey as a tech blogger in 2004, Amit Agarwal personifies passion in technology and is known as the first Professional Technology blogger in India.

Amit is a former IIT graduate who later quit his job at Goldman Sachs and founded Labnol. Being one of the top tech blogs in India, that mainly focuses on How-to-Guides that help readers in learning new technology. 
He also runs the India Blog School, a non-profit initiative that aims to spread the blogging culture in India. 
Awarded by Microsoft as the "Most Valuable Professional" for five years in a row and also mentioned by The Straits Time of Singapore as one of Asia's Blog stars, Amit is definitely one of the top tech bloggers in India today.
4) Raju PP – TechPP
An Electronic and communication Engineer graduate from Bangalore, Raju PP quit his job as a Technical Specialist at Infosys to follow his passion for blogging in 2009. 
He is the founder of TechPP, one of the top tech blogs in India that focus on all tech aspects ranging from SEO, Rank Tracking, and Web Hosting and also shares tech guides on how to make technology more user friendly. 
TechPP is listed amongst the top web entrepreneurs, making Raju PP one of the top influential tech bloggers in India.
5) Abhijeet Mukherjee – GuidingTech
Founder and CEO of Guiding Media, Abhijeet Mukherjee is also the founder of GuidingTech, a premium tech content destination enabling readers to make purchase decisions regarding new tech in market, provide solutions to computer problems, introduce new apps and tools to readers and publishing in-depth tech guides and insights on all kind of consumer tech topics.  
Not just tech blogs, Abhijeet also has two successful YouTube channels – GuidingTech and GT Hindi, making him a technical YouTuber. He's definitely one tech guru that should be on your radar.
6) Harsh Agrawal – ShoutMeLoud
With close to 1 million subscribers, ShoutMeLoud launched in 2008 is a great platform for bloggers focusing on innovation in technology, SEO, and world-changing design creating an impact on businesses. 
What started out of passion is now an established career for Harsh Agrawal, the founder of ShoutMeLoud who is an engineering graduate by education, and a technology influencer and blogger by profession. 
Harsh shares insights, news, tools, and how-to guides for new bloggers to improve content marketing and corporate storytelling.
So, if you are an aspiring blogger, or want to be the first to know about any new tech in market, ShoutMeLoud has a curated list of the top tech blogs in India.
7) Sandeep Jain – GeeksForGeeks
An IIT Roorkee alumnus, Sandeep Jain is passionate about solving problems related to systems programming. His portal was developed to provide informative, comprehensive and well-explained solutions for a variety of questions related to programming, algorithm, and interviews. 
Apart from having founded and successfully running GeeksforGeeks, this technology influencer has worked as an assistant professor with JIIT Noida and DE Shaw and Co. as a software developer. He is one of the best tech bloggers in India with great insights.
8) Prabhudesai – Trak.in
Trak.in is one of the leading Indian telecom blogs started in 2007. Arun Prabhudesai the founder of Trak.in, talks about telecom, internet, and mobile in his tech blog covering all aspects of business and modern culture making it a go-to place for valuable content. 
The ideal reason behind this is to keep his readers in touch with the latest Indian Business and startups.
9) Ashish Sinha – Next Big What
An IIT & IIM graduate, Ashish Sinha has a work experience of more than 7 years prior to his decision of following his passion which is the consumer industry focusing on product management.
His love for technology is what led to the development of NextBigWhat, which is slowly becoming one of the top tech blogs in India that supports indigenous start-ups and businesses. It is also a go-to place for tech enthusiasts who want to be updated on every new technology in market. 
From news to reviews, tips to tricks, hacks to updates, this tech blog has it all, making him a must-follow and amongst the best tech bloggers in India.
10) Geetesh Bajaj  – Indezine.com 
Indezine, founded in 2000 by Geetesh Bajaj, is a PowerPoint focused studio and content development organization that specializes in presentations, templates, storytelling, and design for Microsoft Powerpoint and other presentation software.
Geetesh, one of the top tech bloggers in India, was also awarded the Microsoft PowerPoint MVP. He has been designing and training with PowerPoint for more than two decades. 
He aspires to improve users' presentation slides by adding abstract and slide elements like consistency, graphics, etc.
11) Imran Uddin – All Tech Buzz
Imran started blogging just to pen his thoughts on different topics; however, gradually, he understood and learned the crux and key elements of blogging, and is now one of the most sought-after tech bloggers in India. 
He writes on the latest consumer technology breakthrough, consumer electronics, and mobile technologies highlighting tech and human interaction on a daily basis. 
An entrepreneur by profession, he owns All Tech Media Pvt. Ltd, which offers Web Development, Blogging, and other SEO related services. 
He truly defines what one of the best technology influencers should be like through his insightful works on his blog site, All Tech Buzz.
12) Jashpal Singh – Save Delete
Found in 2009, Save Delete shares new and unique Internet tips and tricks. Jaspal Singh, one of the leading tech bloggers in India, is skilled in design and coding. 
Apart from the basic internet tips, he also shares how-to guides and advice on what software is worthy and what is not.
13) Srinivas Tamada – 9lessons
9lessons is a must-follow blog for anyone passionate about programming and learning new technology. 
Srinivas is known for his comprehensive tutorials on various aspects of programming, web designing, and online coding be it CSS, Ajax, Jquery, etc. 
Blogger and entrepreneur, Mr. Tamada is a self-taught programmer and is one of the best technology influencers who invented WallScript, a social networking service built using PHP, JQuery, REStful, Oembed, PDO, and OAuth helping understand the network better. 
14) Pradeep Kumar – HellBound Bloggers
Chennai-based Pradeep Kumar started HellBound Bloggers when he was only 17. 
This blog is especially valuable to those who want to learn about blogging or content marketing as it comprises insightful blogs on SEO, WordPress, Social Media, useful technological tools, business tips, and eCommerce, among many others. 
HellBound Bloggers is one of the most well-aligned and UX-friendly blogs that aims at imparting information through tech guides to empower technology influencers, bloggers, as well as tech freaks.
15) Rajesh Namse – TechLila
Founded in 2012, TechLila is an encyclopedia for the latest news on any new tech in market, providing a lot of how-to guides, tips, tricks, hacks, and insights. 
Passionate about SEO and blogging, Rajesh Namse has 5 other people contributing to the blog primarily in various roles. This blog also accepts relevant blog posts to guest authors.
16) Ankit Kumar Singla – Blogger Tips Tricks
A full-time blogger, an SEO guru, technology influencer, and a part-time web designer, Ankit Kumar Singla is one of the youngest tech bloggers in India. 
Blogger Tips Tricks, as the name suggests, mostly contains technical tips and tricks for other technology bloggers to read and follow. His tool recommendation blog posts are quite useful and widely shared.
17) Ankit Prakash – Sprout24
Founder of Easy Sendy and Co-founder of Aritic, a marketing automation platform with artificial intelligence, Ankit Prakash, who blogs at Sprout24 is an entrepreneur and a full-time digital marketer. 
His blog contains posts about anything and everything you need to know about digital marketing. With a simple and elegant look, his blog covers major aspects of digital marketing like Google Adwords, Email marketing, and so much more.
Signing Off
If learning new technology or staying on top of tech trends is something you enjoy in your leisure time, then this aforementioned list of the top 16 tech bloggers in India is for you! 
Do you follow these technology influencers? Share with us some of your favourite technology bloggers in India in the comments section. Also, check out our list of the top automobile and sports bloggers in India. If you want more insights on how to leverage influencer marketing and digital marketing for your brand, please read our Influencer Marketing Guide.