Best Home Décor Bloggers To Realize Your Dream Home Designs
Author: Pooja Manoj
|
Updated Date : April 18, 2022
Houses become homes when we enrich them with our care, love and attention. While browsing through an array of design patterns and decorative ideas can be fun, our interior decor projects get especially frustrating when our ideas fail to match budgets. This is when home decor bloggers come to our rescue! With an extensive range of artistic ideas, budget fitting renovation models, designs and suggestions, we bring to you some of the best interior design blogs in India!
Esha Gupta – Design Pataki
Esha Gupta is an interior designer by profession and is based out of Bombay. Her blog Design Pataki is more like an online magazine specially curated to provide information on modern classic interior designs.

Esha Gupta has created her blog as a discussion forum where people who have an inclination towards art and décor can share their knowledge and expertise with the other readers of the blog. Through Design Pataki, Esha aims to provide a fresh design perspective to her audience.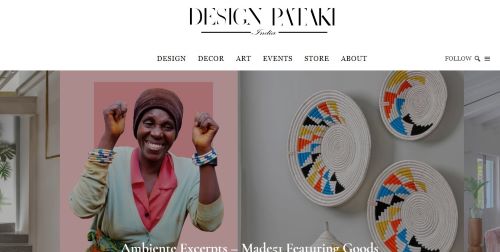 Sharon D' Souza – The Keybunch
Sharon D'Souza's The Keybunch is well known for its eco-friendly and sustainable Indian style interior design that helps in preserving the environment and also accentuating the aesthetic of your homes. What is so unique about 'The Keybunch' is that the content of the blog is highly innovative and creative. Her fun section on DIY home décor ideas is so interesting that you tend to fall in love with her beautiful designs almost instantaneously.
Another striking highlight of her blog is the 'Décor Products that got my Eye This week' where you can explore the newest Indian style interior design ideas in the market.
Bhavna Bhatnagar – An Indian Summer
If you want to get your daily dose of design inspiration, check out the stunning blog 'An Indian Summer' curated by Bhavna Bhatnagar. The most striking aspect of this blog is its attractive visuals. Bhavna's vibrant aesthetic sense, evident from the layout and design of her blog, makes her one of the best home decor bloggers in India. An important trait of Bhavna's blogs is that apart from reminiscing about warm summer days, it also enlightens you with some lovely home décor ideas from across the world, that fit right into your budget while exhibiting class.

Rukmini Roy
–
Trumatter
Rukmini Roy is one of those home decor bloggers who manages to blend traditional furniture seamlessly with a rustic modern interior design. If you are looking for tips on beach house living, head out to Trumatter to give a soothing vibe to your home.

Trumatter indeed has an attractive layout and design with an exquisite range of home décor photographs. You will enter into a world of fantasy with some breezy pictures of rustic furniture, distressed cool blue pillows and cushions with bright coloured curtains. Trumatter is also well known for its Indian interior design ideas that convert your apartment into a countryside farmhouse.

Sudha Seenivasan, a certified Interior Designer from Rutgers University, delights her readers with her unique and unconventional design techniques. Be it traditional, chic, contemporary, or a modern classic interior design, aegam always manages to suit your taste and personality.

Sudha's extensive skill set in the fields of art, sketching, travelling and photography make her one of the go-to home decor bloggers in the community.

Having said that, the most striking aspect of 'aegam' is that you can explore a plethora of design trends from across the world that can cater to all your functional and aesthetic needs. Sudha is based out of Chennai and owns an interior design company with the same name.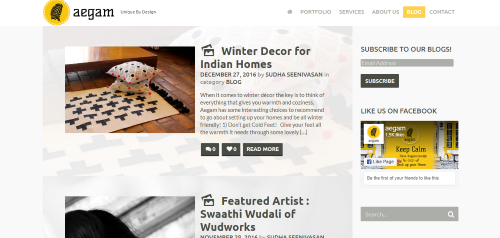 Rohira Khira – AA Living
Rohira Khira is one of the most successful home decor bloggers in India. In her blog AA Living, she offers a wide array of design trends that exudes class aligned with modern trends.

Based out of Mumbai, Rohira Khira is the owner and head designer of her design firm with the same name AA Living.
AA Living is one of those select few interior design blogs in India that can help you break through the shackles of a budget crunch, thanks to the simple tips it provides on how to fuse creativity and quality to enhance the aesthetics of any kind of home décor.

She won the Instagrammer of the Year in 2016 for her handle @aa.living as part of the Asian Paints Indian Décor Influencer Awards.

Rajee Sood – rajeesood.blogspot.com
Rajee Sood is one of the most experienced home decor bloggers in the country who started off as a blog and is now a luxury boutique home store.


Her blog, rajeesood.blogspot.com empowers her readers with some across-the-world decor styles that can seamlessly fit into Indian interior design ideas.

Apart from home décor tips, Rajee also helps her readers with elegant design products, textiles and numerous accessories to complement these designs.
Disha Mishra Dubey – Design Decor and Disha
Disha is one of the few home decor bloggers who helps people realize that home decor need not be a herculean task managed by an army of helpers. A one-woman army, Disha encourages her readers to implement the simple and easy-on-your-wallet steps to make your house a home.
Her blog, Design Decor and Disha was started by her to share her journey in transforming her first apartment.
Design Decor and Disha is one of the few interior design blogs in India that motivates its readers to take charge of beautifying their homes and exercise independence through the easy design ideas she brings to the table.
Signing off
Designing our dream homes can seem like a far-fetched goal for most of us, be it due to shortage of time, budget constraints, or even the lack of appropriate ideas.

However, there are some amazing home decor bloggers who strive to help us realize these dreams. Be it aesthetic, modular, unconventional or a rustic modern interior design, you will find them all in the blogs mentioned above.


This year, make sure you consider influencer marketing campaigns as one of your key digital marketing initiatives to expand your audience and drive sales. Sign up on Influencer.in and partner with some of the well-known home décor bloggers in India. You can also check out our list of top personal finance bloggers to manage your budgets and best real estate blogs in India to lay down the foundations for your dream home designs.