8 Fail-Safe Strategies to Get Quality Backlinks for SEO
Author: Rhea Jain
|
Updated Date : February 21, 2022
Link building is one of the best ways to improve your website's search rankings since a large percentage of Google's ranking factors depends upon how many backlinks your website has. In the past, many websites used unethical link building practices like buying backlinks or using questionable websites created for the sole purpose of providing backlinks. However, using these tactics today will cause your search result rankings to plummet at best and get your website penalised by Google at worst. This is why, your focus should not be just to get any links for your website, but actually build high-quality backlinks. When your website has backlinks from trustworthy websites, it increases the domain authority of your own website and significantly improves your search rankings. Acquiring quality backlinks for your website can take some time and effort, however, it is definitely worth it. Here are a few ways you can start getting quality backlinks and improve your website's SEO.
1. Focus on Creating High-Quality Content
If your sole objective is to get backlinks to your website, you might not end up getting any at all. To get high-quality backlinks, you need high-quality content. Unless your content offers something unique, trustworthy websites are not going to want to use it for reference and link back to it. Ignoring quality of content while chasing after backlinks is one of the worst content marketing mistakes you can make. One of the best ways to ensure that your content stands out from the rest is by doing some basic competitor research. Enter the keyword of the topic you want to write about in Google and analyse the first 10 results which show up. For Google to rank them on the first page, these websites must have excellent information and quality backlinks. Once you go through these pages, you need to focus on creating content that is 10x better than what is out there. This means doing more research, finding points these websites have missed out, writing longer content and presenting it in a unique way.
2. Promote Your Content To Relevant Audiences
Once you have excellent content, the next step is to amplify it to help it reach its full potential. The obvious benefit of promoting your content is higher website traffic, but if you do it smartly, you might even be able to earn quality backlinks this way. If you have mentioned specific bloggers, websites or tools in your post, you can reach out to those people directly, letting them know that you have. Make sure you keep your tone conversational and friendly because if your message seems hungry for backlinks, it might backfire on you. Many people are grateful for the recognition and are very likely to link back to your website as a sign of appreciation.
3. Contribute Through Guest Posts
Guest posts are one of the most popular and effective ways to earn backlinks, however, if misused, they could end up doing more damage than good. Many websites submit badly written content to a number of different sites, just for the purpose of getting backlinks. Predictably, Google can see through these tactics and might end up penalising websites using this tactic. But does this mean you should avoid using guest posts for backlinks? Luckily, when used ethically, guest posts can still help you earn quality backlinks and increase your domain authority. The first step to doing this is to scout for relevant websites or blogs to which you can meaningfully contribute. You should also ensure that these websites have a domain authority or backlinks from them won't be of much value. This is why networking as a blogger is so crucial because it can help develop mutually beneficial relationships. The next step is ensuring that the content you are contributing through your guest post is well-written and informative. Quality backlinks go hand-in-hand with excellent content.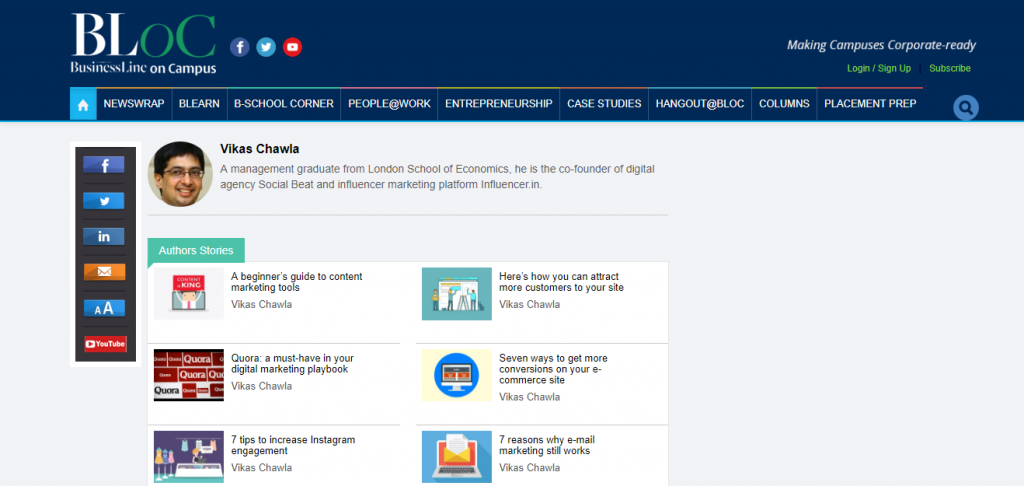 Placing a link to your website is the ultimate aim of guest posting and it needs to be done skillfully. The standard tactic is adding the link in the author's 'About Me' section, however, there are more ways to do this. Linking back to a relevant post on your website within the content of your guest post is far more effective as Google places great importance on contextual links. At the same time, make sure your anchor text is relevant to the overall subject of your post as Google can penalise you if the anchor text seems forced or keyword-stuffed.
4. Take Advantage of Broken Links
Have you ever clicked on a link within a post only to land on an Error 404 page? Broken links can be annoying as a reader, but are a goldmine of opportunities if you're searching for backlinks. Many websites can shut down or change their domain name, while websites which referenced them in the past do not update or remove these broken links. Broken links can also negatively affect these websites still linking to non-existent pages because Google will not be able to crawl these websites properly. To fix this, pages need to regularly search their website for broken links and replace them with new, working links. You could make this task easier for these websites and earn quality backlinks in the process.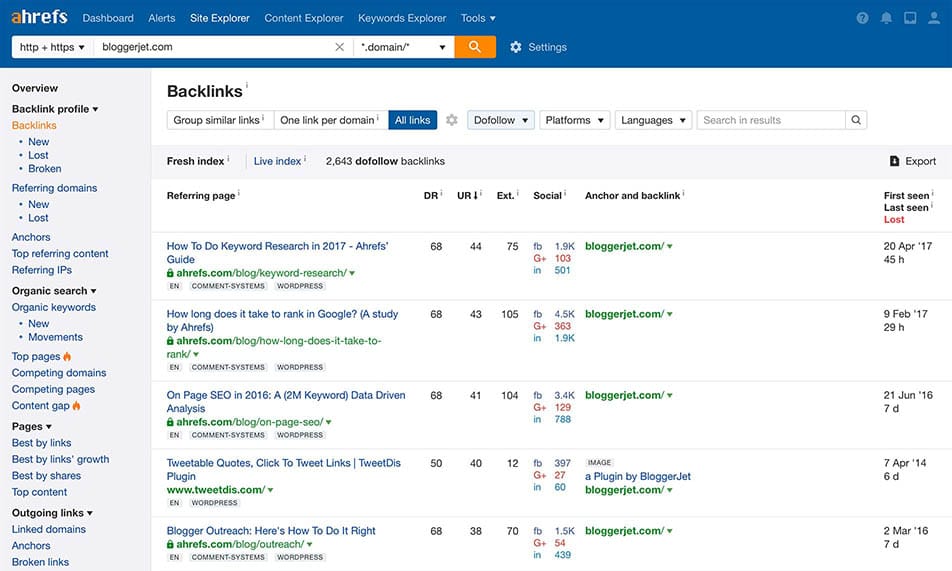 To do this, you will first need to identify websites which have broken links, research into what content these broken links originally led to and then use similar posts on your websites to replace the broken links with links to your website. Once you identify websites that have similar topics to what your website is based on, you can easily find broken links in them through an SEO tool such as Ahrefs. After you paste the URL of the website into the search bar, filter the results through 'outgoing links' and 'do follow' links. Once you find a relevant link that you have existing posts about or can create a new one for, click on it to visit the website. This will give you a clearer idea of what information the website post and the broken link was about. If you're lucky, you might already have a blog post that deals with the same exact topic. If you don't then you can always write a new post that is centred around a similar topic. Once this is done, you can reach out to the site owner, let them know about their broken link and offer your own post for them to link back to instead. Most times, site owners will be glad that you identified their broken links and will link back to your post in return.
5. Compile a 'Resource' Post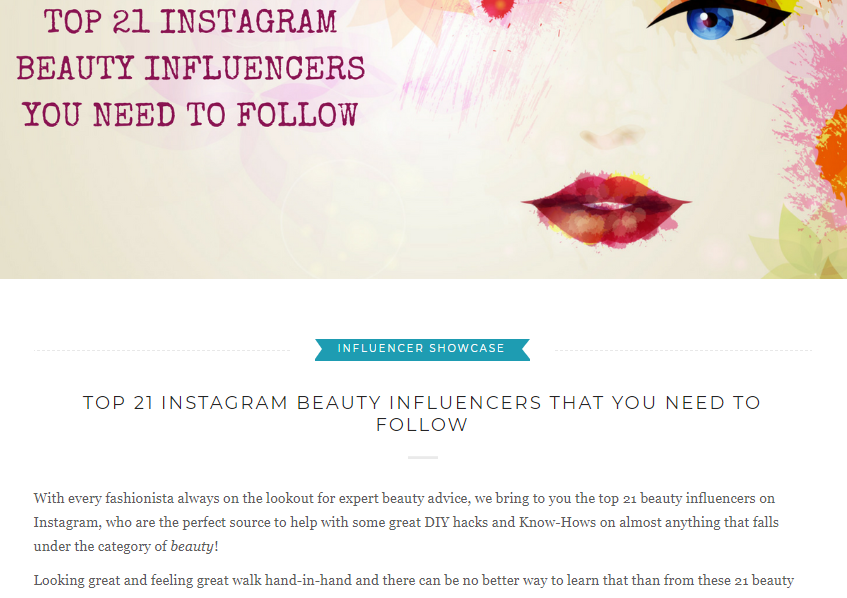 Sometimes you need to give backlinks to get backlinks. Resource posts are compilation posts such as 'Top YouTube Influencers in India' or 'Top 21 Instagram Beauty Influencers'. If you're lucky, you might get featured on one of these posts and earn your website a quality backlink. However, even if you aren't, you can still use compilation posts to your benefit by creating one yourself. When you write a resource post naming many different websites or bloggers, you can get in touch with them and let them know about it. These bloggers will want to let their readers know they've been featured in your post and will, therefore, link back to your website. In this way, by providing other websites backlinks, you can earn multiple high-quality backlinks through a single post.
6. Find Mentions of Your Website on Other Blogs
Many times, even if other writers quote you or mention your brand, they don't always link it back to your website. Scouting for unlinked brand mentions can be a great way to gain quality backlinks. You can easily find these mentions using various SEO tools like Mention.net. Once you come across unlinked mentions, you can reach out to the person who wrote the article with a friendly email thanking them for mentioning you and requesting them to add a link to your website as well so readers would be able to find you easily. Most times, writers will be very happy to add a link to your website because they already have a good impression of your website.
7. Stay Active on HARO
HARO (Help a Reporter Out) can help you get excellent backlinks from news websites which generally have a very high domain authority. To start gaining backlinks through HARO, you will first need to register yourself as a source and mention your areas of expertise. When reporters need a credible source for a news article, you will receive emails mentioning exactly what they are looking for. You can respond to them by providing your credentials along with helpful information that they can use. Once reporters choose to use your information, they will link back to your website in their article. By regularly contributing through HARO, you can gain several quality backlinks for your website.
8. Create a Catchy Infographic
Everyone loves a good infographic! When you publish an interesting infographic, other people will want to use it on their website, giving you plenty of backlinks to take advantage of. The first step to creating a high-performing infographic is coming up with a great idea that people will actually find useful. Once you have your basic concept and content, you can start creating a visually appealing infographic. Freelance graphic designers usually don't charge a lot for creating infographics, but you can also get it done for free through infographic tools on the internet. When you have published your completed infographic on your website, you can start sharing it by submitting it to various image sharing platforms like Pinterest and Imgur.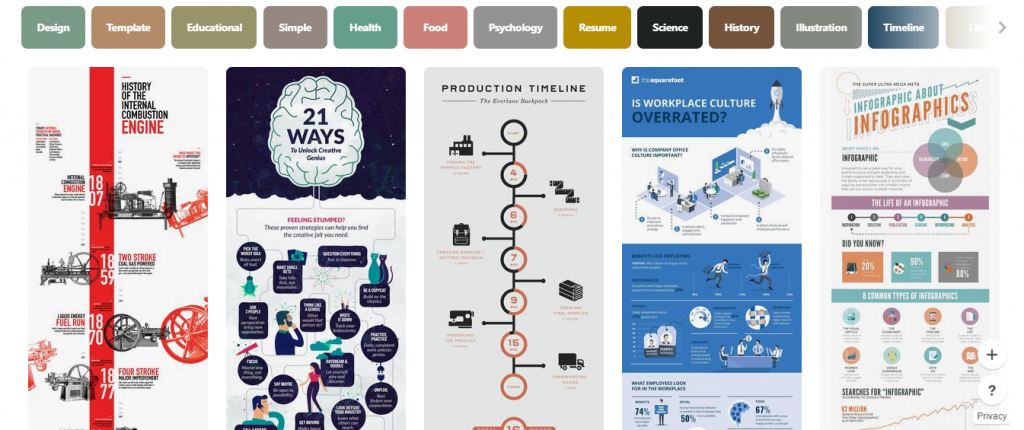 You should also personally reach out to relevant bloggers letting them know that you have created this infographic which they can use on their website. To find out whether people have used your infographic without you knowing about it, do a simple image search on Google and see which websites your infographic features in. You can then send an email to these writers thanking them for using your infographic and requesting them to link back to your website as well.
With these tried-and-tested link building techniques, you can earn high-quality backlinks to your website, improve your domain authority and ultimately, increase your organic website traffic.
___noise___ 1000