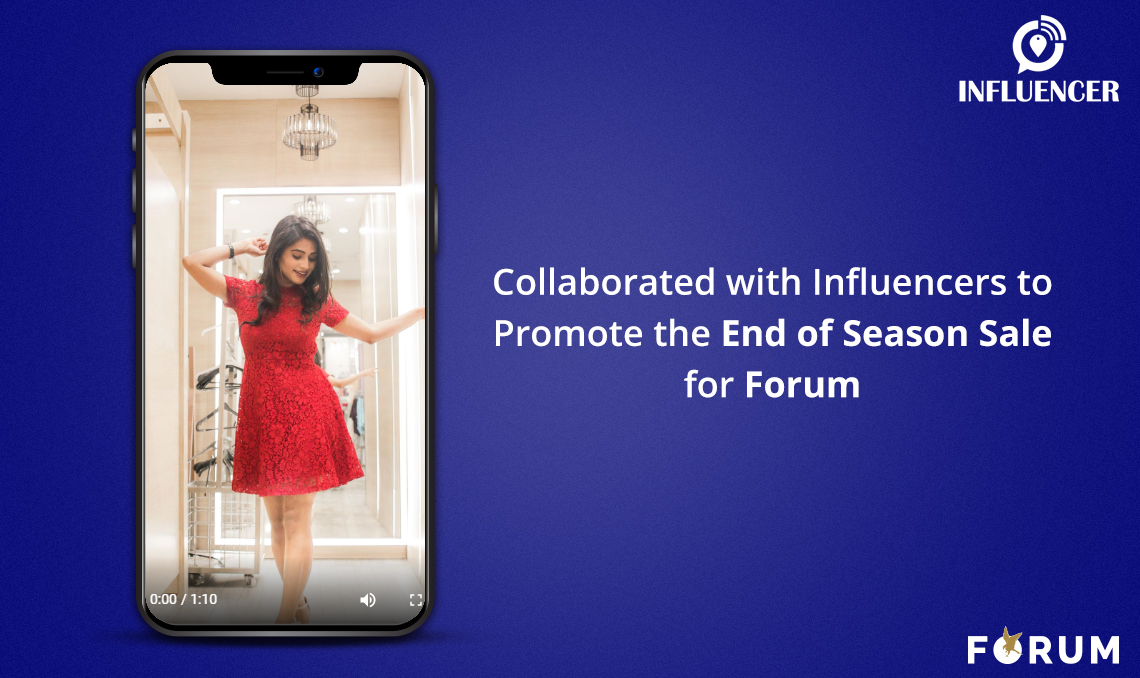 Collaborated with Influencers to Promote the End of Season Sale for Forum
Author: Rithika Kankaria
|
Updated Date : February 21, 2022
Forum Shantiniketan is one of the most happening malls in Bangalore and has always come up with an array of innovative activities to engage with their customers in the form of contests, events, shows, or be it a challenge. They approached us to help them promote their End of Season Sale and create a buzz around the event.
About the Campaign
The #2KChallenge was one of the most challenging, yet exciting campaigns that stirred up enthusiasm among all sections of customers. The campaign was launched by Forum Shantiniketan, Bengaluru to unveil the End of Season Sale (EOSS) on various categories to inspire shoppers with trends and offers with over 150+ brands, under one roof that rolled out in the month of February. The campaign idea was seeded to unleash the joy of shopping all fashion accessories within Rs.2000 only. The company built brand recognition around a hashtag structure and a careful selection of fashion influencers with an Instagram marketing strategy.
 Working with social media influencers
Have you ever wondered how to look upscale when you are on a budget? This campaign tempted consumers to refresh and revamp their closet with a challenge to look fabulous on a small budget.
With social media being one of our go-to methods of communication, the influencers' social currency has never been stronger. To create a buzz on social media platforms, Forum Shantiniketan collaborated with fashion influencers like Prateeka Kamath and Rubee (with over 25k+ followers on Instagram) for the ultimate fashion sale and made the campaign more fun and exciting by capturing their shopping trip.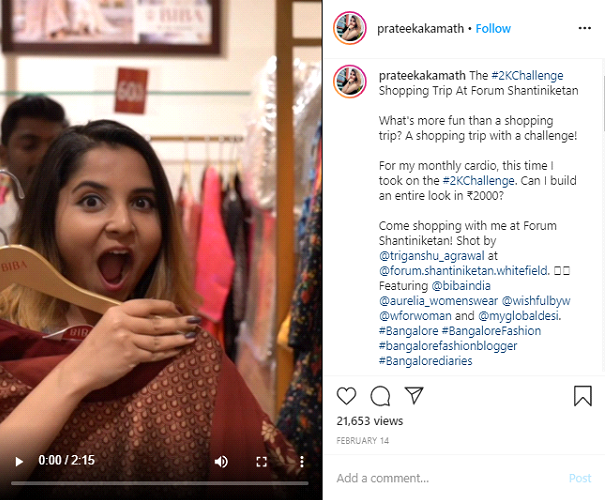 The video films shot by the influencers takes viewers through a series of settings and occasions demonstrating fashion from various brands on sale. To make the campaign more engaging, influencers were asked to create video content by trying on different clothes offering insights to fashion on sale.
Through this simple effort of creating a genuine look within Rs.2000, fashion influencers were able to show off items in a stylized yet accessible way. The influencer marketing campaign was a proven success when the fashion influencers chose to purchase the outfits they had tried on.
The short film also showcased the rejoicing experience of influencers thereby enticing the viewer and keeping the shopping spark alive.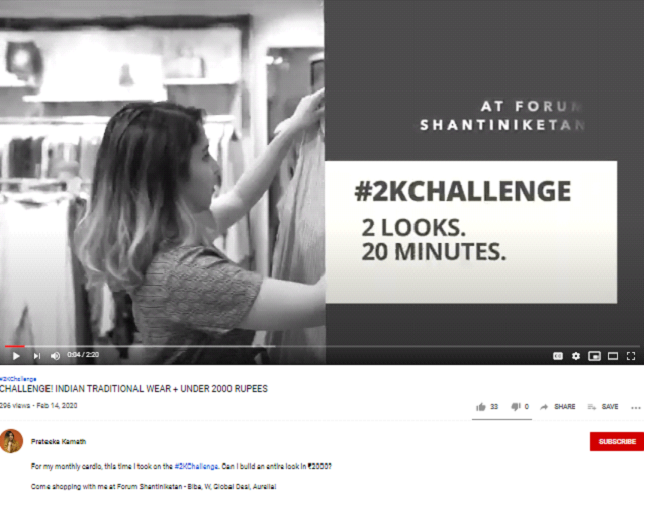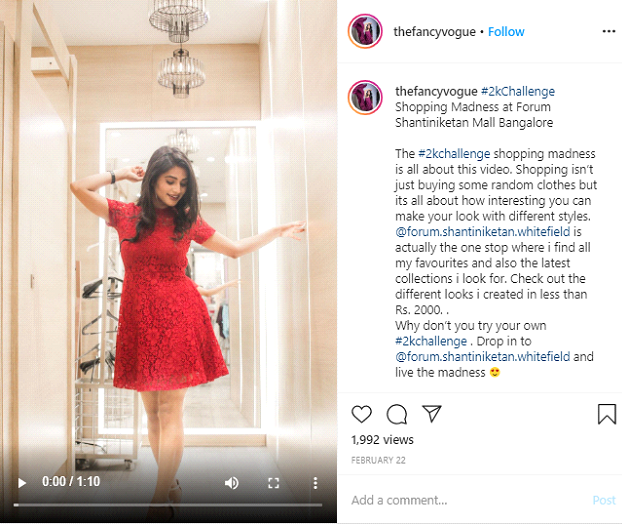 With the help of social media platforms to market on Instagram and Youtube, fashion influencers were able to create authentic and in-the-moment content that engaged the target audience and helped reach out to thousands of people. The influencer marketing campaign helped the mall, its offers, and the #2KChallenge campaign garner increased visibility.
Campaign Results
The #2kChallenge campaign with the fashion influencers built excitement around the largest and most awaited sale which received a lot of enthusiastic participation and response.
The first thing that made the #2kChallenge hashtag campaign so effective was its targeted appeal to shopaholics. Building Instagram hashtag campaigns with gamified elements and working alongside influential figures was a great way to build engagement and encourage customers to share user-generated content on our behalf. The performance of the influencer marketing campaign was measured based on influencers' social media engagement with the target audience.
Social media metrics of influencers –
Prateeka Kamath (@prateekakamath), one of our influencers, featured brands like Biba, Aurelia, W for Women, and Global Desi. He managed to build an entire look in Rs.2000.
With over 21,000 views, over 1,800 likes, and 25+ comments on Instagram and over 2900 views on YouTube, the video film built an incredible reach with its target audience.
Rubee Yadav (@thefancyvogue), featured the latest collection creating different styles in less than Rs. 2000 generating over 2900 views reaching out to 5665 users on Instagram.
Working with fashion influencers helped brands promote their products and achieve the campaign objective. The campaign is proof that an influencer marketing campaign can have a large impact on sales, and help build immediate, lasting trust with customers at scale.
___noise___ 1000