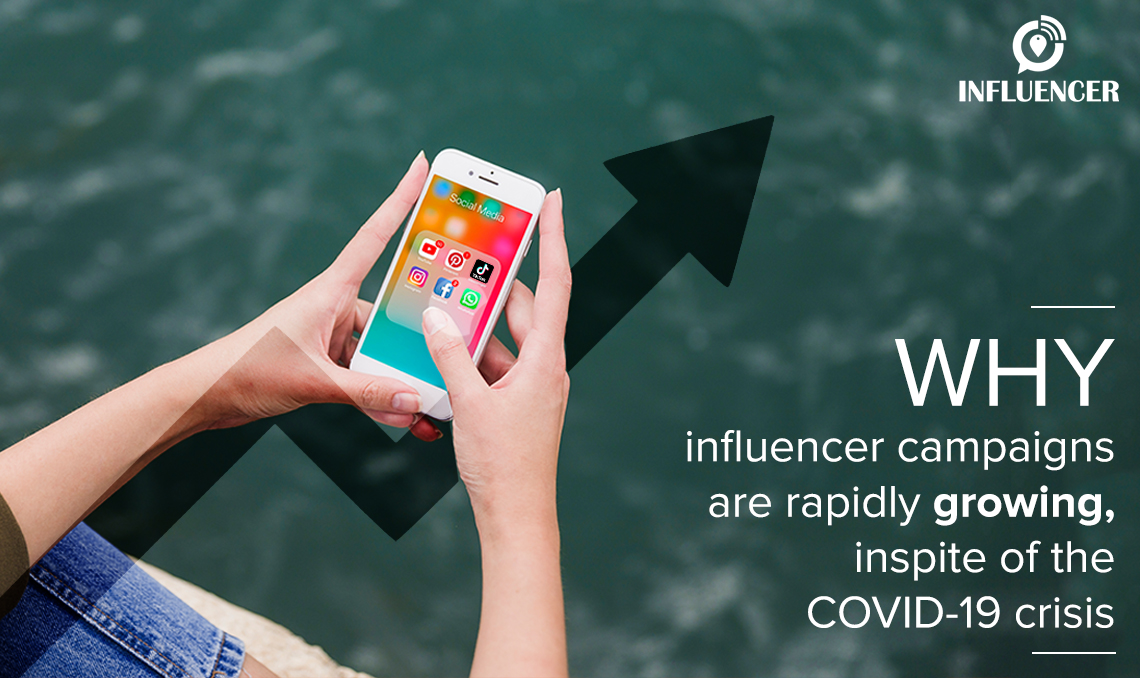 Why influencer campaigns are rapidly growing, inspite of the COVID-19 crisis
Author: Darshana Padam
|
Updated Date : February 18, 2022
Coronavirus, also known as COVID-19 has left the world at a standstill with over 1.9 million cases worldwide leading to a global recession. The 21-day lockdown was an imperial safety measure taken by the Indian government to control the spread of the disease.
Staying at home under lockdown isn't as easy as it seems to be, as people have become "bored in the house and in the house bored". Does the phrase sound familiar? Don't worry, all of us know it from TikTok. Due to the current scenario, social media platforms have seen an increase in usage by 87%, and believe us that's a crazy leap!
So what does it mean for the digital world?
Companies cannot run big scale advertising campaigns due to the global pandemic which will have a direct impact on sales and online conversions. But even though we're facing a tough situation there is always a silver lining! 
Indians are glued to their phones consuming content at a pace faster than a race car, bringing in a huge shift in the user behavior. As marketing during coronavirus adapts and shifts, this is the time for companies to build their top of the funnel audience, re-engage with their current audiences, and create user-generated content with influencers. 
It's time to get rid of the same old strategy
The influencer campaigns that companies normally opt for usually require and involve a visit to the physical store, VoxPop videos, Meet and Greets, etc. But, now that we are staying home, you must be wondering if there is a decrease in the number of influencer marketing campaigns? Well, that is certainly not the case!
Influencer marketing campaigns have seen a growth of 25% and the two apps that have seen a rise in influencers are TikTok and Instagram – both social media platforms that are gaining popularity day by day. But are they producing the same content? Not really! Advertisers have shifted their focus and are producing content under these major buckets:
Spreading awareness about COVID-19, 

COVID-19 precautionary measures 

DIY tutorials

Spreading positivity 
Let's look at how TikTok marketing works to engage with audiences, especially during the lockdown.
TikTok is keeping its users busy around the clock
TikTok India has shot up in the marketing world through various influencer campaigns and sub-campaigns. The social media platform has done this under their own umbrella campaign #GharBaithoIndia – which aims at motivating users to practice social distancing and stay at home. This campaign has more than 15 Billion views and is only increasing! Major celebrities like Amitabh Bachchan, Salman Khan, Shah Rukh Khan and many others have pledged to stay home and stay safe.
To keep their users engaged they've also come up with various activities like the Fashion Live Show, TikTok Chef and also encouraging users to upskill themselves with EduTok. 
TikTok has also come up with campaigns that support the decisions taken by the Indian Government like #JanataCurfew to add strength in our fight against the Coronavirus. #SafeHands aims to spread awareness about being safe and washing our hands regularly, and TikTok has partnered with WHO to make sure everyone knows 
Here are a few of the best influencer marketing campaigns executed by various brands on TikTok to send out a positive message to their followers while keeping them engaged! 
#HandWashChallenge By Dettol 
This campaign is one of the best examples to showcase the usage of Moment Marketing.
The influencer marketing campaign aims to encourage users to wash their hands using the correct steps for 20 seconds. This challenge had garnered 64 Billion views and turned out to be a great influencer campaign as they succeeded to educate the users about the necessity of washing their hands but in the right manner! 
#UPIChalegaChallenge By Unified Payment Interface (UPI)
This campaign by UPI aims to let users know that India isn't going to stop as they can use UPI to make safe digital payments. The challenge has achieved 9.2 Billion views in a very short span!
Let's see what Instagram has in store for its users
While the entire world is adjusting to the new normal, checking Instagram every now and then has become a part of the new routine. There's been a drastic increase in Instagram Live and in the engagement rate. Let's look at how a few brands have leveraged Instagram marketing with the help of influencer campaigns.
Family
– A short film supported by Sony Pictures Networks India & Kalyan Jewellers
This powerful short story takes a fun route but ends with a very strong messaging to stay home, stay safe and to avoid panicking during these difficult times. The video also talks about the impact on daily wage earners and workers in the film, and the relief fund they have in place to support them. 
https://www.instagram.com/tv/B-pV-3gJcro/?utm_source=ig_web_button_share_sheet
#WatchWithIndia & #ImStayingHome By Disney+Hotstar
#WatchWithIndia & #ImStayingHome are some of the best influencer marketing campaigns. They aim to spread awareness to flatten the curve, urging users to follow the #JanataCurfew and help the nation fight the virus together. 
#WatchWithIndia is a campaign where Disney+Hotstar live streams handpicked content for users to watch with their friends and chat along. #ImStayingHome is a campaign that solely focused on receiving UGC from its users by getting them to click a picture with their sticker. The best ones were then to be showcased on StarPlus and their handles while urging them to stay safe and at home.
https://www.instagram.com/p/B-Cn9oghK7L/?utm_source=ig_web_copy_link
#DisneyPlusHotstarPremiere By Disney+HotstarPremium 
With the arrival of the Disney+ content on the Hotstar platform in India, the launch couldn't have happened at a better time. The company went all out for the first-ever digital red carpet premiere to watch The Lion King and the new Disney+Original The Mandalorian. They had collaborated with major celebrities like Hrithik Roshan, Shahid Kapoor, Katrina Kaif, Kajal Aggarwal and many others to increase user engagement.  All their videos communicated a very important message to stay at home and indulge with new series and shows.
#AageKiSoch By UpGrad 
UpGrad introduced their very own "upskill anthem"  in collaboration with Jonita Gandhi, Radhika Apte,  Shantanu Maheshwari, and Karan Tacker and a few more celebrities. 
This influencer marketing campaign is a bit different from the ones we've seen. It talks about how we are staying at home but questions if we are being productive. Are we planning for the future? By planting such questions in our minds, UpGrad passes on the message to pick up new skills and get creative.
https://www.instagram.com/p/B-yweuuKAYj/?utm_source=ig_web_copy_link
Leveraging influencer campaigns for our clients in spite of the COVID-19 Crisis
ICICI Lombard – #RideToSafety
Problem Statement:
To increase sign-ups on a change.org petition to create a helmet emoji. 
Even though Digital Advertising was being leveraged, they needed some push to drive the sign-ups.
How Did We Come To The Rescue:
What better way to increase awareness and drive traction than influencer marketing?
We reached out to 5 influencers from the type A category, who were celebrities and high-end influencers, and we got them to spread the message and urge their followers to sign up for the petition. 
Results:
With the help of Influencer Marketing and performance marketing, we aided in boosting the number of signups received within 10 days.
Himalaya Quista PRO:
Brief Statement: 
To collaborate on a Workout from home type of video on TikTok with imkavy .  
How Did We Help?:
We worked on the overarching concept and the script.
Output:
The influencer put together the video, where she went through 4-5 exercises, spoke about the importance of keeping yourself fit during these times and also did a brand addition by talking about Quista Pro's two flavours and their USP's. 
We received around 142k organic views with an organic engagement of around 11900 on TikTok. Amplifying the video on Facebook, Instagram and YouTube also gave a higher reach and aided in driving better engagement.
To Keep In Mind:
Influencer marketing campaigns are on the rise because they provide the right momentum that a brand needs, especially during the lockdown. Brands have made the best use of influencers to get their audience to listen and it has also provided a great opportunity to venture into untapped markets. 
Brands that don't have much of a digital presence are moving onto the platform and while they are trying to build an identity, influencers are the way to go! Having said this, if you're looking for ROI then it's time you explore influencer marketing. Get in touch with us to grow your brand image today!