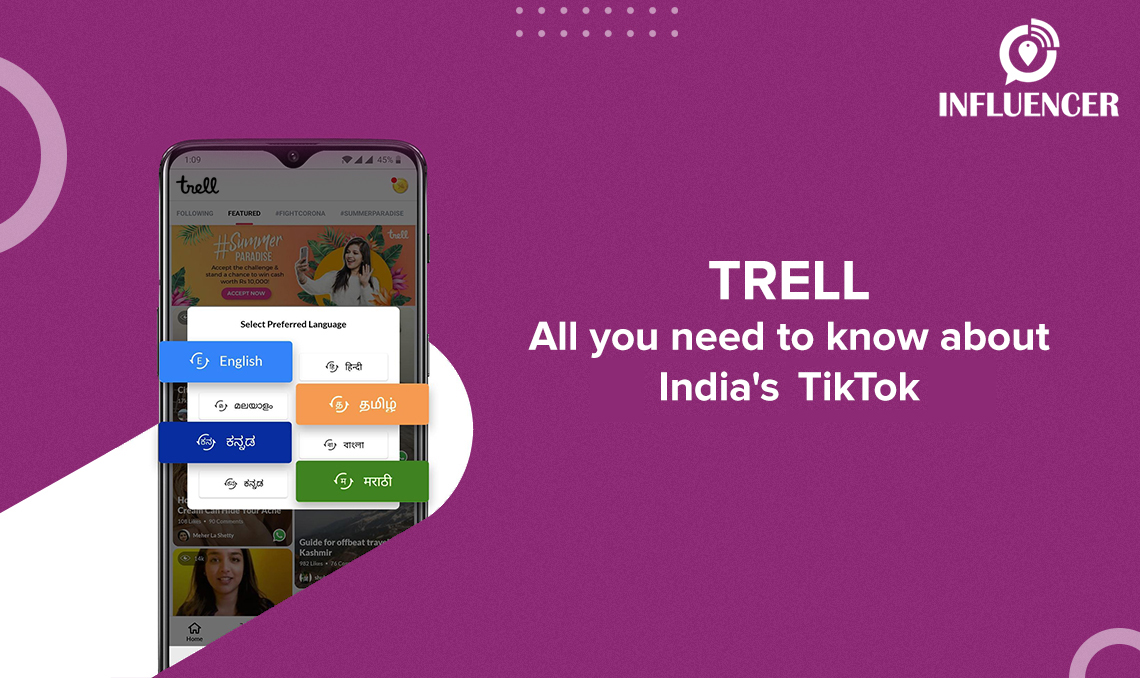 Trell: All you need to know about India's TikTok
Author: soumyata
|
Updated Date : February 21, 2022
KEY HIGHLIGHTS:
Downloads: 10 M+

Rating on PlayStore: 4.4

Available in 8 Languages: Marathi, Kannada, Bengali, Hindi, Tamil, Telugu, Malayalam and English

Allows users to create, edit and share videos, shop and also earn rewards. 
The number of mobile applications (apps) as alternatives to popular short-video app TikTok has been on a rise ever since the Indian government banned 59 Chinese apps last month on June 29, 2020, citing security and privacy concerns. With the ban already on the much-loved vlog app into its sixth week, content creators have now started looking for quick substitutes. 
An increasing number of once TikTok loyalists are now migrating to home-grown vlogging apps like Roposo, Chingari, Mitron, and ShareChat. But the vlog app that is clearly running ahead in the race is Trell which, as per a report in LiveMint, has trumped international giants like Twitter and Pinterest in the country with over 5 million daily active users. 
Trell has been around since 2017 but the vlogging app rose to prominence only after the ban as it registered 5 times growth in daily active users in just two days of the announcement.
In this article, we will look at the history of Trell, who owns Trell, and how to create content on the vlog app:
About Trell
Trell, also known as the Video Pinterest for Bharat, is a lifestyle community commerce app for users to share their recommendations, experiences, and reviews across various categories including beauty and skincare, travel, movie reviews, health and fitness, cooking, home decor and much more. 
The vlogging platform allows users to create 3-5 minute short videos in their vernacular languages. Trell comes along with an additional 'shop' feature that lets the users purchase the products featured in the vlogs. 
What's more, the vlog app also provides an opportunity to earn coupons, rewards and goodies from premium websites like Swiggy, McDonalds, Myntra, Himalaya, Ajio, OYO, Cleartrip, Foodpanda, Beardo and more.
Since its inception in 2017, Trell has been committed to serving the vlogging needs of their native language speakers across the country with over 60% of their consumers hailing from tier-2 and tier-3 cities. Trell recently launched its platform in three new languages, namely, Kannada, Bengali and Marathi, taking the total count to 8 languages (additionally Hindi, English, Telugu, Malayalam, Tamil) active so far.
Trell 2020 Statistics
Trell claims to be home to a community of over 40 lakh creators aka 'Trellers'. Currently, the vlog app shows 10 million+ downloads on Google Play Store.
Who founded Trell?
Trell is an Indian vlog application developed by a Bangalore based company called Trell Experiences. Trell Experiences, led by Pulkit Agarwal, Prasanth Sachan, Bimal Karthik Rebba, and Arun Lodhi, has until now released two applications on Google Play Store – one of which is the Trell Short videos app.
Trell (TRail experiences and tELL your friends) was conceptualised in November 2016. They began their journey with a humble Instagram handle (@trellingmumbai) where they posted about lesser travelled places and relatively unknown things about Mumbai. The idea was to make blogging fun, visual and intuitive for everyone. After receiving an overwhelming response on Instagram, they finally launched the Trell app in July 2017. 
TikTok vs Trell – A Comparison
Upon opening Trell one is greeted with a slew of non-professional videos. Most of the video content under the 'Featured' category are either teenagers lip-syncing to film dialogues, or sharing make-up hacks or dancing. To those familiar with the TikTok interface, this feels like home. 
Besides the longer duration (TikTok allowed only 15 seconders while Trell enables you to make 3-5-minute videos), one major difference between the two vlogging apps is the classification of genres. Trell has its content divided in 9 categories namely: Comedy, Reaction Videos, Masti Ki Pathshala, #MakeInIndia, Travel, Food, Recipes, Movies & TV and #FIGHTCORONA. 
Another major advantage that Trell has over TikTok for influencer marketing is the unrestricted experience that it offers. While there was an option to share videos up to one minute long on TikTok, there was no longer-form video and no image or text sharing options. However, Trell allows you to use all kinds of media on your phone – pictures, videos, even GIFs – be it from Whatsapp, Snapchat or Instagram. Which means you don't necessarily have to shoot a video every time you want to post something. 
Another good thing about the lifestyle vlog app is that it doesn't have TikTok's auto-play feature. Here, the user gets the freedom to navigate and browse through the content. 
In addition to vlogging, it also gives an option of blogging which makes the app attractive even to the writers' community.  
However, what's lacking in Trell is the fact that you can't edit or add special effects to any of your videos within the app.
How to create a short video on Trell:
– Press the 'plus' icon at the bottom and click on 'Vlog'
– Choose from pre-recorded clips on your device and press 'Next' or shoot a new video by clicking on the camera icon.
– Trim the video, if need be, by clicking on the scissor icon.
– Apply favourable filters by clicking on the star icon. 
– Record a voice note or select an existing audio file and press 'Next'.
– Once the video gets uploaded, choose your audience by selecting the language it has been made in. Next, define your video's genre (Travel, Food, Movies & TV etc.) under 'Choose Category'.
– Provide a catchy title.
– Upload a video thumbnail by clicking on 'Edit Cover'
– Publish the video.
Potential Trell Stars / People to look out for
Virindademblemalik (@virindademblamalik143042): This Indian – Canadian couple has been gaining popularity on Trell for their hilarious pranks, challenges and multicultural representation.
Priyanka Chandel (@PriyankaChandel): Priyanka Chandel is a beauty, fashion, and travel blogger and enthusiast and her passion for these reflects well on all her videos. Her styling and makeup tips and hacks are exceptional, and if you are into beauty and fashion, her videos are ones to look out for!
Shalini Singh (@Annie1904): This young movie/series buff and a lifestyle blogger is certainly one to look out for if you want honest reviews and storylines of Hollywood and Bollywood movies and series. 
Kripa Jalan (@burgerstobeasts): Looking for health and diet tips, underrated fitness information? Then you must follow Kripa Jain and she will keep you updated on health and fitness hacks that actually work!
Prerna Mehra (@thegirlinskyhighheels): Reviewing hair, beauty and fashion products is Prerna Mehra's speciality. She also highlights quick makeup and styling tips, hacks and looks.
Kishpx (@kishpx109691) and Sckachi (@sckachi83952) are people you would want to follow for a good laugh because their simple and incredibly relatable videos are hilarious and will certainly brighten up your feed.
So now that you know all there is to know about the up and coming vlog app Trell, download it for yourself and see how addictive it can get. And if you're a brand or creator looking to leverage this amazing platform, get in touch with us at Influencer.in for the best influencer marketing strategies, partnerships, and projects!