Top Indian Food Bloggers for Great Recipes
Author: Sayantan Rudra
|
Updated Date : April 28, 2022
They say that there is no love greater than a "mother's love". However, food lovers will tell you that there is no greater love than the "love for food". Even if you don't love food as much, our gastronomically-inclined Indian food bloggers are committed to taking you through a salivating experience with eye-candy pictures of scrumptious food transforming you into an ardent food–lover with their culinary skills.
After all, cooking is an art and these artisans have put their hearts into the craft.
Here is a list of top Indian food bloggers that you should consider following for 5-star recipes to enjoy your next family meal. Although the compiled list is in no particular order, we have considered the following parameters to choose the best food influencers in India.
Activity on the blog, the estimated reach

,

and engagement on the blog.

Quality of the blog including image quality and novelty of recipes

Social media following

Expertise & frequency in blogging

Novelty of the recipes

The focus on bloggers writing primarily about Indian food recipes only.
If you want more insights on how to leverage influencer marketing and digital marketing for your brand, please do read our book on digital marketing insights, which can be purchased on Amazon. For brands looking to spread awareness amongst the masses, learn about food vlogging- a growing influencer marketing niche.
Mallika Basu
Considered amongst the most popular Indian food bloggers, Malika runs a detailed food blog named after herself- Malika Basu, to help you recreate the tastiest of delicacies in your kitchens. With her roots dug deep into India, Malika is a cooking maestro who recreates and shares her homemade recipes in her posh kitchen – the Indian Kitchen in London.
Some of her best food blogs pivot around traditional Indian recipes for regional delicacies, delicious drinks, quick-make health bowls and the desi thick gravy dishes. Apart from cooking blogs, she also writes about the trending news in the food world, some of which include the attributes of various spices, and new findings on healthy food, and has published her recipe books throughout the globe. If you plan on starting your blog, Malika Basu should be amongst the first food blog examples that you consider taking inspiration from.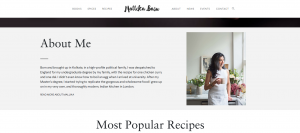 Eatopian Chronicles by Swati Sucharita
Swati Sucharita is indeed a jack of all trades. After being in the print media for almost three decades, she presently runs her content consultancy firm and is also making her mark as one of the best full-time Indian food bloggers. Her blog Eatopian Chronicles covers a wide range of cuisines and chefs. She is known for her in-depth knowledge of the cultural diversity of the different Indian cuisines.
Apart from recipes, Eatopian Chronicles is also a food review blog, that pivots around indigenous restaurants, chefs, and new launches in the food world.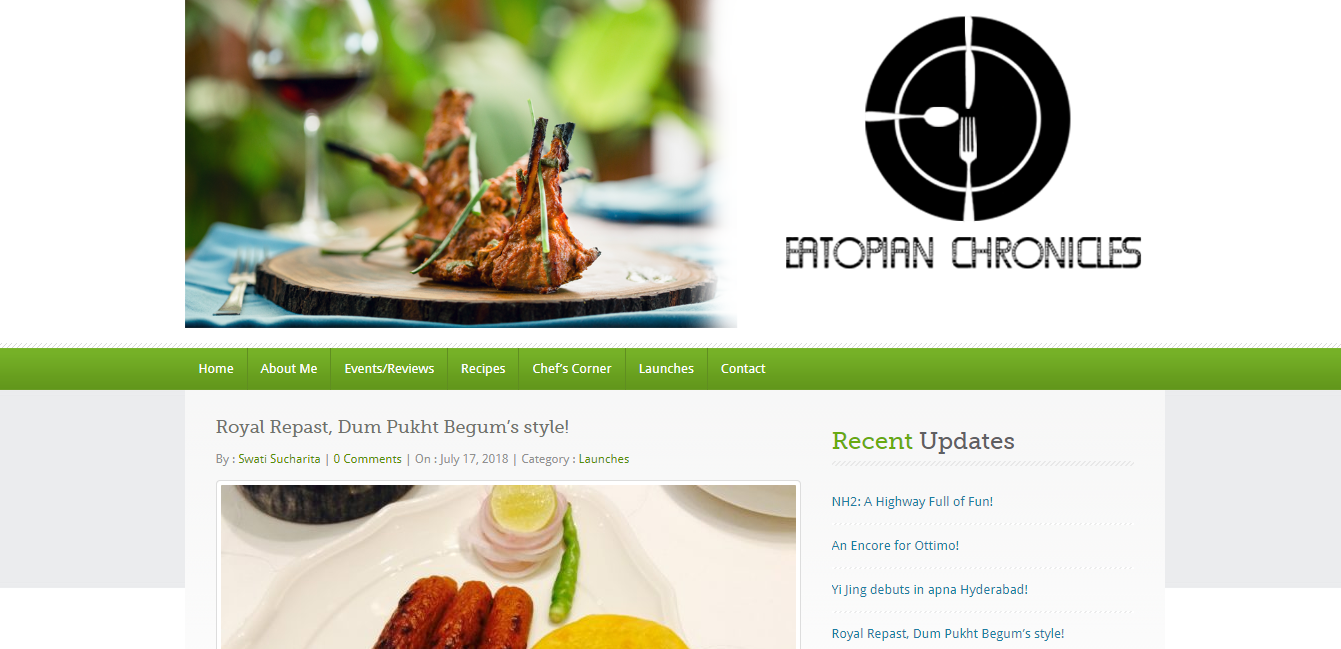 Archana's Kitchen by Archana Doshi
A software engineer turned into a food blogger, Archana has been a successful entrepreneur for the past 9.5 years. Archana started her blog Archana's kitchen as a food discovery site to provide DIY solutions for everyday cooking problems. She uses videos to portray her innovative cooking ideas such as special diet recipes, lunch box ideas for kids, dinner table ideas, etc. Through her cooking blogs, she aims to educate her readers about the power of home cooking in building a healthy society.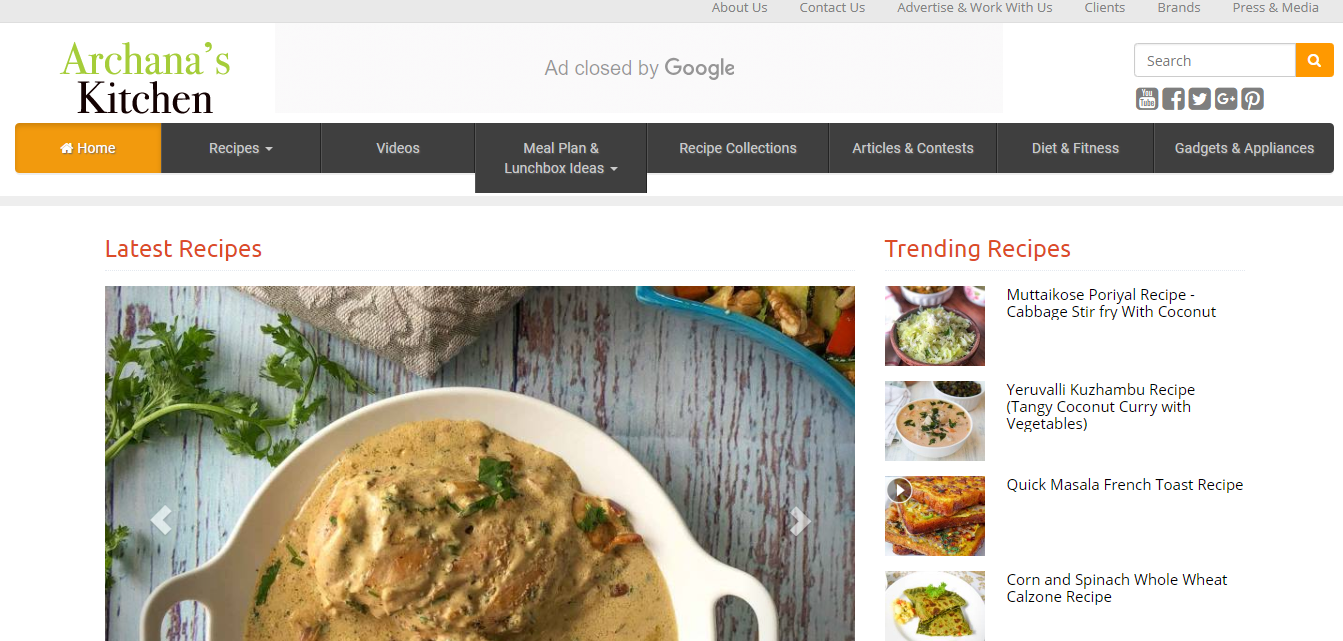 Belly over Mind by Ankiet Gulabani
Ankiet Gulabani started his own recipe website – Belly over Mind, to inspire people to cook at home. Belly over Mind was born with the motive of providing simple recipes that befriend your taste buds. Ankiet believes that there is no point in talking about overpriced, food recipes that will never end up on our tables due to the unavailability of ingredients. His ability to relate with his audience and give them what they truly need is what makes him one of the most famous Indian food bloggers.
His cooking blogs stand out thanks to his approachable recipes that can be easily created using locally available ingredients. For all the cooking enthusiasts looking for some simple yet exotic home meal recipes, Ankiet is one of the ideal food influencers you should consider following.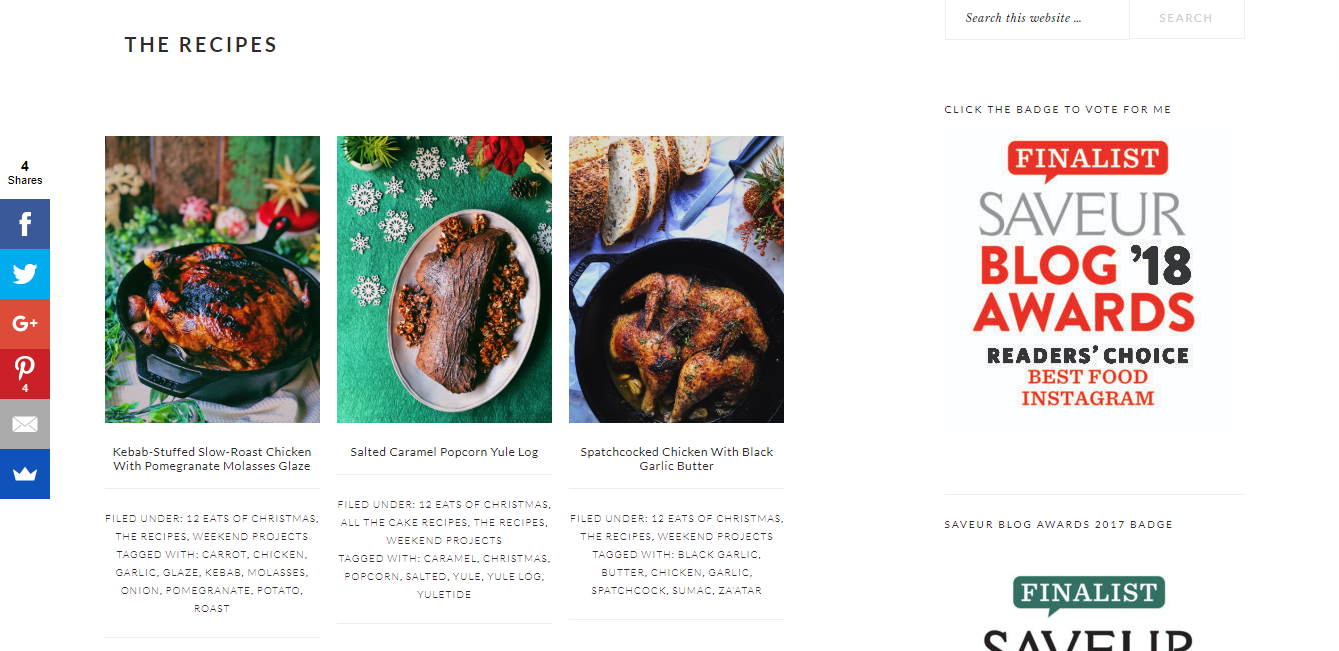 Edible Garden by Nags
Edible Garden by Nags aka Nagalakshmi is undoubtedly one of the most creative food blog examples featuring anything from old-town classic recipes to delicious quick bites you crave with your evening tea. Amongst some o the best Indian food blogs, Edible Garden is well laid out with numerous categories for indigenous recipes. So, if you are away from home but are badly craving your type of food, Nags always has something delectable to serve you.

Vegan Richa by Richa Hingle
Vegan Richa is a wonderful recipe blog that re-iterates that you first eat food with your eyes & then with your mouth. From gluten-free and vegan recipes to traditional authentic Indian recipes Vegan Richa is definitely amongst the best Indian food blogs active today. Sneak a peek into the blog & tell us you don't want to dive right in.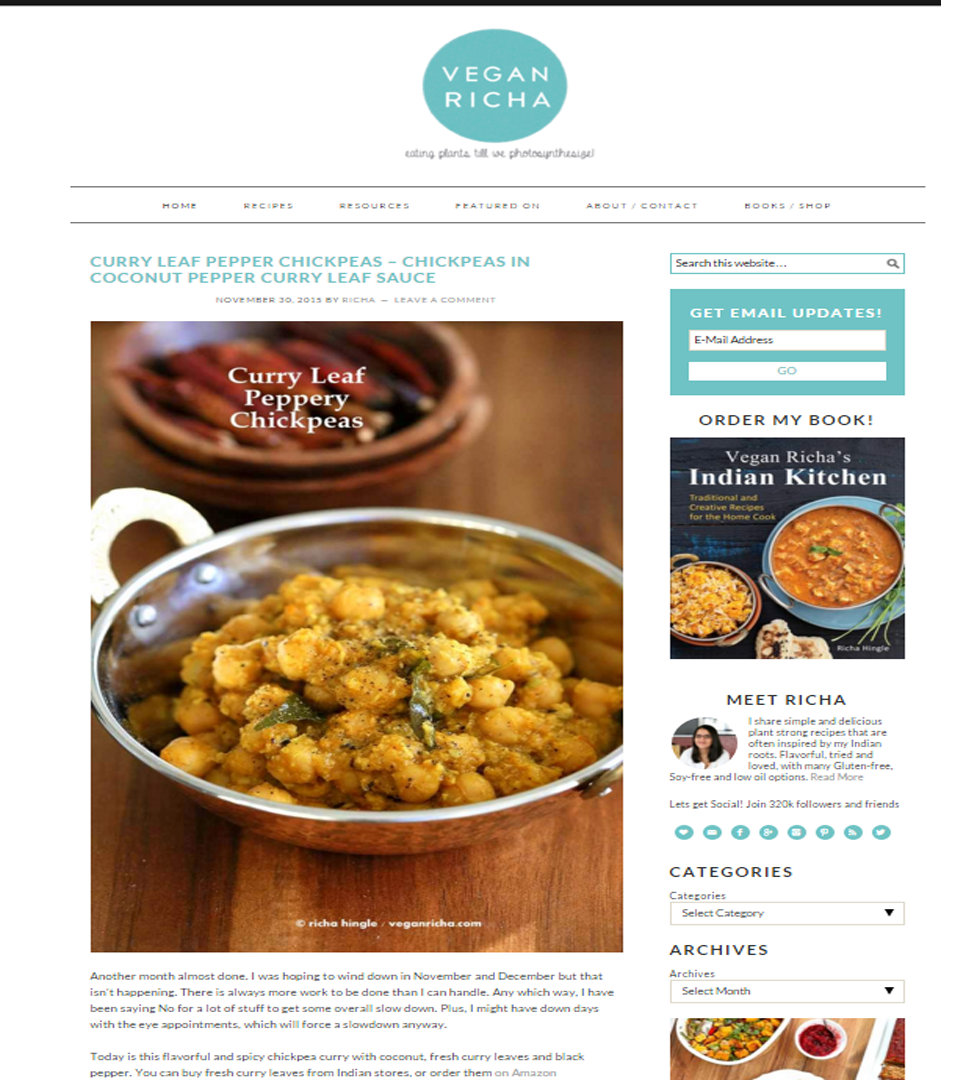 Sailu's Kitchen by Sailaja
Sailu's Kitchen has been standing as a strong pillar of support for as long as a decade for amateur cooks like many of us. Specializing in Andhra & South Indian food, this is one of the best food blogs for every food enthusiast who wants to please their family with their culinary skills.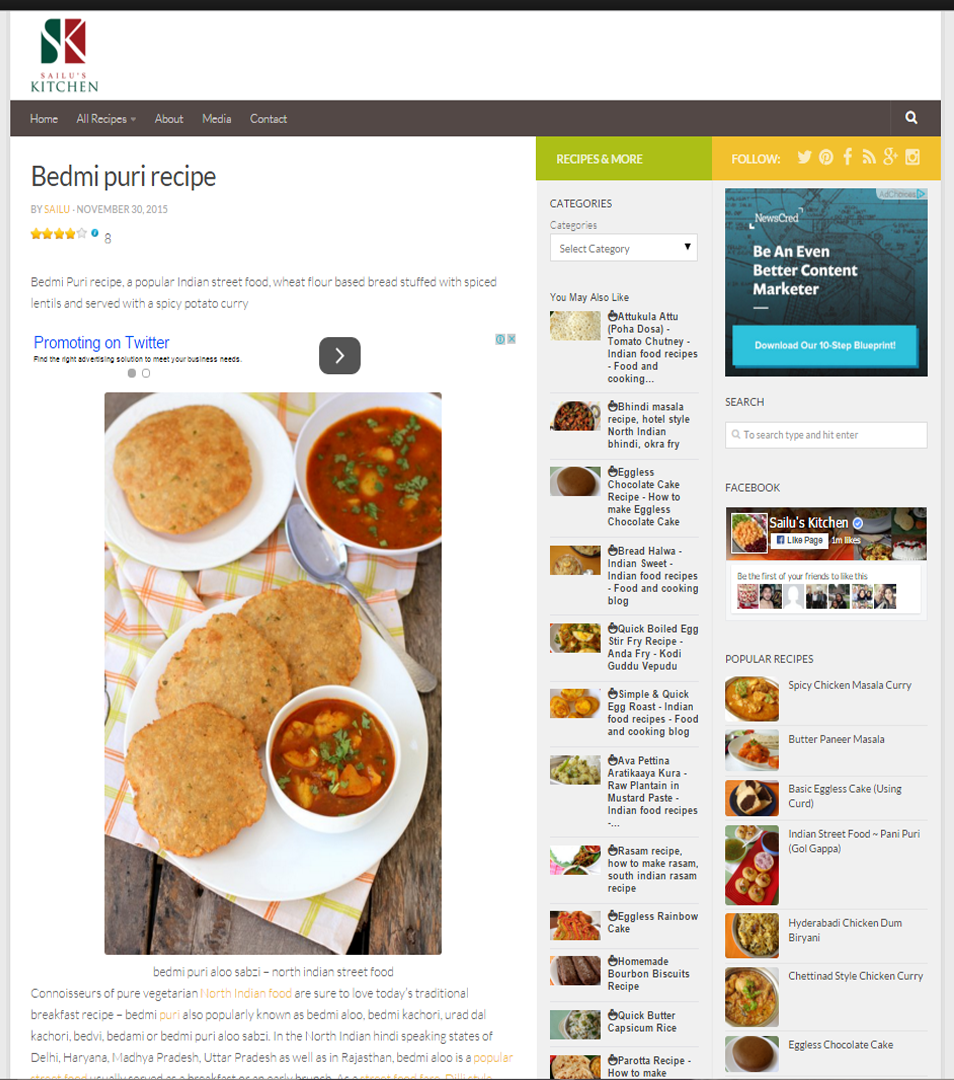 Sharmis Passions by Sharmilee
Sharmis Passion is for those who are passionate about learning novel recipes, especially for South Indian cuisines. Her simplicity and the way she takes us through her online journal of recipes through step-by-step photography make Sharmis Passion one of the best food blog examples for budding bloggers and enthusiasts.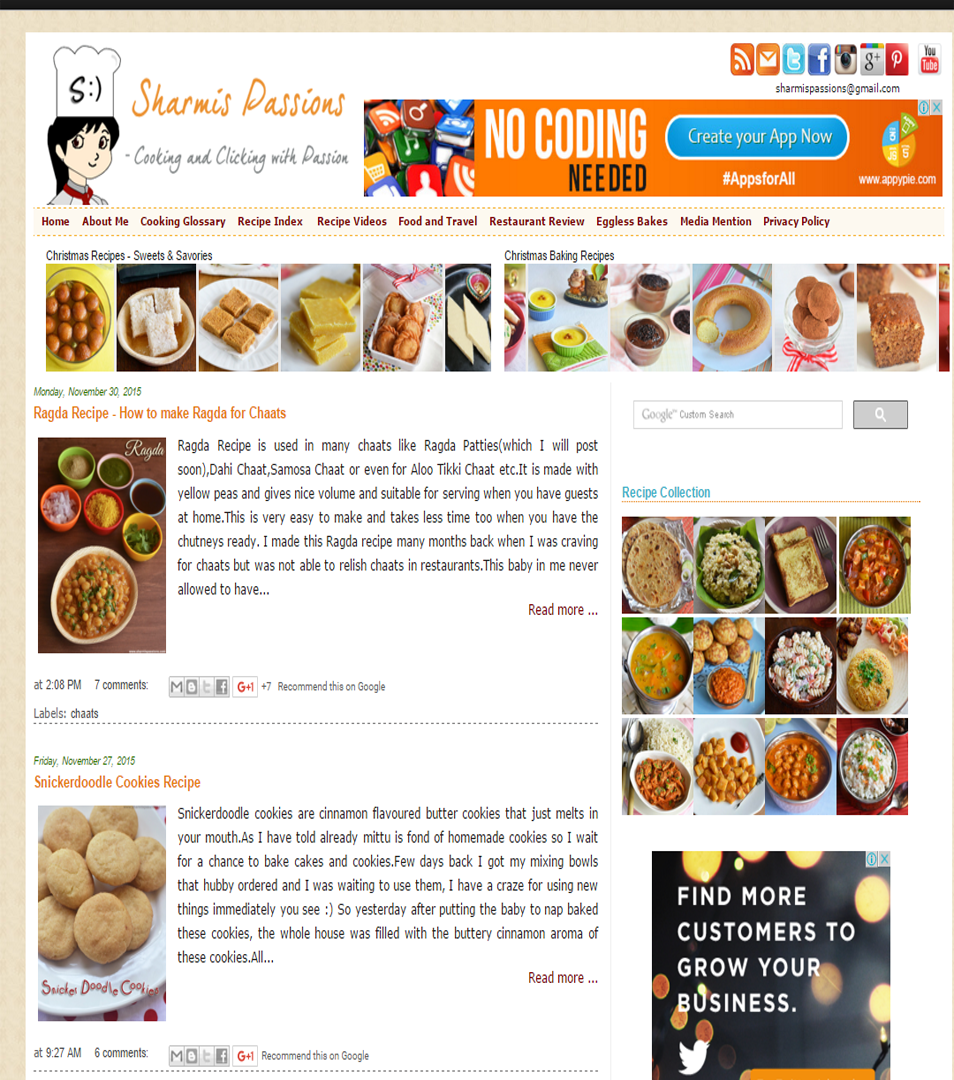 Divine Taste by Anushruthi
Divine Taste was created with one governing principle, "Feed your body, mind & soul". Anushruti belongs to the select few Indian food bloggers who incorporate ayurvedic teachings in their recipes. Her cooking blogs let you indulge in exotic guilt-free food, that is pure vegetarian sattvic food (food devoid of meat, fish, eggs, garlic, onions & wine). Definitely divine!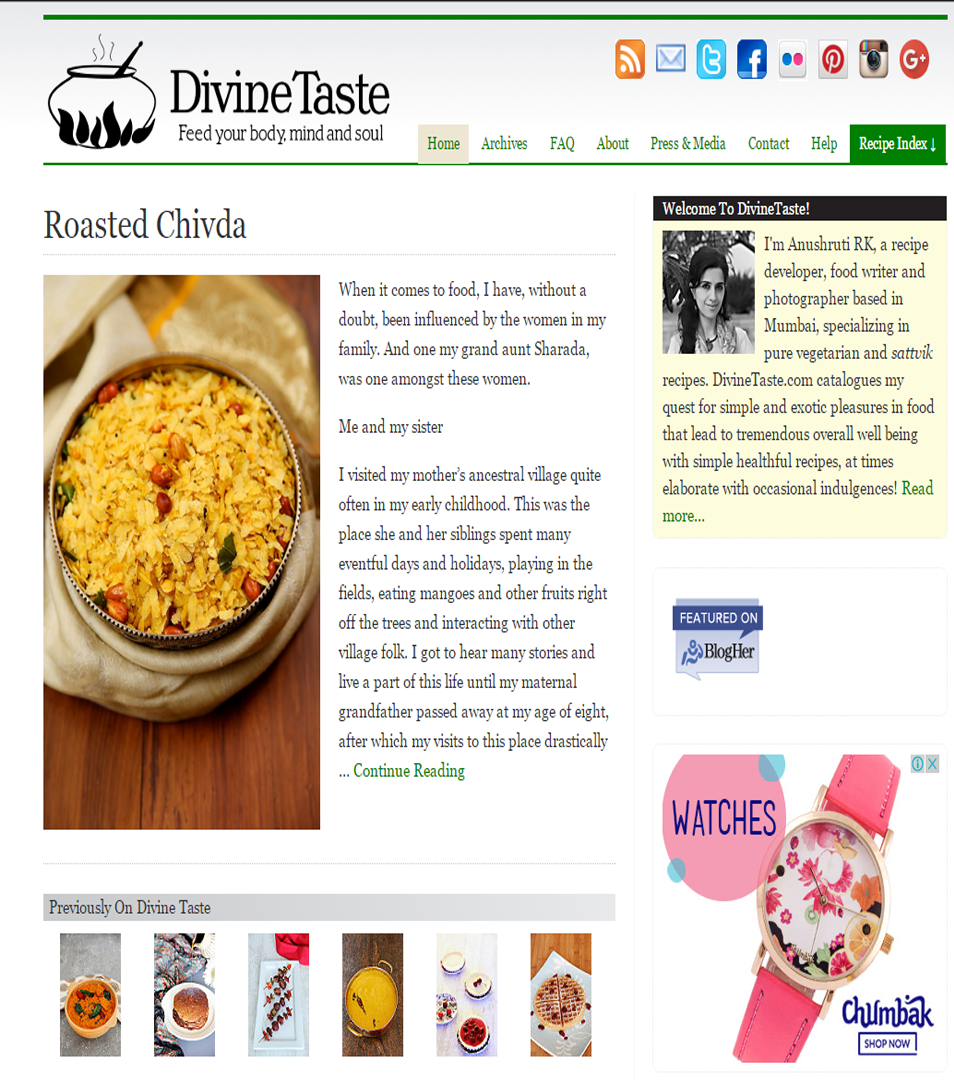 Padhu's Kitchen by Padhu Sankar
Padhu's Kitchen is one of the best food blogs that re-iterates that cooking is much more than just putting together 4 different ingredients. You will find many mouth-watering, pure vegetarian & eggless recipes that will make veggies the favorite food for your children. Thus, if straightening out anti-veggie children with a touch of love is what you are looking for, Padhu Sankar tops the list of Indian food bloggers who could help you learn this art.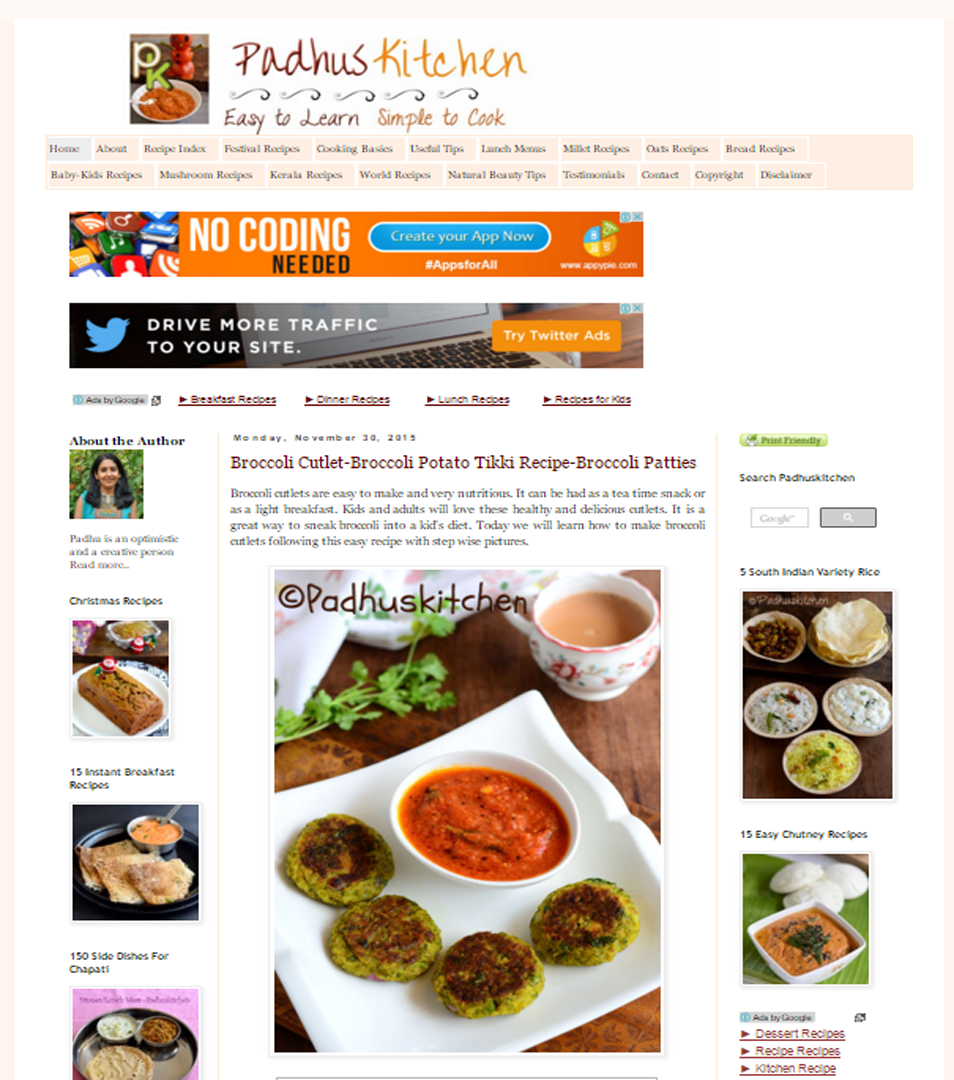 Raks Kitchen by Rajeshwari Vijayanand
Raks Kitchen is an authentic vegetarian blog dating back to 2007, which is run by Rajeswari Vijayanand, one of the most famous food bloggers known for her versatile and easy-to-make recipes. With a wide variety of cuisines from pan India, Raks is amongst those Indian food bloggers that you should definitely consider following for amazing vegetarian recipes.
Raks Kitchen will have you drooling in no time and motivate you to head straight to your kitchen with your apron on! Don't believe us? Take a look if you already haven't!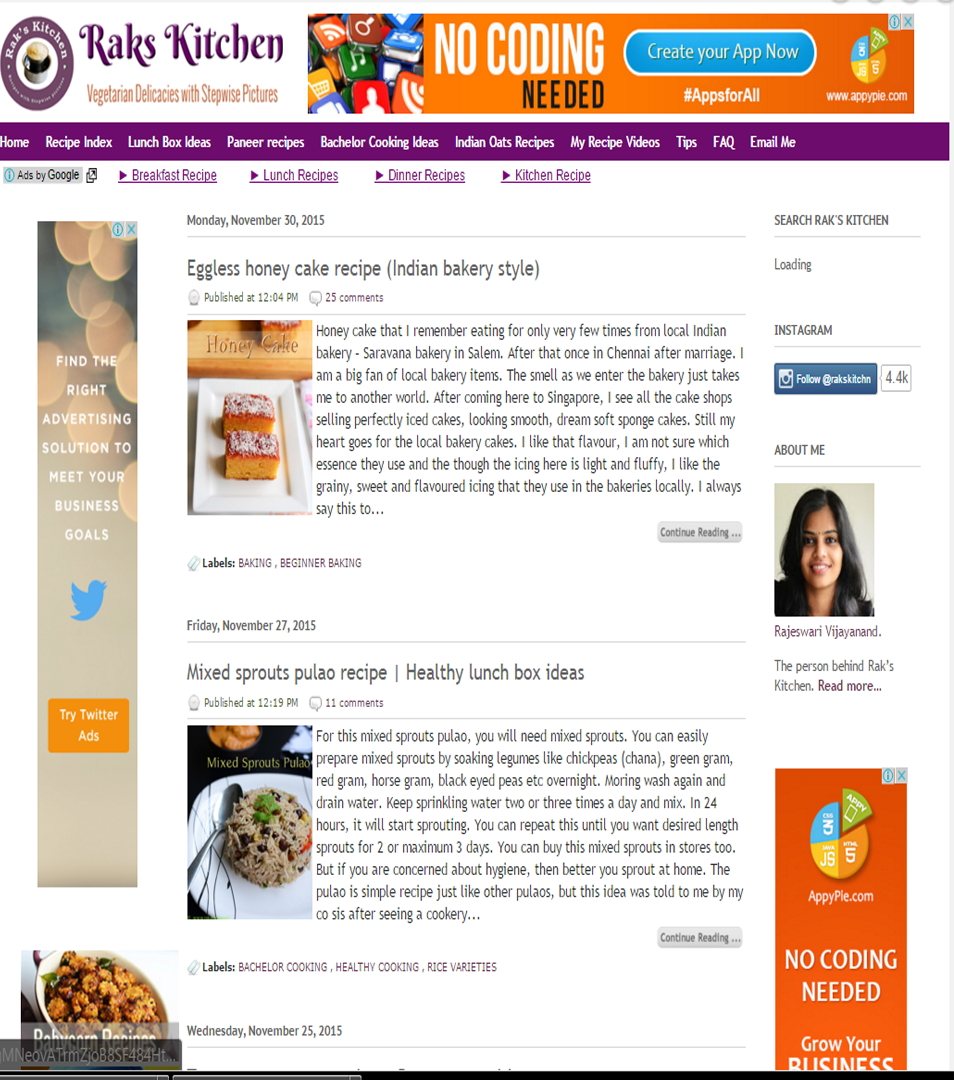 Passionate About Baking by Deeba Rajpal
Passionate About Baking is filled with delicious and sinful desserts that will make you fall in love with baking. Deeba Rajpal, the person responsible for the success of this blog- Passionate About Baking, strives to help people prepare these delicacies within the comfort of their homes. She is one of the most famous food bloggers in the niche of baking who is known for her easy-to-understand magazines and books for the same. Original and outstanding, these recipes are sure to satisfy your midnight cravings.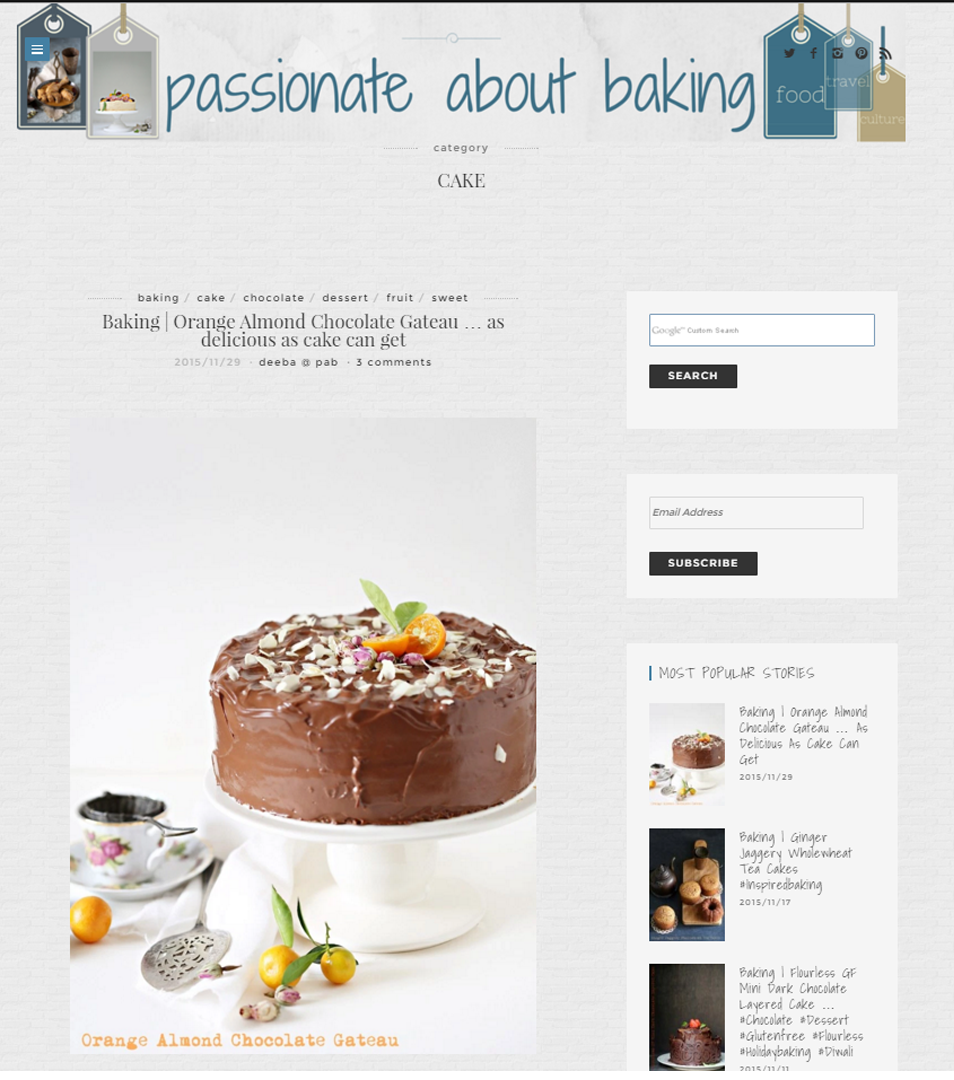 Veg Recipes Of India by Dassana
Veg Recipes of India is an endearingly simple, fuss-free and beautiful food blog by Dassana. She became a full-time professional blogger in a bid to follow her passion that pivots around food-related activities. From North Indian to South Indian cuisine, you will find everything you are looking for in this elaborate cooking blog.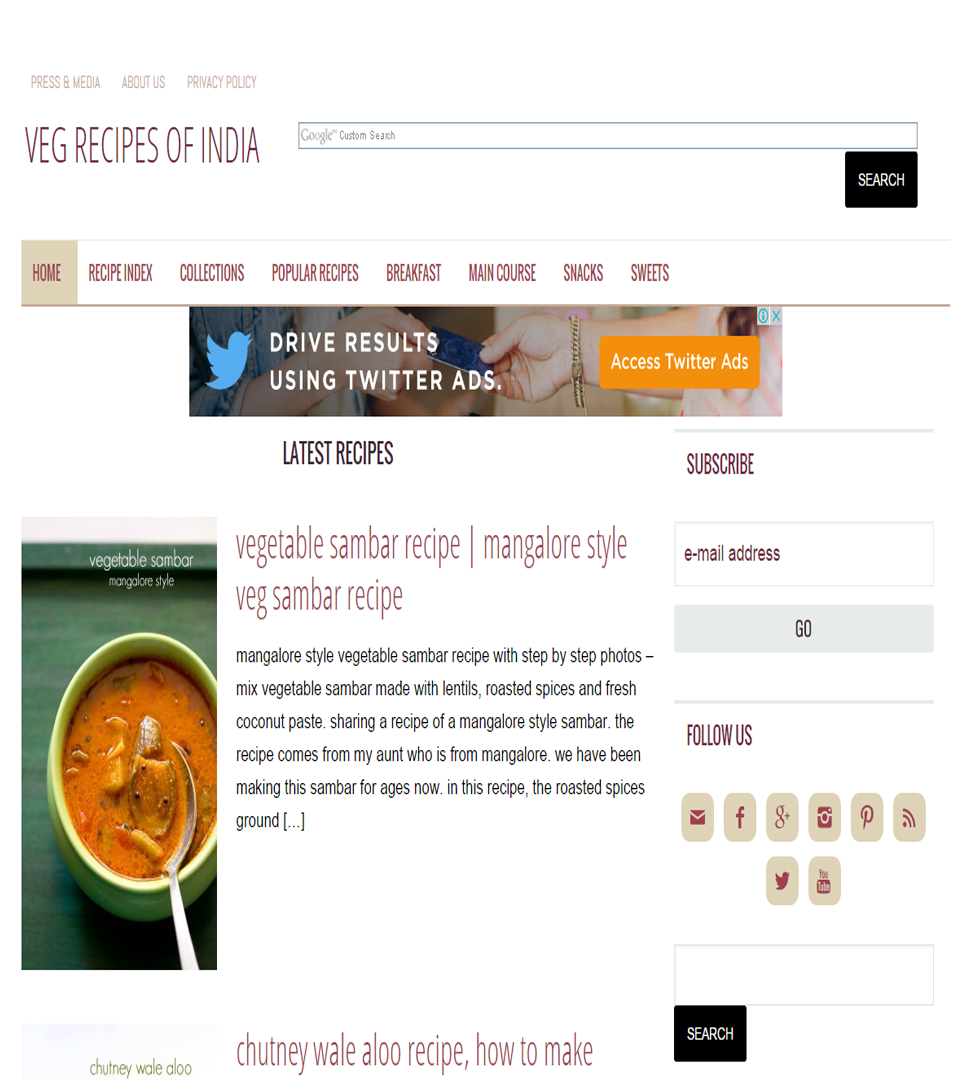 Aayi's Recipes by Shilpa
Aayi's Recipes is a blog site that showcases recipes since over a decade. The speciality of this blog is the Konkani based recipes, which is also the native language of Shilpa. This blog is dedicated to her mother, which explains the name "Aayi." From desserts and festive recipes to everyday delicacies, Shilpa with her robust experience in Indian cuisine has revived some traditional recipes we will love to pass on as a legacy.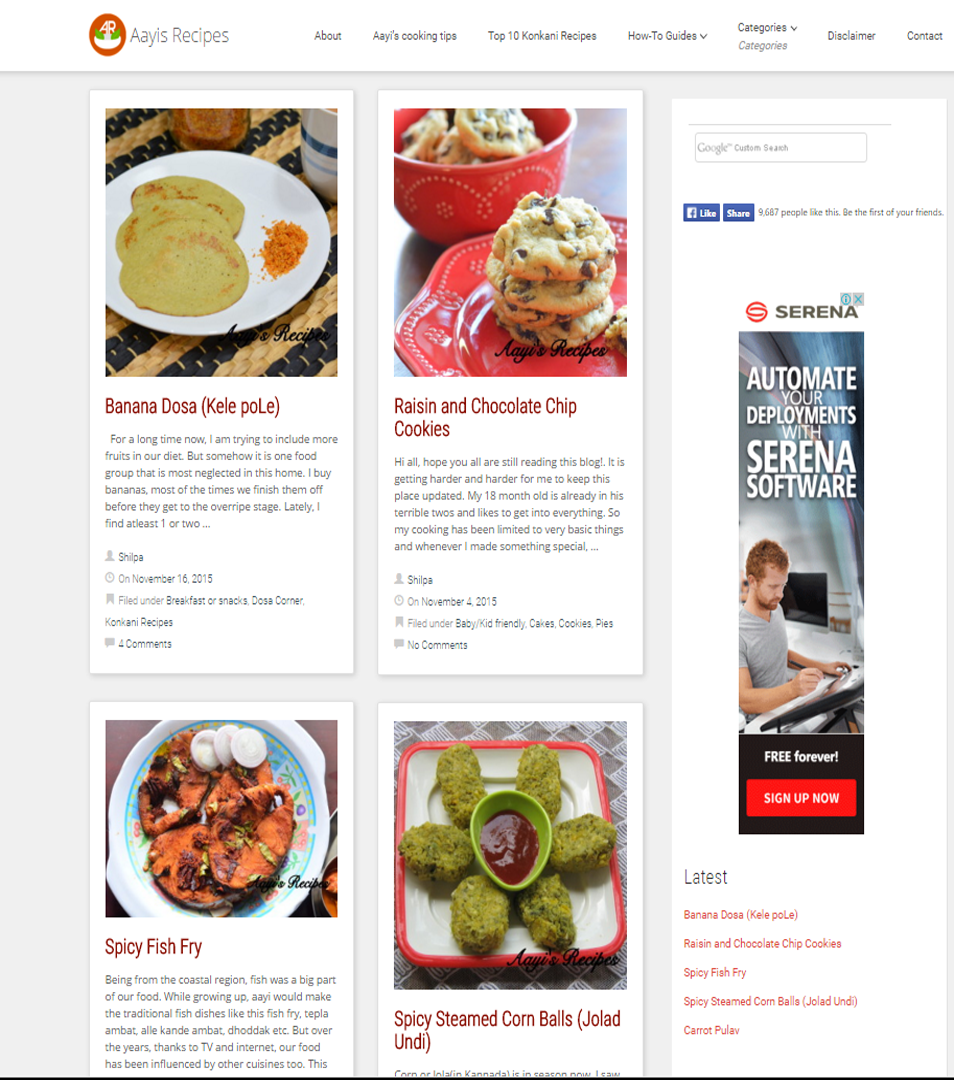 Honest Cooking by Kavitha Ramaswamy
Being one of the most successful Indian food bloggers, Kavitha's Honest Cooking is an abode for Vegans and Vegetarians. This promising blogger is going strong and has garnered a great response on social media as well. Mexican, Moroccan, French, Chinese, Italian, and whatnot – she has done them all, with ease & poise. Like Kavitha Ramaswamy says "Simply Indulge" and enjoy!
Saffron Trail by Nandita Iyer
Saffron Trail is a go-to blog for all the health freaks. A medical professional, specializing in nutrition, Nandita started her journey in the year 2006 and has now become one of the most successful Indian food bloggers. SaffronTrail showcases a combination of healthy and tasty vegetarian dishes which are easy to make at home. With dishes like Oats Dhokla and Roasted Figs, Chickpea, and Rocket salad, Nandita Iyer has taken creative recipes to the next level.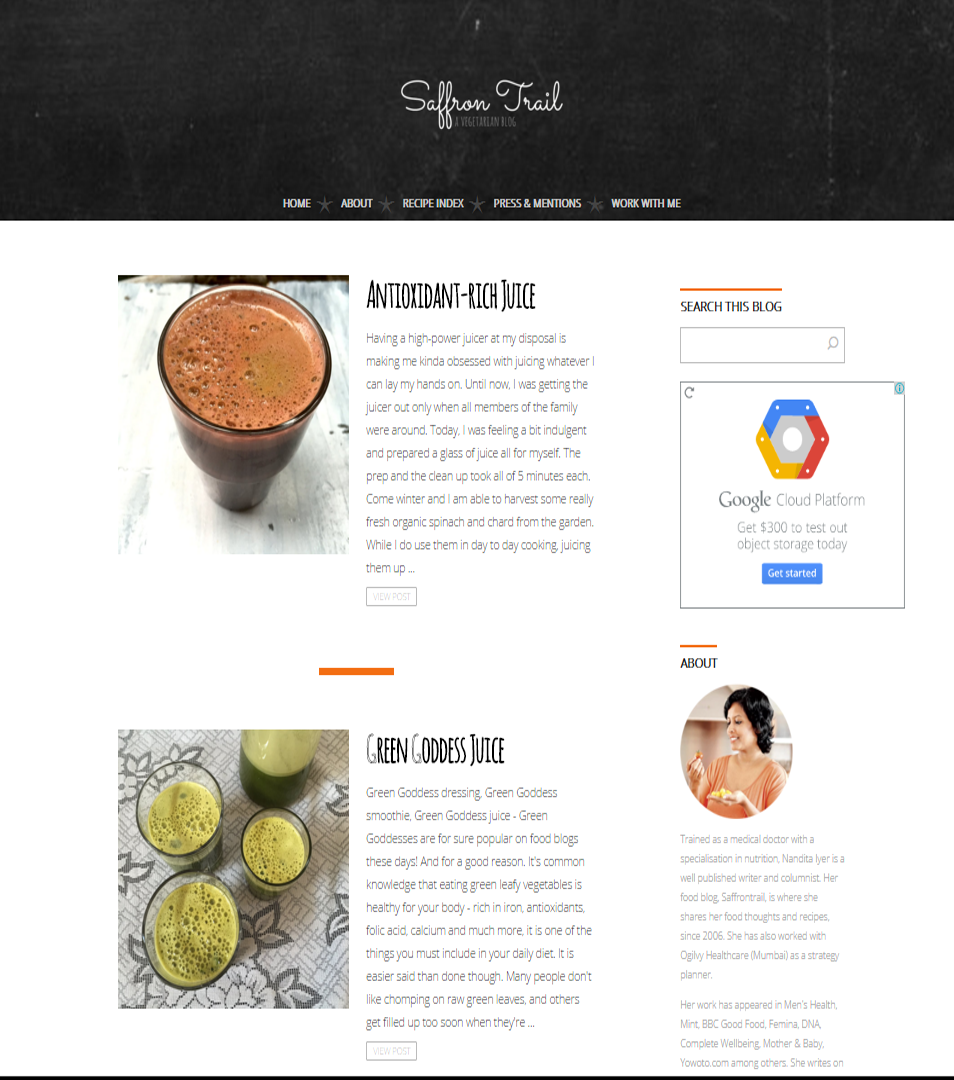 Engage with the Best Food Bloggers in India
Are you a food or hospitality brand looking to engage with Indian food Bloggers and Influencers? Signup on Influencer to engage with the Best Food Bloggers in India, across Delhi, NCR, Mumbai, Bengaluru, Chennai, Hyderabad, and Kolkata. Get top food bloggers to include you in their food review blogs and open your brand to their vast audiences on blogs, Facebook, Twitter, Instagram, and Youtube.
Do you feel we missed any bloggers you know? Let us know. Bon Appetit!